6 Ways to Store Bikes at Home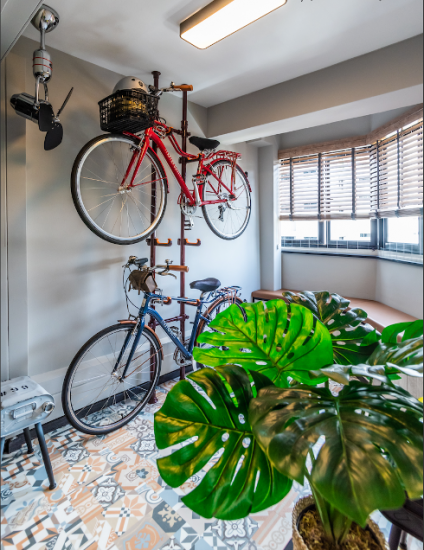 This floor-to-ceiling bike rack sits in the entrance hall of a HDB 5-room flat at Jurong East, designed by Tab Gallery. Photo courtesy of HomeRenoGuru Annual 2021
With those Covid-kilos going nowhere fast, everyone's jumping in the saddle and pedalling. Problem is, where to store your wheels. Here are six neat ways.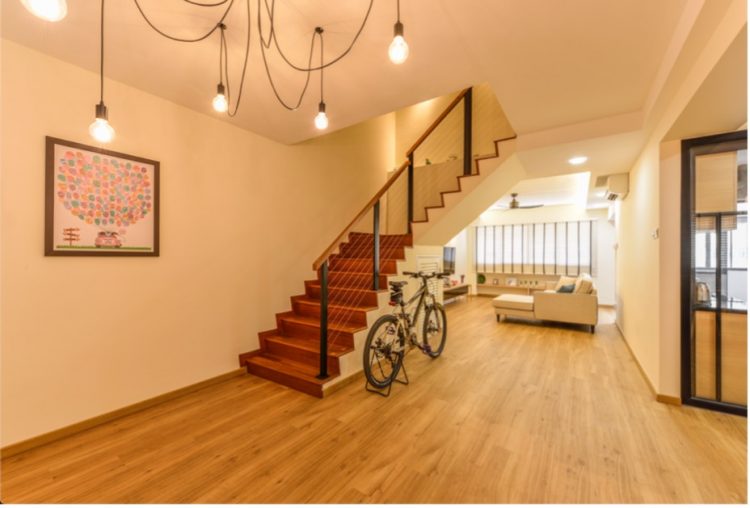 This bike is parked on its kickstand in the living room of a HDB Maisonette at Jalan Damai, designed by Outlook Interior. Photo courtesy of HomeRenoGuru Annual 2021
#1. Hook it to the wall
If you're a passionate cyclist who really loves his wheels, you should display your pride and joy in your living area. If you don't fancy your bike as wall art, you can always store your bike on your utilities balcony or even in a semi-enclosed kitchen. Probably the simplest solution is simply to invest in a basic hook that screws into a wall. You can get simple bike hooks from any hardware store and online.
#2. Hang it from a track
A bike track is basically a bunch of hooks attached to a sliding track, a bit like gigantic curtain tracks. They are also sold as garage organisation systems. The hooks can be spaced closer together and further apart as the need arises. Some brands offer different kinds of hooks, so you can customise your track and hang your cleaning utensils, tools, golf clubs, gardening tools (if you have a garden) and the like, along with your bike.
#3. Hang it on a rack
In households with multiple bikes, floor to ceiling bike racks are a great investment for storing two bikes on top of each other. Most racks consist of one or two poles, with adjustable hooks on which you can hang your bikes' frames.
#4. Wheel it in and kick the stand
This one's a no-brainer. Simply wheel your bike indoors and push down the kickstand attached to the frame near the back wheel. If your bike doesn't have a kickstand, invest in a floor bike stand. They typically take the form of a simple metal frame – a bit like a giant toast rack.
#5. Pop it in a trainer stand and riser block
Did you know that you can turn ordinary bikes into stationary bikes for indoor spinning? All you need to do is invest in a trainer stand and a riser block – basically a large moulded block with a groove for securing the front wheel. You have yourself a storage solution as well as an all-weather fitness regime!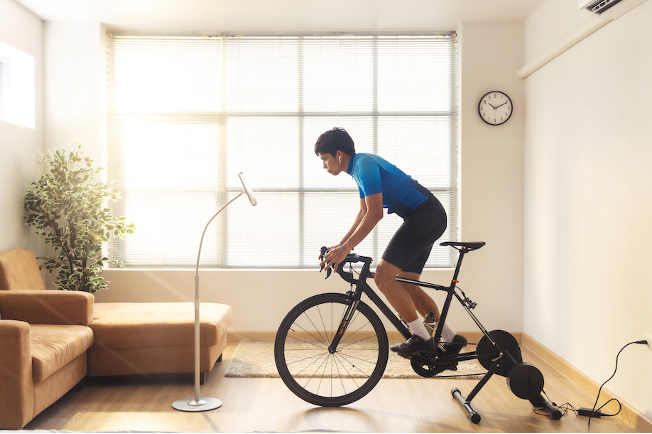 A trainer stand and a riser block will turn your pushbike into a stationary bike – and your living room into a gym
#6. Hoist it up high
A ceiling hoist is a handy and effective way to get your bike off the floor. It's a simple pulley setup that lets you suspend your bike from the ceiling. Once it's hooked up, you simply pull on a rope. Bonus: You get an arm workout while you're at it!
Set the Wheels of Your Reno in Motion
COVID-19 has taught us many things, including the value of health and fitness and the importance of a comfortable, multi-tasking home that can shift seamlessly between work and leisure. If it's time you renovated your home, set the wheels in motion. Visit HomeRenoGuru.sg, Singapore's undisputed No. 1 renovation portal, and get obligation-free competitive quotes now, from reputable and homeowner-rated interior design companies. You can trust the 'Guru'.