Building a Gym in a Singaporean Home
09 Oct 2018
How do you fit fitness into your life? Bring the exercise equipment into your home!
After all, who's really got the time to pack their workout gear and head to the gym? Not to mention shower, dress and head back to wherever you need to be. More challenging still is the near-impossible feat of aligning your schedule with classes. In time-poor Singapore, it makes perfect sense to exercise at home.
Here's how some fitness-conscious homeowners have accommodated their exercise equipment.
Got Space, Have Gym
The ultimate luxury is a home gym. If you have a spare room and exercise tops your list of priorities, all you need is a well-ventilated space with durable and shock-absorbing flooring. Mirrors are a bonus for checking out your shredded bod.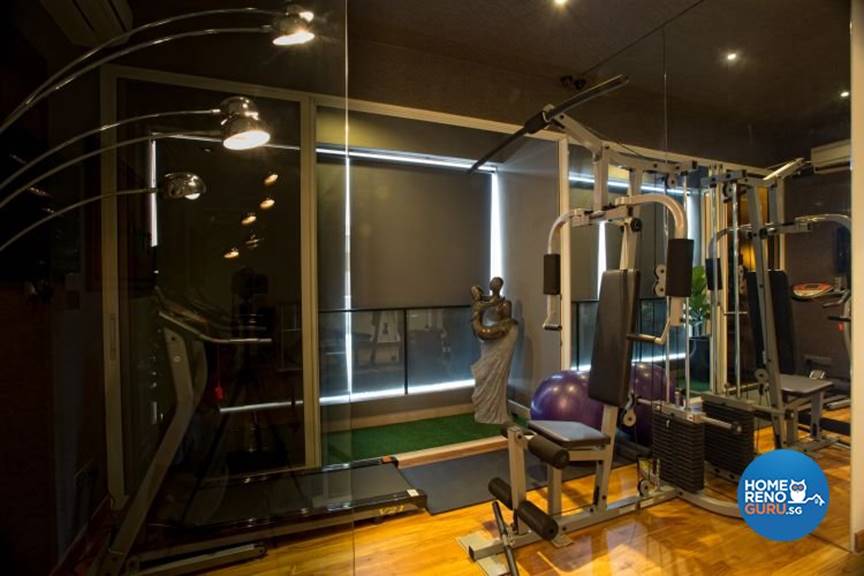 Home Gym in a Landed Property at Seletar by Designscale
This private home gym was created by Designscale in a landed property at Seletar. When the blinds are up and the sunlight pours in, the strip of artificial grass creates an inspiring outdoor-indoor feel.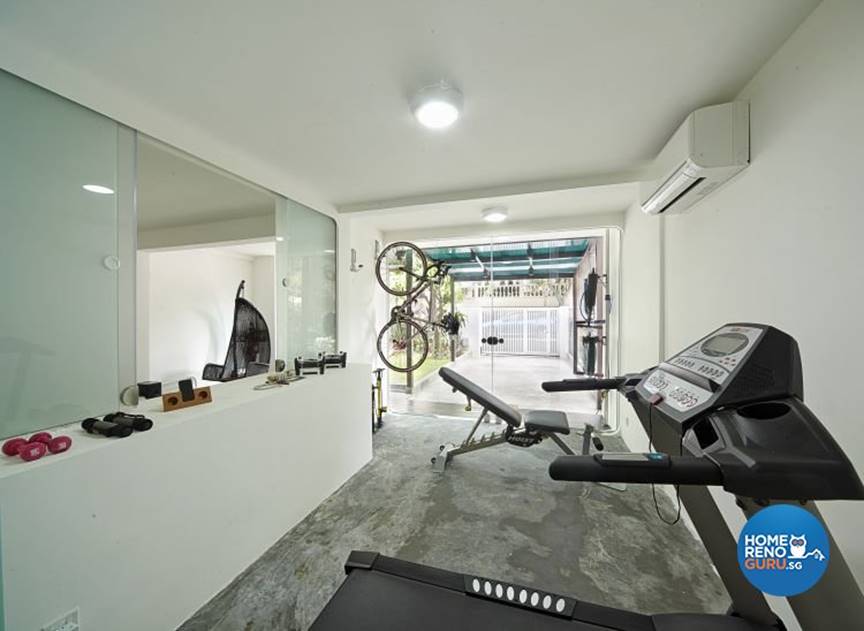 Home Gym in a Landed Property by Carpenters
Carpenters installed a bright and airy gym with polished cement screed flooring and all-white walls on the ground floor of this landed property. Half-height sliding glass panels allow the gym to be open to the living area. The bike rack saves space and adds a utilitarian hipster vibe.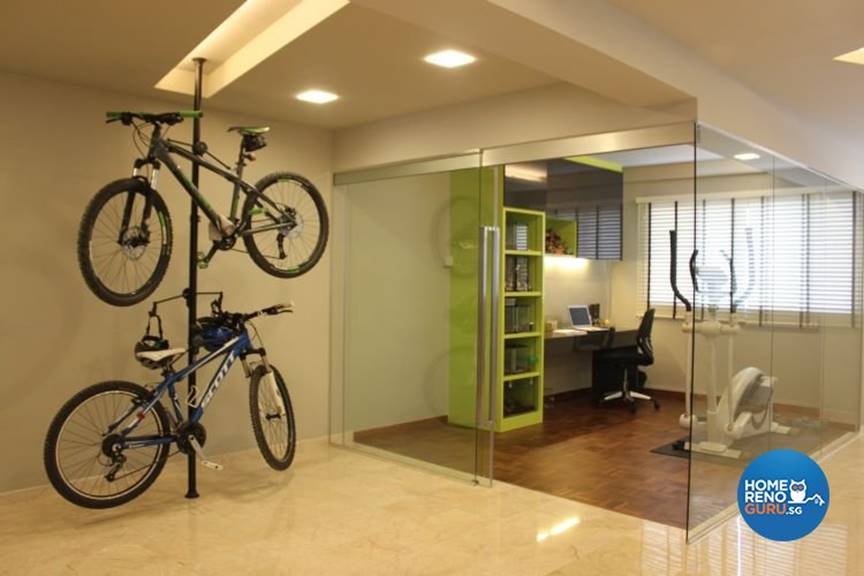 Study cum Gym in HDB Flat at Pasir Ris by Le Interi
Le Interi converted the study room in this HDB flat at Pasir Ris into a multi-purpose study and exercise room. The conspicuously placed bike stand is both pragmatic and decorative, and makes a big statement about the owners' lifestyles and personalities. Floor-to-ceiling glass walls allow the user to watch television or be 'present' with other family members while they work out on the cross-trainer.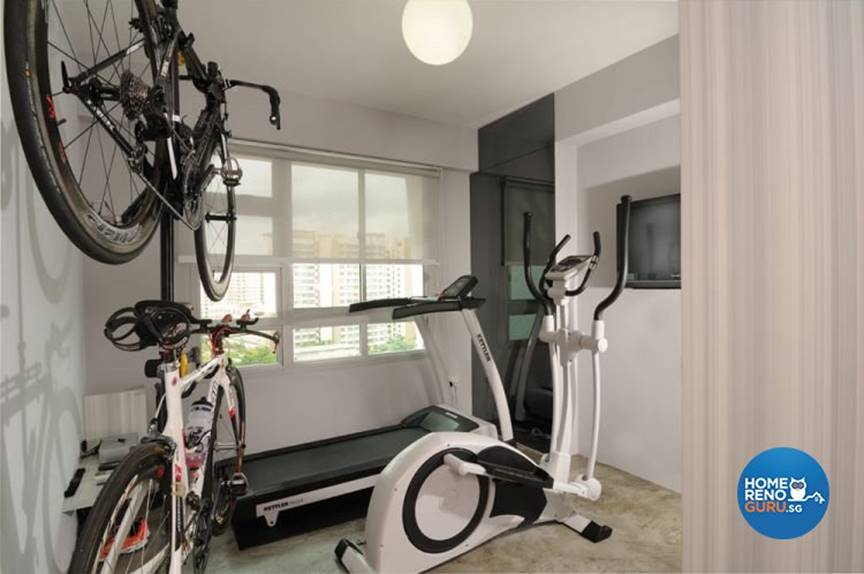 Exercise Room in a 5-bedroom HDB Flat by Y-Axis ID
Not every home gym requires free weights and a bench. If your fitness goal is to trim and tone rather than build muscle, all you need is a cardio machine or two. This spare room in an HDB flat is a great example. Both the treadmill and the cross-trainer are strategically positioned to face a small TV set – perfect for binge-watching a favourite series while calorie-burning. A vertical bike stand is a space-saving touch for cycling enthusiasts.
Multi-tasking Muscle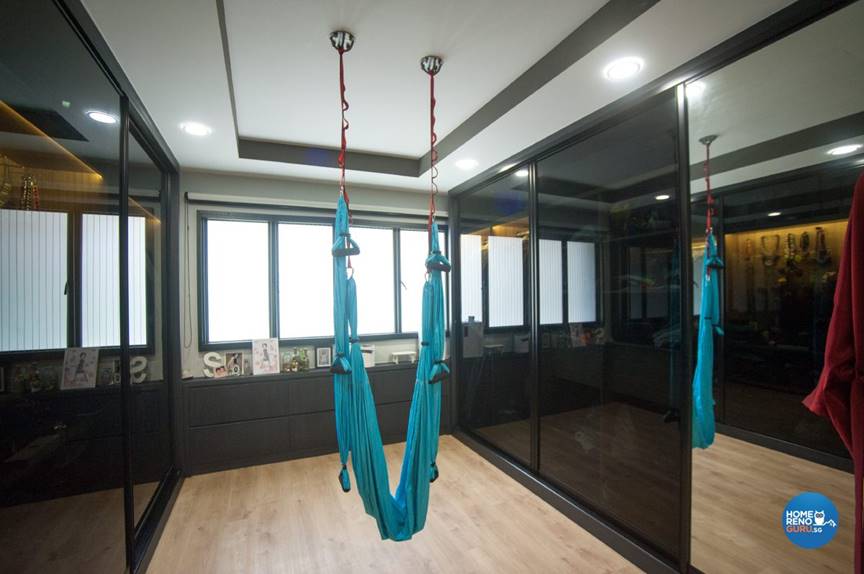 Walk-in Wardrobe cum Yoga Studio in a 5-room HDB Resale Flat at Tiong Bahru by Starry Homestead
This aerial yoga hammock hangs smack-bang in the middle of the walk-in wardrobe in the home of celebrity model and actress Sheila Sim. Be sure to check the structural integrity of your ceiling before installing the ceiling bolts.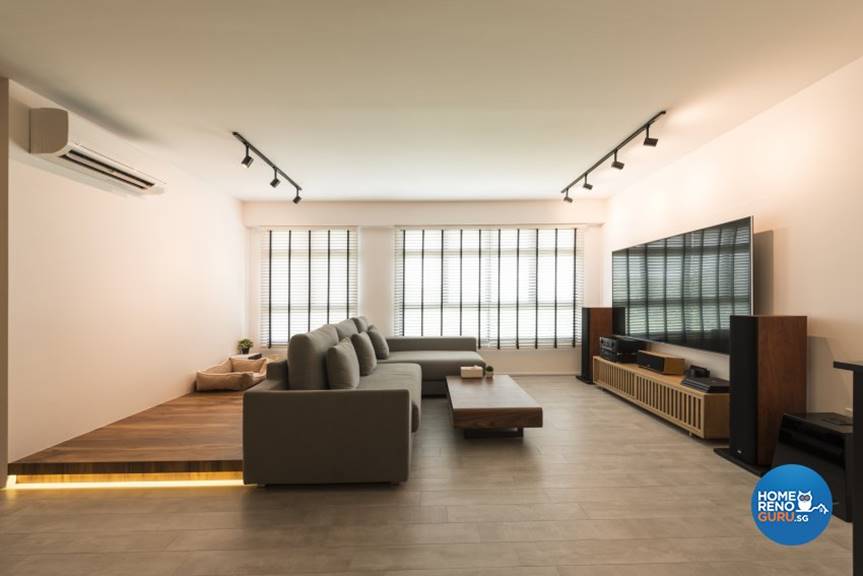 Yoga Platform in the Living Area of an HDB Flat by Posh Living
In this uncluttered, Scandinavian-inspired home by Posh Living, a raised platform behind the sofa makes the perfect space for practising yoga. All you need is a yoga mat and you're all set for your daily dose of zen. Roll up the mat and scatter some cushions and you have a cool chill-out zone where you can sip wine and mull over conversation with friends.
Are you keen to exercise your right to working out in your own home? Consult the experts and get a solution tailored to your space and budget. Request for a free renovation quote here, and we'll source an interior designer who fits your requirements.
But that's not all! Stand a chance to win a Mercedes-Benz CLA 180 Coupe & Free Home Renovations worth $30,000!