Residential Interior Designers
We have over 300 Interior Designers for your to choose from! Browse their projects and get inspiration from a variety of interior design themes.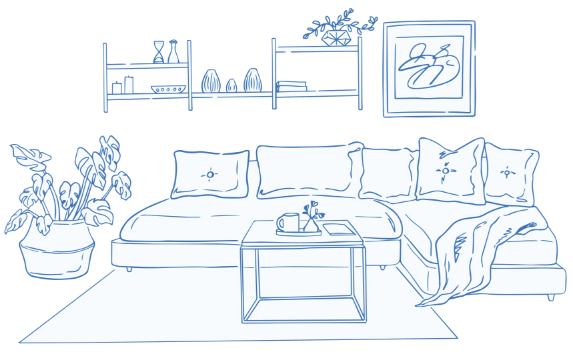 Interior Design Singapore
Looking to renovate your home, office or commercial space soon? At HomeRenoGuru, we have the top interior designers (ID) in Singapore that are highly reviewed!
Our IDs are well-versed in renovating BTOs, HDBs, condominiums and even landed properties. From modern Scandinavian interior design to a country themed home, they are versatile and equipped to meet your design needs.
How to prepare for your initial meeting with an interior designer
Complete pre-meeting activities
Before meeting an ID, take time to consider your goals, needs, desired style, and budget. You can also prepare some photo inspirations to provide the ID with a clearer idea of your design concept. This helps both parties to save time and facilitate the discussion.
Prepare your questions in advance
It's a good practice to prepare some questions in advance. This includes enquiring about the pricing, design process, and duration of the project.
Know your objectives and expectations
For the partnership to be successful, it's important that you communicate your objectives and expectations clearly to the interior design company.
This aligns the goals of both parties and makes sure that everyone involved is on the same page.
What to consider when choosing an ID?
Design portfolio
A portfolio showcases an ID's past works and is an indication of what they are capable of creating for your home. Also, some IDs specialise in certain themes, so you may want to engage someone who's experienced in your preferred style. Take a look at our design gallery for more interior design inspiration.
Verified online reviews
A true testament of an interior design company's reliability is when they are well-reviewed. Thus, it's best to take some time to read online reviews that have been verified.
Communication
Throughout the entire renovation process, it's crucial for the interior design company to provide constant updates of the progress and keep you in the loop. You'll be able to have a good gauge of their communication skills after scheduling a consultation with them.
Budget
Your budget determines which ID you can engage and how extensive your renovation can be.
How to choose an interior designer
How much experience does the firm have?
Ideally, selecting a well-established firm is preferred. This is because the success of an experienced firm can be attributed to its team of expert interior designers. Such firms are more likely to be able to meet your expectations and deliver high-quality results.
What is the firm's area of expertise?
Every firm has its unique strength and design preference. Some may be better at a certain style than others. Thus, you should go with an interior design firm that is comfortable working with your desired style.
What contractors does the ID work with?
It's recommended to pick an interior design firm that has its own factory and contractors. This eliminates the risk of subcontractors delivering inferior, unsatisfactory work.
How to avoid a renovation scam
Check if the firm is HDB-licensed
Interior design firms that are HDB-licensed have undergone the necessary training needed to renovate a house. This ensures that the interior design company adhere to HDB's requirements when carrying out the project.
Use a CaseTrust accredited firm
For peace of mind, customers can consider opting for a CaseTrust accredited interior design firm. The accreditation signals that the firm has transparent fee policies and adopts good business practices.
Visit the firm's office and ongoing sites
Before signing up for a package, you are strongly encouraged to pay a visit to the interior design company. Scammers typically do not have a proper office space or evidence of ongoing projects. Therefore, it's best to stay away from IDs that are unable to abide by your request.
Avoid upfront payment
Homeowners should avoid firms that require them to make a big deposit or full payment before the renovation project is complete.
Choosing an interior designer
On our HomeRenoGuru platform, you can browse each resident designer's portfolio, verified reviews and packages. Get a free quotation from us today!