5 Homes for Cycling Enthusiasts
Singapore is becoming a dream city for cyclists. In recent news, the government has unveiled plans for new bike-friendly routes around the Kallang River, adding to the extensive park connector network that runs throughout our island. At the same time, the cycling fraternity is flourishing as more locals are picking up mountain and road biking.
But ask any cycling enthusiast what bugs them and one thing stands out: how to store their dear bicycles. Do you feel the same? Fret not, we show you five charming and innovative homes sure to sooth any biking buff.
1. Jalan Loyang Besar (Lighthouse)

Jalan Loyang Besar (Lighthouse) by Spacious Planners
If you have more than one bike at home, use vertical wall racks to save space! See how a wall rack maximises space for a small condo apartment and adds urban flavour to a potent blend of Chinese and Scandinavian elements.
Said Spacious Planners' designer Johan: "The vertical bicycle pole/rack is a good way to keep two or more bicycles in a relatively small space. The pole mechanism also adds an industrial and utilitarian touch that matches the industrial-eclectic theme."
2. Pasir Ris Drive 1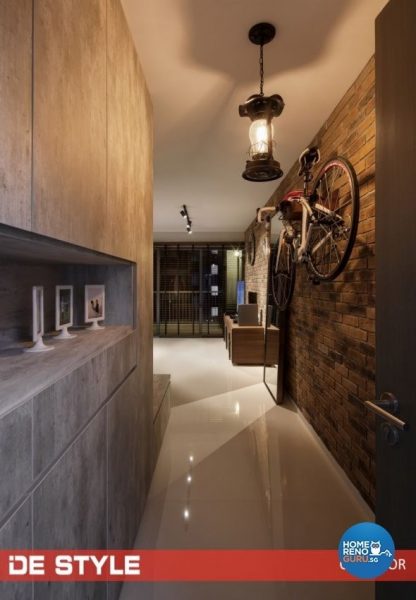 DBSS 5 Room – Pasir Ris Drive 1 by De Style Interior
Want to be subtle and tasteful? Check out how you can use the walkway in your HDB flat to quietly flaunt your bike and save yourself some space.
Here, the ruggedness of the bike works great with the grittiness of the brick wall, while soft warm lighting lends an elegance that is sure to please any spouse.
"We installed a bicycle rack on the brown brick wall in the walkway to showcase the owner's bike while highlighting the flat's industrial feel. In this way, the bicycle blends in with the house," added De Style Interior's designer Stanley Tan
3. Telok Blangah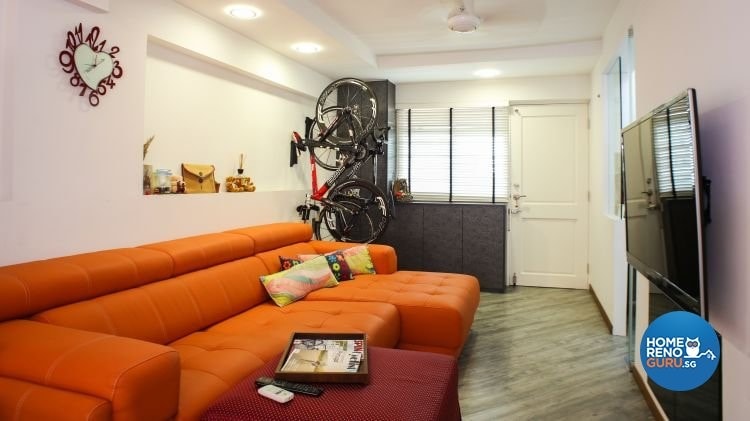 Telok Blangah by PJ DesignWorks
Don't like to be subtle? Then go bold, let your bike flag fly and rack your bikes near the entrance. See how the bikes pop against the clean white walls, and how the low furniture creates visual space to direct eyeballs to your two-wheeled steeds.
Said PJ DesignWorks' designer Jann Tay: "The bike display blends seamlessly with the feature wall and into the open concept kitchen within a limited home space. Located near the door, it makes bike activities and home maintenance easy."
4. 311B Anchorvale Road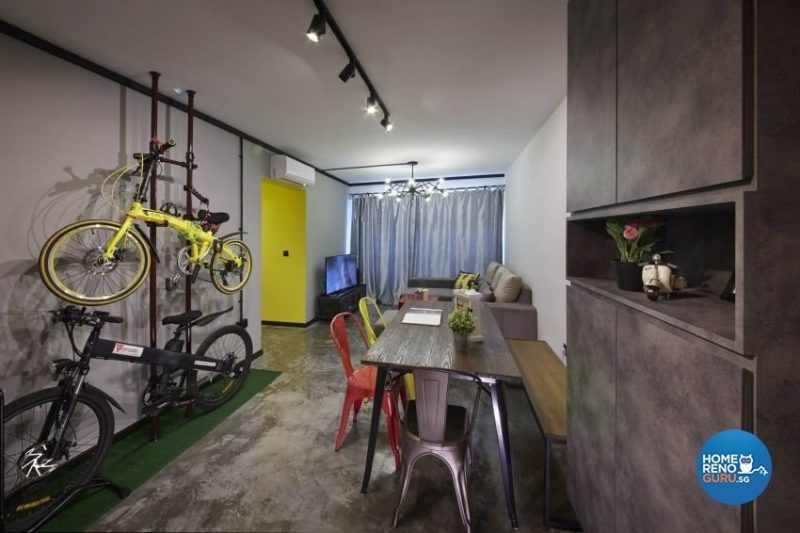 311B Anchorvale by Carpenters.com.sg
Another way is to use bicycles to complete the overall theme of your home.
Here, the designer marries industrial exposed pipes and bright lights with the steel vertical rack and bicycle frames, creating a polished look that lets the adventurous urbanite in you shine through.
"My client was an energetic cycling lover who suited the urban industrial feel of the house design. Since there was a wide wall in the house, it was a perfect chance to be bold and show his passion with an overall industrial concept," said Carpenters.com.sg's designer Bing.
5. Ezen Design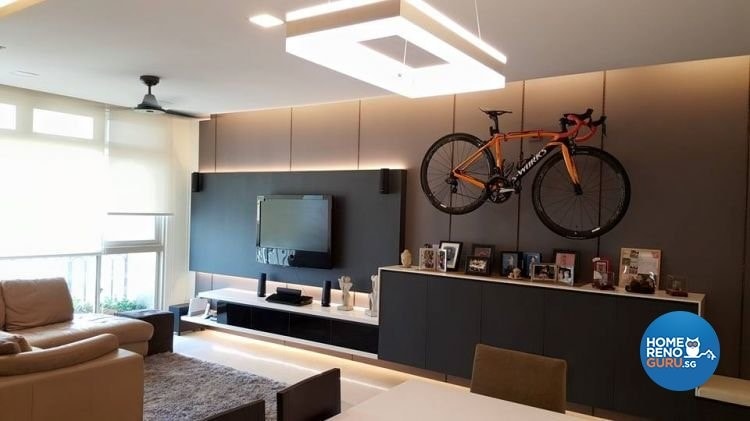 Mar-May Promotion by Ezen Design
Finally, see your bike as an art piece rather than just a means of transport. Instead of spending money on a painting to hang on your living room wall, hang your bike instead.
Check out how the sleek frame of the bike blends in with the modern dark tones and clean lines of the design, adding a hint of the rough-and-tumble to a finessed interior.
"There are lots of bike lovers in Singapore nowadays with high-end bikes, so why not display them like artefacts? Not only do we save space, most bikes are also beauties to look at," said Ezen Design's Lennon, who came up with the design.