Nama-stay at home: How to design your own yoga sanctuary
Whether you're a seasoned yogi or just stepping to the world of downward dogs and 'om's, you should know that the environment where you practice is very important. After all, yoga is all about calming your mind and getting into zen mode – and what better place to do that than in your own home? Read on to find out how to design your private yoga oasis with our guide for home yoga interior design!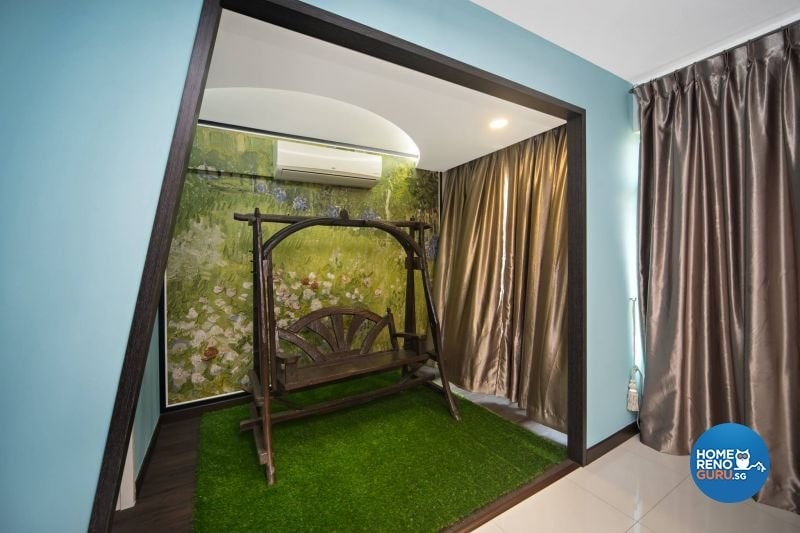 'Blk 415C Fernvale Link' by Renozone
Choose calm colours
A foolproof way to instantly calm the mind is with colours. For a soothing and distraction-free yoga space, choose muted tones such as white, dusty pink or pale green. Or if you prefer some more unique, Colin Phua from RenoZone suggests a forest print wallpaper – just make sure to keep the colours simple and not too overwhelming!
Opt for a dimmer switch
Trying to get into a relaxed state while your overhead lights are glaringly bright can be a tall order. Instead, set the mood easily by installing a dimmer switch. It's also totally versatile – when you're up for a more energising practice, simply turn up the brightness.
De-clutter
Toss aside your hoarding tendencies, especially when it comes to your home yoga interior design. Make sure that your yoga mat is the only object on the floor. If you do have to keep items in the room, tuck them away in cupboards instead of open shelves, to minimise distraction. Needless to say, your yoga space should not contain any electronic distractions!

'194 Bukit Batok West Ave 6', by Carpenters.com.sg
Wooden floors are the best for yoga practice
You're going to spend a lot of time on the floor practising yoga, so it's important to make sure you have the most appropriate floors. Our tip? Pick wooden floors, as they are durable, non-skid and barefoot friendly. While they may not the conventional choice for Singapore homes due to fading from prolonged sunlight exposure, it's perfect for a low-lit yoga room. Plus, according to Esther Lee from Carpenters, it's super low-maintenance! "With regular sweeping and cleaning using compatible cleaners, your parquet flooring will sparkle and look its best," said Esther.
Looking for Interior Designers?
Let HomeRenoGuru help!

'Tampines Greenwood' by Le Interi
Install a full-length mirror
Go to any yoga studio and you'll see that their walls are covered with mirrors, which helps you check your alignment. It may not be feasible to do the same in your home, but just one full-length mirror would help immensely with your home yoga interior design! Not only would you be able to make sure you're performing the poses accurately, the mirror creates an illusion of spaciousness. "A well-placed mirror expands walls and amplifies light, making any space feel lighter and brighter," said Carole Tan from Le Interi.