How To Create An Exercise Space At Home
The Health Promotion Board (HPB) recently confirmed what every adult Singaporean has quietly known: we eat more and gain weight after we start working. But there's hope! While we are taking in more calories, HPB also says Singaporeans are getting more active.
An easy way to exercise more is to do it at home, but the tough bit is having a space to do so regularly. Here are 5 ideas for Singaporeans who want to sweat it out at home.
Be creative with empty spaces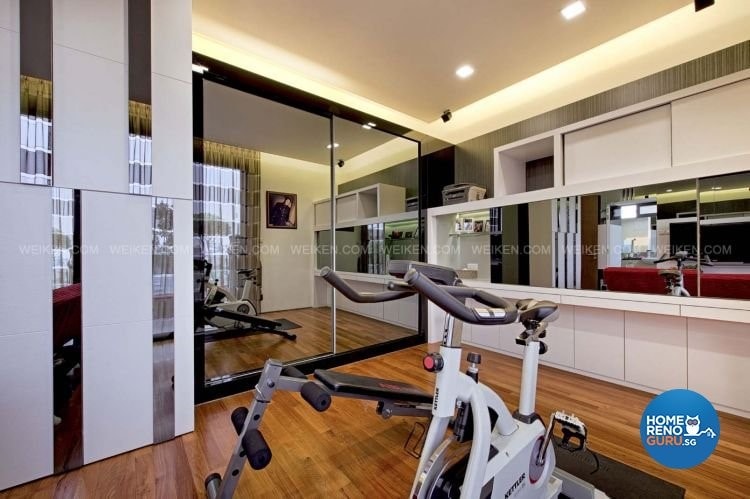 16 Jalan Kenarah by Weiken.Com Pte Ltd
If you have extra space at home, why not convert it into a dedicated zone for exercise? One tip is to use mirrors, especially full-length ones like those you see above from Weiken.com. Not only do they extend visual space, but they also let you check your form when working out, so you can avoid injuries.
"The owner had some space at the back of the living room, so we filled that space with an exercise bike. Now he can watch TV with his family when he is working out or use that as a quiet workout spot," said designer Kelly from Weiken.com.
Dumbbells and mats are good enough on their own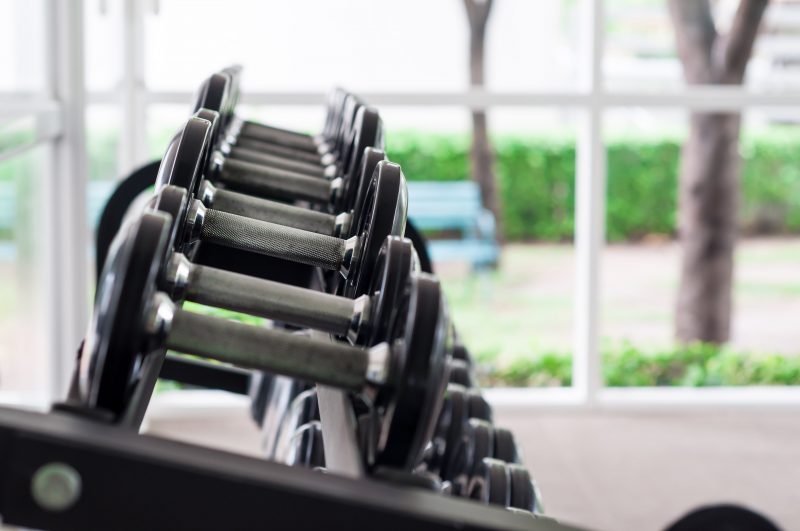 All Kinds Of Good / Shutterstock
If you have a smaller home, sometimes all you need is a furniture reshuffle to create exercise space. Push aside your sofa or move tables to clear a corner in your living room, and voila! Even that can work as an exercise space.
What next? Fill that corner with a rolled exercise mat or even a small dumbbell rack with some free weights. When the workout vibes hit, just unroll the mat or pick up the weights and you're ready to go!
A tip from Annie, designer at New Interior Design: "Don't be afraid to add exercise elements because they help maximise unused space and add a sporty feel to your home. After all, the house is yours, and it should reflect your identity and personality."
Raised platforms are functional and stylish

468A Admiralty Drive by Carpenters Design Group
Raised platforms exude elegance and make you appear like a canny designer as they divvy up floor space for a variety of uses. Thus, they can be great for putting "big ticket" equipment like exercise bikes and Stairmasters.
See how the above design by Carpenters Design Group uses a dark wood platform to elevate and add flavour to an otherwise empty area. Rather than detracting from the overall look and feel of the house, the platform creates a separate workout space.
"Raised platforms are very functional for houses that have ample space to play with. The exercise equipment doesn't occupy the living room space and keeps the area clutter-free, transforming the open layout into many spaces for maximum utility," said Esther, designer at Carpenters Design Group.
Resistance bands are very versatile

Blend Images / Shutterstock
Resistance bands are becoming more popular and for a good reason: they save a ton of space and allow a wide range of exercises. What's more, they can be easily tucked away in the store room or wardrobe, allowing for easy setup and storage before and after your workout.
Hence, resistance bands are a great addition to your workout corner or room, adding a ton of versatility at a fraction of the space.
Have a Ball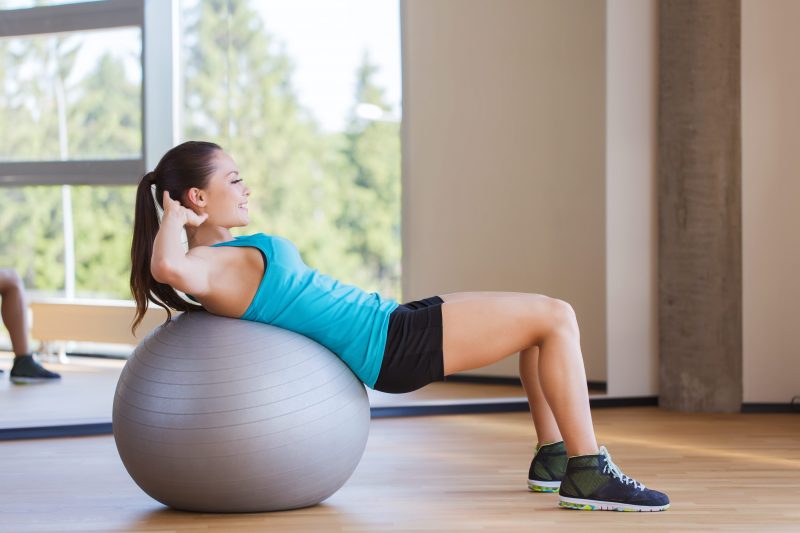 Syda Productions / Shutterstock
Many people like to poke fun at the stability ball because it looks like what it is: just a round rubber sphere that doesn't look athletic and makes its owner look silly.
But just sitting on a stability ball for sustained periods helps maintain core muscles, improve balance, and even improve productivity. This makes the stability ball a mobile exercise space: sit on one periodically while watching TV or working in your study and burn some belly fat without even knowing it!
In sum, there are many ways you can create an exercise space at home, no matter whether you live in a flat or bungalow. As usual, the trick is to plan ahead, so your exercise space fits your goals and the design of your home.
Finding ideas for your next home? Dive into our treasure trove of over 14,000 designs from your favourite interior experts at www.homerenoguru.sg!