7 Ways to Spruce Up Your Living Room
Your living room. It's the first place you see when you come home after a long day. It's where you have dinner and gatherings with your loved ones. It's where you rest and unwind after a long day of work. With all these and more happening, it's no surprise that you want to make your it as inviting, cosy and welcoming as possible. Find out how you can refresh your living room in this article.
1. Dress your windows up.
Curtains are known for practicality. They are great for privacy, and also to block sunlight and heat during the day. However, don't underestimate what seems like just two huge pieces of cloth – curtains can transform your living room by leaps and bounds. Their myriad colours, textures and designs may very well take the centrestage of your living room, so their definitely need attention when it comes to design.
Koo Hwee Min from D'Esprit Interiors elaborates: "Curtains provide ambiance to living spaces. Because the nature of the fabric is soft, different styles can be achieved, whether you are looking for a luxurious, cosy and comfortable or classical look."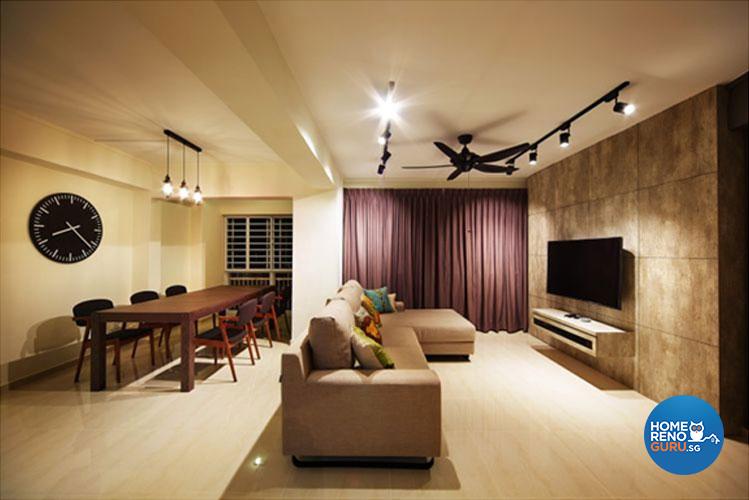 HDB 5 Room Bukit Batok by Design 4 Space Pte Ltd
2. Dress your walls too.
If you've already decided on a colour scheme for your walls, you can go beyond that – adorn your bare walls with simple decorations to add a personal touch. A memento board, paintings, guitar or even tacking up your fashion accessories will enliven the space. Be creative – possibilities are endless. Do make sure that it's pleasing to the tastes of everyone at home though, because your living room is a shared space after all!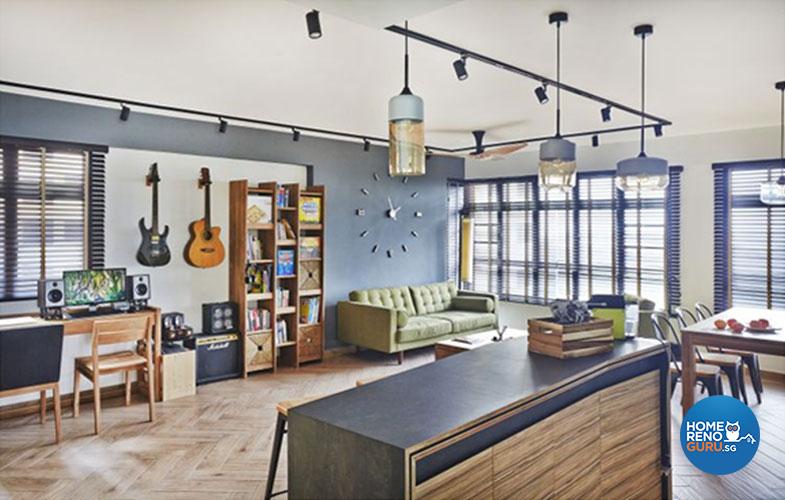 Fernvale Street by Fuse Concept Pte Ltd

Looking for an estimate of your renovation costs?
Let HomeRenoGuru help!
Ask For Quote
3. Freshen up with house plants
Plants and flowers don't just sit pretty on their own, they complement the life and form of living spaces too. Ever the important house decor accessory, plants imbues every room with cheerful vibes, whether they are on the window sill, table top, or shelf. Sometimes, larger potted plants can double as dividers too. Besides being aesthetically pleasing, they are also more economical and flexible than installing partitions. If you're worried about maintenance and upkeep, look for indoor plants that require very little attention – some artificial ones look really realistic too.
Says Tommy Ong from Elementz Design Studio, "It's good to have plants or flowers around the home, because it adds to the decor, and improves the design of the space. For example, if you place plants on the dining table, or a pot of flowers on the television console, it will change the whole look of your living room."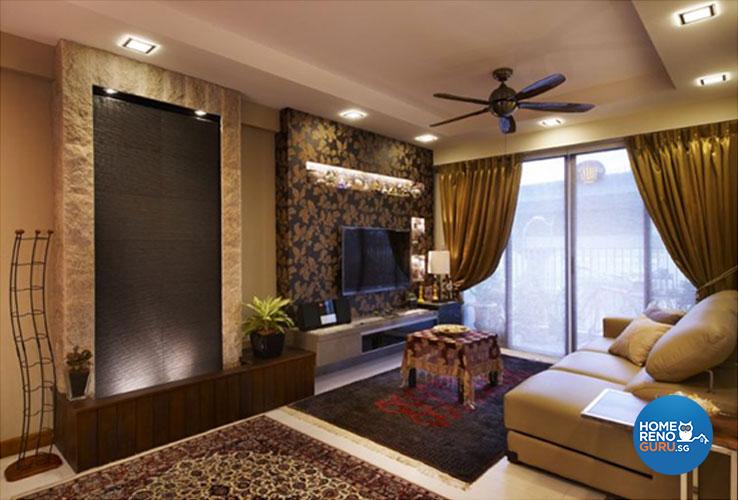 Landed House by U-Home Interior Design Pte Ltd
4. Open up your space.
It's a common gripe that living spaces in Singapore are usually small. We can't help it, but we sure can learn to beat it! To make your living room look larger than it actually is, use light colours on your walls. You can also paint or wallpaper your ceiling to create the illusion of depth. Creating some texture and lines on your ceiling will make it look taller too.
David Kek from Imposed Design Studio adds, "Most people will try to remove one room to become part of the living and dining concept or open kitchen concept. They can use technology and custom-made furniture too. Some examples are a pull-out dining table, kitchen cabinet cum dining island counter top, as well as concealed television screens and desks."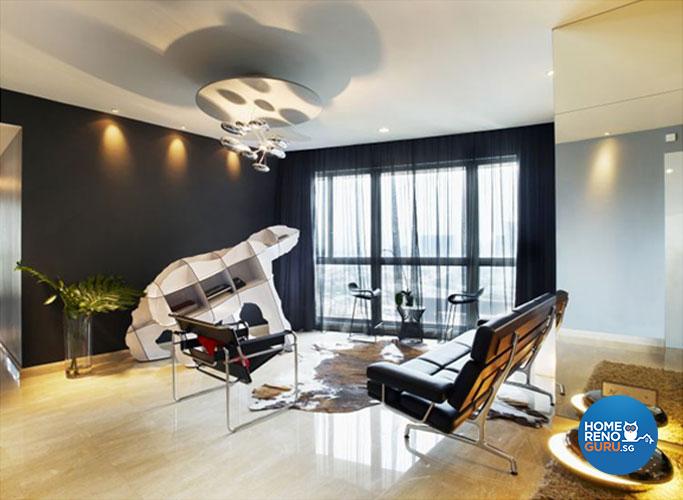 Amaryllis Ville by Renozone Interior Design House
5. Make it bright!
Natural light is always the best, and here's how you can make use of mirrors to double the beauty. A window, plus a strategically-placed mirror, can make your living space brighten up tremendously in the daytime with good ol natural light. Let plenty of sunshine stream in, and if you're lucky to get an apartment with a great view, the mirror will reflect beautiful views. It's good for fengshui too!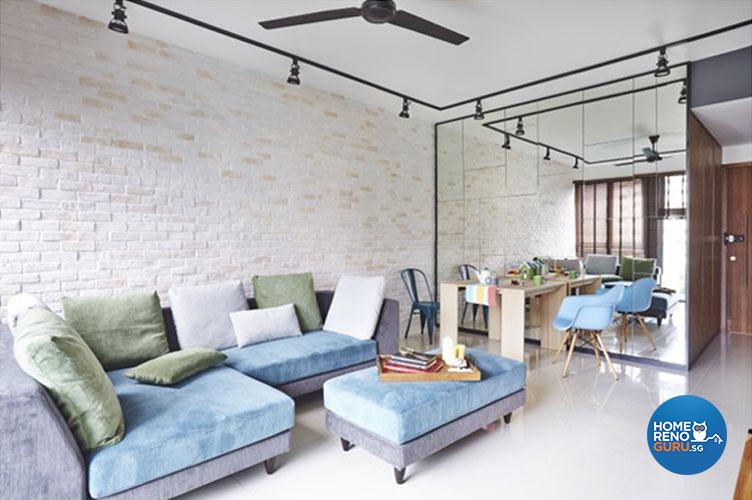 The Canopy @ Yishun by Fuse Concept Pte Ltd
6. Perk up a neutral palette.
Most are likely to choose minimalist neutral tones because it's simple to manage, and simple to maintain. But simplicity doesn't have to be boring! A pop of colour here and a touch of colour there can make all the difference in the world. You can introduce one or a few vibrant pieces into your living room. Tip: if you choose something thats easy to change and update, for example the cushions on your sofa, to a painting or even your curtains, you can always look forward to a seasonal refreshed look in your living room. Just remember not to overdo it!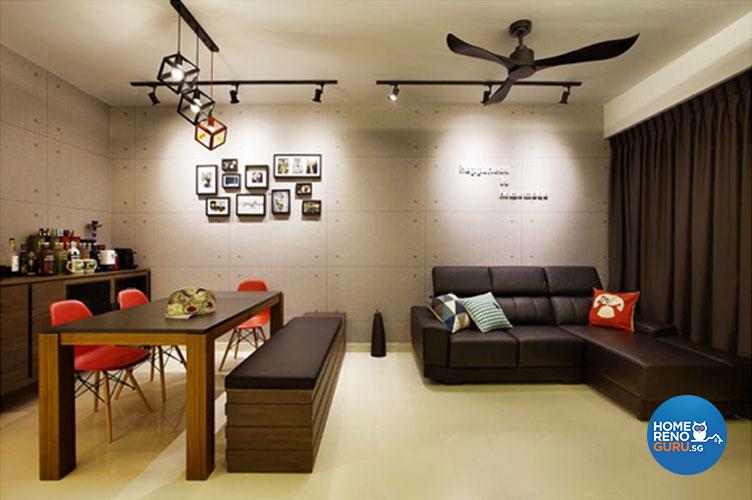 Reverie Condominium Renovation by Artrend Design
7. Declutter.
We can't say this enough, but decluttering is the way to go! A clean home is inviting, fresh, and everything nice. Put away books that you're never going to read, music CDs that you have already digitised, or things that you haven't looked at for a few years. You'll find it so much easier to breathe after that.