6 Smart Ways To Hide Clutter At Home
Let's admit it. Many of us dream to come back to a stylish looking home after an exhausting day of work. However, cleaning your home is sometimes an impossible chore. Not many of us have the luxury of time to keep our home tidy and neatly organised all the time. Here are 6 smart ways you can hide clutter at home to save you some time and frustration.
1. Conceal, Don't Fill
If possible, stray away from open hangers or over-filled bookcases as they can make a home look untidy. Instead, only leave commonly used items in these visible spaces so they are accessible.
At the same time, file away magazines or important documents in shelves. Keep counters and coffee tables clear of magazines or small appliances. Having these surfaces clear also prevents you from leaving things in their improper place.
Alan Yap from AC Vision Design also added: "For concealed storage, a good option would be a feature wall with built in storage. Usually, this is done in the living room . Besides pure function, it can also serve a decorative function, and your TV will look great on it!"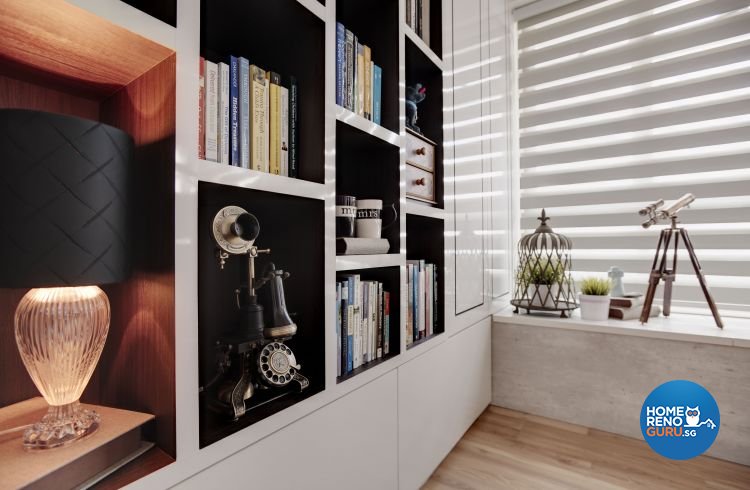 12A Marsiling by Spacious Planners Pte Ltd
2. Use Wall Space, Not Floor Space
Freeing up the floor gives an illusion of space and organisation. Hidden storage such as compartments underneath beds allow you to tuck any mess out of plain sight when guests arrive. Alternatively, you have a place to stow away your belongings when they are not in use.
James Tey from 9 Degree Design and Renovation Studio suggests using built in cabinets as opposed to ready made ones for a few reasons: "Built in closets are better because you can customise the dimensions and ensure they fit. Ready made storage options typically go up to about 2.1m which leaves gaps between the ceiling and top of the cupboard making room for dust to fester."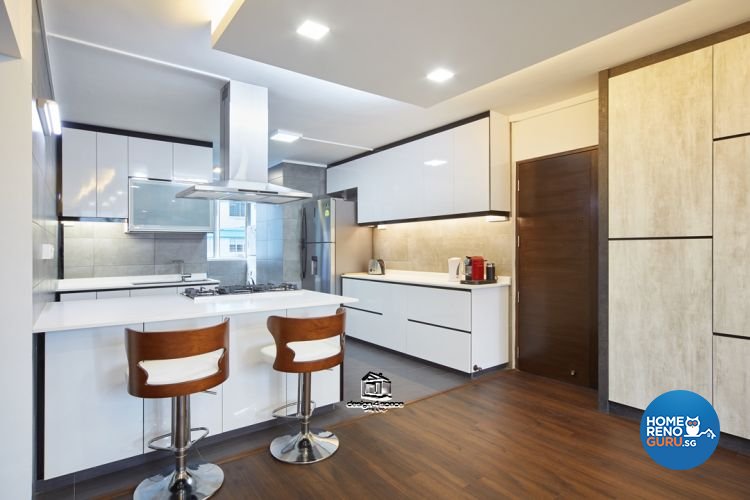 HDB 3-Room Package by Design 4 Space Pte Ltd
Looking for an estimate of your renovation costs?
Let HomeRenoGuru help!
Ask For Quote
3. Compartmentalise
An easy means to declutter is to compartmentalise your items according to its use or size. Rather than displaying everything on shelves, adopt a "uniform-on-the-outside, eclectic-on-the-inside" system. Keeping your items in uniform boxes gives an impression of tidiness, even if things are messy on the inside. This system also helps to organise oddly shaped items like household appliances make use of dividers to keep drawers or storage spaces tidy. This organisation allows easy access to particular items you always reach for.
If this method of hiding clutter is too disorganised, you can make use of dividers to keep drawers or storage spaces tidy. This organisation allows easy access to particular items you always reach for.
Candy Ng from The Interior Place also pointed out how built-in storage can help: "Built-in wardrobes are customizable, so you can plan the compartment dimensions however you want. There are also options like accessory drawers and pull out compartments to organise smaller trinkets."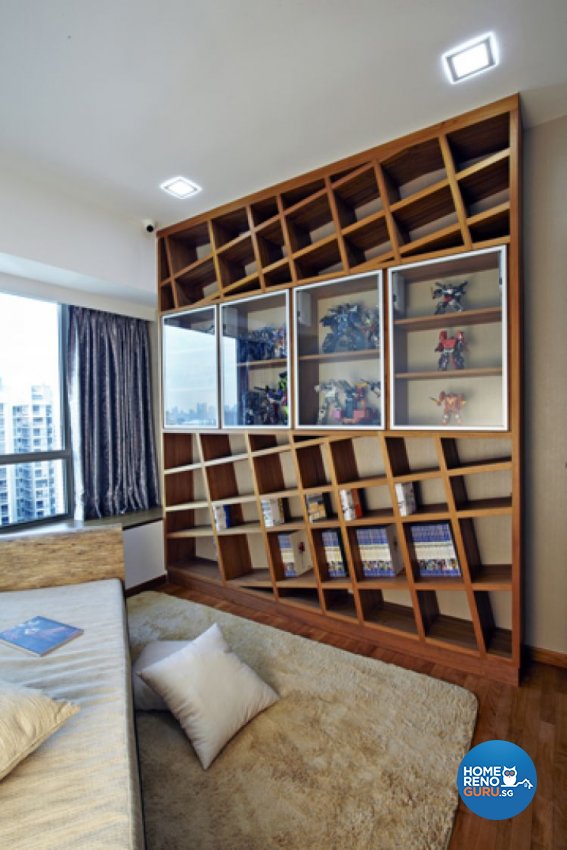 21 Trevista by Carpenters Design Group
4. Reduce, Reuse, or Recycle Existing Items
Always organise first before making any new purchases. Vacuum pack or store hardly worn clothing , such as seasonal clothing for winter holidays or evening dresses and suits for special occasions. If clothes comprise the bulk of your clutter, try clearing the wardrobe with this closet experiment.
In case you cannot find a use for existing items, find ways to recycle or reduce them. What you have in excess may be just what your local charity needs!

Serangoon North Ave 1 by Distinctidentity Pte Ltd
5. Develop Creative De-Cluttering Habits
Sometimes, no amount of hiding clutter can cover the fact that you need to deal with your clutter. Break down your clutter into manageable areas or projects, and start with a list of small goals. For instance, give yourself 5 solid minutes each day to perform small de-cluttering tasks. Doing so prevents you from burning out when you are trying to tidy the house.
Finished a task? Take action with your clutter immediately before it is left neglected in the middle of the room again.
6. Staying Clutter-Free
Not clearing away items after use or allowing piles of subscribed mail to accumulate will cause clutter to form again. Sometimes, the demands of life get the better of us and we find clutter building up at places recently cleared. Instead of beating yourself up, re-establish habits of organisation or assign areas to hide clutter amongst household members.