How to Make Your Balcony the Ultimate Chill Out Spot
For homeowners with balconies or a patio, this is a great opportunity to create a space where you have a feel of the outdoors and fresh air, yet within the comfort and confines of your home!
Here are some suggestions to make your balcony the ultimate chill out spot. Just be prepared to host tea and dinner parties in the future!
1. Furniture
Terrace House @ Bukit Batok by The Orange Cube Pte Ltd
To create a welcoming chill out spot, a key consideration is selecting furniture. This goes hand in hand with knowing how much space you have in your balcony. For balconies with huge space, sectional and regular couches are a no-brainer. Hammocks and lounging seats can also be utilized. Whether you want the balcony to be a space for work, a simple lounging area, or to host a huge party, you can mix it up.
To maximise the balcony space, James Tey from 9 Degrees Design suggests to try putting some compact outdoor furniture, from hanging chairs, bar tables and stools, to artificial grass and water feature. "It will result in a cozy area for your family."
2. Greenery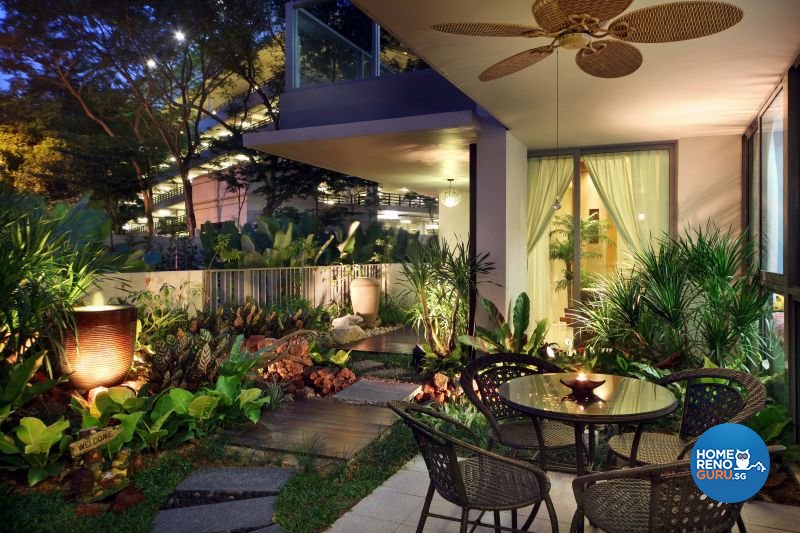 Double Bay Residence by The Local Inn.terior
A dash of greenery and plants can do wonders for the outlook of your balcony or patio. Whether you choose to hook your plants to the railings or window grilles, leave it vertically on a side of the wall to create a visual story, arrange it along the floor, or mix it up with artificial plants, your space will definitely be spruced up. Better air ventilation and cleaner air around is an added bonus as well.
An artificial turf can be installed if desired, creating a quasi-park environment.
Sophia from D'esprit Interior explained that the cost is generally affordable for the artificial turf option. "But do note that dust is easily trapped and being exposed makes it hard to maintain. Thus, regular cleaning is needed."
Looking for an estimate of your renovation costs?
Let HomeRenoGuru help!
Ask For Quote
3. Illuminate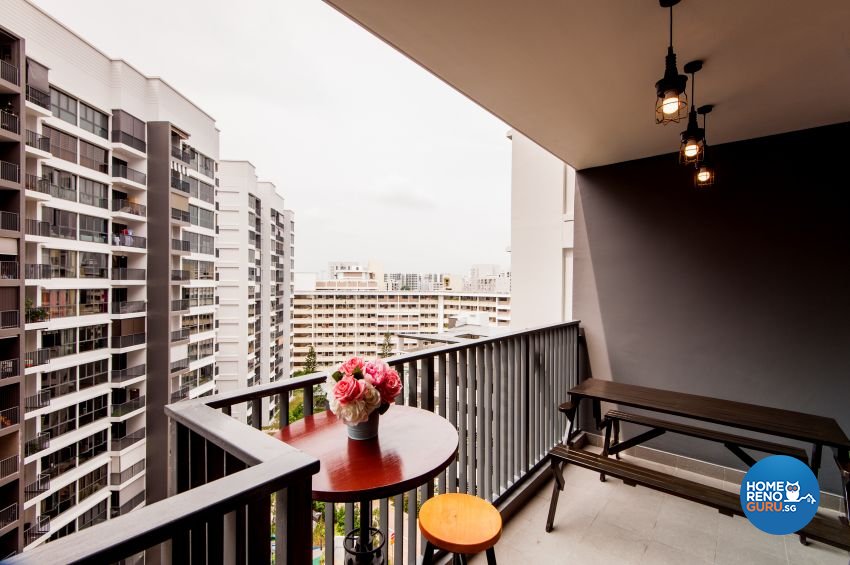 HDB 4 Room – Belvia by Le Interi Design Pte Ltd
Lights create a surreal experience, and you can choose how to create the correct mood. Alternate between candles, a table lamp, or install lamps on the ceiling or walls to guide your cozy dinner or quiet evening. Ball and string lights can also add an eclectic feel to your balcony if you have a theme on the more edgy side. Consider your set up by tailoring between white or dim lights for the best effect.
You may also be tempted to install glass railings to brighten up the balcony.
But Fong Yit Yun from Diamon'Tif says that glass railings are only found on landed property, so it's a slim chance that it can be implemented on HDB and Condominiums.
4. Parasols/gazebos
Cheng Soon Lane Bungalow by The Interior Place Pte Ltd
Customize your coffee or dining table in your balcony with a parasol, or enhance the cozy ambience in your seating area with a gazebo. These wind and sunshields will ensure you are protected from the harmful rays of the sun. You can even pretend that you're at the beach with the tropical aesthetic!
5. Fans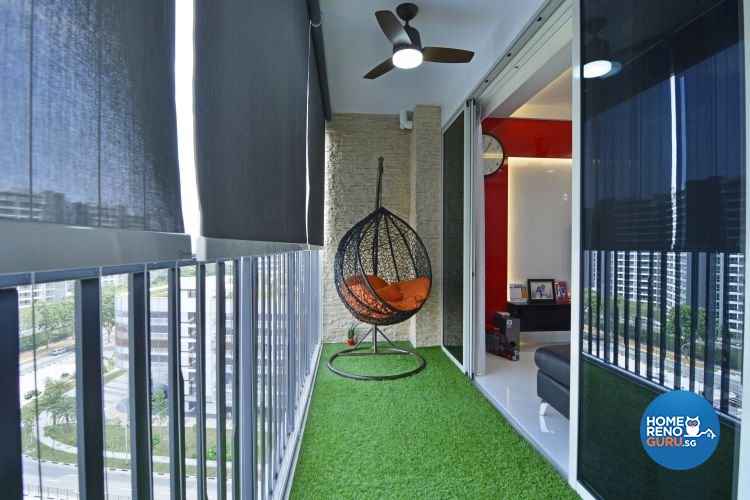 Condo – Heron Bay by Vegas Interior Design Pte Ltd
Fans are a necessity in Singapore, and balconies aren't the exception. Consider installing a fan on the walls or ceiling to conserve space on the ground for other purposes. Mist fans are a possibility too, to complete the ultimate al fresco experience!