5 Renovation Trends You May Want to Avoid in Humid Singapore
18 Jun 2016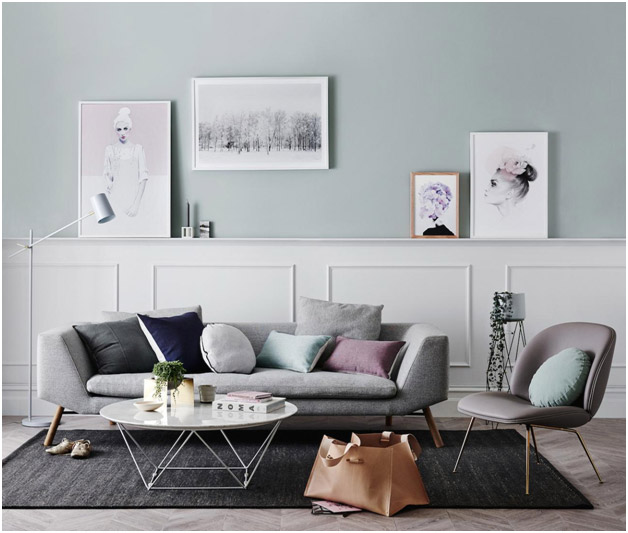 Source: Norsu Interiors
You've dog-eared countless pages of interior design magazines, scoured home renovation websites for design inspiration and consolidated numerous virtual mood boards, all in the name of creating your first dream home.
But not everything you see and bookmarked is actually practical for a home in Singapore. Sure, a swanky, four-poster bed might look fabulous in the pages of a magazine, but it might not translate well if you have a flat with a low ceiling. Style, while important, should also be paired with functionality.
In Singapore, besides renovation guidelines for HDB flats or private properties to consider, there are two other factors to think about before you decide to go ahead with your renovation. One is Singapore's hot and humid climate, and the other is the lack of space. In light of these, here are five renovation trends that are popular elsewhere, but may not sit too well if you have a home in our sunny shores.
1. Hardwood flooring
When it comes to flooring options, hardwood (solid wood) flooring can be a great option. They add elegance and a sense of warmth to your interiors that can be hard to replicate with other materials. Plus, because it is made from a natural organic material, hardwood flooring develops a gorgeous patina over time that will add charm and character to your home.
But despite the many stylish benefits to hardwood flooring, it is not the most suitable material to have in a Singapore home because of the high humidity levels here. High humidity can cause the hardwood flooring to warp or swell in the long run.
If you think air-conditioning can create a dry enough milieu to elevate the humid levels in your home in order to maintain your hardwood floor, think again. Unless your home is air-conditioned 24/7, the expansion and contraction of your hardwood flooring as a result of the different climatic conditions would create small gaps in between your flooring that would attract the likes of termites.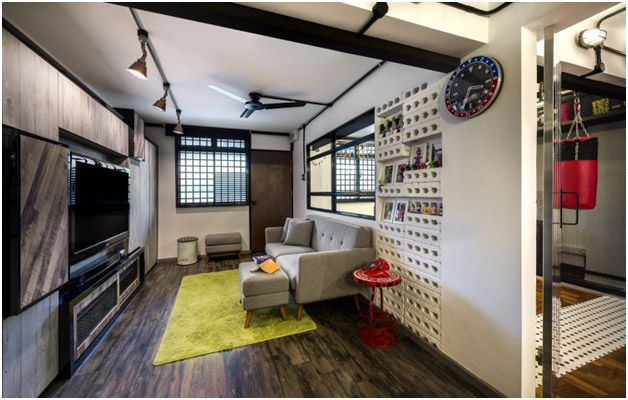 Living Space by Rezt & Relax
Alternative: Wood-like tiles and laminates with woodgrain patterns would make great alternatives to hardwood flooring. (Plus they are a lot cheaper!) They look just like real wood—just minus the upkeep! If you still want real wood, go for teak, which is commonly used for the outdoors as it allows for expansion and contraction.
2. Small tiles
A perennial tile trend is cladding bathrooms with itty-bitty tiles. Mosaic surfaces are popular because they offer a glamorous look without a hefty cost. But while they may look great, they aren't the best choice for a home in Singapore.
Small tiles do well in small amounts. Swathe all your walls with them and you have a nightmare cleaning off the mould from your grout lines. Because of our humid weather, there is a higher propensity that bacteria between the tiles will grow at a faster rate.
Alternative: Keep small tiles to accent walls, rather than the entire surfaces.
[cta1]
3. Kitchen islands & freestanding bathtubs
Save for the lucky few, most of our homes here are usually modestly sized. As such, it's important to make space-saving decisions when it comes to what to include and exclude in your home.
Kitchen islands and freestanding bathtubs are the epitome of luxury and opulence, and would make great-looking centrepieces in your home. They are seen in every interior design inspoboard and are the envy of homeowners everywhere. But because they are positioned in the middle of the room, they tend to take up quite a bit of square footage.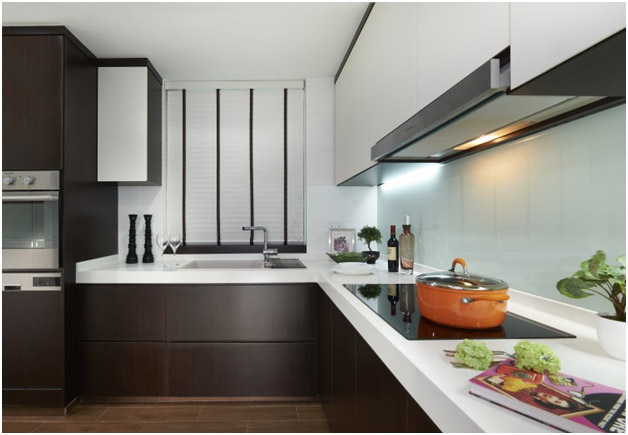 Double Bay Pasir Ris by AC Vision Design
Alternative: Peninsula kitchen counters work well in small kitchens. But if you insist on having an island, choose hybrid islands that do double duty (where they can also serve as a dining table or storage space for instance). Instead of going for a freestanding tub, choose a glass-encased shower with a rainfall showerhead to achieve the luxury without taking up much-needed space.
4. Walk-in wardrobes
Another popular request among homeowners here is the walk-in wardrobe, first introduced in the homes of the wealthy as an adjoining section of their bedrooms. Nowadays, particularly in space-starved Singapore homes, walk-in wardrobes are no longer the purview of bedrooms. Here, they have been known to be converted from bomb shelters.
You love it for the opulent feel it gives your home, but it's a luxury that should be reserved for those with sprawling mansions—or an extra room to spare.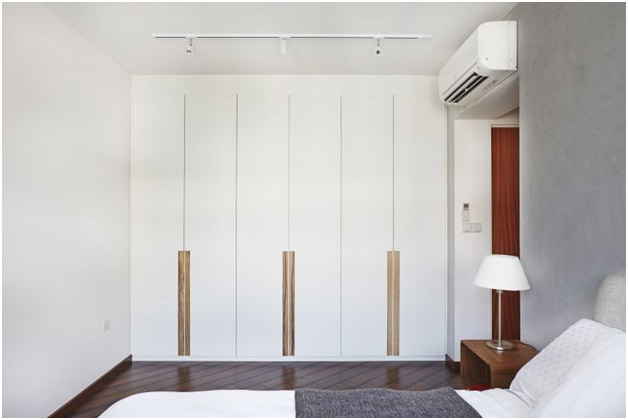 Alternative: Rather than convert a part of your already small bedroom into a walk-in a wardrobe, a built-in wardrobe would hold your clothes just fine. And because it's flushed to the wall, it takes up minimal room while giving a clutter-free appearance. Wish to parade your fashion accessories? Go for see-through panels or open shelves.
5. Wallpaper
The wonderful thing about wallpaper is that they come in such a wide array of patterns and colours. If you can think it, there's probably a wallpaper of it. Choose a bold print, and you can create instant panache. Choose a calming motif and your home becomes a soothing sanctuary.
But while wallpapers are one of the easiest style changers, they don't do so well in our humid climate. The humidity causes the wallpaper glue to come off in the long run, leading the wallpaper to curl and peel.

Nippon Paint Momento Special Effects Paint
Alternative: If you wish to incorporate wallpaper, stick to feature walls that are away from windows. A good alternative to wallpaper is decorative paints or special effect paints.