5 Reasons Why You Should Renovate Your Home Before You Sell
24 Aug 2021
Singapore's housing market is hotter than ever, and many homebuyers are contemplating selling before it cools. However, if your home is looking tired or dated, a thoughtfully planned renovation can add tens of thousands to the selling price. Here's why.
#1. Yes, You Can Appeal to (Almost) All People
While a quirky personality-laden interior is fantastic for the owner in question, it won't appeal to buyers. Nobody wants a home that has somebody else's name written all over it. The aim is to create a neutral ambience that appeals to as many people as possible.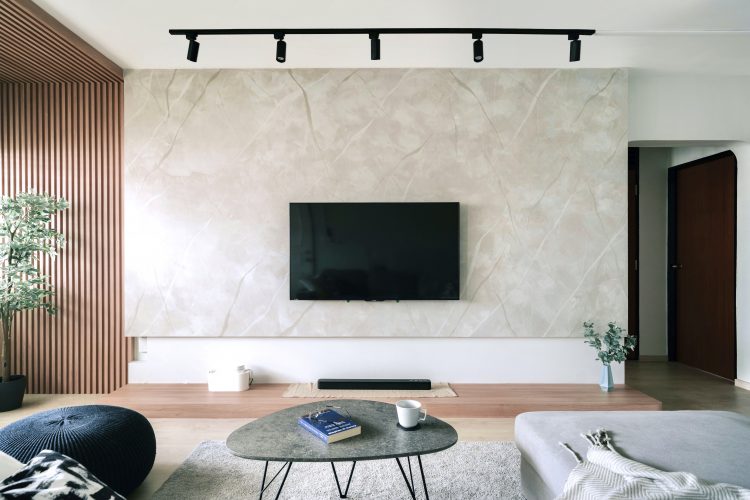 This 4-room HDB flat at Jurong West, designed by Key Concept, embraces the broad appeal of beige. Photo courtesy of HomeRenoGuru Annual 2021
If you've splashed your favourite colours all over the walls, kiss your rainbow décor goodbye and embrace the universal appeal of beige. A coat (or two if you're covering dark colours with light ones) is a relatively inexpensive way to broaden the appeal of your home to prospective buyers. Though grey and 'greige' are popular palettes among young homeowners, bear in mind that they can look gloomy when photographed.
Declutter your rooms to visually enlarge them and create that 'blank canvas' effect that most buyers are looking for. Strangers aren't interested in your collectible Star Wars figurines or high school sports trophies.
#2. A Great Kitchen Can Seal the Deal
Many real estate veterans swear that kitchens sell homes. And since most contemporary homes have open concept layouts, gone are the days when a messy kitchen could be hidden away by simply closing a door.
For higher-end properties, the listings will often use evocative phrases such as 'stunning hostess kitchen', and even state the type of finishes on the countertops – quartz, Caesarstone, stainless steel and so on.
An emerging favourite among local homeowners is Gardenia Slab Sintered Surfaces. These large-format panels of all-natural sintered stone are virtually indistinguishable from naturally mined marble and quartz, with the added advantage of being highly resilient, scratch-resistant, stain-resistant and heat-resistant. Local distributor Bellus Group Pte Ltd currently stocks more than 50 stunning different finishes made from various mineral mixes.
"The kitchen is the heart of every house, and homebuyers will always be drawn to it. The materials and styles you choose have a big impact. We recommend that you take your time during the selection process, and consider current trends as well as long-term resale value," shared Lynette Sim, General Manager, Bellus Group Pte Ltd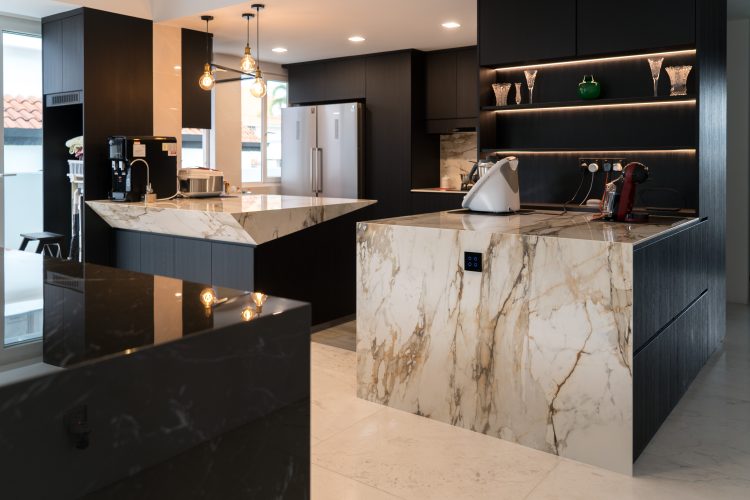 Stunning marble-lookalike Gardenia Slab Sintered Surfaces add luxury and functionality to a kitchen for immediate enjoyment – and significant resale value for the future. Photo courtesy of Bellus Group Pte Ltd
A word of warning: While there's no denying the selling power of a great kitchen, it's important to look at the demographic of residents in your area and get a clear picture of their expectations before splurging unnecessarily on high-end materials. For example, it would be folly to spend on top-of-the-range European whitegoods when mainstream brands would do just fine. If your hob and hood are in good working order, an industrial-strength clean may even do the trick.
One part of the kitchen that is worth spending on is cabinets. It's important that drawers and doors are soft-closing or at the very least, not squeaking. Grimy or rusty hardware should be cleaned or replaced. Likewise, if the surfaces are scratched or stained, replace them or at last reface them with a low-cost laminate.
#3. A Well-presented Bathroom Pumps Up the Value
Though there's no denying the importance of the kitchen, some would argue that wet areas (in general) sell homes. In many buyers' eyes, the bathrooms are just as important as the kitchen. The good news is that if your basic plumbing is in working order, you may not have to do too much to redo your loos.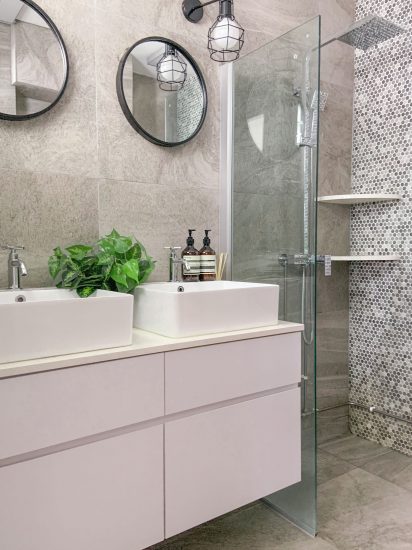 Twin basins add both convenience for couples and resale value to this HDB maisonette at Jurong, designed by Apartment. Photo courtesy of HomeRenoGuru Annual 2021
Replacing fixtures such as basins and toilet bowls, even just replacing a grotty toilet seat, can make a huge difference. There are also many inexpensive tiling options, and even paints that adhere well to existing tiles.
#4. Recent Renovations Push Up Bank Valuations
When a buyer needs to get a home loan to purchase a property, the bank will base the amount of the approved credit on a valuation of the property. Especially with HDB flats, banks are likely to ask if the property has been renovated or remains in its original condition. A recent renovation will not only push up the selling price, but also help the buyer obtain the necessary finance to seal the deal.
This 4-room HDB flat at Ghim Moh Link, designed by Weiken.com, adopts the evergreen Scandinavian aesthetic that homebuyers love. Photo courtesy of HomeRenoGuru Annual 2021
#5. Old Renovations Can Work Against You
If your home was renovated more than 10 years ago, and especially if the renovation adopted the trends of the day, it could devalue your property. Gaudy hot pink, orange and purple laminates, statement light fittings, intricately patterned tiles and over-the-top vintage tapware are potential turn-offs for buyers who are mostly looking for a neutral canvas.
In short, if your home is marred by an old, outdated renovation, it may pay you to 'un-renovate' and restore it to something closer to the empty shell of its original condition.
Do Your Homework Before You Renovate
Whatever your reasons for renovating, to get the best-selling price or to simply live your best life, visit HomeRenoGuru, Singapore's No. 1 renovation portal, first. It's the fastest, most objective way to obtain an overview of the market, view IDs' portfolios, and obtain obligation-free, competitive quotes. What's more, if you engage your ID through HomeRenoGuru you can take advantage of the first-in-industry HRG Guarantee. It protects your renovation deposit and up to 50% of your contract amount, up to $50,000, in the event that the ID company winds up. It even comes with free legal advice if you need it.
At a time when so much is uncertain, it's good to know that you can trust 'the Guru'.