2022's Ultimate List of HDB kitchen Designs: 7 Practical Designs You can Easily Achieve
18 Sep 2019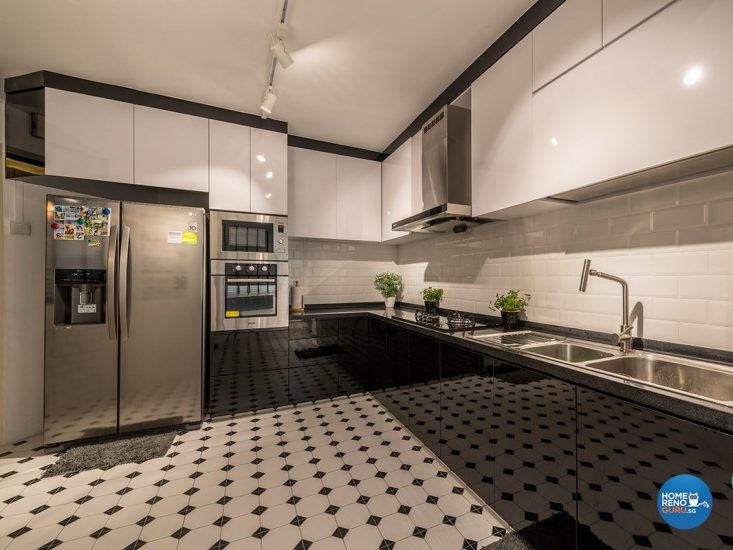 The Two Big Guys
Our kitchens are where we cook, eat, entertain, and socialise. Therefore, it's important to create a space that fulfils all these requirements.
With the clever usage of kitchen layouts and designs, even the smallest spaces can cater to your every need.
Ready to get started? Check out these 7 beautiful HDB kitchens designs to get inspired!
Open-concept Kitchen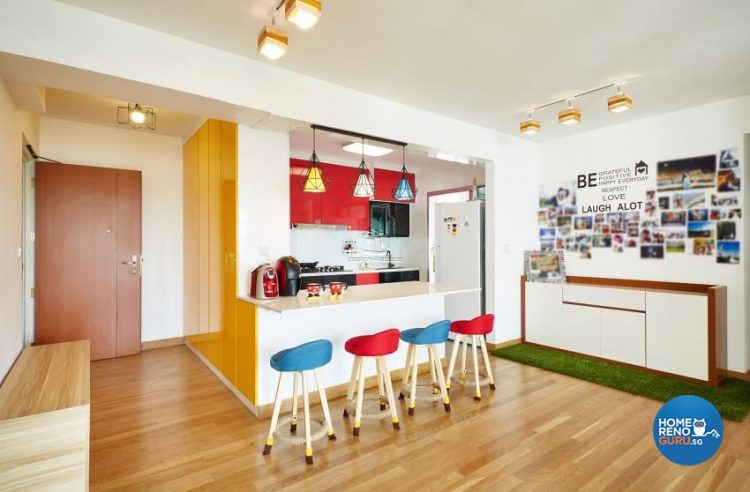 Design 4 Space
This design is one of the most popular designs among Singaporeans; 7 out of 10 homeowners opted for this concept when HDB carried out a trial run in 2012.
Additionally, the government recently announced that they'll be extending the open-concept kitchen to BTO projects. This means that such kitchens will soon become the standard in HDB flats.
It's easy to see why the design is so immensely popular; it allows more light into the area and enables you to keep a watchful eye on your kids while you cook.
Having an open kitchen is a great option. However, cooking grease and odours may spread throughout the whole apartment easily.
To mitigate this issue, here are some tips for you: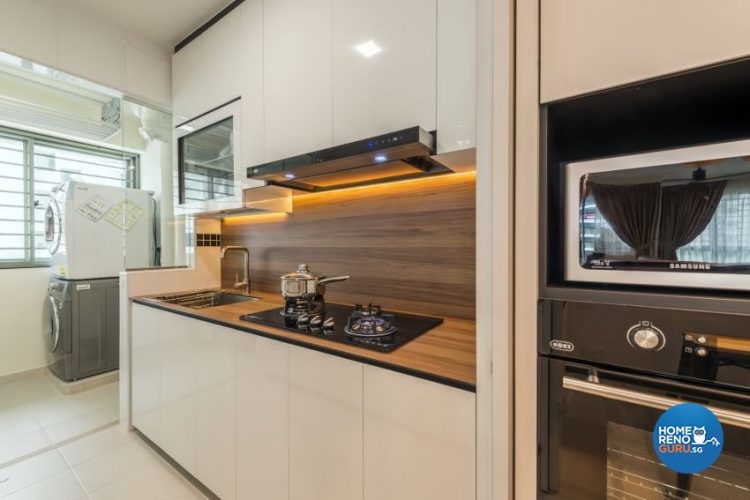 GV Design & Construction
A good cooker hood prevents unpleasant smells from lingering in your home; it sucks away pungent odours, leaving your home smelling fresh.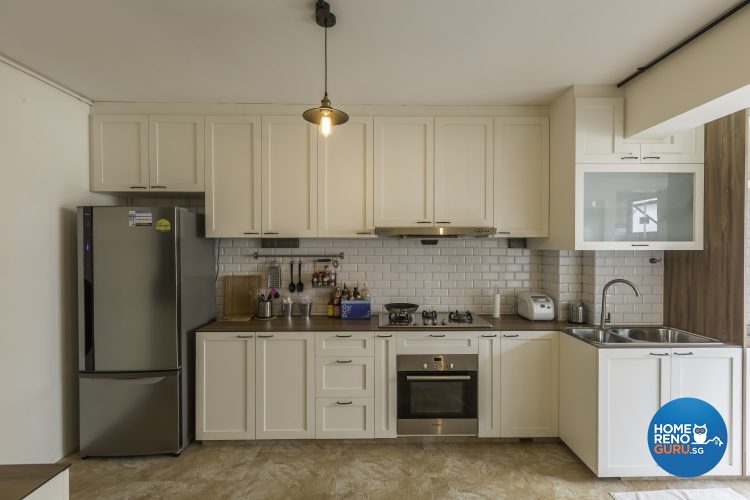 Renozone Interior Design House
Consider placing your cooking hob next to a wall. That way, a kitchen backsplash can be installed to contain grease splatter when you cook.
In this 4 room HDB kitchen design, a tiled wall is chosen as a backsplash to make cleaning up a breeze.
Single Wall Kitchen

Le Interi
Kitchen space is scarce in Singapore. As such, constructing a single wall kitchen could just be the solution to your space limitation problems.
As its name suggests, this layout pushes elements within the kitchen to a single wall. The need for lesser cabinets to be built helps homeowners to conserve floor space and construction costs.
It also allows for increased efficiency. A well-planned design will avoid having work zones that are too far apart. In addition, you can also prep, cook, and wash up in a single space. This enhances your convenience and improves productivity in the kitchen.
Open Shelving Kitchen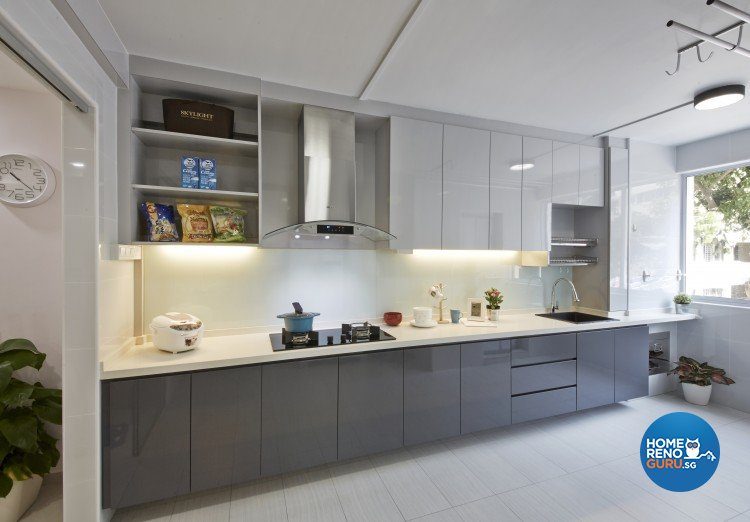 New Interior Design
Unlike most kitchens with rows of cabinets built-in, having open shelves is unconventional. It creates an illusion that the kitchen is larger than it is.
These shelves are also an excellent way to stow away your necessities. On top of that, they offer you an area to display your proud collection of tableware.
Tip: Understandably, you might be on the fence about the compatibility of the design with your lifestyle.Test waters by removing the doors from your upper cabinets for a few weeks. Use this time to evaluate if you like the feel and look of the open shelves and decide from there.Alternatively, why not opt for both storage options? The image above features a 3 room HDB kitchen design consisting of open shelves and cabinets.With such a design, you get to enjoy the best of both worlds without worrying about a design poor fit.
Looking for Interior Designers?
Let HomeRenoGuru help!
Kitchen Island

Form & Space
A kitchen island is arguably one of the most coveted kitchen designs. Besides its impressive appearance, it's also extremely functional since it doubles as a storage unit and a space for meal preparation.
Most homeowners in Singapore are apartment dwellers. This means that space is a restrictive factor that prevents us from building an island. However, it's not impossible!
Here's how you can incorporate an island counter into your kitchen:
Install a multi-purpose island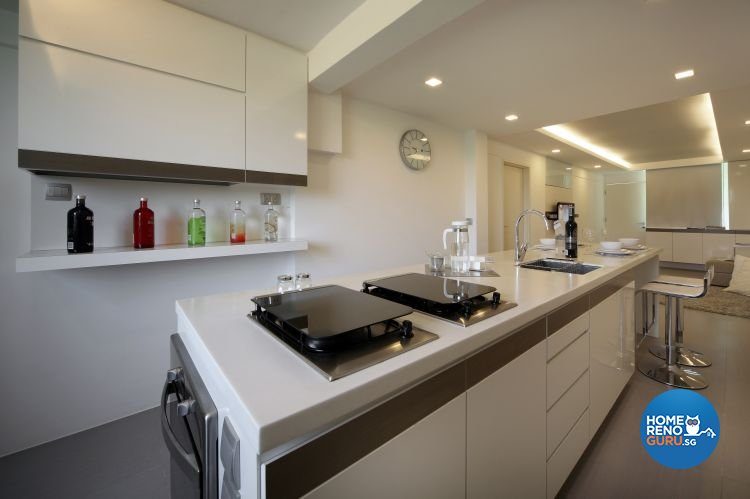 DISTINCTIDENTITY
Save space by incorporating your cooktop, sink, and storage into your island. You can even furnish it with some additional seats to convert it into a dining area.
You don't have to limit yourself to a bulky, stationary island situated right smack in the middle of your kitchen. A portable island counter works just as well; roll it out when you need more space and tuck it away when you don't!
Galley Kitchen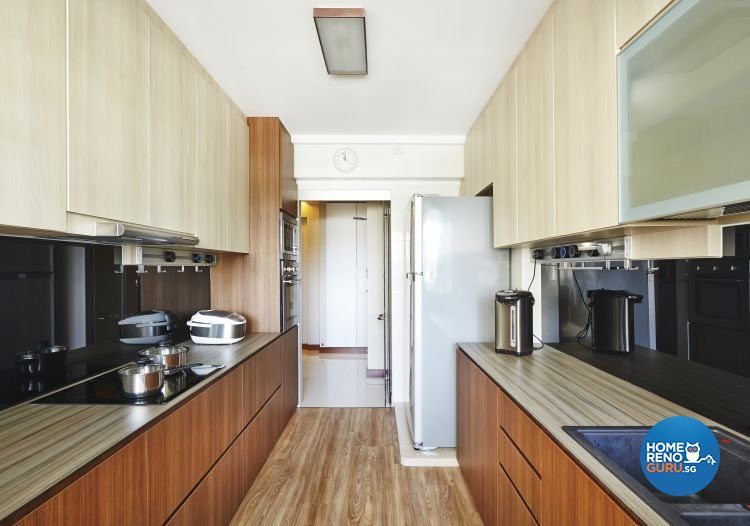 Rezt & Relax
Galley kitchens are a standard of HDBs; they're distinguished by their narrow layout and parallel kitchen tops. Such kitchens are designed to be compact and practical, making them the perfect solution for HDB owners with limited space.
If you're considering a galley layout, here are things to take note of:
Abandon the upper cabinets
When designing a galley kitchen, the aim is to make it feel as spacious as possible. You can do so by reducing the number of tall cabinets used. Alternatively, you can also keep your storage to one side instead of having them on both sides.
Keep things off the countertop
Maximise space by having as many built-in items as you possibly can. For instance, a built-in oven is preferred over placing the appliance on the counter.
Use a combination of light and dark colours
Stick to a darker, heavier colour for the base cabinets and paint the upper cabinets in a lighter shade. This helps to lessen the feeling that you are stuck in a hallway.
L-shaped Kitchen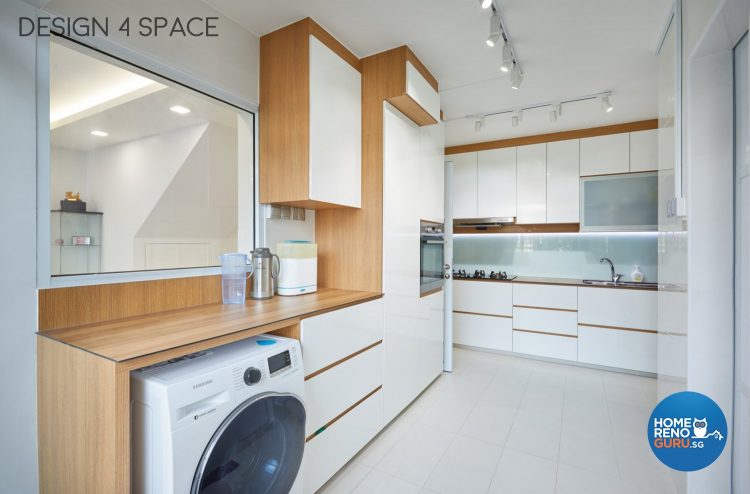 A functional kitchen should be designed with the 'working triangle' kept in mind. The arrangement creates a coherent workflow between three of the most critical kitchen elements: the stove, sink, and fridge.
Additionally, the layout consists of two walls that are adjoining and perpendicular, forming an 'L' shape.
Because of its ergonomics, this kitchen configuration brings about numerous benefits such as:
•
Improved efficiency in smaller spaces
•
Cooking area and sink are separated
This layout works best in small to medium-sized kitchens. For bigger spaces, the L-shaped kitchen can also fit a kitchen island – perfect for those who require extra work or storage space.
U-shaped Kitchen

Design 4 Space
The u-shaped kitchen, as it's aptly named, features a horseshoe-shaped work area; cabinets and counters are lined against three walls with an open end for access.
A u-shaped kitchen design is great because it's
The layout is designed for high efficiency – you can move effortlessly between your sink, cooktop, and fridge.
Having countertops on three different sides will provide you with ample space for cooking. Additionally, it makes your appliances easily accessible.
Things to Avoid When Designing Your Kitchen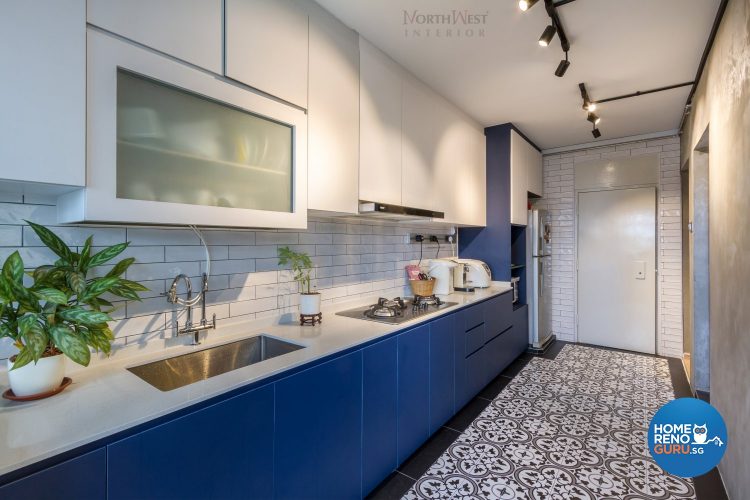 Northwest Interior Design
Dim lighting
Having proper lighting is essential in a kitchen; it helps illuminate the space to make it brighter and safer to work in. Besides, a poorly lit kitchen is a less than desirable place to cook in. It also increases the risks of cooking-related injuries due to poor lighting.
Insufficient storage
Cabinets and pull-out drawers are the first thing that comes to mind when you think about kitchen storage. When designing your kitchen, place them such that you have adequate space to open them without hitting another cabinet or drawer.
Poor workflow
Bad workflow planning can lead to an impractical kitchen that turns cooking, cleaning, and preparing meals into a nightmare.
Therefore, thorough planning is vital when designing your kitchen.
As a general rule of thumb, the storage area should be located near the entrance. This helps to minimise the distance when transporting groceries to the cabinets or fridge.
Additionally, the area for preparing and cooking your food should be closely situated. This limits the amount of time spent transferring ingredients to the pan and lessens the risk of spilling hot food.
Bonus Tip: How to Select an Interior Designer

DC Vision
Choosing the right interior design (ID) firm is vital. The right company ensures that you achieve the home of your dreams with minimal stress.
Unfortunately, ID horror stories are rampant. Homeowners often find themselves stranded with half-completed renovations after the hired firm flees with their money. They face the double whammy of losing a substantial amount of money and having to hire a new ID.
To avoid being a cautionary tale, ensure that you address these questions before deciding on an ID:
Is the company HDB-licensed?
There are a ton of rogue ID firms in the market that are out to scam customers.
A company that's registered with HDB signals that the firm has undergone proper training. Furthermore, it indicates that they understand the ins and outs of renovating HDB apartments.
Both of which indicate that they will design your kitchen with the appropriate guidelines in mind.
What contractors do the ID firm work with?
Some IDs have their own factories and employ their own contractors; others get the handiwork subcontracted out.
Generally, the former is preferred. This is because the usage of subcontractors blurs the line of responsibility between parties involved. When issues crop up, fee quotation might increase due to the need to negotiate between the ID and the subcontractor.
There's also a risk of subcontractors cutting corners and delivering mediocre, unsatisfactory work.
What is the firm's payment scheme?
It's imperative that you know how the ID firm will be charging for the project. Progressive payment is the norm in the industry. If a firm asks for you for a 50 % deposit, it's best to turn them down.
What is the project's timeline?
Homeowners are recommended to request for a detailed project timeline. While this timeline may be a rough estimate, it allows you to conduct occasional on-site spot checks if needed.
However, if there's a delay, you're advised to avoid micro-managing. Instead, question the cause of the delay and how quickly it can be resolved. This allows you to manage your expectations and assess the capability of your ID.
Designing Your HDB Kitchen
There are plenty of tweaks and designs you can choose to change the make-up of your kitchen. From opting for an open-concept kitchen to installing a portable island for flexibility. Having a HDB kitchen with limited space doesn't mean you need to stick to boring, utilitarian designs.
Learn how we can help you revamp your HDB flat's kitchen. Contact us for a free quotation today!
Decided on your ideal kitchen design?
Our interior designers can make it come true!