Is Everybody a Homebody Now?
12 Jun 2020
We've huddled at home for so long now that some of us are getting comfortable with it. Some are loving it, even. If you're among the permanent converts to a home-centric lifestyle, here's some inspiration on how to make home a happier place.
Kitchen Rules
The Internet and social media are jam-packed with articles and posts on easy-to-follow cooking recipes. Virtual cooking classes are booming on Zoom. The bi-weekly trip to the supermarket has become the highlight of our lives. Comfort cooking and comfort eating have stacked on the 'quarantine kilos'. (Maybe we all need a home gym, too.)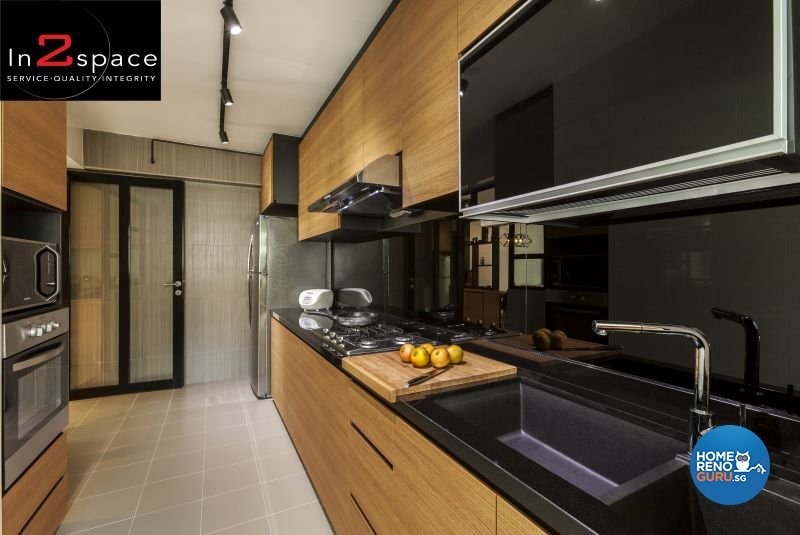 HDB 5 Room Blk 669 Edgefield Plains | In2Space Interior Pte Ltd
It all points to one thing – the importance of a great kitchen. Not necessarily a large one, but a functional, space-efficient one that allows two or more to cook together, in concert not conflict. How does your kitchen measure up?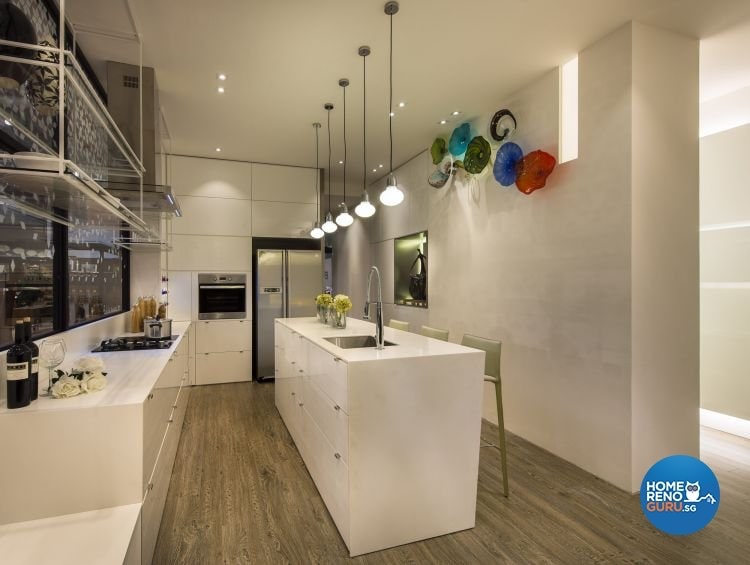 Ciseern Showflat 2013 | Ciseern by Designer Furnishings Pte Ltd
Together, Apart
Four months ago, if somebody said 'WFH', it probably still sounded foreign then. Now that the majority of our workforce has experienced working from home, the acronym is as familiar as CTE, CPF and CB. But are you okay with your WFH arrangements?
If, like many, you've been looking for that elusive 'cone of silence' in your home only to be embarrassed during webcam meetings by barking dogs and chattering children, and perhaps the odd half-naked occupant walking past in the background, you probably need to rethink the workspace in your home.
HDB 3 Room 1 Segar Road | Inspire ID Group Pte Ltd
Semi-permanent enclosures can be created with glass or gypsum board panels. They can be removed to optimise resale value if and when the time comes. If you have the luxury of a walk-in wardrobe, you could also consider installing a desk and power points against a wall to turn it into a cosy multi-tasking space.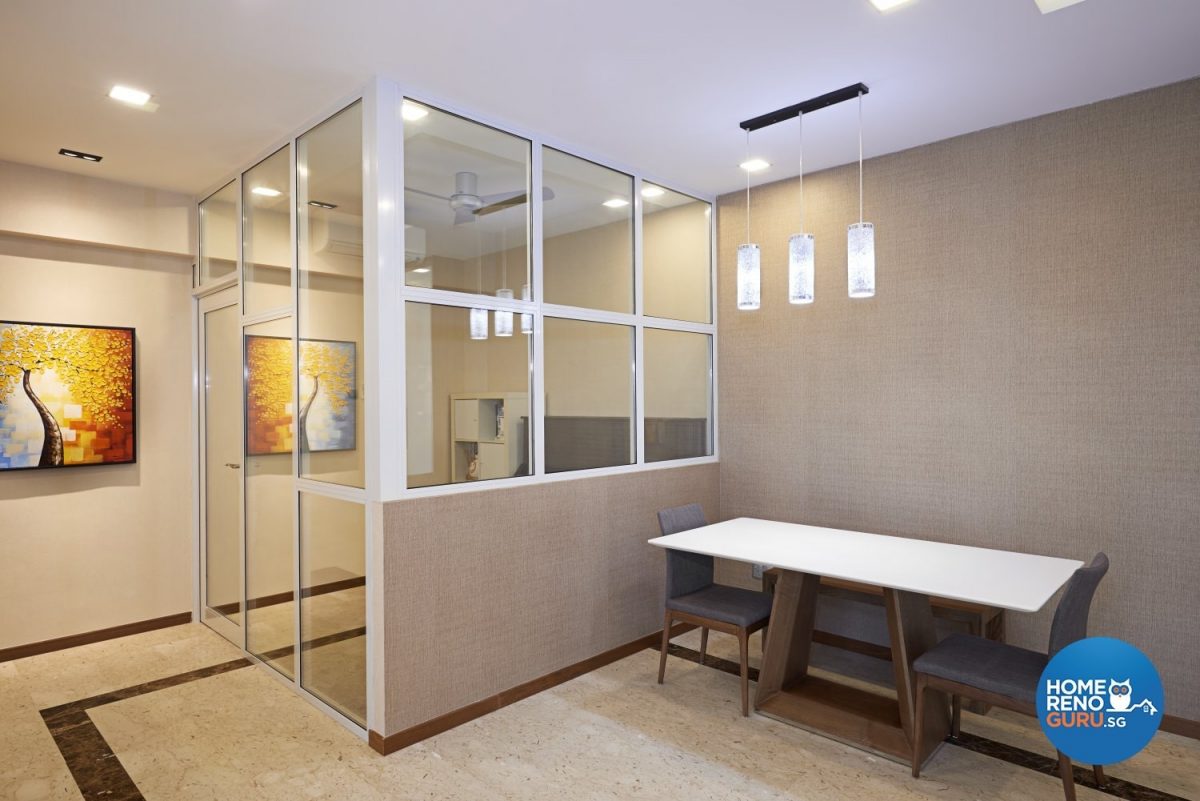 Condominium 700 Lorong 1 Toa Payoh | Weiken.com Design Pte Ltd
Did somebody say Netflix?
Let's face it, everybody's been binge-watching. Some have become desperate. The closing credits of the season finale of your favourite show, with no next season insight, are a horribly sobering moment. Fortunately, there are reruns and overlooked shows to revisit. But – you need a great TV set, a comfy couch and adjustable lighting to truly create that at-home cinematic experience.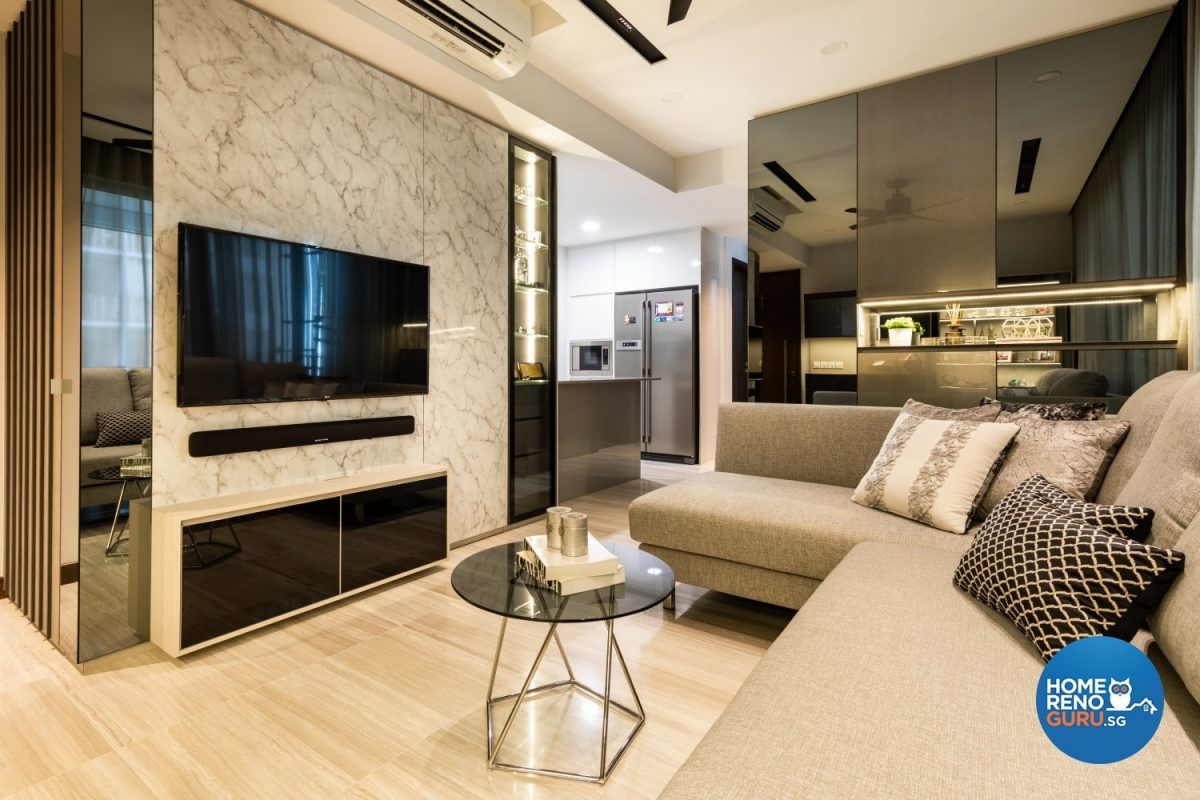 Condominium Eco Sanctuary 279 Bedok South | Edgeline Planners Design Pte Ltd
If your TV's at a level that makes you crane your neck till it aches, you should consider engaging an ID to properly mount it on your wall and conceal the wiring behind built-in cabinetry. It's more or less the norm to add a console and cabinet below the screen, for storing our gaming console and controls, your router and modem, and other tech paraphernalia.
HDB 4 Room Bukit Batok | Weldas Wolfgang Pte Ltd
Join the reno queue ASAP
With the backlog of stalled projects soon to restart, new renovation projects will have to wait their turn. The sooner you engage an ID to renovate your home, the sooner your project can be scheduled to commence – and the sooner you'll be enjoying your newly renovated kitchen, your WFH office and your home entertainment hub. Obtain quotes from reputable IDs now, from the comfort of your own home, through the HomeRenoGuru website or mobile app.
Stay home. Stay safe.