Is Built-in Carpentry Out?
While built-in cabinetry makes the most of limited space, some homeowners are bucking the trend and embracing the freedom of loose furniture. Is built-in on the way out?
We approached four of the leading interior design firms in Singapore – Cozy Ideas, WHST Design, The Orange Cube and Monoloft, to get their take on the topic.
Storage, Storage, Storage!
The general consensus is that built-in is more relevant than ever as HDB flats and condominium apartments continue to get smaller and smaller. According to our sources, almost every homeowner places storage high on their wish-list — to get large storage within small spaces.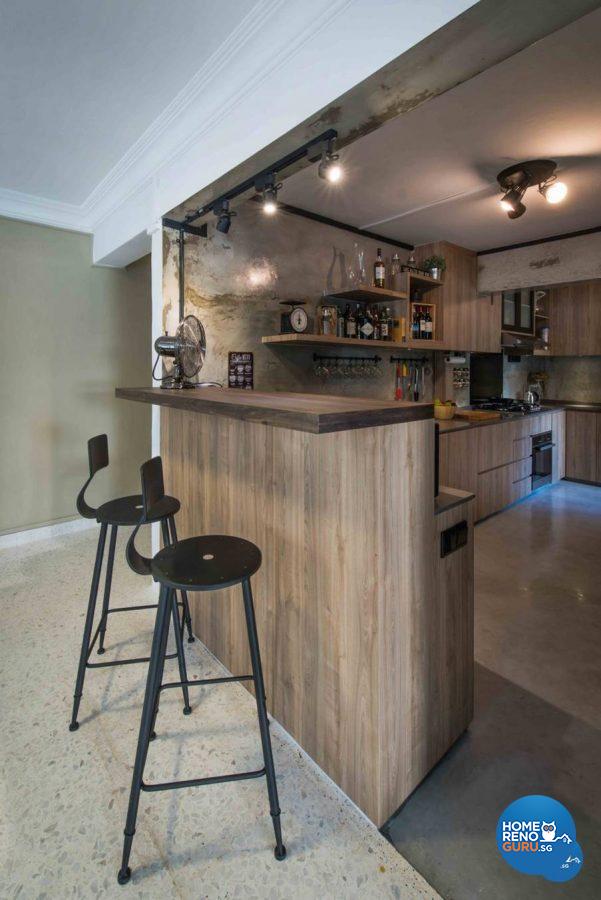 HDB 5 Room 67 Telok Blangah | Cozy Ideas Interior Design Pte Ltd
"As condos and HDB flats are becoming smaller in floor size, owners increasingly want to customise carpentry items to increase storage," said Loy, Design Manager, Cozy Ideas.
Vince Teo, Director, WHST Design, added, "Full-height cabinets that reach the ceiling really help to maximise the space, whereas free-standing furniture will always leave a gap."
Overall, built-in furniture not only allows you to customise your furniture to the lifestyles and needs of the occupants, but also to the floor plan of the house. Every nook and cranny in an odd-sized room is crying out for a built-in storage unit or display cabinet.
Getting Better All the Time
Not only did all the experts agree that built-in cabinetry is here to stay, they also agreed that built-in cabinetry is improving all the time. In particular, materials and hardware have come a long way.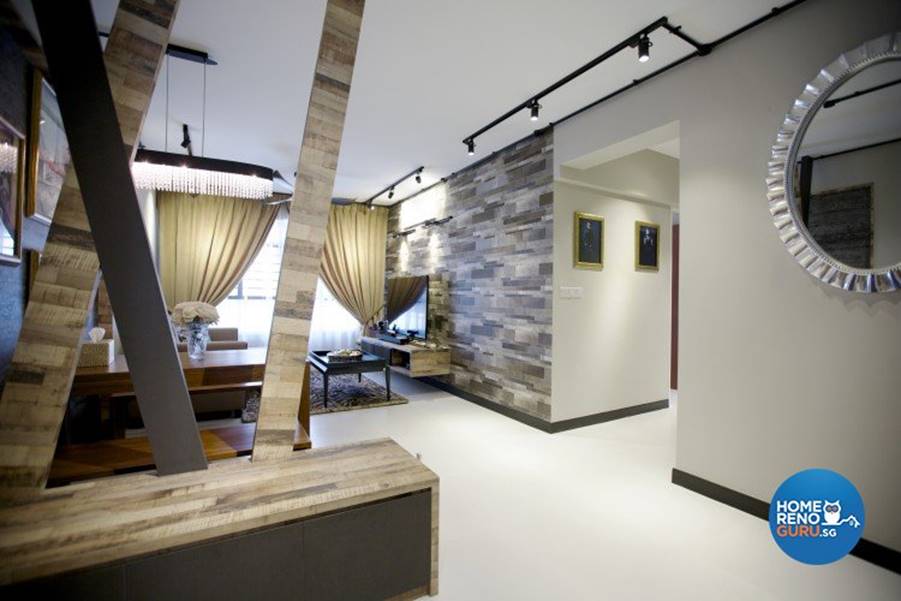 HDB 4 Room 197 Boon Lay Drive | Northwest Interior Design Pte Ltd
Looking for Interior Designers?
Let HomeRenoGuru help!
"New and interesting laminate designs with new surfaces such as high gloss and tactile finishes have opened up more design possibilities. Innovative and space-saving hardware and ironmongery have become a lot more affordable, which really improves the overall quality of built-in carpentry," shared Lee Chi Ho, Director, The Orange Cube.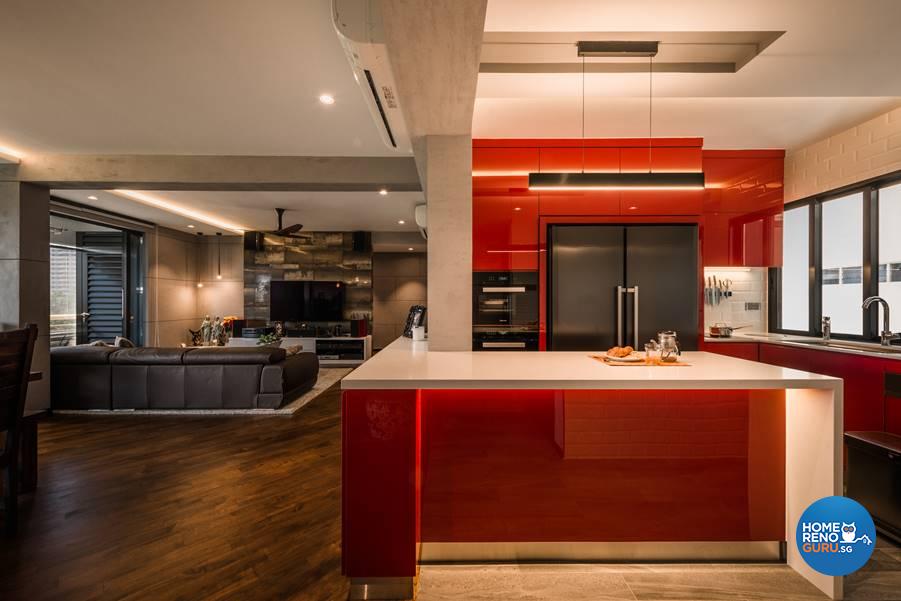 Image courtesy of The Orange Cube
"Nowadays we are able to explore using quartz, tempered glass or Kompacplus as part of the furniture finishing. Meanwhile, laminate materials have also been improving and now come with anti-fingerprint and scratch-resistant properties. Some even come with self-healing specifications," said Joseph Seah, Director, Monoloft.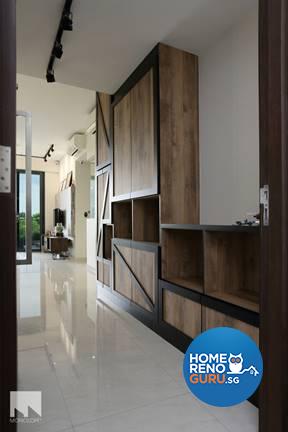 Images courtesy of Monoloft
Shape of Things to Come
When we asked our experts to report trending new items, the word 'loft' cropped up repeatedly.
"There is a growing demand for loft-style beds with workspace below. This is a great way to optimise the space planning in homes with limited space, especially new BTO flats," said Vince.
Loy agreed, and elaborated, "With more condos having high ceilings of 4 metres and above, we have seen an increasing demand for loft and mezzanine-style combined beds and study areas. There is also a growing demand for storage platform beds."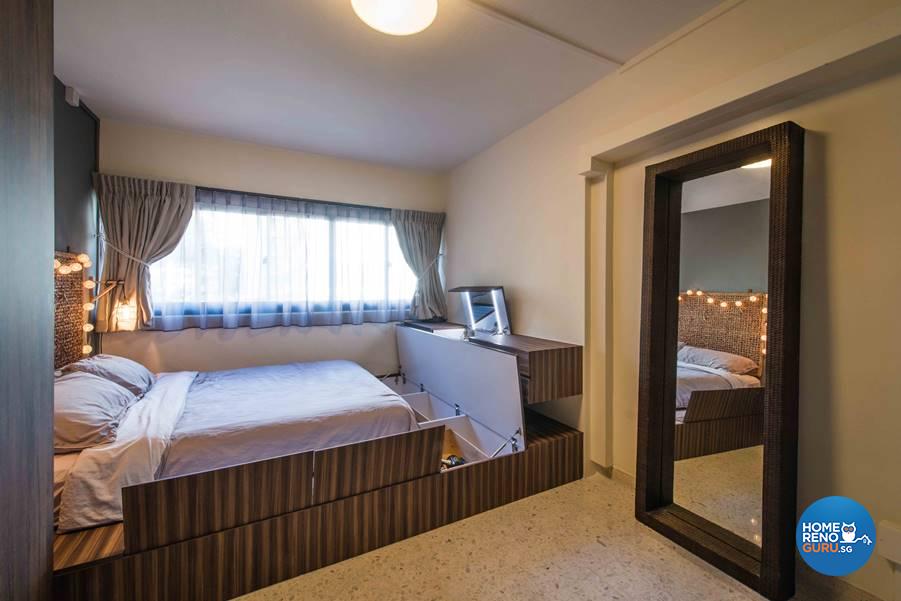 Image courtesy of Cozy Ideas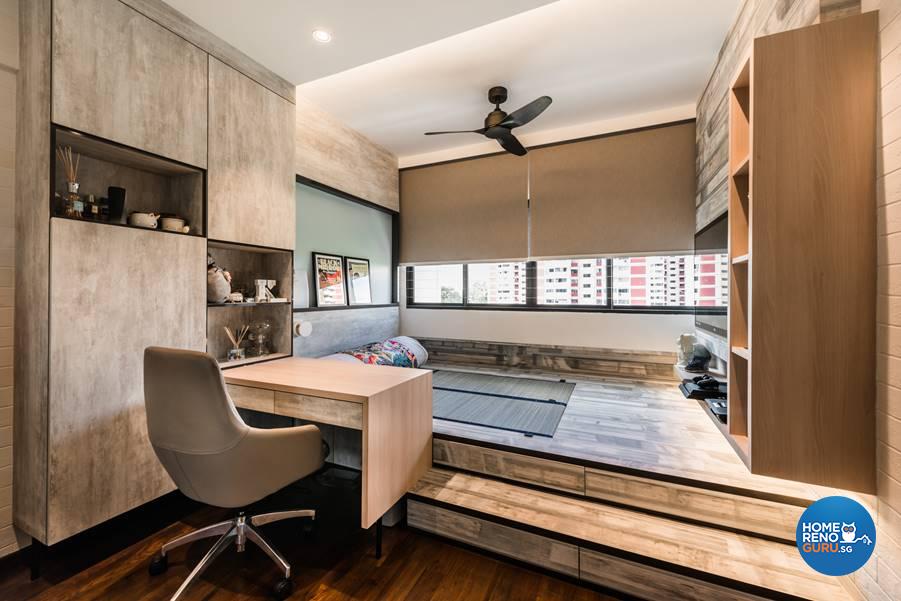 Image courtesy of The Orange Cube
It seems that built-in carpentry is also becoming smarter. Though it's nothing new, electrical and mechanical forms of hardware are becoming standard as opposed to novel extras. Auto-closing, soft-closing or anti-slam doors and drawers, pull-down dish racks and self-elevating devices for tables are now considered quite commonplace in the market.
Vince added that built-in carpentry allows many more interior permutations compared to free-standing pieces. "You are able to fully customise the internal shelves according to the home owner's lifestyle, whereby free-standing pieces usually come with standard shelves."
Drawbacks and Limitations
As with every choice, there is an argument for the rejected option. Chi Ho pointed out the obvious in saying, "When one moves house, one cannot move the built-in carpentry."
Joseph added, "There are some disadvantages to built-in cabinetry, as it's basically a permanent fixture until you decide on your next renovation. However, as responsible interior designers, we will always make it a point to understand the future plans of the homeowner before proposing a design."
Mixing and Matching
While it's fair to say that built-in furniture is a long-term commitment, you can always change things around by adding and rearranging loose pieces of furniture.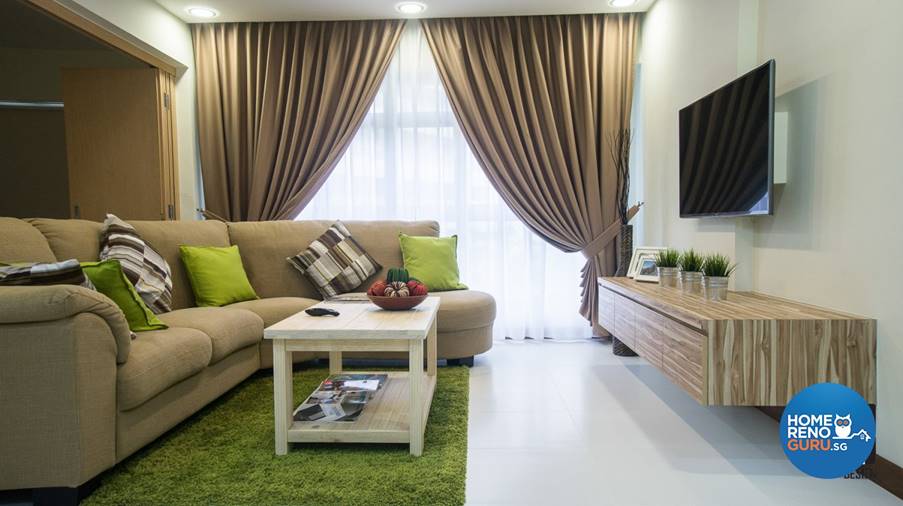 HDB 5 Room 327A Anchorvale Road | WHST Design
Joseph encourages his clients to play around with loose pieces of furniture, again emphasising the need for forward-looking planning. "Then every now and then you can have a different feel or theme for the house with minimum disruption to your lifestyle. We strongly advise the homeowner to plan ahead."
Chi Ho even goes so far as to suggest taking the design cues for your built-in carpentry from existing pieces. "Loose pieces can be employed as a showcase piece or a statement piece, provided they have design merit or aesthetic value. The built-in furniture can then be designed to harmonise with these pieces."
HDB 3 Room Blk 70B Telok Blangah Heights | Swiss Interior Design Pte Ltd
Loy also agreed that it's perfectly acceptable to mix and match built-in pieces with free-standing ones, "… so long as the colours and designs of both built-in cabinetry and free-standing furniture pieces complement each other and blend well with the entire theme of the house design."
Are you sold on built-in furniture, or would you prefer the freedom of loose pieces? It all comes down to personal choice and future plans, as there really are no rights and wrongs. If you're undecided, talking it over with an experienced and reputable interior designer will almost definitely help you crystallise your plans. Request for a free renovation quote here, and we'll connect you with an interior designer who matches your needs and budget.
What's more, you'll stand a chance to win free home renovations worth a total of $30,000!