Small Spaces Large Storage Ideas
The lack of space is a common gripe for many homeowners, especially those living in the new HDB BTO flats or condominium units. As homes become smaller, we need to become smarter with our space usage. What many don't know is there are actually many untapped areas with storage potential. Here are some exciting storage possibilities:
2-bedroom condominium @ Fernvale Close by Fineline Design Pte Ltd
LOFTED ARRANGEMENT
This tiny condominium cleverly maximises its ceiling space with a bedroom deck and a walk-in wardrobe at the bottom. By splitting the level, it gives you the opportunity to build deeper storage compartments without much disruption to the floor area.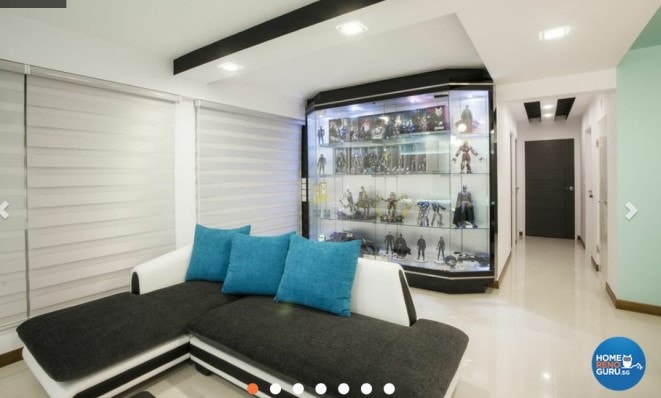 HDB 5-room flat @ Sengkang East Ave by Luxurious Design Pte Ltd
DISPLAY WALL
If you are an avid collector of toys, travel mementos or LEGOs, having ample display cabinets will give them pride of space. Glass showcases are always a good idea because it keeps the dust out and minimises cleaning. These bespoke storage solutions will also allow you to customise the exact dimensions to work with your collections.
Condo @ Waterline by Ciseern by Designer Furnishings Pte Ltd
TOP IT UP 
Turn the bay window seat into something more functional by incorporating custom drawers. This additional layer of functionality can be aligned with a tall shelving unit to truly amp up both aesthetics and usage.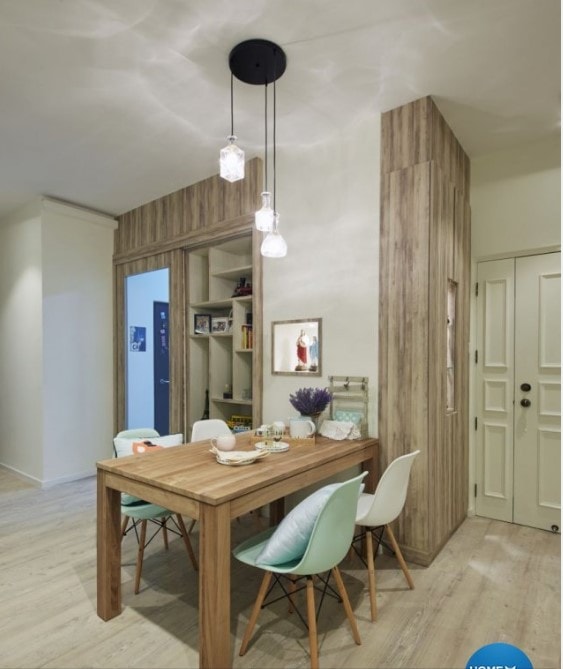 HIDDEN POCKETS
By exploiting unexpected places, this clever way of space usage brings far greater opportunities for storage. The door frame of this kitchen has been lined with display compartments for a more seamless style take while the foyer hosts a shoe cabinet in a similar finish.
Condominium @ 83 Anchorvale Crescent by Design 4 Space
MIRROR CHECKPOINT
Building some serious cabinetry for your tower of shoes maximises the storage space but it can also feel closed-in. With a tinted mirror finish, it can enhance the sense of space. Plus, the mirrors make an adept check-out point before you leave the house.
Condominium @ Coco Palm by Swiss Interior Design Pte Ltd
SLIDING WONDER
We've seen plenty of platform beds but this bay window bed takes the cake for having additional features. Besides a ledge which works as a bedside table and lots of hidden storage beneath, it also boasts a cool and compact sliding study table.
4-room BTO flat @Clementi Ave 6 by Love Home Interior Design Pte Ltd
UNDER THE WINDOWS
With three quarter-height windows a standard feature in many HDB BTO flats, it's best to capitalise on all that window space below with an elongated storage bench. This adds tons more storage space and by keeping clutter hidden within its handy compartments, your flat stays neat and in pristine condition always.
5-Room HDB Flat @ Yishun Ring Road by Darwin Interior
MAX OUT THE STORAGE
For serious collectors, this homeowner's massive collection of Qoo drinks might offer some inspiration in terms of showcasing your prized collectibles. With every item proudly displayed, the designer even worked in top and bottom drawers to ensure every inch of space is well-utilised for practical usage.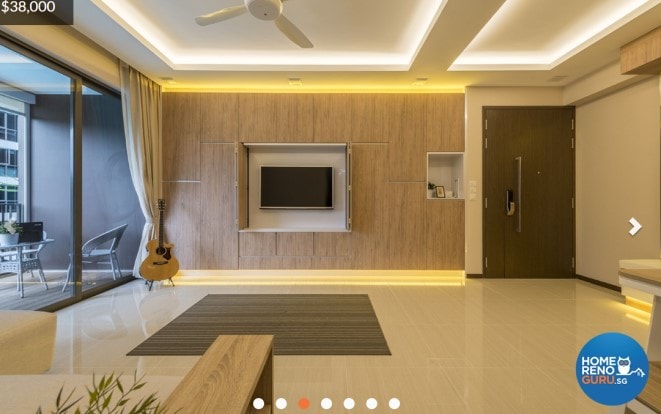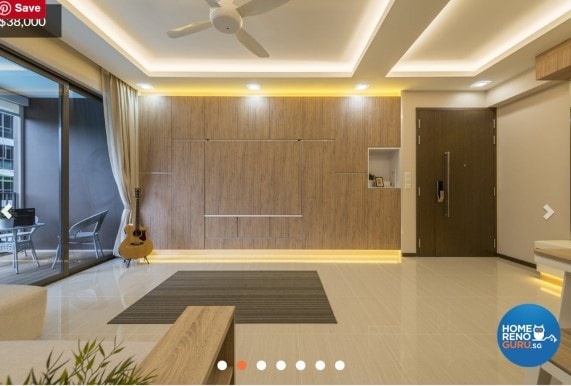 Condominium @ Bellewoods by The Two Big Guys LLP
LESS IS MORE
Visual clutter tends to swallow your home whole which makes even the largest space feel cramped and uninviting. By using folding cabinet doors which can be tucked back neatly, this TV console unit transforms into a sleek ensemble of woodgrain laminates which adds to the soothing and spacious appeal.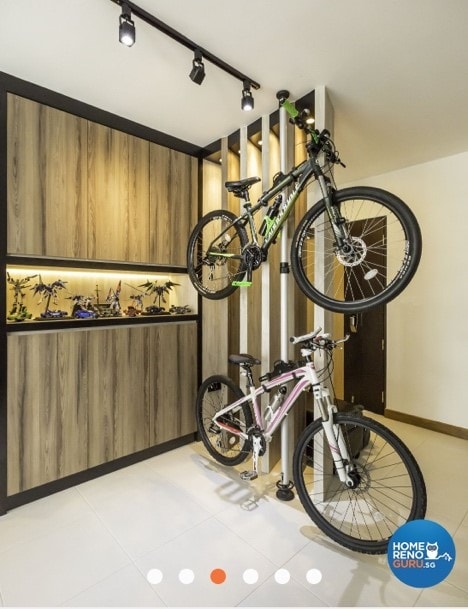 HDB 5-room flat @ Compassvale Lane by Starry Homestead Pte Ltd
DOUBLE DUTY
This two-in-one divider becomes more than just a privacy screen to block off prying eyes with its appropriate thick strips to anchor the homeowner's bicycles. With these road machines off the ground, that leaves behind more floor area. Unlatching it to go out for a ride is also made easy with its close proximity to the front door.
Ready to maximise the storage potential of your space? Leave the ideation to the experts! Simply request for a free renovation quote here, and we will match you up with interior designers based on your needs.
What's more? Stand a chance to win a Mercedes-Benz CLA 180 Coupe & Free Home Renovations worth $30,000!