Concealed Storage: Sneaky Spaces
In space-scarce Singapore, concealed storage makes perfect sense. See how local homeowners have made space in unlikely places.
Under benches, under beds, under stairs… there's no end to the artful solutions that interior designers have devised to address the perpetual problem of 'storage not enough'.
Bench Space
A bench in your entrance hall is a thoughtful touch that offers seating to your family and guests while removing and putting on their shoes. It also creates an opportunity for extra storage space under a hinged seat.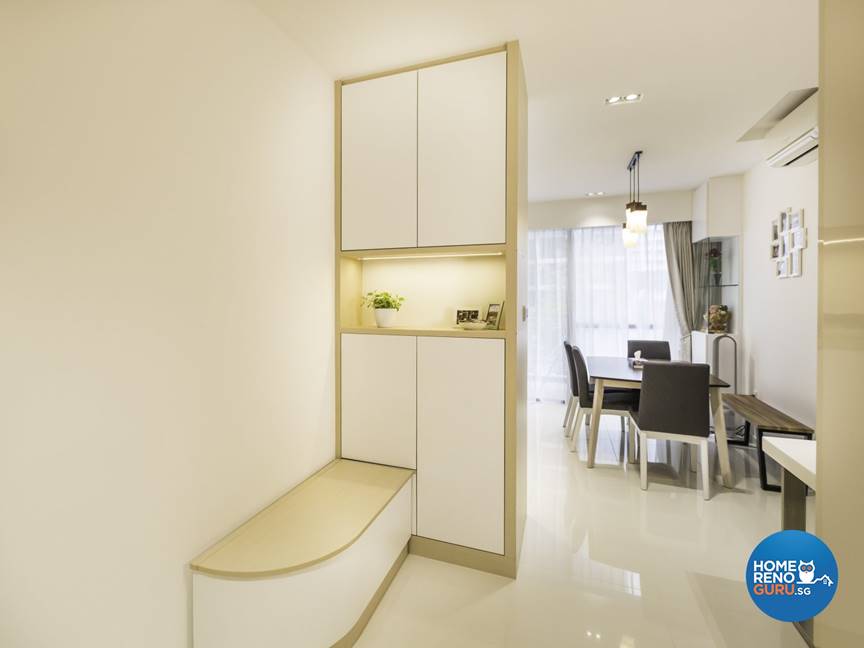 The entrance hall in a condominium at Twin Waterfall by Arts 2 Design Studio Pte Ltd
This elegantly uncluttered entrance hall by Arts 2 Design Studio provides storage space not only under the bench but also inside the adjoining display cabinet. The slim cabinet, positioned at right angles to the wall of the entrance hall, serves as a partial partition that screens off the living and dining area.
Bedroom Tricks
Instead of collecting dust under your bed, stash your stuff. Platform beds are becoming increasingly popular for their zen-like simplicity and space-saving practicality.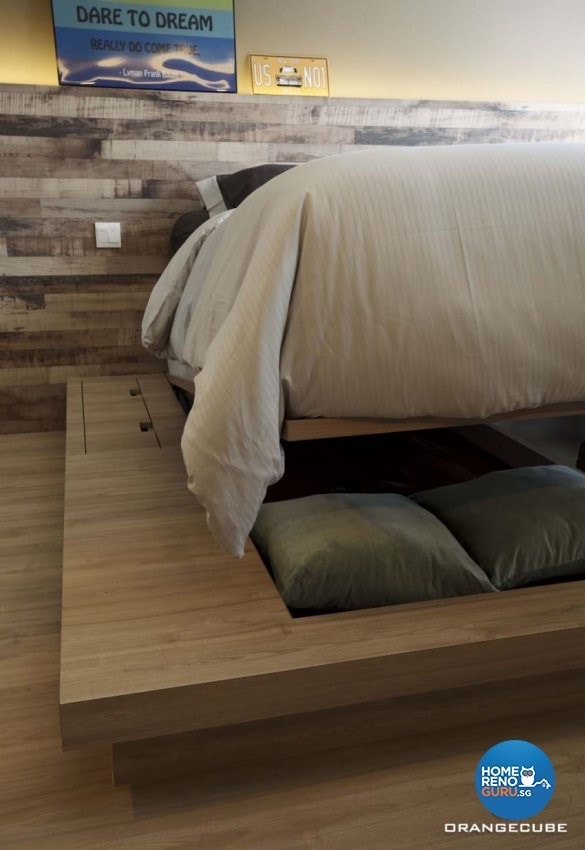 Platform bed with concealed storage in a condominium bedroom by The Orange Cube Pte Ltd
In this platform bed by The Orange Cube, lift-up hatches reveal space for handbags, winter clothing in hibernation till the next holiday, and spare bedlinen and pillows.
Step Up
Stairs, either complete flights between floors or short flights leading to elevated beds, occupy dead space that is easily transformed into storage space with some forward-thinking design.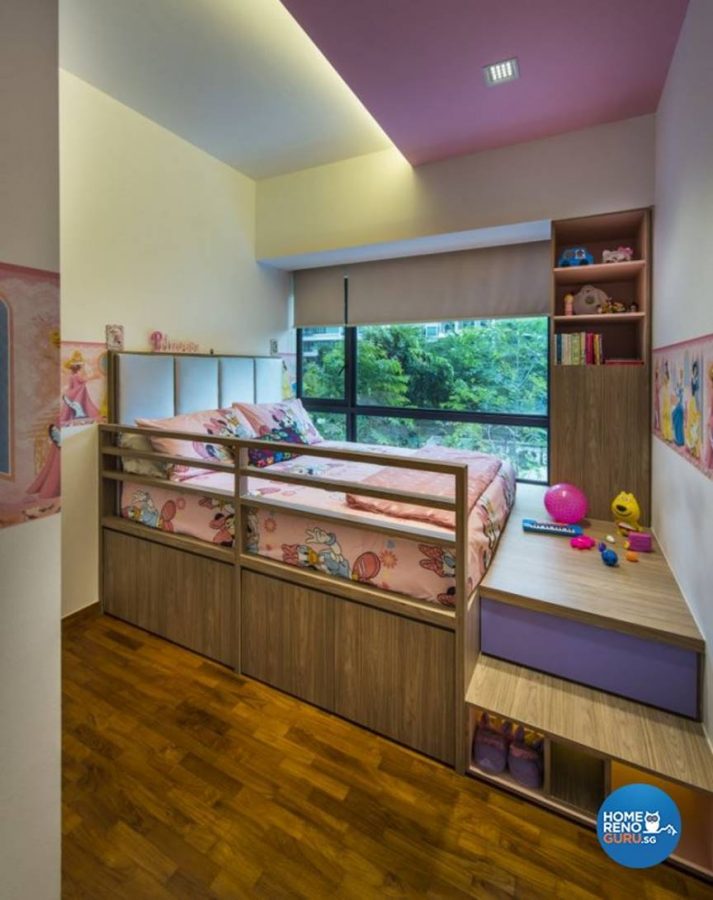 The children's room in a condominium by Prozfile Pte Ltd features under-stair drawers
This children's room by Prozfile Pte Ltd optimises the space under the bed with deep pull-put drawers and shallower draws under the two steps leading to the play platform. It's just the thing for express tidy-ups when toys are scattered underfoot – then whisked away to under the bed!
Wall Power
When is a wall not a wall? When it's a 'front' for concealed cabinets, of course. Many homeowners are happily sacrificing half a metre of floor space to create floor to ceiling cabinets.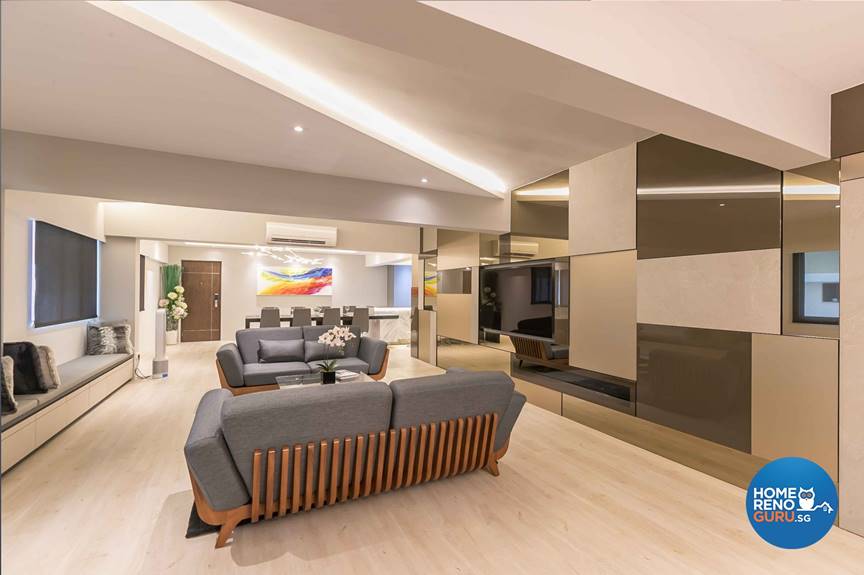 A wall of concealed storage (at right) in an HDB 3-room apartment by Dreamvision Designer Pte Ltd
This eye-catching feature wall fronts a series of cabinets with alternating mirrored and laminate doors. Electrical appliances, golf clubs, multi-media items and all manner of occasionally used items are out of sight, out of mind – until they are needed next.
Multi-tasking Dining
A built-in dining nook eliminates the need for bulky loose dining sets that require clearance on all sides for chairs to be pulled in and out. Better still, those padded seats can conceal extra storage space.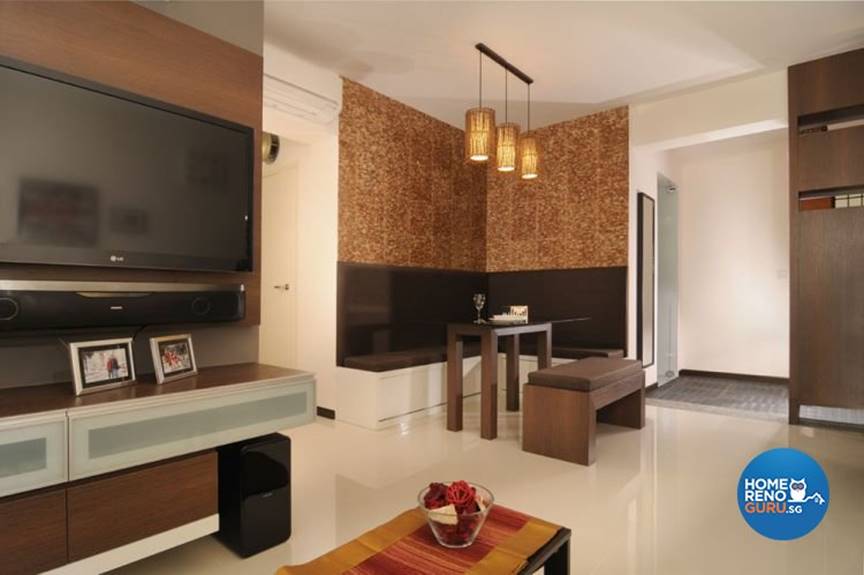 Dining nook in an HDB 5-room flat by Y-Axis ID
This dining nook by Y-Axis ID not only accommodates cosy dinner parties, but provides space under the comfortably padded seats for extra tableware, seldom used kitchen appliances and table linen.
A Bar Goes Far
A breakfast bar can double as dining space and storage space, while loosely separating the living area from the kitchen area in open concept interiors.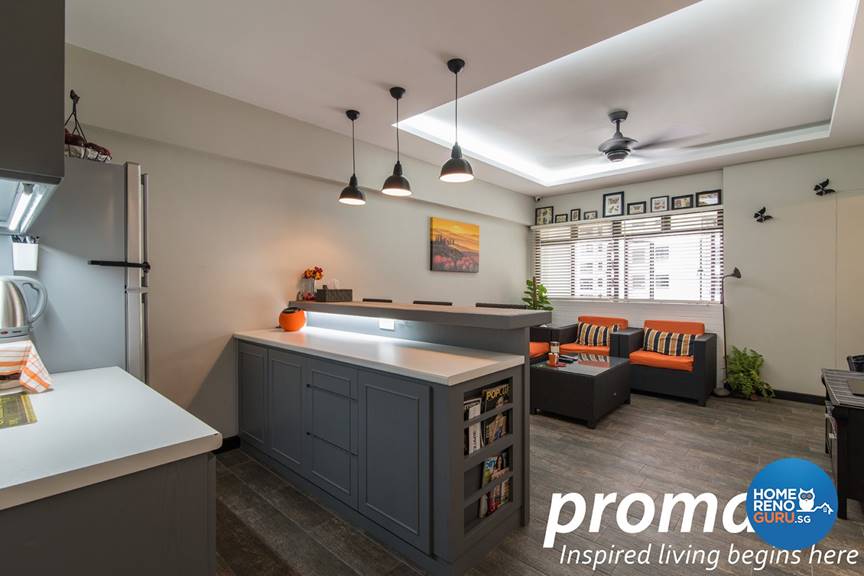 Bar counter in the kitchen of an HDB executive apartment by Promax Design Pte Ltd
In this executive apartment, Promax Design has created a convertible breakfast bar cum cocktail bar that fronts handy LED-lit preparation space. Capacious cabinets lie beneath, and the end of the bar has been cleverly utilised as a magazine rack.
Want to maximise the space of your future home, with tailor-made renovation and built-ins? Consult the experts and get a solution tailored to your space and budget. Request for a free renovation quote here, and we'll source an interior designer who fits your requirements.
But that's not all! Stand a chance to win a Mercedes-Benz CLA 180 Coupe & Free Home Renovations worth $30,000!