5 Stunning Walk-in Wardrobe Themes That Will Inspire Envy
Condominium by Weiken.com Design.
Having a stunning walk-in wardrobe is every woman's dream. It feels like you are entering a luxury goods store with your clothes and bags impeccably organised.
It is easy to dismiss a walk-in wardrobe as an interior design pipe dream if you are living in a small HDB flat. But fret not, in this article, our interior designers dish out their best home renovation tips to create a unique walk-in wardrobe that will be the envy of many.
Sleek Minimalist
HDB 5 Room by Nitty Gritty Interior.
A sleek minimalist walk-in wardrobe is characterised by clean and simple lines. The uniqueness of this theme lies in its bold functionality which requires you to practise Marie Kondo's method of decluttering.
"You can easily create a minimalist-themed walk-in wardrobe by concealing your belongings behind the wardrobe's doors," says Lawrence Luo, an interior designer from Nitty Gritty.
Additionally, Lawrence advises homeowners to keep the colour palette to muted tones such as light brown or white and use decorative items sparingly so that the space is uncluttered.
Modern Industrial
HDB 4 Room by Love Home Interior Design.
The industrial interior design theme has always been a popular choice for homeowners as it injects a masculine and edgy feel to a home.
"I recommend using a grey or bronze colour palette for your walk-in wardrobe. For your ceiling pendant light, you can consider picking something like a black exposed piping with a light bulb," says Vester Chia of Love Home Interior Design.
Giving some examples of suitable furniture, Vester says "use a grey stool or a bronze bench for your dressing table. Then add a small round table in the middle of the wardrobe. The table should ideally have a weathered-looking laminate."
Rustic
According to Richard Yea, the managing director of Design 4 Space, there are many different types of country-themed homes. For instance, there is Mediterranean, English and French styles.
The key to achieving the type of country-style interior that you prefer lies in choosing the right materials.
"You don't need fanciful materials for a country-style walk-in wardrobe. Instead, pick materials like brown tiles with rough or uneven surfaces to recreate the rugged interiors of a country home," says Richard.
Furniture wise, Richard suggests using wooden benches or small stools to decorate the walk-in wardrobe.
Looking for Interior Designers?
Let HomeRenoGuru help!
Classy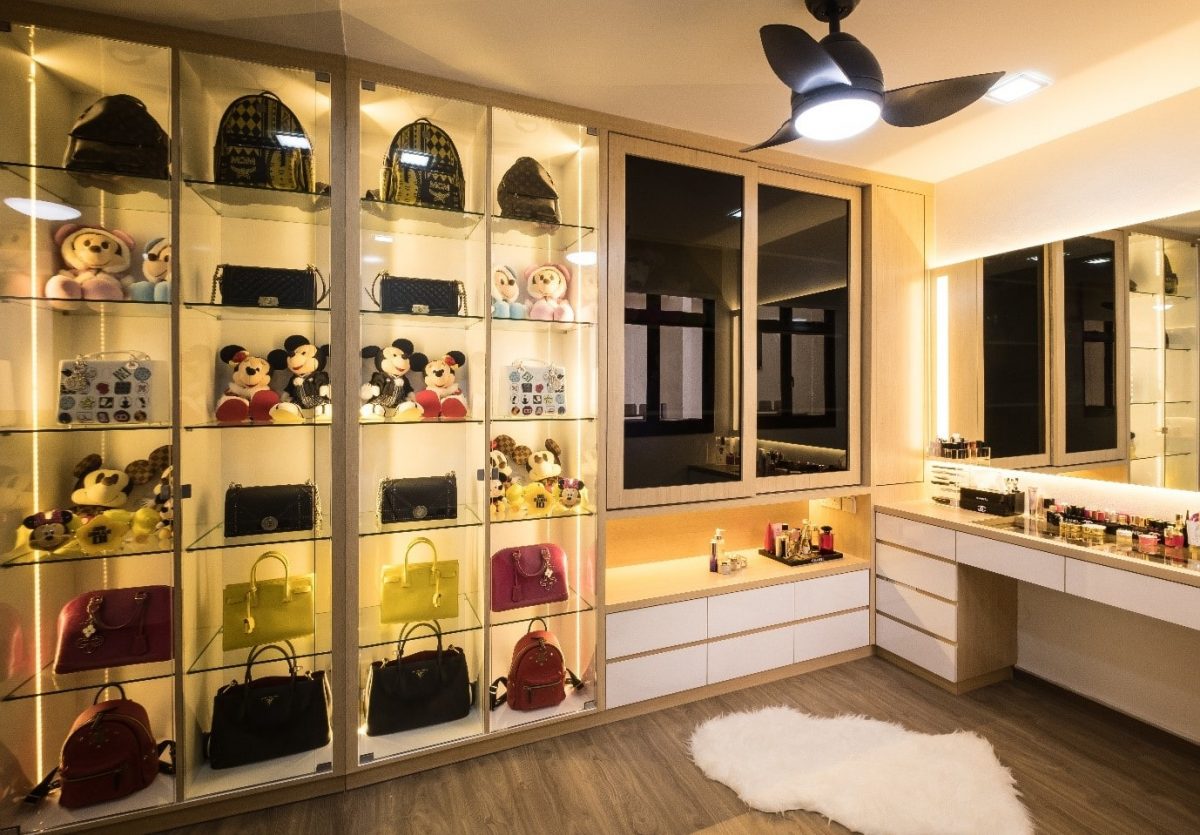 HDB 4 Room by Nitty Gritty Interior.
Most women would be familiar with local socialite Jamie Chua's luxurious walk-in wardrobe. Her Instagram photos show an all-white floor-to-ceiling mirrored wardrobe that opens up to endless racks filled with designer clothing, shoes and bags.
If there is something that we can learn from Jamie Chua, it is that glass doors serve as a great way to showcase your favourite belongings.
"The combination of glass doors and warm lights ensure that your belongings look their best," explains Lawrence.
Aside from that, Lawrence suggests having an "accessories island" with a glass display case. This will be a great centrepiece for your walk-in wardrobe. The glass display also serves another purpose – it helps you select your preferred accessory at a glance.
In terms of furniture selection, designer-style furniture best suits this theme.
"Get furniture with unique colours like a turquoise sofa or materials such as a Chesterfield leather sofa or velvet curtains," says Lawrence.
If you have the budget, you can even top it off with a chandelier which will cast a warm glow in your room.
Cutting-edge futuristic
Think Blade Runner 2049 and Ex Machina's film set design aesthetics in your walk-in wardrobe. This design is bound to be a talking point at your housewarming gatherings since it is rarely used.
Futuristic interior designs are often brightly-lit and have furniture with metallic finishes.
Stressing that lighting is an important component for a futuristic design, Richard says: "Built-in LED lighting is on trend currently. You can incorporate this trend by having lighting that extends from wall to ceiling or from the ceiling to floor."
Apart from that, Richard recommends purchasing a 3D wallpaper to further accentuate this design theme.
Vester agrees. "Since a futuristic theme is rather rare, you can use customised designs of planets for the wallpaper in your wardrobe's interiors and the exteriors of your drawers' surface," he says.
Lastly, given that the futuristic theme is unconventional, your furniture selection also has to be unique. Go bold with odd-shaped furniture or lighting to express this theme.
How an interior designer can help you create your dream wardrobe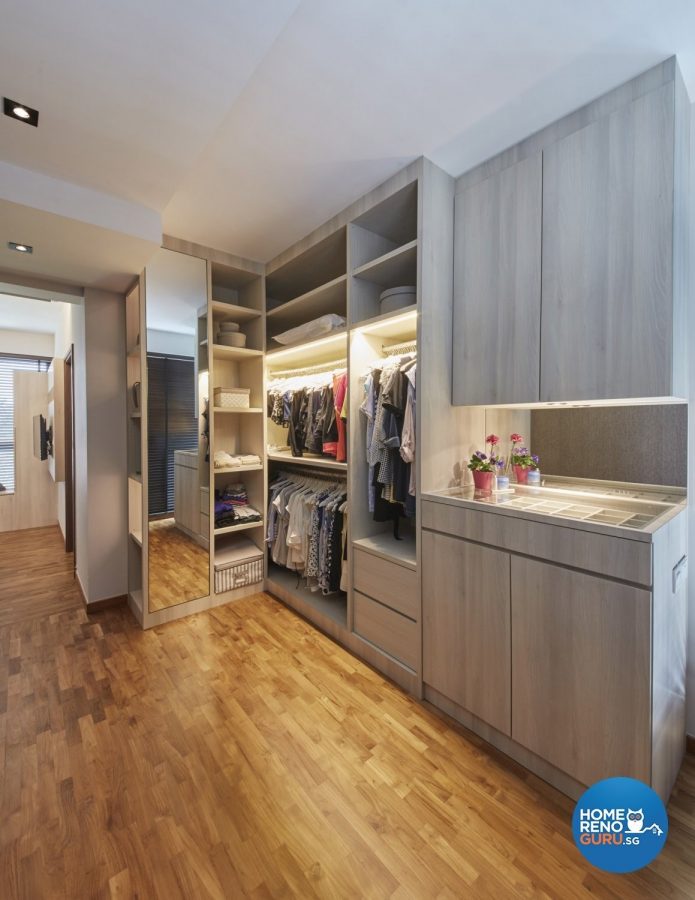 Condominium by Carpenters.com.sg.
It is not easy to plan a layout that maximises the space in your HDB flat. Some flats have structural challenges such as rooms in odd shapes which make it difficult to configure your walk-in wardrobe space. Fortunately, space planning is an interior designer's forte. Interior designerscan make use of their years of experience and an eye for aesthetics to create your dream home.
As shown from the themes we showcased above, your HDB flat might be small but it is still possible to create a stylish wardrobe when you work with the right designer who shares your vision.
As Singapore's largest and most comprehensive renovation database, HomeRenoGuru offers a variety of price packages to suit your needs and more than 500 interior designers to choose from. Contact one of our designers for a consultation today before they are fully booked