Home Office Ideas in 2018
02 Aug 2018
It has become more common for Singaporeans to work from home or to set up their businesses at home. Setting up a home office may sound complicated and tedious at first, especially with the space constraint in Singapore. We have asked some local designers to share their tips and insights on home office ideas in 2018.
Be creative with space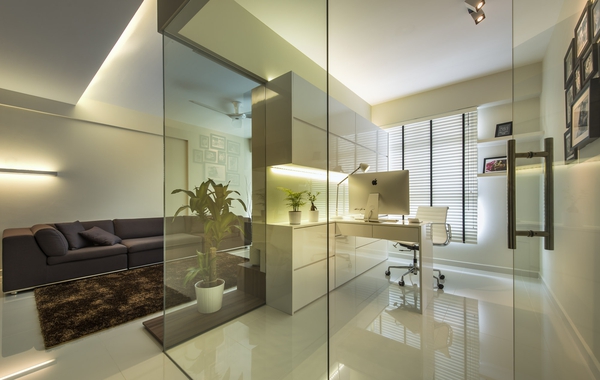 Punggol Waves HDB by Ciseern by Designer Furnishings
Finding the perfect location for your "office" is a quintessential step in designing your home office. You will know best how much space you will need, but be creative! Some odd-shape areas can still be converted into a working zone as long as you utilise the layout. Make sure there is enough room for you to move around. If you are sensitive to noise, you may want to avoid kitchen or children bedroom.
Based on her experience, Lycious from Ciseern by Designer Furnishings highlighted different locations that homeowners can consider, such as the loft and the living room. Lycious mentioned, "Those who build an office at home usually want to spend more time with family, watching their kids playing around while they are working. So it will be a great idea to create their working area with glass doors in the living hall."
Optimise the space with multifunctional furniture
A minimalist design creates a spacious feeling that puts our minds at ease. Even if you don't have much space to squeeze, you can still optimise the space by getting multifunctional furniture. Shawn Low from NorthWest Interior understood the space constraint that many homeowners had and suggested to maximise storage on the walls. He also recommended using a wall-mounted desk to help save some space. If you need to refer to many things throughout your work, it's great to get a shelf or a desk with plenty of inbuilt storage. The rule is to make sure that the important documents or items you frequently use are within your arm's reach.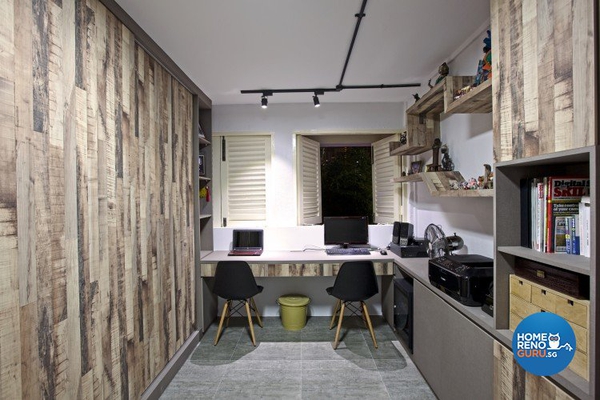 184 Toa Payoh Centre by NorthWest Interior
Make your client feel at home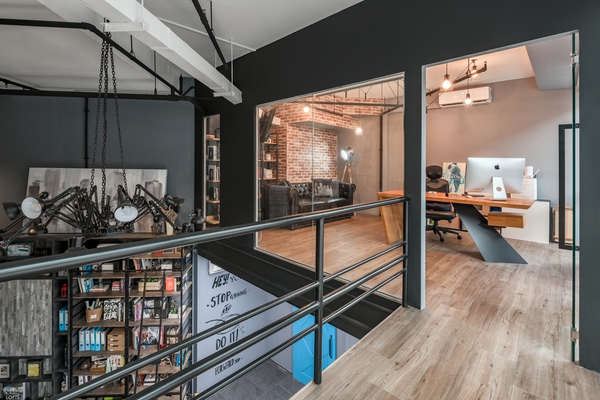 Weiken.Com ID Pte Ltd
You don't always have to arrange for appointments and meetings outside even if there is no vacant meeting room at home. Place a comfortable couch near your desk to create a friendly atmosphere for a meeting in your mini office. If space is an issue, place additional chairs, preferably foldable ones, that you can pull up to your desk anytime.
Liz from Weiken.Com ID Pte Ltd designed this home office with a laid-back and warm vibe. In her latest home office design, she believed that "the big leather couch in the office makes a great place to talk with your clients or customers in a relaxed atmosphere". If you don't have the luxury of space, opt for a smaller yet cosy two-seater in your working area.
Be bold with colours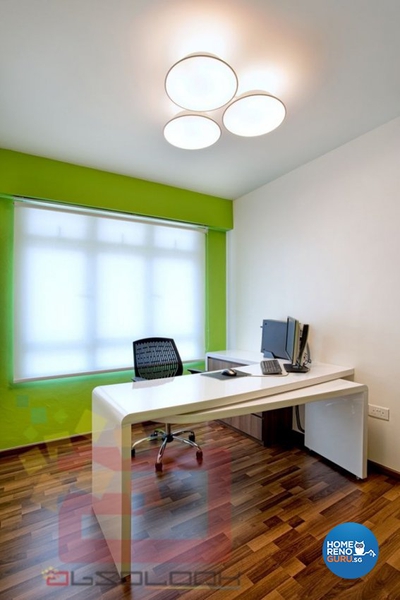 HDB 4 Room – Yishun Ring Roadby Absolook Interior Design Pte Ltd
Your workstation should be made as conducive as possible to help you churn out the best results, and one of the ways is by getting the right colour for your home office. Some colours that will help boost your productivity are red, blue, and green. Although you may want to follow the Scandinavian and Industrial designs that are still on the rise this year, don't be afraid to get more adventurous with colours. The minimalist design can still shine through the furniture and texture. In fact, a more subdued colour for the background, such as grey and black, accentuates the bright colours well.
Eric Yap from Absolook Interior Design Pte Ltd advised the homeowners to keep a "cosy and lively workspace atmosphere" to further enhance your productivity at work. Green, for instance, helps to boost your creativity and to make you feel less fatigue. Make sure you don't overdo it by adding too many bold colours at once.
Looking for Interior Designers?
Let HomeRenoGuru help!
Incorporate different elements
While you prioritise the functionality of the office environment and furniture, don't sacrifice its styles! An office with barely any aesthetic touch sounds like a dreadful place to work in. Put some of your favourite items in the office, or something that can give you some inspirations when you are facing a roadblock.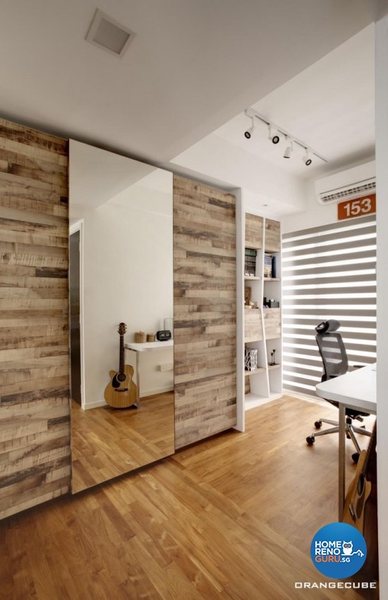 Terrace House @ Bukit Batok by The Orange Cube Pte Ltd
Lee Chi Ho from The Orange Cube Pte Ltd suggested homeowners be more flexible and creative with their home office design. "Avoid stiff design and cold lighting, and choose warmer lighting instead to create a friendly and homey atmosphere," he recommended. "Many homeowners also choose the earthy tone for their home office design because it's easy to mix and match with different elements such as glass and metal."
If an office at home had never crossed your mind before, this is something you should consider. Having an office at home gives you more freedom to personalise your workspace. When else can you spend most of your days working remotely in your PJs while looking after your loved ones at the same time! If you are not sure of where to start, consult with your interior designers to find out more about home office designs.