15 Unique Bay Window Design Ideas To Maximise Space In Your HDB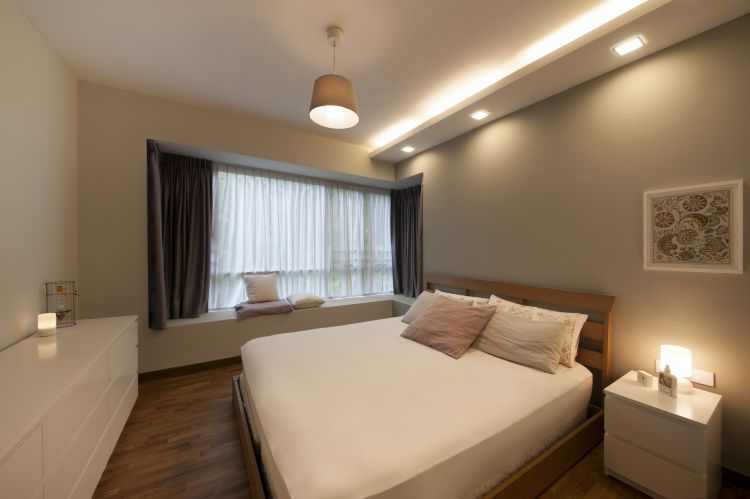 Designed by Starry Homestead
Bay windows refer to windows that are at least 0.5m above the floor. At times, they may get tricky to work with when it comes to renovating your home.
However, with the right interior designer and some research, you'll be able to get some great ideas to maximise space! Check out these 9 bay window design ideas for HDBs and 15 design inspirations.
1. Create A Lounging Area With Bean Bags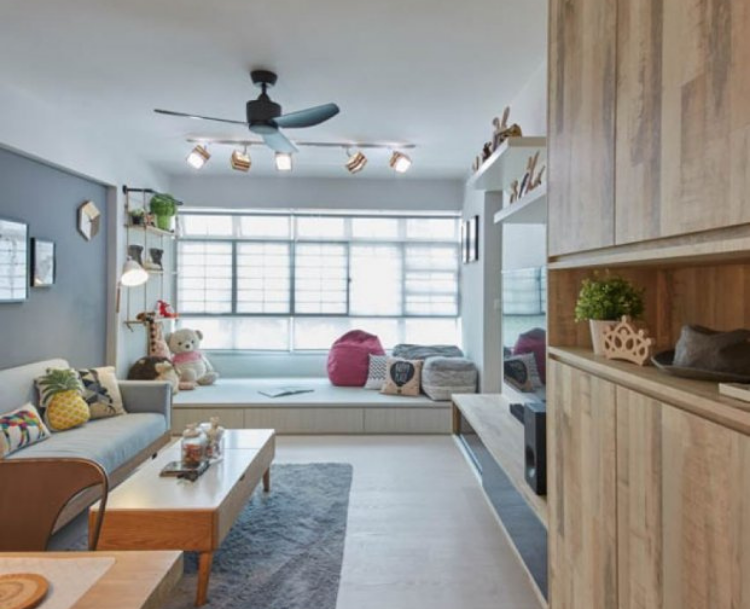 Designed by Carpenters
A lounging area in the living room provides an additional tranquil space to sit down and relax while reading the newspaper. This HDB 4 room design by Carpenters features an elevated platform by the bay windows with three wide drawers for storage.
2. Build A Bench For Extra Seating Space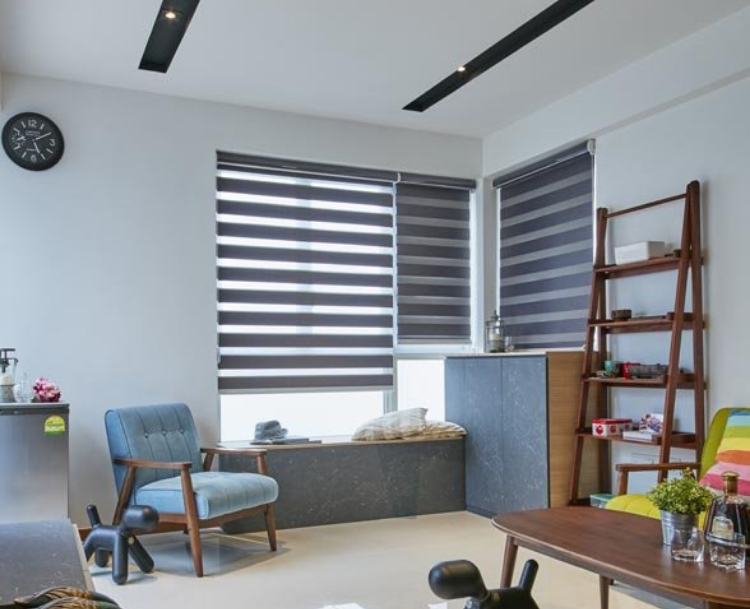 Designed by Carpenters
Have bay windows at the corner of a room? Add a bench for sitting and some cabinets for additional storage. This simple bench matches the room's interior with a dark marble design and light wood top. It makes the room more welcoming and is great when you have guests over!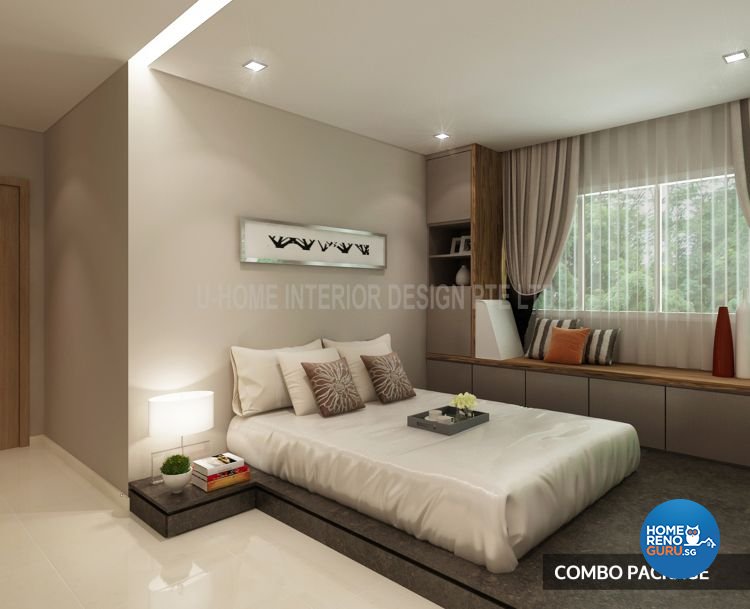 Designed by U-Home Interior Design
A bench can also be incorporated beside your bedroom bay window. This provides an extra area for you to sit and unwind before retreating to your bed for a good night's rest. To add on to its functionality, include some cabinets for storage space.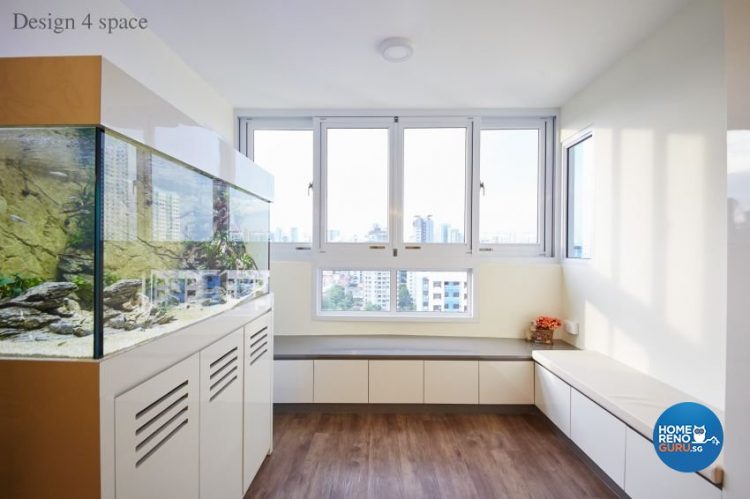 Designed by Design 4 Space
If you have an extra room with bay windows, turn it into a hangout room with benches so you can sit around and chill with friends. Fish enthusiasts can add a classy aquarium into the space to have a calming effect. Even when you don't have guests, you can sit and gaze at the fishes.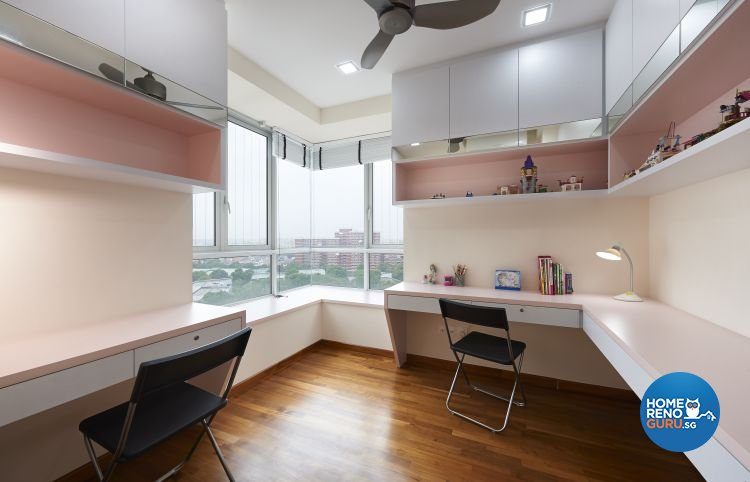 Designed by DC Vision Design
Have an awkward window at the corner of the room? Integrate a built-in bench by the window and connect it to two tables on both sides to turn it into a study room! This way, you can sit on the bench when taking a break from working.
3. Install A Platform Bed Or Bed Frame With Storage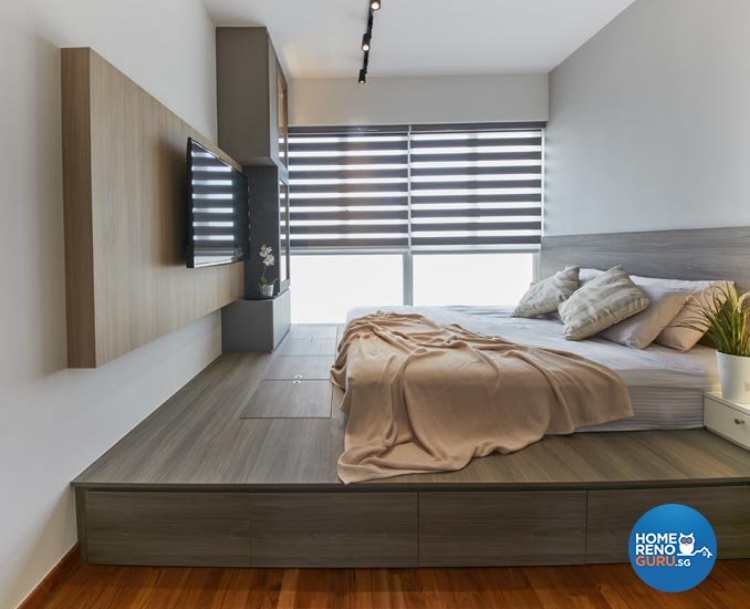 Designed by Carpenters
Another idea would be to get your interior designer (ID) to build a bed frame. In this master bedroom, the bed frame incorporates hidden storage compartments which is ideal for smaller homes. The dark wood and huge frame gives it an overall cosy and luxurious feel.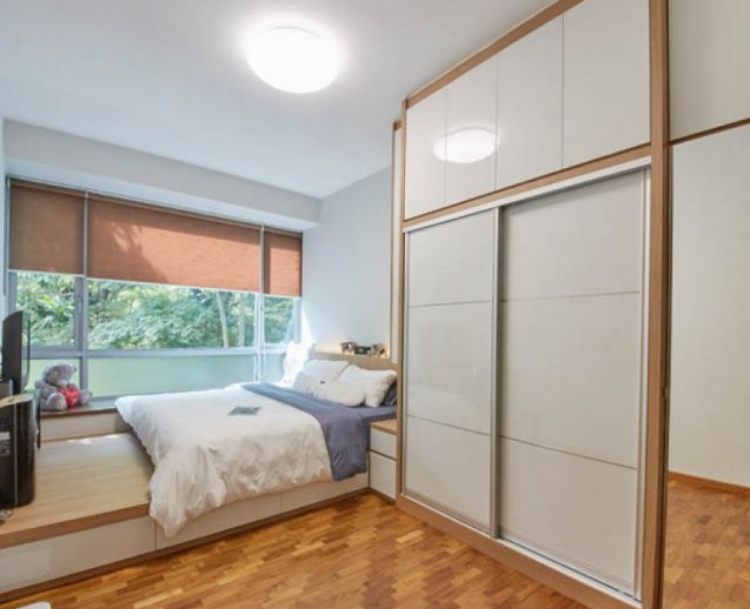 Designed by Carpenters
Other than the master bedroom, bed frames can also be built in your other rooms. This interior design features a narrow ledge beside the bed and a light wood bed frame. Side drawers have also been included for additional storage and convenient access to items. The result is a room that has a tranquil, relaxing overall vibe. 
4. Build A Study Table For Your Study Room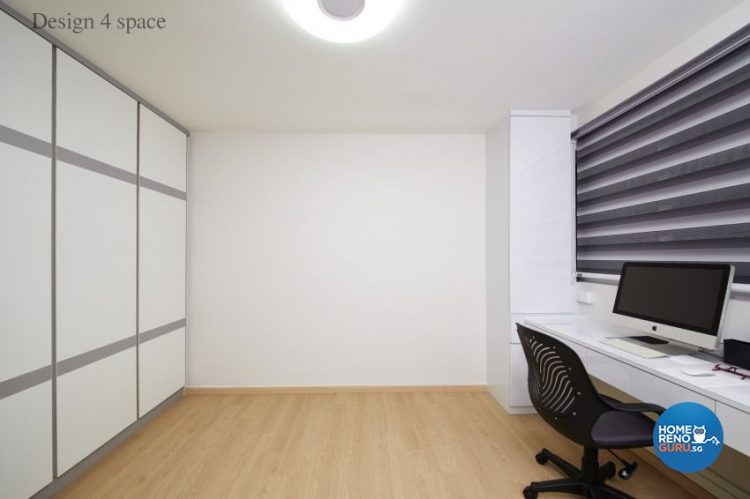 Designed by Design 4 Space
Turn your room into a study space by installing a long table by the windows for your work essentials. Some helpful tips when designing your study table would be to 
have drawers to store your items — this prevents clutter on the table,

ensure that there's enough desk space to place your items, and 

ensure that the height of the table is comfortable.
Designed by Carpenters
Here's another design inspiration for a study desk by the window if you like a Scandinavian theme. What's unique about this is that there's a mini fridge below the desk so you can grab refreshments conveniently! To liven up the space, add some plants and open shelves to display knick knacks.
5. Do Up A Makeup Or Vanity Table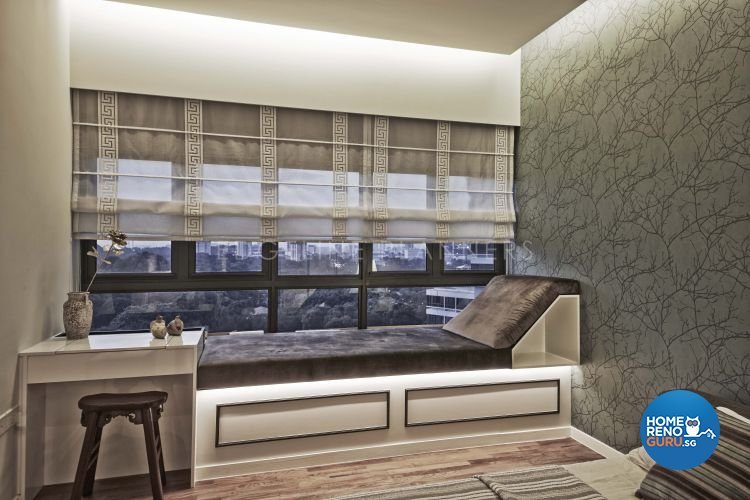 Designed by Edgeline Planners
This ingenious design combines a luxurious lounging bench beside a small table that can be used as a makeup or vanity table. With this, ladies can get ready by the bay window with natural lighting in the day. 
Furthermore, the white furniture, together with the velvet cushion and vintage stool work together to bring a posh feel to the room.
6. Build A Shelf Display For Your Collectibles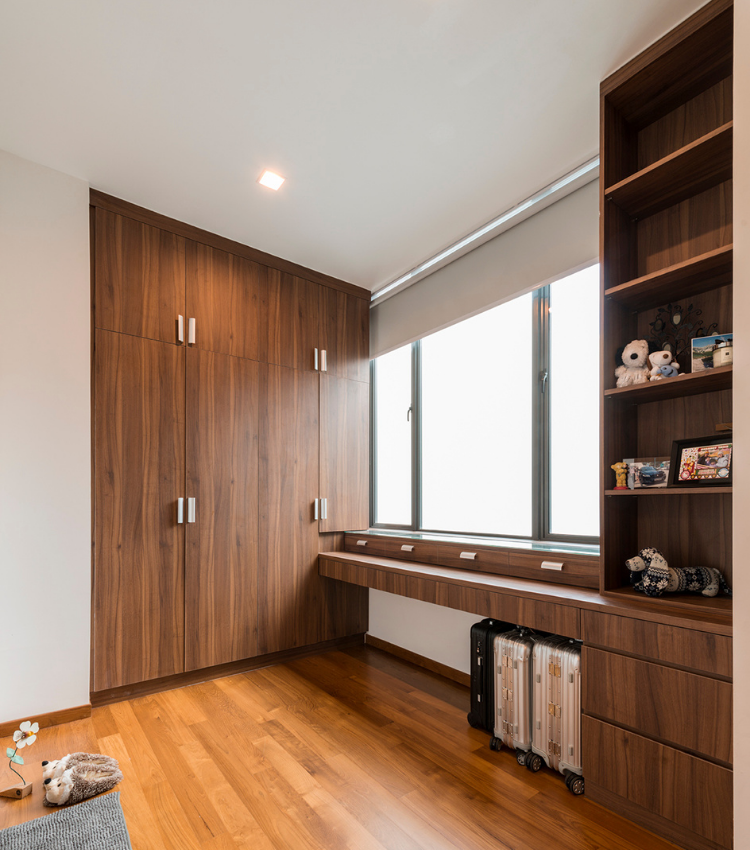 Designed by TBG Interior Design
If you need more storage in your home, make use of the vertical space beside bay windows and build a shelf! Have collectibles to display? Do an open shelf so your guests can admire your prized possessions. To achieve a minimalist look, go for concealed shelves instead.
7. Build Shelves And Cabinets For Additional Storage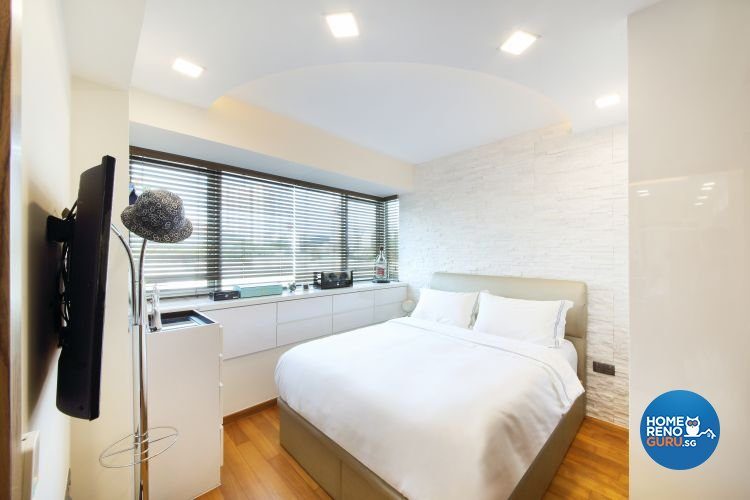 Designed by DAP Atelier
This is something that all homeowners can never say no to — more storage! "Zng" up your bay windows by adding cabinets. This minimalistic room used white cabinets and drawers to brighten up the space and complement the neutral tones of their other furnishings.
8. Incorporate A TV Console To Enjoy Netflix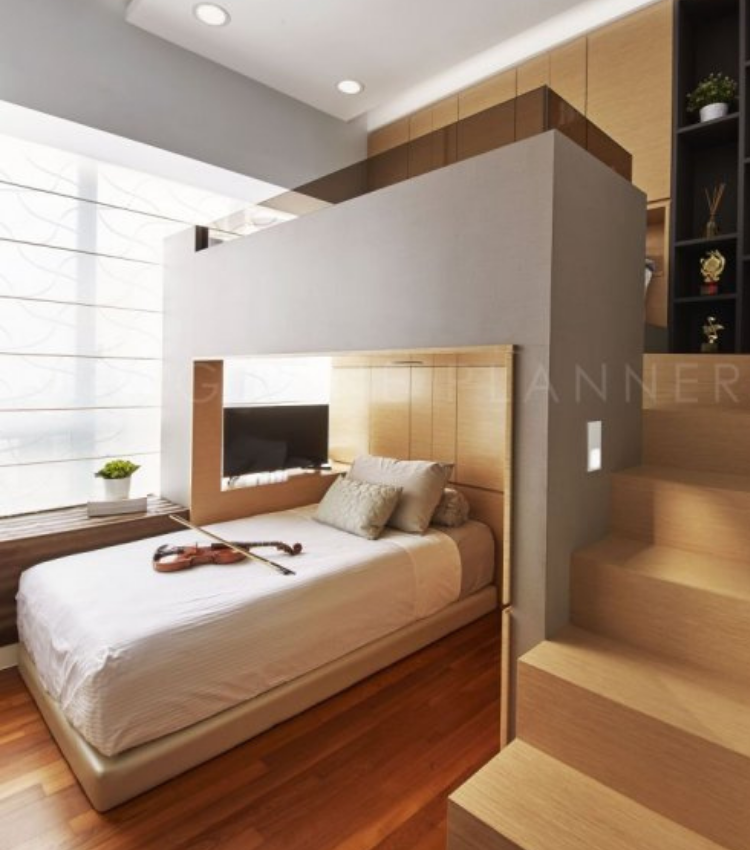 Designed by Edgeline Planners
This unique bedroom configuration uses the abundant vertical space to create a double deck situation with a bed below and a study area above. A ledge for placing items has been included by the window, with a designated console for a TV. Now you can lounge in bed while watching Netflix!
9. Install A Sink In Your Kitchen Or Bathroom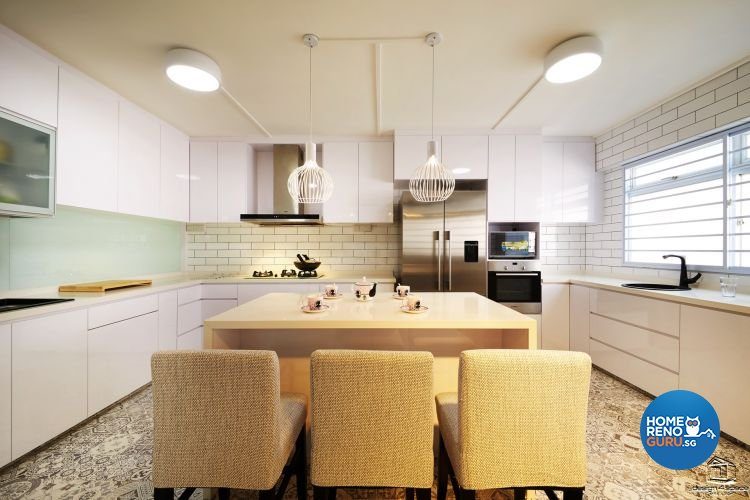 Designed by Design 4 Space
This U-shaped kitchen design taps on pops of colours and classy lighting fixtures to tie in a modern look. The kitchen island also doubles up as a dining table. By the bay window, there's plenty of countertop space and a timeless black sink.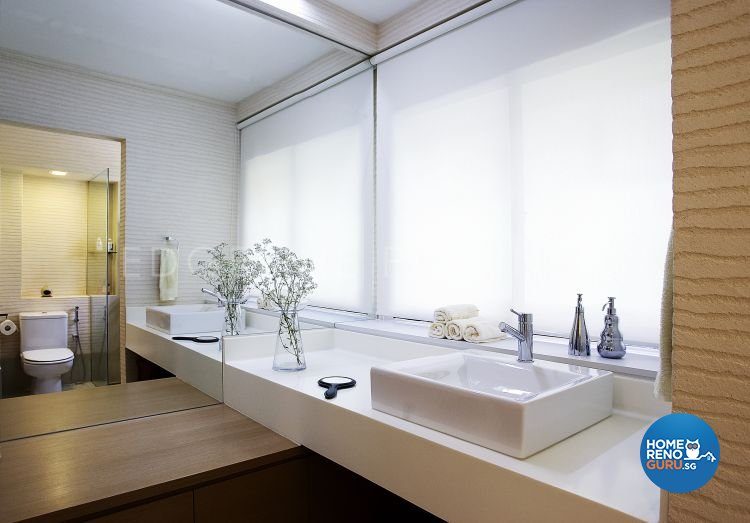 Designed by Edgeline Planners
Huge windows in your bathroom and nowhere to place a mirror? This toilet design cleverly added a huge mirror by the wall. For the bay windows, a countertop was installed to display soap dispensers and towels and a classic sink was built to complete the aesthetic and functionality.
Thinking of how to design your bay window?
HomeRenoGuru can help you create a more functional home!
FAQs: Design Ideas For Bay Windows
Can bay windows be removed in Singapore?
If you're planning to make changes to your bay windows, you're required to file a request to the Urban Redevelopment Authority (URA). Such changes include removing it completely or extending it outwards. 
However, do note that the replacement of bay windows is strictly not allowed for HDBs unless they're damaged and require a replacement.
How do you maximise a bay window?
Some ways to fully maximise a bay window would be to: 
Turn it into a lounging area with bean bags

Install a bench to sit around with guests

Install a platform bed or bed frame with storage

Build a study ledge or table for your study room

Add a makeup or vanity table

Turn it into a TV console

Add a sink for your kitchen or bathroom
How can I improve my bay window?
If you bought a resale flat with bay windows, you can freshen up the space by adding a fresh coat of paint! Using light colours will brighten up the area, while dark colours will allow you to add depth and cosiness.
Another way to improve the look is to make use of curtains. Use loud colours and fun patterns to make the windows the focal point. Conversely, neutral shades can give the area a more sophisticated and natural look.
Add furniture around the window
Make use of the natural light that'll come in during the day and let the windows be the anchor to your room. Add some sofas and armchairs and make it into a conversation area. Alternatively, add a desk to create a study area.