11 Master Bedroom Design Ideas For Your HDB To Make Full Use Of The Space
01 Jun 2021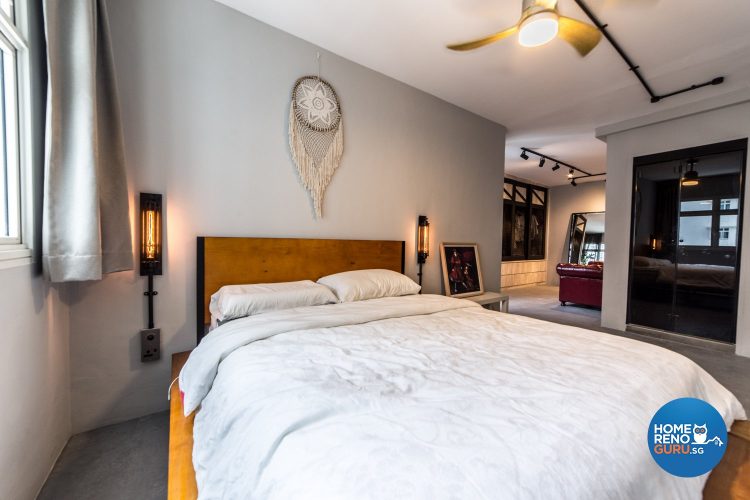 HDB 4-room design by Inspire ID Group 
Most of us reside in small HDB apartments in Singapore and the dream of having a large and spacious master bedroom may seem out of reach. 
However, it's not impossible to achieve! With the right furniture placements, lights and colours, you can renovate your sleeping space to make it appear larger than it actually is. 
We've gathered 11 useful and simple design ideas to create more space in your bedroom while also improving its functionality! On top of that, we've included examples of various design themes to fit your preferences.  
1. Use a platform bed
Having an elevated platform in your bedroom helps to physically divide the space without the use of additional walls. It also gives the room a dynamic visual element! 
The best part is that it can be designed with hidden storage, which reduces the amount of clutter and saves space.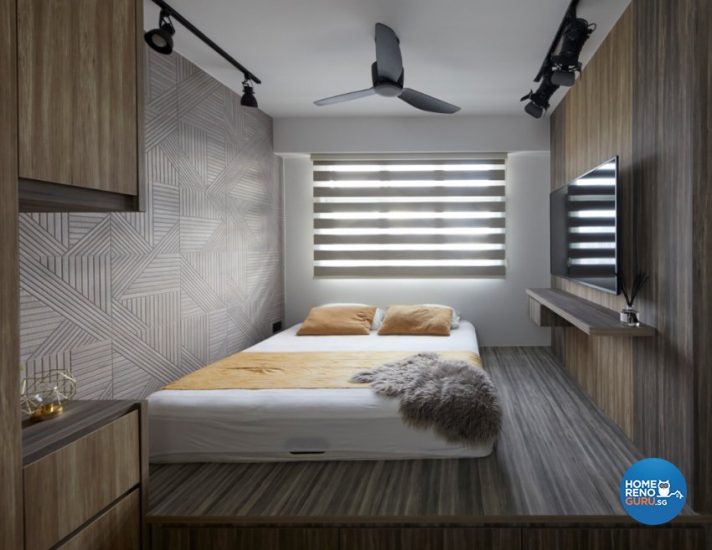 HDB 4-room design by Carpenters 
Design theme: Contemporary, industrial, modern 
This sophisticated master bedroom design uses a large wooden platform to separate the sleeping area from the rest of the room. With the addition of a TV wall, the space also serves as an entertainment corner to unwind after a long day.
2. Go innovative with storage spaces
Under the bed
The space under the bed is the perfect storage area to keep your room clutter-free. You can build compartments or drawers into the bed frame or platform, or simply use containers or boxes. 
Make sure to keep the area as clean and tidy to prevent dust from collecting!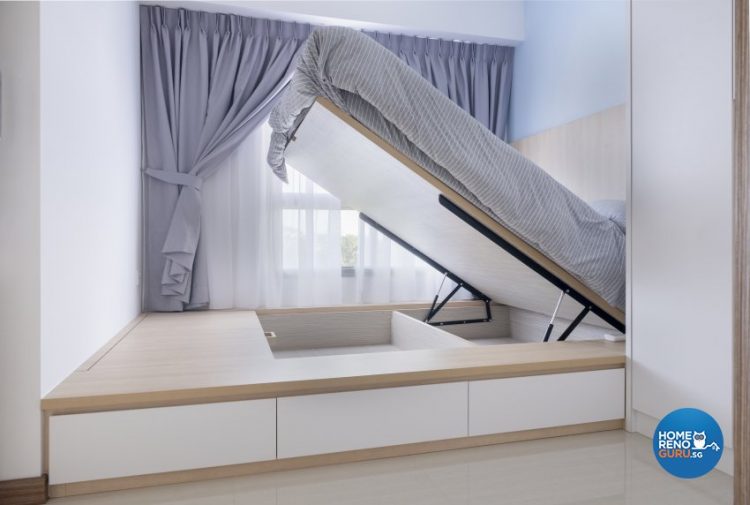 HDB studio apartment design by Starry Homestead
Design theme: Minimalist 
This nifty platform is like a Swiss Army knife of storage. When the bed is raised, it reveals a roomy space that can be used to store rarely-used items such as luggage. 
The sides of the platform are also equipped with drawers that serve as extra storage areas. 
Overbed
Another creative storage option is to maximise the vertical space above your bed. You can either build an overbed storage system or include it in the headboard!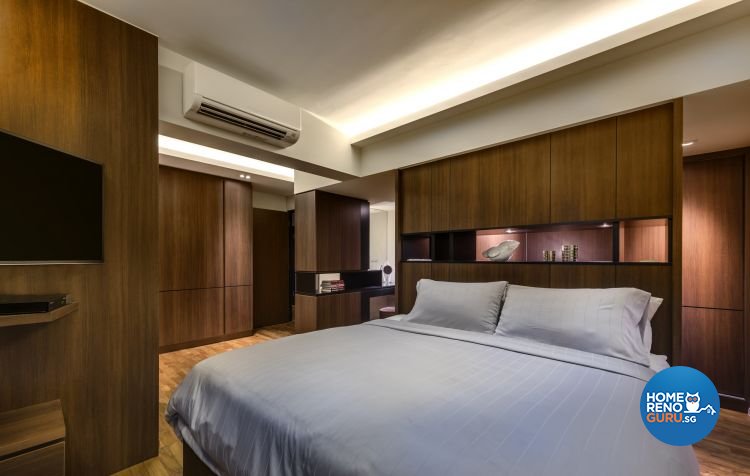 HDB 4-room designed by Ciseern By Designer Furnishings
Design theme: Classical, country, rustic
The interior designer included a transparent section to store and display prominent art pieces in the bed's headboard. This design also serves as the centrepiece of the bedroom, completing its overall stylish look! 

3. Create a walk-in wardrobe
If you've always dreamt of owning a walk-in wardrobe, the good news is that you don't need to move to a landed property or penthouse to get one. You can create it right in your HDB master bedroom with some innovative design ideas!
Galley 
Prefer a walk-in wardrobe that's completely separated from the bedroom? The galley style is a great alternative! 
It features closets on both sides of a central walkway, creating a completely separate area. You can also use the space at the end of the path as a vanity or for more storage!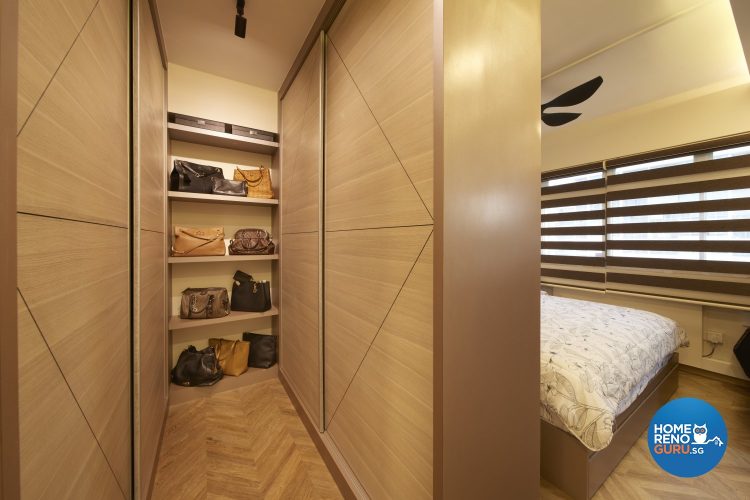 HDB 4-room design by DC Vision Design
Design theme: Classical, eclectic, vintage
This walk-in galley uses 2 wooden wardrobes to isolate itself from the sleeping area. The sliding doors prevent the walkway from becoming too closed in as you won't have to open them outwards. 
L-shaped
Another option for a HDB walk-in wardrobe design is the L-shaped section, where 2 closets are placed at a right angle. Compared to the galley style, this design has a shorter width but creates a wider aisle for walking.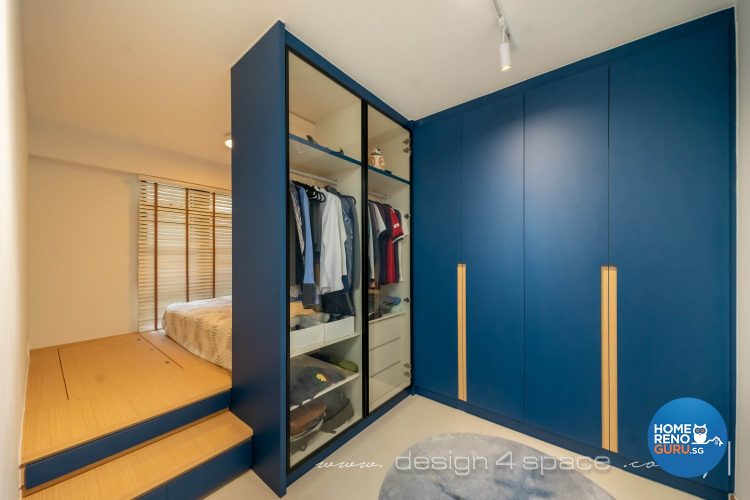 HDB 4-room design by Design 4 Space
Design theme: Scandinavian
This HDB master bedroom resembles that of a penthouse! The bed has been cleverly placed on a platform with a small stairway leading up to it. 
A cupboard has been utilised as a partition wall to detach the wardrobe space from the sleeping section. With such a design, there's plenty of room for occupants to get ready! 
4. Knock down partition walls 
HDBs may be smaller in size, but this doesn't mean that you have to stick to what's available! You can create open space plans by hacking down walls to merge enclosed rooms. 
Through this, your master bedroom can serve multiple functions without looking like a claustrophobic mess.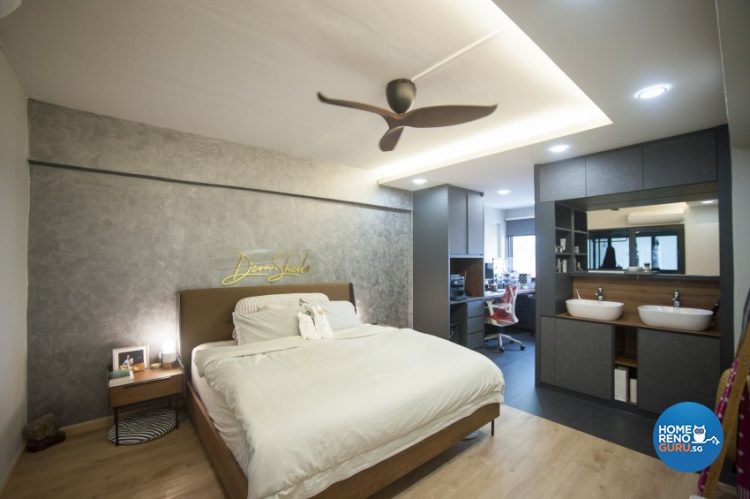 HDB 5-room design by Starry Homestead
Design theme: Scandinavian
The interior designer knocked down a wall to establish a seamless transition to the study area. Interestingly, sinks have also been placed outside of the master bathroom for quick wash ups and grooming. 
5. Use recessed or floating shelves
If you want to store items without occupying floor space, recessed shelves are a good choice as they're built into walls. They can also make your room look luxurious with the right design and colour choice. 
Alternatively, you can consider floating shelves If you don't wish to cut into your wall. These can be installed into parts of the room where cupboards won't fit.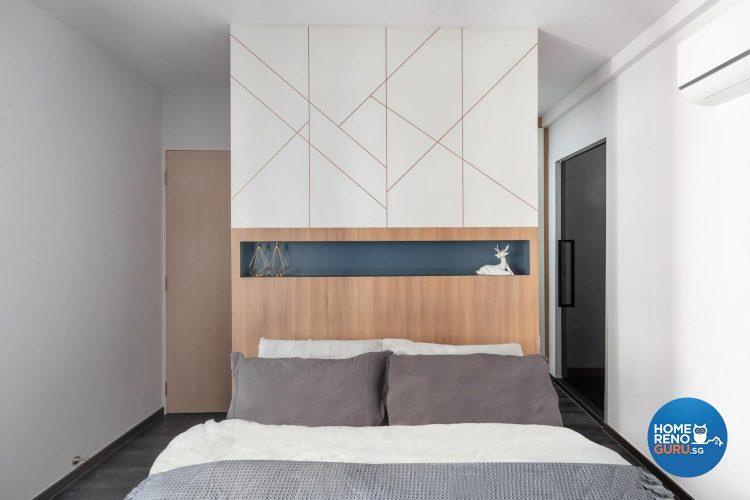 HDB 5-room design by Swiss Interior Design
Design theme: Contemporary, modern
This contemporary master bedroom by Swiss Interior has a beautiful navy blue recessed shelf built into the wall. The wall also features interesting geometric patterns and wooden textures, tying the entire design together.
6. Bring in mirrors 
Mirrors can be used to make a bedroom (or any space) look bigger. They reflect light throughout the room, making every nook and cranny appear brighter and sharper. 
Here are some ideal positions for mirror placements:
Near or opposite windows

At room corners

Wardrobe doors
As a tip, you should avoid hanging mirrors directly opposite the bed to avoid an unnecessary scare in the middle of the night.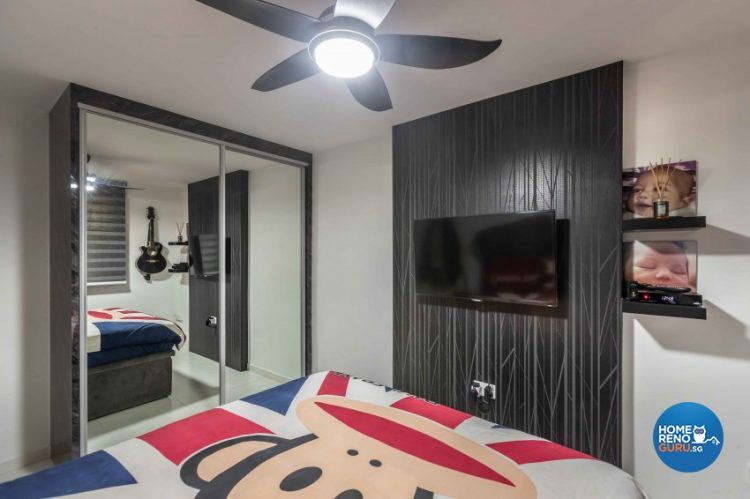 HDB 3-room designed by U-Home Interior Design 
Design theme: Modern 
This bedroom design makes use of a mirrored wardrobe to create the illusion of a larger space. The wardrobe is also placed opposite the window so it helps to reflect and spread light in the day.
7. Play with bright and light colour palettes  
Light or bright colours tend to be more reflective. Thus, they maximise the presence of natural light in spaces and open them up.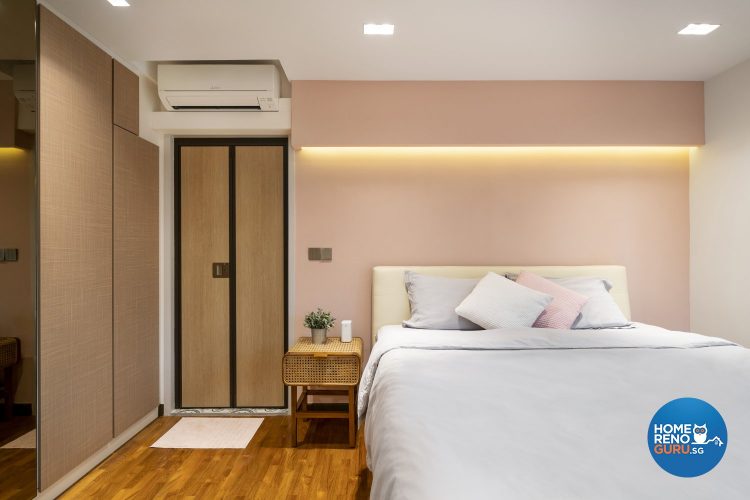 HDB 4-room design by Fineline Design
Design theme: Scandinavian
The pale pink wall makes this master bedroom appear open and airy. The bed has also been decked in beautiful grey sheets to complement the light colour palette. 
Warm lights have been installed inside a false ceiling to create a bright but comforting atmosphere that's perfect for bedtime. 
8. Double it up as a workspace
In a smaller apartment, you might not have the luxury to own a separate study. Hence, the next best available space would be a corner in your bedroom. 
While this is a practical solution, a wrong design plan can result in a loss of work-life balance. The general rule of thumb is to segregate the office area such that it doesn't disrupt the resting function of your room. 
HDB 4-room design by Fineline Design
Design theme: Contemporary, modern
The study table faces the window in this classy HDB master bedroom design. This configuration is an effective solution for those who work from home. 
The bed will be out of your direct line of vision during work hours, so you can concentrate on being productive!
9. Play with bed positions 
Most people will automatically place the bed in the centre of their master bedroom. But if you feel that doing so takes up more space, try playing around with unconventional positions!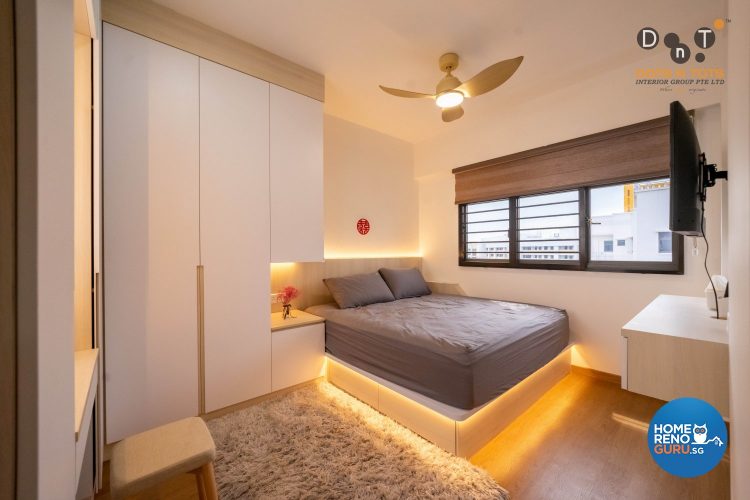 HDB 4-room design by Dots N Tots
Design theme: Scandinavian
In this bedroom layout, the bed has been placed at the corner of the room. While the arrangement might limit the points of entry to the bed, floor space has been freed up. 
A section of the wardrobe has also been cut out to serve as a bedside table without compromising an extra area. 
10. Build tall windows for natural light
Bringing in natural sunlight illuminates your room during the day, making it appear larger and enhancing the design aesthetics. You can accomplish this by having tall or large windows. 
As a bonus, this also gives you a good view of the surrounding area.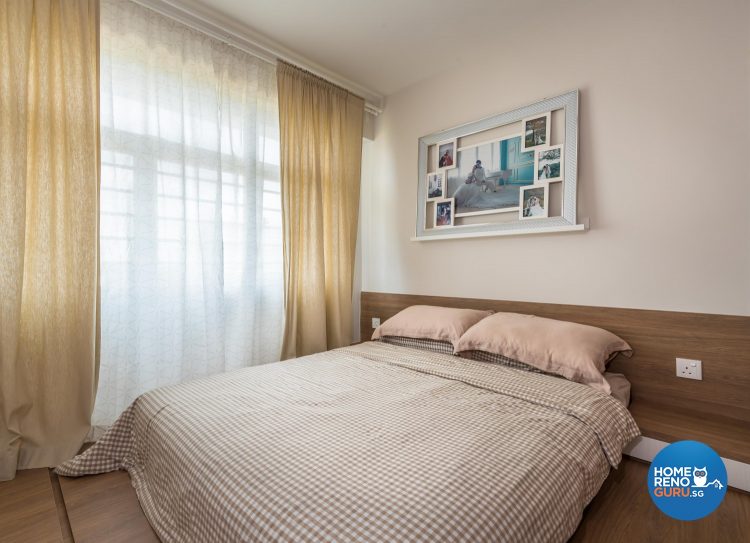 3Gen flat design by Swiss Interior Design
Design theme: Scandinavian
For this Scandinavian style bedroom in a 3Gen flat, the designer constructed ceiling-height windows to ensure that there's plenty of sunlight in the room. The room also uses bright and warm tones to supplement this. 
Sheer curtains have been installed to block out harsh sun glares while allowing ample brightness in. 
11. Have strategically placed lighting 
Besides natural light, you can also take advantage of lighting instalments! They can be positioned in a way where they make a room look bigger while also producing a soothing ambience.
Some placement ideas include under the bed's platform, behind the headboard or along the walls.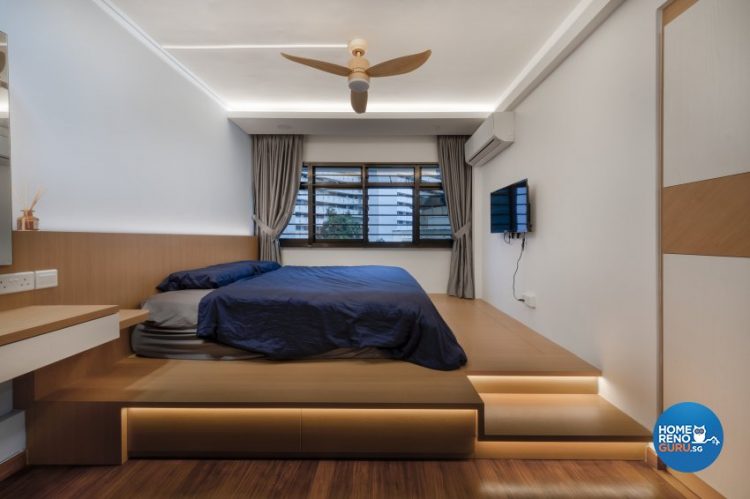 HDB 5-room design by Starry Homestead 
Design theme: Scandinavian
Lights have been placed along the edges of the large platform and stairway for this master bedroom design. The aesthetic combination of wood and warm tone lights gives this room a spa-like feel. 
Making the most out of your master bedroom
Having a small bedroom doesn't mean that your options are limited. There are many creative ways to fully employ the space and we hope that our list has provided you with some inspiration!
If you're unsure of where to start, engage the help of a skilled interior designer to create the master bedroom of your dreams!
Need help regarding your master bedroom design?
Our interior designers can help!