7 Characteristics of Scandinavian Interior Design for Different Rooms of Your HDB (+ Best Scandinavian Homes of 2022)
25 Sep 2019
History of Scandinavian Interior Design
Scandinavian interior design is one of the trending renovation themes in the recent years.
But how did it all begin?
In 1954, a design show with the name "Scandinavian design" was created to travel from the United States to Canada. It aimed to showcase Nordic designers' works and encourage an optimal balance between functionality and beauty in design.
Characteristics of Scandinavian Interior Design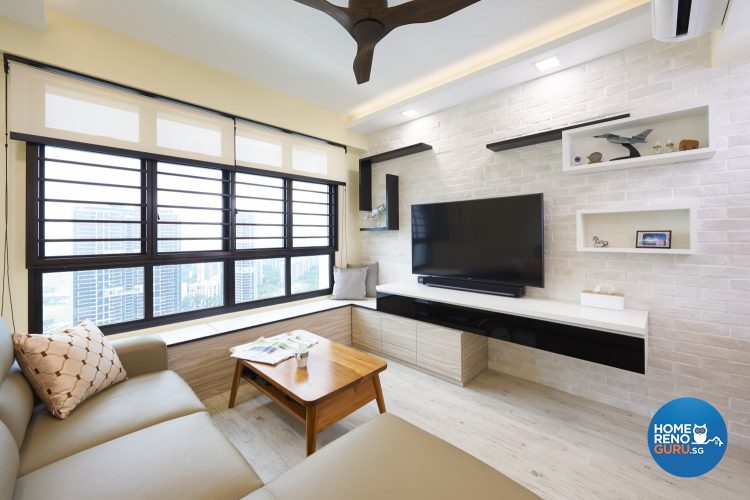 Love Home Interior Design: 4 Room BTO
Minimalism
Traditional Scandinavian homes are often small and have no space for clutter and chunky furniture. Naturally, this minimalist feature has been brought over to newer, larger homes and become a key characteristic in Scandinavian design.
With an emphasis on balancing functionality and simplistic beauty, themed HDBs rely on the purposeful placement of furniture. All it needs is a few classy pieces to tie the look together.
Natural light
Scandinavian countries experience prolonged periods of darkness (known as polar nights) so natural light is always maximised in their interior design.
Sheer curtains are often used in Singapore's rendition of this popular theme to let light seep in without being too jarring. Having natural light also brightens up the entire room so you don't have to use filters in your selfies!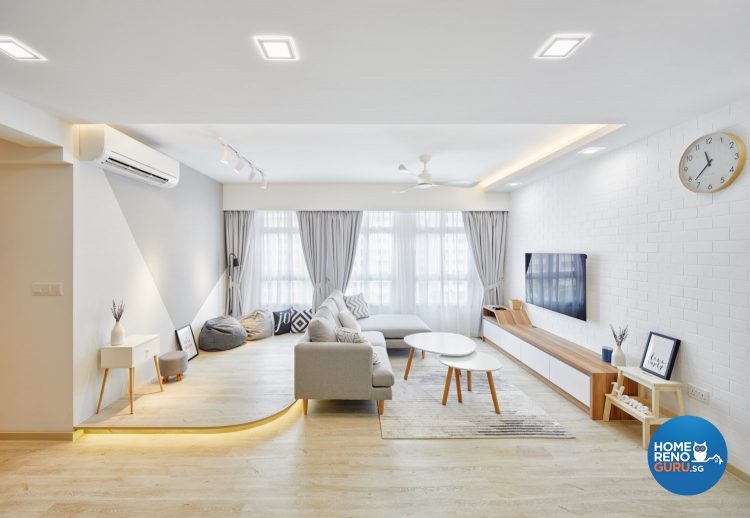 Absolook Interior Design: 5-room HDB
Looking for Interior Designers?
Let HomeRenoGuru help!
All-white, muted palette
The colour palette of a Scandinavian home plays a part as well. It usually consists of not more than 4 neutral shades with a focus on whites and lighter colours.
Coupled with the presence of natural light, a muted palette further illuminates Scandinavian homes to tackle the darkness. Aside from that, they also have the added benefit of making rooms look more spacious and classy.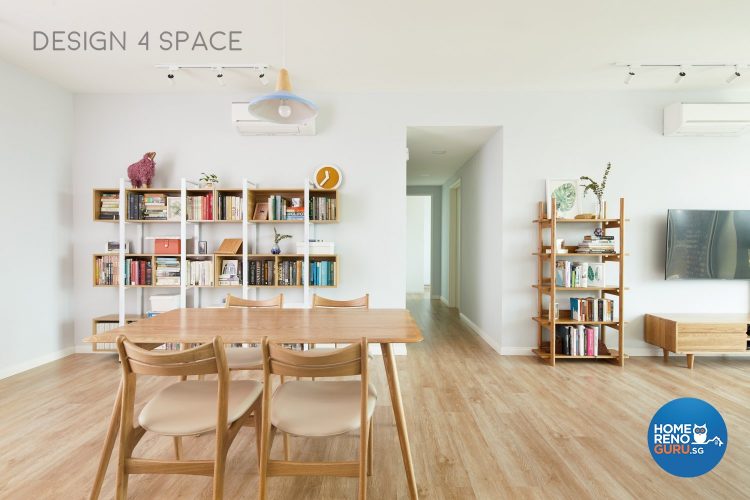 Wood elements 
Scandinavian design always includes wood elements, at any corner of the room. But not just any wood – lighter woods are preferred to give the home a chill holiday vibe
Nature-inspired 
It's no secret that Scandinavians love nature! So, outdoor elements are brought into their homes by incorporating live plants.
Flower expert Bouqs recommends to pop some freshly cut flowers on the table or some plants at the corner of the room to transform the aura of your interior.
Pop a plant or two on your table or at the corner of your room to add some life to any room in your home. The natural light will give them all the sunlight they need; all you have to do is to water them!
Amazon Interior Design: 4-room HDB
Simple accent decor
Some simple decor (such as paintings, illustrations or jars) may be displayed to complete the overall look.
However, decor should be kept to a minimum to keep in line with the minimalistic and clutter-free properties of Scandinavian design.
Homely textiles
While keeping it simple, textiles are sometimes used to add some texture and warmth to a room. Some common examples include
carpets,
throw pillows,
curtains,
towels and
bed linens.
These features are made to add a stylish and functional touch to your home.
Scandinavian Interior Design in HDBs
In Singapore, the high cost of living usually translates to smaller living spaces and lower budgets for renovation.
This makes the Scandinavian theme very attractive to homeowners, since it achieves the minimalistic Insta-worthy look everyone dreams of while still being practical and functional.
Here are some design inspirations for the different rooms in your HDB!
Scandinavian Interior Design: Living Room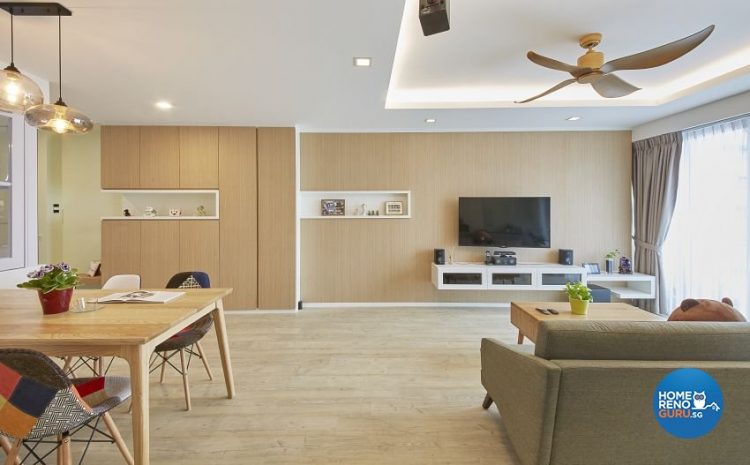 Long windows can be installed to maximise natural light in your living room. This livens up the space and highlights the light wood furniture.
To add some fun and liveliness into your home, choose a unique lighting for your dining table and add some potted plants at strategic spots.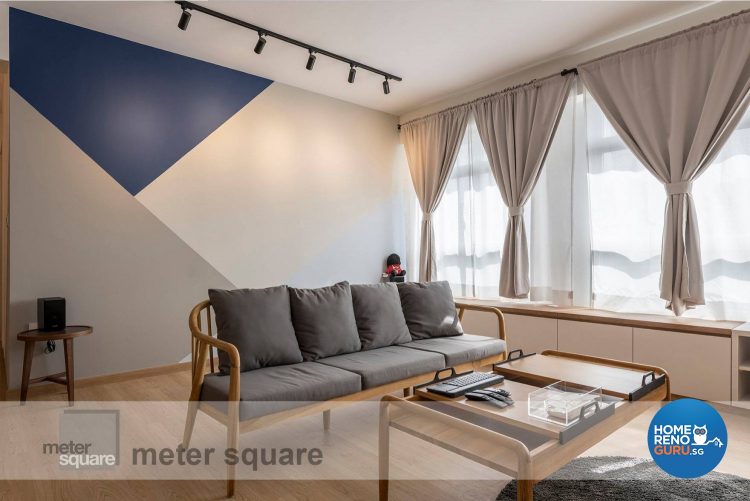 A feature wall with colour blocking can also be used to inject some colour and tie in all the elements of wood. Only functional and simplistic furniture (i.e. sofa and coffee table) are included to keep with the minimalism.
Scandinavian Interior Design:
Kitchen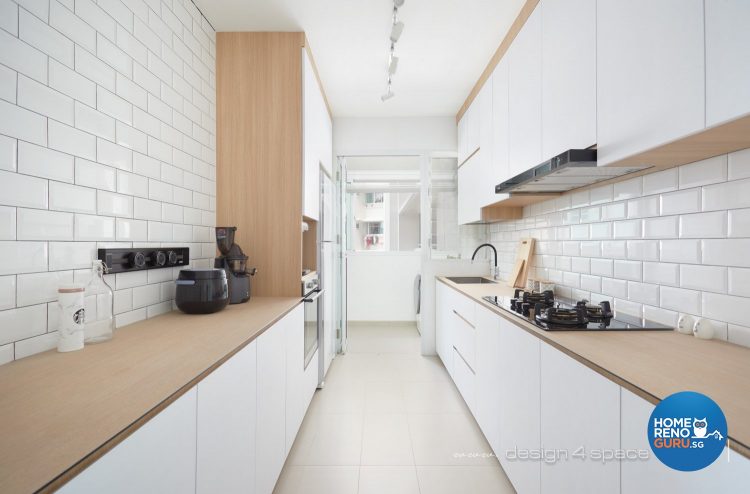 For HDB kitchen designs, this galley kitchen features all-white cabinets finished with light wood countertops. Most appliances such as the fridge, microwave and oven have been built-in to contribute to the clutter-free characteristic of Scandinavian design.
To add on, the white brick wall and backsplash offer a polished feel to the entire kitchen.
Scandinavian Interior Design:
Bedroom
This bedroom is like a textbook for Scandinavian interior design – live plants, light coloured wood furniture, neutral palette, textile carpet and simple accent wall art. All of which complement each other to give you a homely, inviting bedroom for a good night's rest.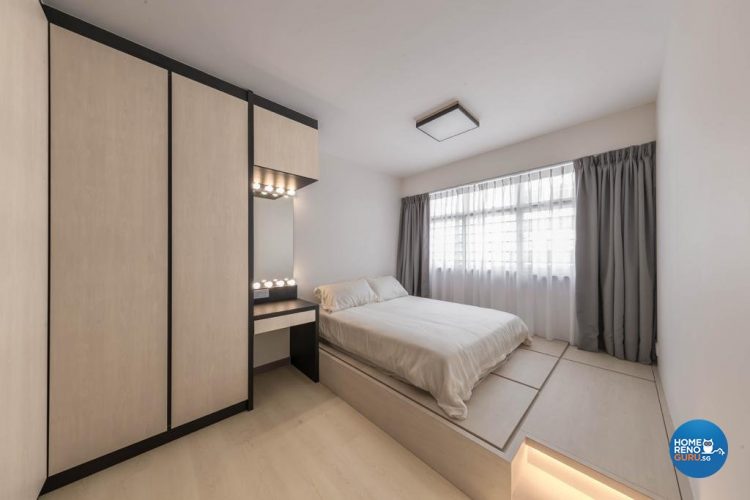 Swiss Interior Design: 4-room HDB
With a strong muted palette, this bedroom highlights a wooden closet and flooring together with a platform for the bed. Natural light is also a huge element in this room with the long windows.
Moreover, since minimalism is key, the platform doubles up as a storage space under the bed to prevent clutter.
Scandinavian Interior Design:
Study Room/Office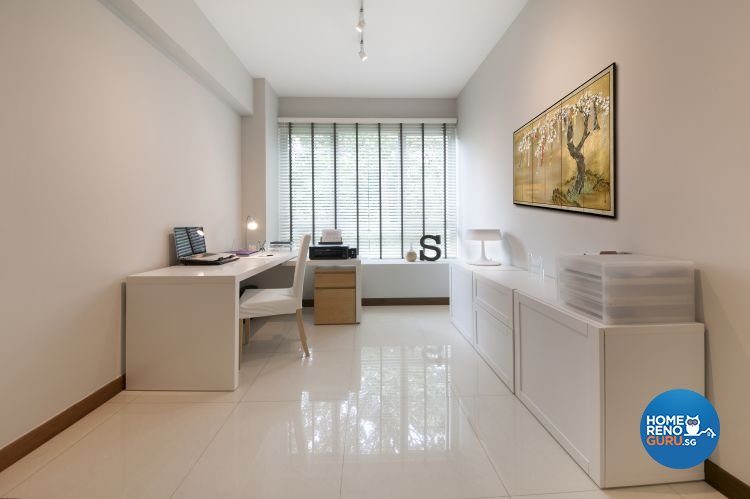 This simple, all-white study room/office illustrates a classic minimalist Scandinavian look. To spruce up the room, some wall art is used to liven up the space.
Other Genres of Scandinavian Interior Design
Other than a strict Scandinavian theme, many homeowners have explored mixing other genres in, such as contemporary and rustic elements.
Contemporary Scandinavian Interior Design
Contemporary Scandinavian comes with an added twist. Popular examples include adding in
pastel colours,
patterned tiles and
darker colours such as brown or black.
This is a complementary contrast compared to the regular light-coloured Scandinavian theme.
Here's how you can easily bring these tweaks into your home!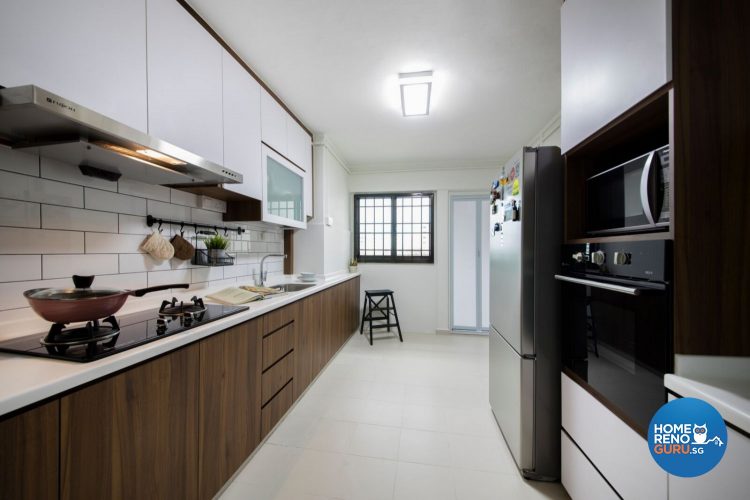 Prefer darker wood furniture over light wood? This 3-room BTO kitchen features dark brown cabinets with black kitchen appliances and stoves. A classic modern twist to the regular theme.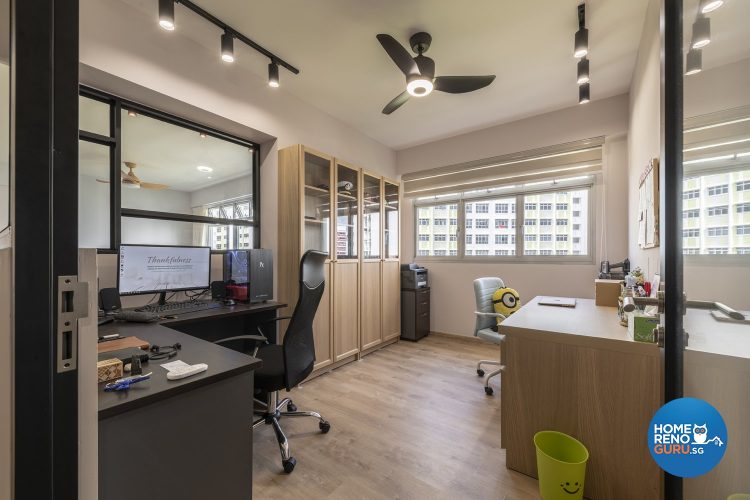 This office space ticks all the boxes of being contemporary Scandinavian – black furniture, track lights and ceiling fan combined with wood furniture in a minimal space.
Rustic Scandinavian Interior Design
A rustic Scandinavian home is said to incorporate barn house-like vibes and slightly raw elements. For example,
an exposed brick wall painted over with white or grey tones, or
wooden furniture with a grainy look and rough edges.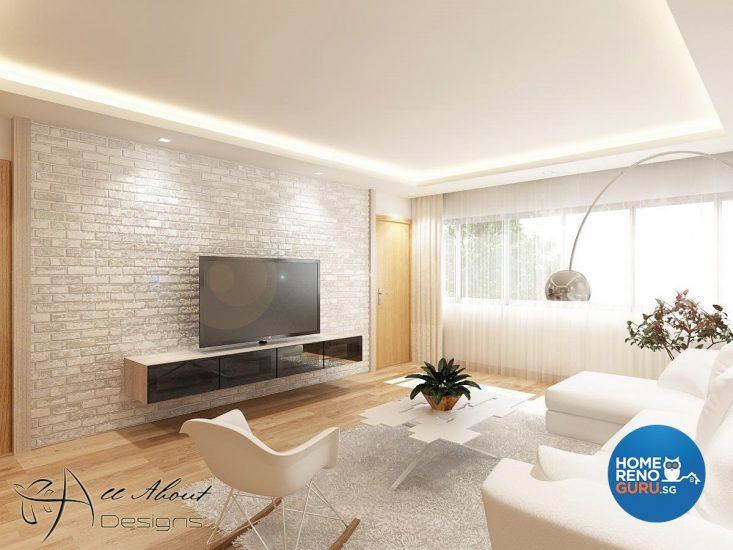 This living room features a rustic TV console feature wall with all-white and light shaded furniture. Notice how potted plants have been nicely incorporated to add to the homely feel of this living room.
Bringing the Scandinavian Look Into Your Home
When it comes to Scandinavian design, think simple, functional and beautiful. Too boring for you? Add in some rustic or contemporary characteristics to inject some personality into your home.
If you're still unsure about where to start, contact our interior designers or check out this list of HDB renovation ideas to kickstart the process today!
Ready to achieve that Scandinavian look?
HomeRenoGuru is here to help!