10 Hacks To Pull Off A Monochrome Home
23 Mar 2017
In a world bursting with colours, it takes a homeowner with chutzpah to eschew all other hues and embrace monochrome.
Monochrome typically refers to black and white but it also includes grayscale (a range of gray shades that are between black and white). Monochrome can also mean shades of one colour.
People shudder at the idea of a sterile white home devoid of personality or a black apartment Count Dracula would approve of but monochrome is so much more than that.
Hardcore colour-lovers will jump to monochrome's defense because gray is an entire mind-boggling palette. Warm grays, cool grays, lilac-undertones, blue-gray, even rose quartz and taupe are in the huge gray family. There are so much more than 50 shades of gray.
With a somewhat limited palette of black, white and gray (or just any other one colour), homeowners have a great canvas to build upon. Here are 10 ways you can confidently go monochrome or go home.
1. Decide On The Mood
For any room and any theme, the first step is always to decide on how you want the room to make you feel. Monochrome interiors have the twin ability to be dramatic or soft and quiet. With the right balance and creative play with shades, textures and both natural and artificial light, the house can convey the mood you want to feel every time you set foot in it.
With sunlight streaming in, this kitchen dressed in whites and creams feels warm and inviting instead of staid and sterile.
Clover By The Park by Renozone
2. Create A Base To Work From
Whilst it's true that going monochrome is essentially having an entire canvas to play with, it is still better to find an element in your home to build the interior around. Tiles, like seen in this shower area, can be a good starting point to build up and around. If you prefer less permanent elements, you can use large neutral-coloured sofas as a base too.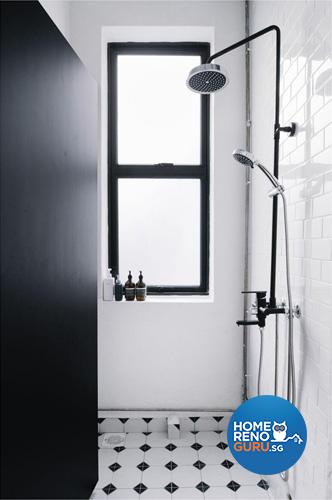 Lim Tua Tao by The Local Innterior
3. One Colour, Many Shades and Tints
If it helps, think of monochrome as ombre, which is the gradual blending of one colour to the other, usually moving from light to dark.
As mentioned earlier, gray is an entire range of colour by itself and if you decide on a gray scheme, there is a whole range for your choosing. The same could be said for pink – go from a whisper of pink to screaming hot pink. Work your way shade by shade to pull the room together.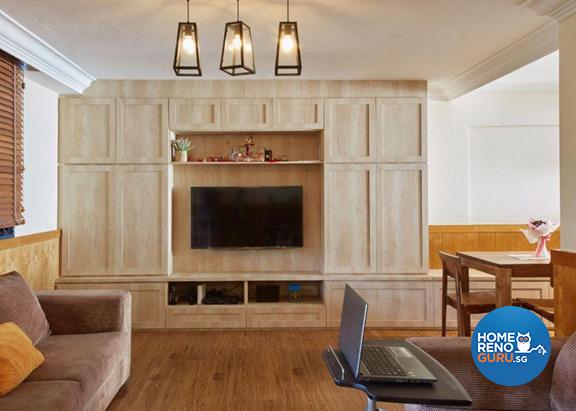 4. Swing Between Styles In Monochrome
Monochrome doesn't force you to be committed to just one style. If you have the eye and finesse to pull off retro, as seen in this house, Scandinavian rustic or modern Boho, go for it. Combining two styles can prove challenging but with the right accents and touches, your monochrome abode will be anything but boring.
Colin Phua from Renozone says that he would recommend mixing styles up, such as putting together a Scandinavian meets industrial look to keep things interesting.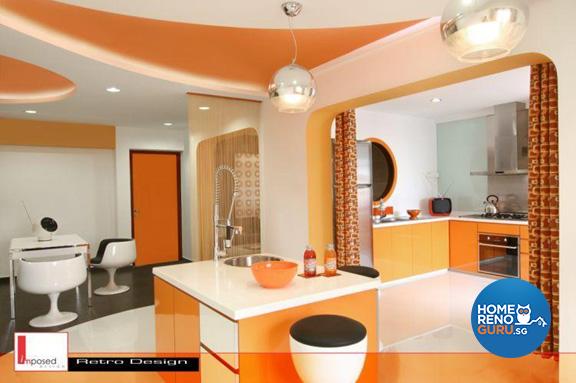 5. Light Up
Light, both artificial and natural, can be your best friend when it comes to interior design. For homes that has sunlight pouring in can actually pull off darker walls. The sunlight will be able to lift an otherwise somber looking space. Conversely, use white walls to "brighten" a room that doesn't enjoy much natural light.
You can also use statement lighting, like the one seen here, to define key areas you want to draw attention to. Tall floor lamps will provide visual interest in unoccupied corners too.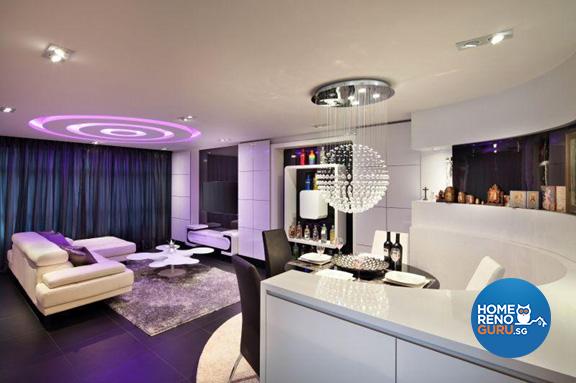 3-room HDB by The Interior Place
[cta1]
6. Create Focal Points
A focal point is meant to create emphasis and impact. Each room in the house can have its own focal point but they are best limited to a maximum of two per room. If everything in a room competes for your attention, you might feel overwhelmed and claustrophobic after a while. Assign visual importance to a couple of elements, say a feature wall.
Jack from Stylerider is all for a point of focus, "I suggest one or two feature walls in the living or dining areas. For smaller homes, I will recommend covering one wall with black tinted mirrors because they look classy and can make a space look bigger."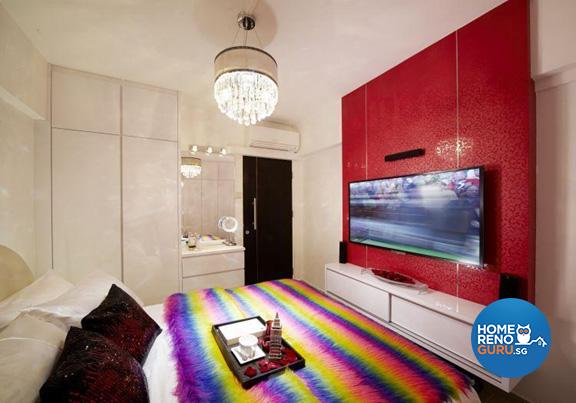 Ang Mo Kio by New Interior Design
7. Play With Textures
Layering with textures is key to putting together any interior but is especially important in monochromatic ones. When you forgo colours, you can compensate on visual interest with contrasting textures such as leather, cotton and different types of timber.
The goal is to compose a room rich in contrasts, think brass, gold or marble "hardware" softened with mohair or silk.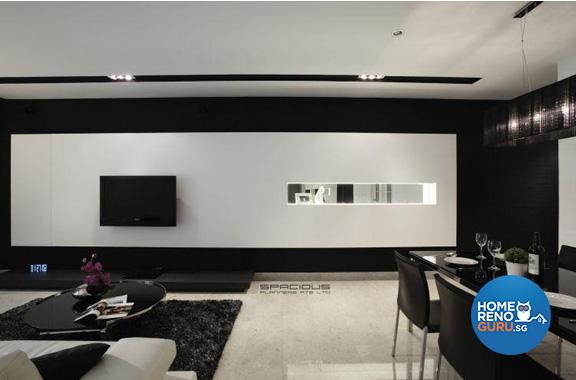 The Tropica by Spacious Planners
8. A Little Help From Mother Nature
Plants are an underrated but great addition to a monochrome home. Don't fret if you don't have a green thumb, there are plenty of options that low-maintenance but high on visual value.
Succulents and air plants are all the rage now. Succulents come in containers as small as a shot glass and air plants can be hung up, perfect for shoebox apartments.
Other hardy options for Singaporean homes are the ZZ plant, money plant and snake plant. The occasional cheap but cheery spray of flowers can do wonders in livening up a room too.
Parkland Residences by Absolook
9. Splashes Of Colour
The best thing about going monochrome is being able to play with colour. You read that right. If you're a monochrome purist and have gone with a strictly black and white interior, a third colour accent can actually give more impact to the monochrome.
Use the 60-30-10 rule as a guide, for example, you can have a room that is 60% white, 30% black which can come in the form of flooring or wall trims and 10% being your accent colour. Going by this ratio will help balance and harmonise your colours of choice.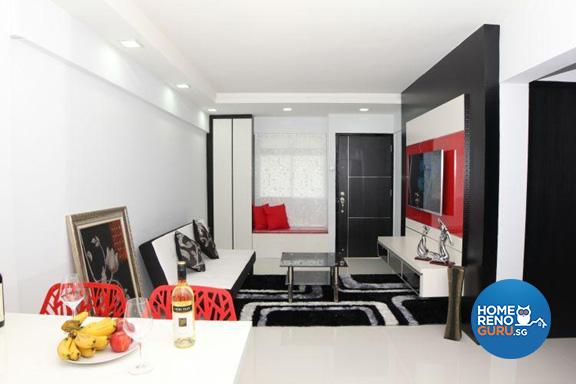 10. The Finishing Touches
Last but not least, don't forget to accessorise your home. Kelvin from Artrend Design says, "If you have the space, you can use large sculptures to accent the house and they can be in a contrasting colour from your monochromatic theme. If you have more wall space than floor space, blowing up and framing large black and white photographs are a sophisticated touch to a home."
Besides art, which can sometimes be a huge investment and long-term commitment, play around with small rugs, cushions and throws to introduce graphic motifs to your home. Chevron, herringbone and bold stripes in striking colours are easy accessories to display or keep. Having the option of rotating or changing accessories now and then are an affordable yet stylish way of keeping the look fresh.