Flirting with… Feature Walls
20 May 2016
Thinking of creating a focal point for your home with a feature wall? It's a great way to make 'something' out of a 'nothing' space, and there is an amazing array of materials at your fingertips. We trawled the portfolios of our talented local interior design firms and professional painting applicators and found these five fabulous feature walls in real Singaporean homes.
PURPLE PULLS THE EYE UP, UP AND ALL THE WAY…
Image Creative Design created this stunning feature wall for a client's penthouse apartment in Costa Rhu. It spanned the full height of the double volume ceiling, connecting the living area and mezzanine level with a column of white timber-framed paneling, covered in majestic purple fabric wallpaper. To tie in with the modern Oriental theme and the custom-made floral carpet, it was covered with 3D floral cut-out wall motifs.
Interestingly, the feature wall avoids the obvious choice of red – the dominantcolour in the statement-making carpet. Instead, it introduces theadditional and equallystrong colour purple, which is continued in the floor-to-ceiling drapes and the floral arrangements in the cylindrical golden vases that flank it.
If walls could talk, this one would say… A feature wall can connect two levels by spanning the full height of a double volume ceiling. A strong colour and 3D embellishments draw the eye upwards to appreciate the luxury of a lofty space.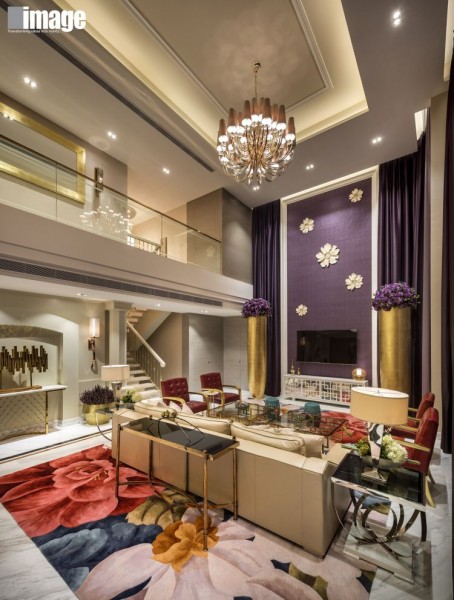 A NOD TO MOD MOROCCO WITH WOOD-LOOKALIKE TILES
Ace Space Design created this feature wall in the living room of a 5-room HDB flat in Woodlands St 82,in sync with the Moroccan-inspired theme of the home. The convincing wood-textured tiles create a rustic, earthy look without the dark and heavy ambience that often accompanies timber-clad interiors. Just a touch of timber (okay, pseudo-timber) does the trick.
Aside from adding a warm earthy feel, the feature wall serves as a nook for the storage of the owners' collection of lamps and water pipes. Layered ambient lighting cloaks the space in light and shade, adding mystery and depth to the otherwise bright and breezy interior.
If walls could talk, this one would say… A feature wall can inject a theme-setting texture to a space – no need to go overboard and envelop the entire room in wall-to-wall wood or a single colour. Think of a feature wall as a life-size mood board, enabling you to reference and evoke a theme without being a slave to it.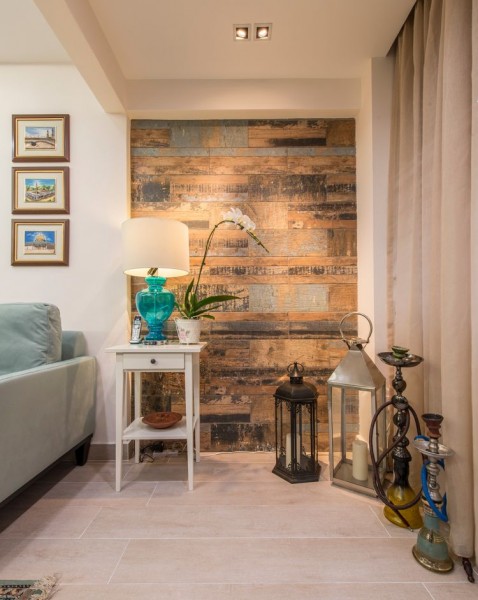 IT'S AN ART PIECE, IT'S A ROOM DIVIDER, IT'S A TV MOUNT… IT'S A MULT-TASKING FEATURE WALL
This feature wall, created by Rhiss Interior for a penthouse condominium unit on River Valley Road, does triple duty as a room partition and as a mount for a plasma TV. Make that quadruple duty, as it is also a showcase for the 3D butterflies that were salvaged from the homeowner's former residence.
This multi-tasking structure is essentially a wallpapered partition with internal bracing to support the wall-mounted TV (on the side facing away from the camera). The tarnished metal butterflies were gold-plated and manually screwed into a piece of plywood, clad in a subtly contrastingwallpaper. Finally, the plywood was then mounted on one side of the feature wall.
If walls could talk, this one would say… Not all walls need to be flat. With 3D embellishments, it becomes a piece of installation art. Don't have a wall begging to be turned into a feature wall? Then if you have the space, create a free standing one. 'Two-faced' feature walls make great room dividers, separating a large area into smaller purpose-centric spaces.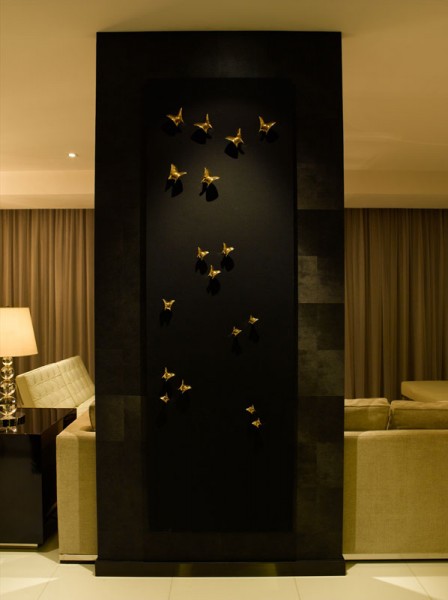 MIRROR, MIRROR ON THE FEATURE WALL…
Samlo Design Group created a feature wall in the master bedroom of this Thomson Grand unit in Sin Ming Avenue that did more than just decorate the room. It serves to conceal much-needed storage space behind the bed, while creating a focal point much like an extended bedhead. The hotel-like vibe is further enhanced by the symmetrical placement of matching bedside tables and lamps.
The long framed mirror optically enlarges the space while relieving the 'busy-ness' of the floral printed wallpaper. Note: here's a floral that's groovy without being 'girly'. So yes, real men can rock a floral.
If walls could talk, this one would say… Feature walls are great for concealing storage space and look so much more interesting than sliding laminate-covered doors. And don't be shy of wallpaper. Go easy on the details elsewhere in the room, and a boldly patterned and papered feature wall can set the theme of the entire room.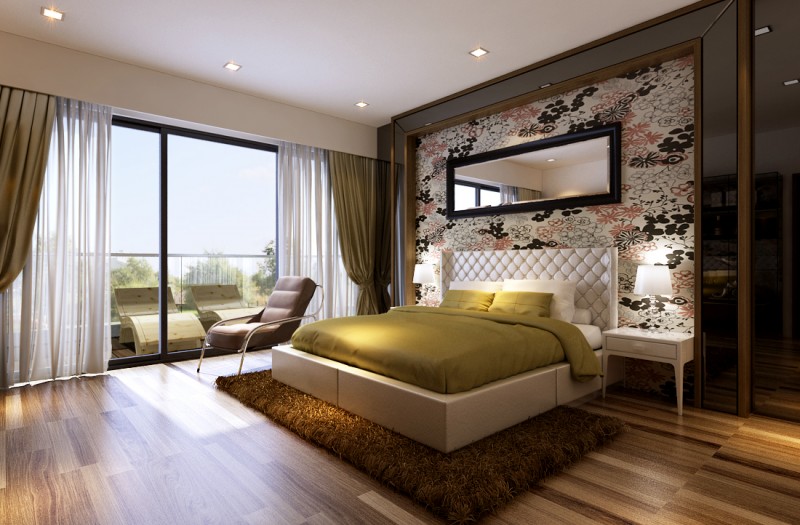 ORDINARY TURNS INTO EXTRAORDINARY WITH SPECIAL EFFECTS PAINT
This humble living room was transformed into a designer space with a feature wall created by Prestige Painting, a specialist in feature wall painting, using Nippon Paint Momento Special Effects Paint. This shimmering silvery beauty is perfectly framed by the bold choice of matte charcoal grey for the ceiling and wall paint.
Unlike conventional interior paint and wallpaper, no two applications of Nippon Paint Momento are alike, as the subtle pattern in the texture is created by the applicator's personal technique.This wall, like every other Momento masterpiece, is a one-off original.
If wall could talk, this one would say… A feature wall covered with special effects paint is an art piece that requires no additional wall hangings or adornments. Doubling up with a darker colour on the adjacent wall and ceiling provides a great foil for a light coloured wall.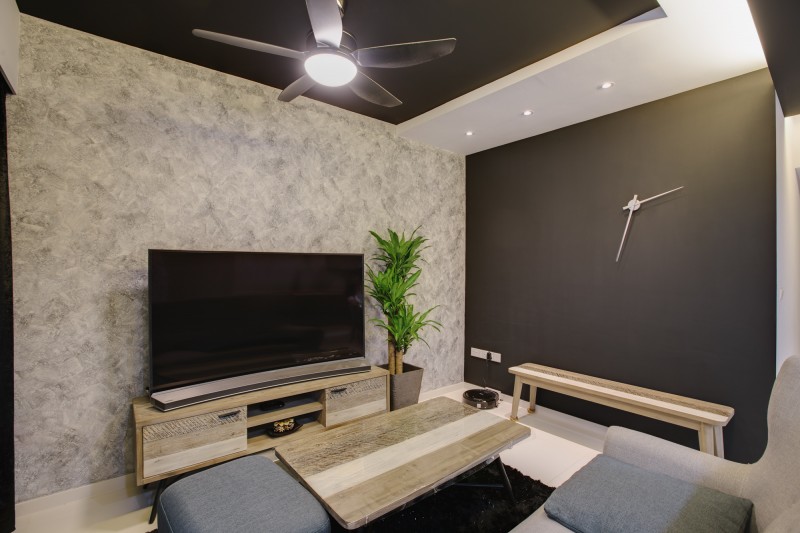 TAKE A WALL, ANY WALL…
Inspired? We hope so. Now take a wall and go to town on it!