How To Give Your Home a Futuristic Vibe with LED and Neon Lights
Out With the Old, In with the Future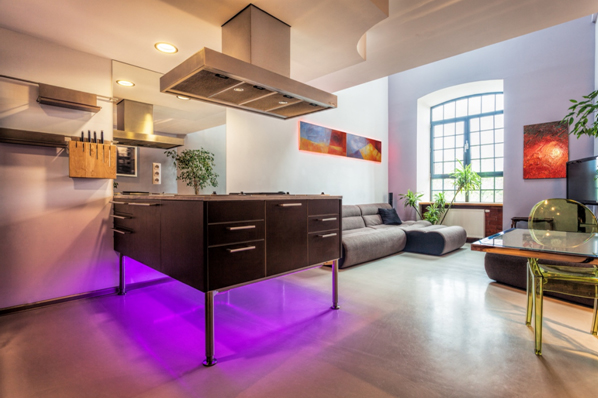 Photographee.eu/Shutterstock.com
Turns out, there are a few ways to bring your home into the future without tearing your house [and wallet] down.
Futuristic-themed homes are all the rage now, and it's not hard to see why. Case-in-point: Tony Stark's badass penthouse in Iron Man. The idea of owning a home that looks like it's from 2050 may be cool, but homeowners are often struck in the conundrum on where and how to begin. It might sound too good to be true, but a little creativity and some LED or neon lights can be all the tools you need to get your home to the next level.
Just LED lights alone won't be enough to make your home rival Iron Man's man cave, but it will be sufficient to give you the futuristic vibe.
Get The Facts Right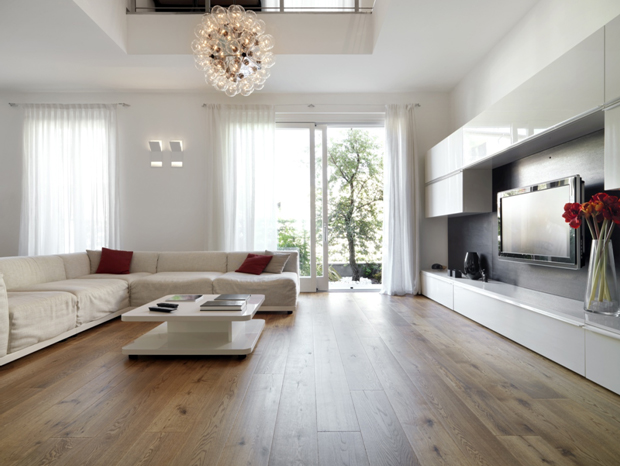 adpePhoto/Shutterstock.com
Before embarking on your adult arts and crafts project, it's imperative to start on the right foot. Futurism as an interior design concept has gotten an unintentional bad rep overtime. Due to its supposed complexity, people usually sign it off as either too unattainable, too expensive, or simply unpragmatic.
But really, the first step to designing a home from the future is to let all preconceived notions go. For starters, be delighted to know that your colour palette is not confined to space colours such as grey, silver, black and gold. Neither does everything in the house need to be shiny, metallic or reflective. Rather, playing with muted colours and natural textures can create a relaxed environment without getting too gaudy at all.
Looking for an estimate of your renovation costs?
Let HomeRenoGuru help!
Ask For Quote
Light it Up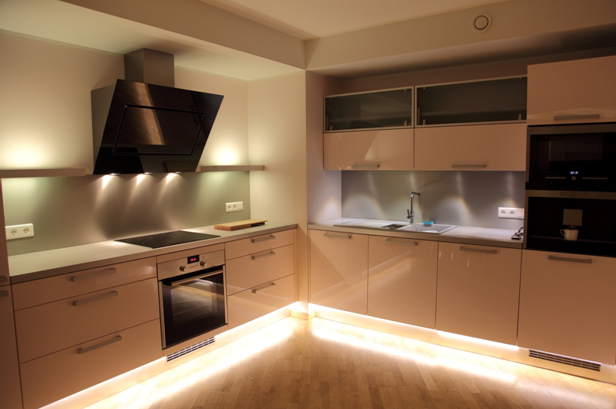 Sandra Kemppainen/Shutterstock.com
You'll see this trick or more accurately, not see it in many futuristic movies: the absence of actual light bulbs. A key element that is pivotal to achieving the futuristic look is cove lighting, or concealed lighting.
By hiding the direct source of light, the jarring light bulb is traded for a softer facade, which allows the room to look illuminated instead. A beginner's hack would be to plan the light placement according to the lines in the room. Simply put, align the lights to linear objects in the room.
You won't have to worry much about maintenance either, according to Henry Yeo from In2Space Design & Solutions: "Cove lighting is actually really easy to maintain. A simple vacuum and light replacement during your yearly spring cleaning is sufficient. It's also considerably less work compared to cleaning and maintaining hanging lights and chandeliers."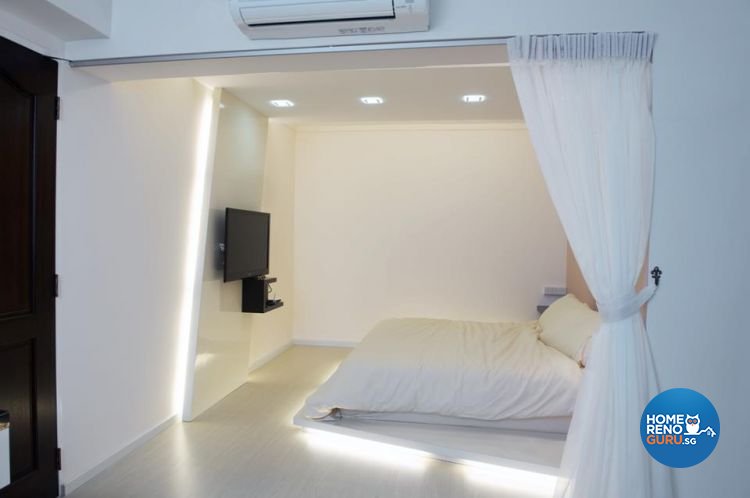 HDB 4 Room – by DAP Atelier
By simply adding long lines of cove lighting along the wall and bed, this bedroom from a 4-Room HDB gets an instant facelift and more dimensions. Just imagine how it'll look like at night.
The concealed nature of cove lighting makes for a softer and diffused aesthetic, which is ideal as a nightlight before you retire for the night. For homeowners who want to have cove lighting in their home offices or study, a quick switch from fluorescent to LED bulbs will alleviate strained eyes and work-time drowsiness. For a bolder statement, give coloured lights a go.
As for the types of lights to consider, Judy Tan from New Interior Design had this to say: "T5 LED lights would be the standard choice for most installations, but you might want to consider a higher wattage for a brighter room depending on your preference."
The Future is Now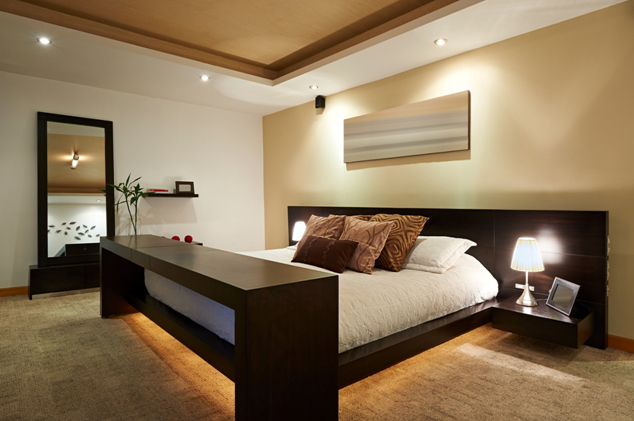 Santiago Cornejo/Shutterstock.com
Lighting itself isn't going to transform how your home looks, but it can sure help you see things from a different light. Apart from concealing obvious lightbulbs, keeping decor simple is the way to go.
For the adventurous, spruce your home up with statement furniture pieces. Otherwise, smart appliances are great to appease those who seek form and function all at the same time.
But before you go rushing off to the nearest lighting store, Fong Yit Yun from Diamon'Tif Construction & Design has this final piece of advice: "Keep in mind the types of light you want to use. LED lights will be slimmer but florescent lights will take more space so keep that in mind.  Don't forget to get bendable strips if your structure is round as well!"
Going all out futuristic? Check out these 5 smart appliances to spice up your home.