7 Characteristics Of Industrial Interior Design For Different Rooms In Your HDB
26 Apr 2021
Industrial interior design is a popular design trend that creates an 'unfinished' look to your home's interior. With its interesting and beautiful look, this style might be something you want to consider for your next home renovation idea. 
In this article, we talk about the important characteristics of industrial interior design. We've also gathered a list of different room inspirations in a HDB that embraces this beautiful design style! 
History of industrial interior design
So, how exactly did industrial interior design start? Well, it takes inspiration from the factories built during the late 19th and early 20th century. 
These factories were eventually left vacant with the advent of globalisation. In order to not waste such valuable space, innovative architects decided to refurbish these buildings into residential spaces.
They celebrated the building's infrastructure by leaving their raw elements untouched and exposed, thus giving birth to this interior design trend. 
Characteristics of industrial interior design
Raw textures and materials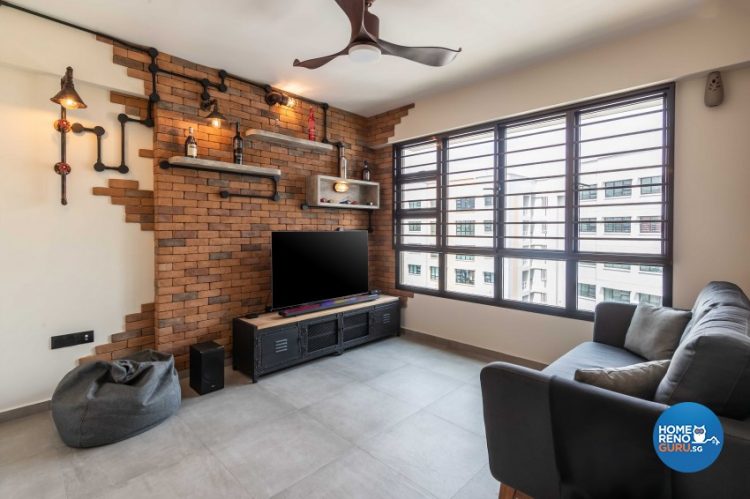 Designed by Swiss Interior Design
A key characteristic of the industrial design style is the exposure of materials. Rather than concealing the materiality or infrastructure, it celebrates and even enhances it.
The theme often highlights materials such as metal, wood, stone and bricks. Raw elements, such as exposed pipes and ducts, wooden or steel beams and unfinished walls, all serve as part of the aesthetic. 
Warm and neutral colour palettes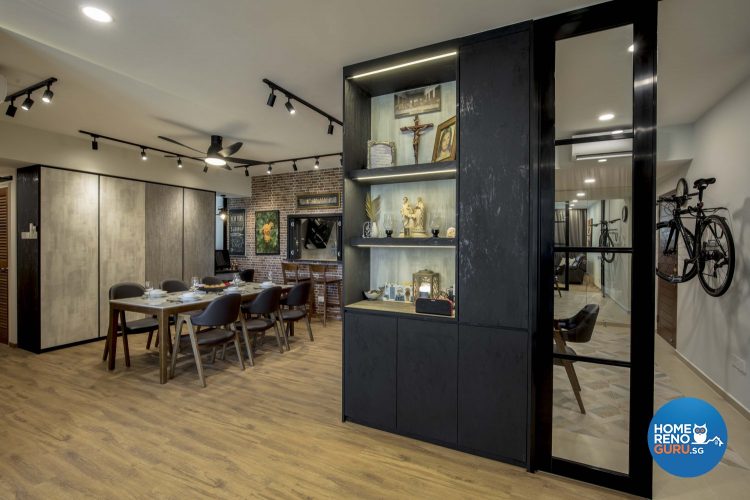 Designed by Sky Creation
Similar to the contemporary design style, industrial interior design features both warm and neutral hues. Common colours are shades of grey, black, brown and white. 
If you want to go bold, rich warm-toned colours such as brick red, burnt orange and dark green are excellent choices. 
Polished concrete flooring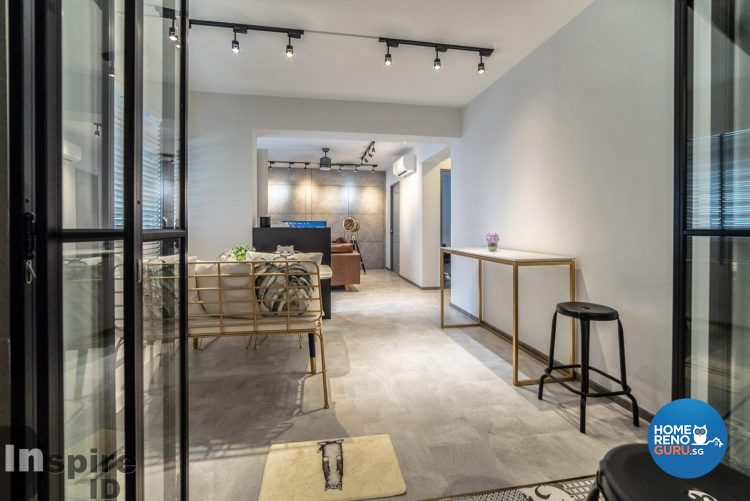 Designed by Inspire ID Group
Polished concrete flooring is a relatively affordable flooring option that requires low maintenance. The material is both clean yet natural-looking, and complements the industrial style perfectly. 
Vintage or modern furniture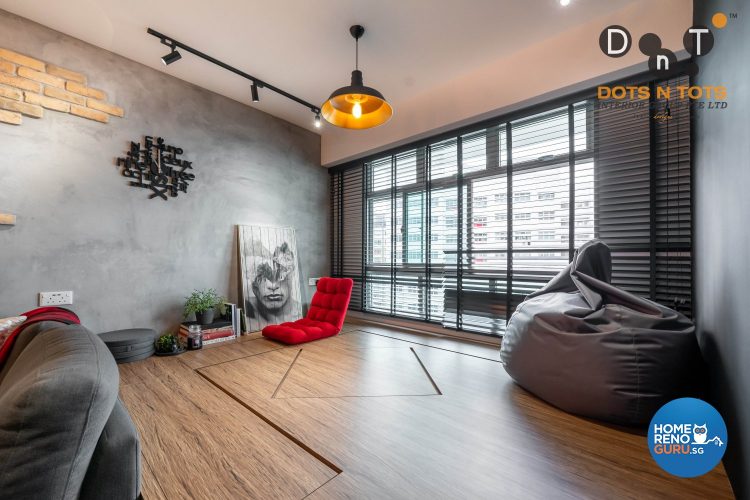 Designed by Dots N Tots
The awesome thing about industrial design is how fluid it is. Depending on the look that you're going for, you can incorporate either modern or vintage furniture, or make use of both!
For example, this particular space has an adorable bright red vintage floor chair while also hosting a comfortable and stylish bean bag. 
Accent decorations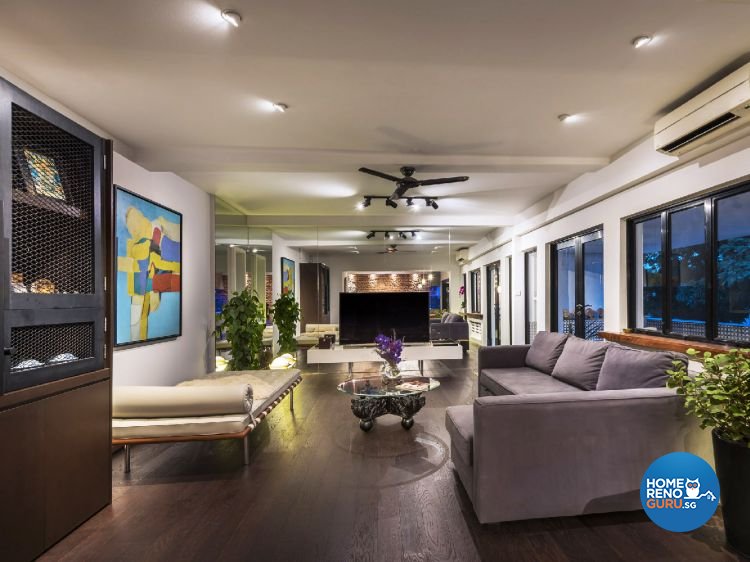 Designed by Ciseern 
As industrial interior design often makes use of neutral tones, decorations such as abstract art or photographs can be added for a pop of colour. 
Plants are also a great way to bring life and vibrance into your space. Place them in some quirky pots to further spice up your interior! 
Open plan spaces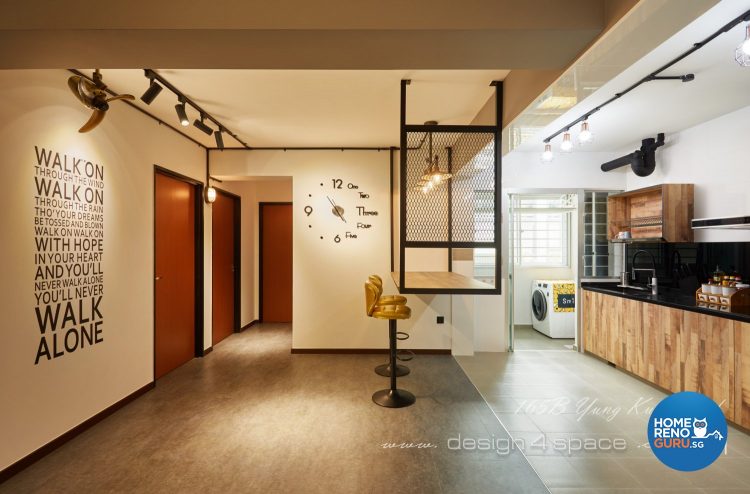 Designed by Design 4 Space 
An open floor plan refers to how a bigger space is formed through the removal of partition walls. 
Homes in the industrial style typically do better with this floor plan as the openness helps to prevent the space from looking too overwhelmed by the multiple textures and exposed elements. 
Themed lighting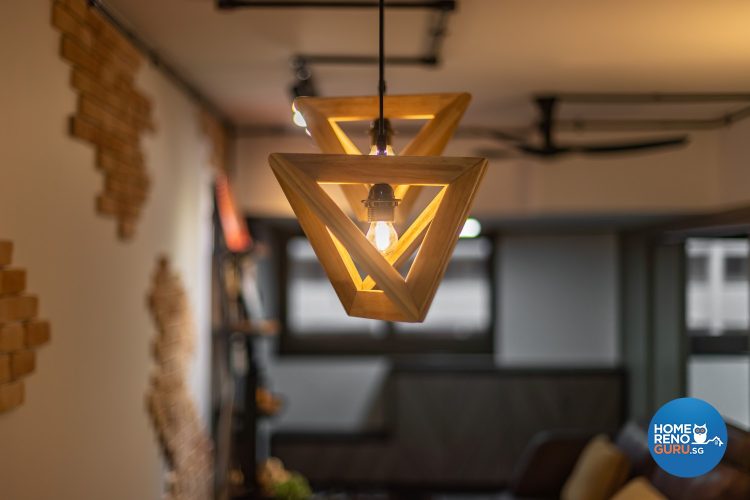 Designed by Swiss Interior Design
Industrial-themed lighting is a customary fixture in such homes. Exposed bulbs, and metal, wire or wooden cages are common features of this lighting style. 
Industrial interior designs for different HDB rooms
Industrial interior design: living room
HDB 3 Room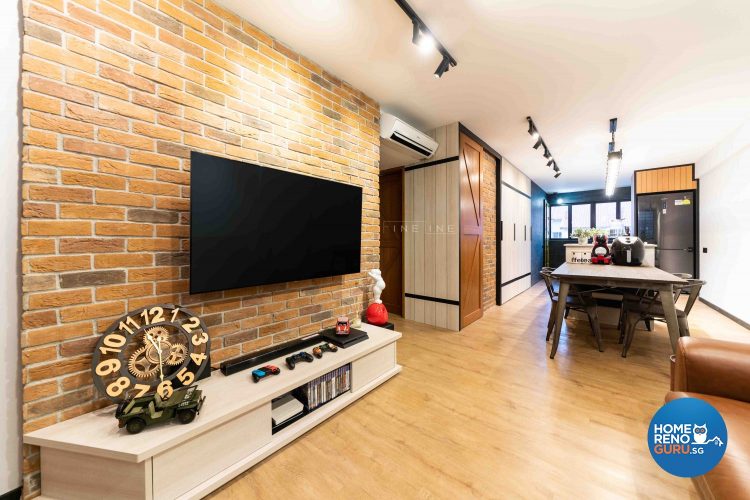 Designed by Fineline Design 
This 3 room HDB showcases the industrial design through brick walls, lights attached to steel beams and the use of wood. 
The beautiful clock on the television console also follows the theme closely with its factory-style gears. 
HDB 4 Room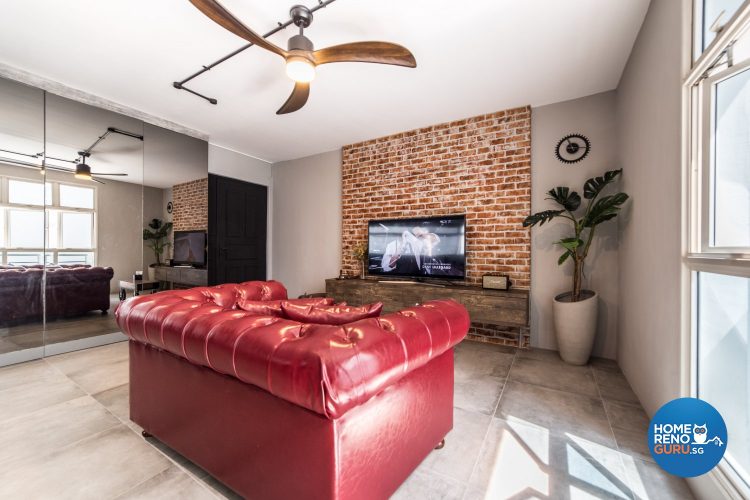 Designed by Inspire ID Group
The living room appears spacious through the use of natural light. This has been creatively accomplished with ceiling high windows and mirrors. 
The fun red vintage sofa and plants prevent the space from looking too bare. In addition, the television console against the brick wall makes the apartment look like it's situated in New York!  
HDB 5 Room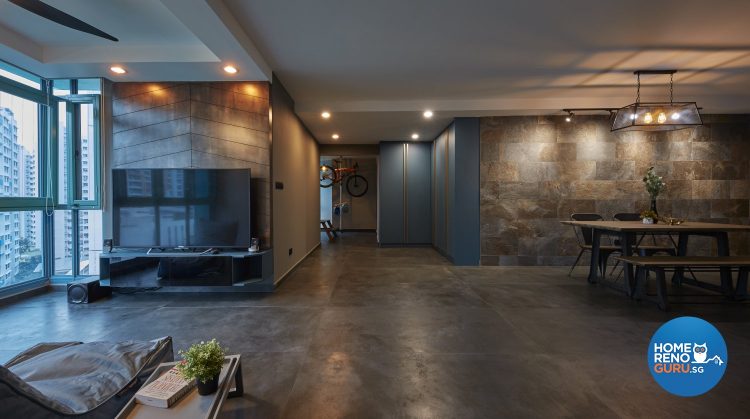 Designed by Carpenters 
This industrial HDB design employs dark grey tones and the use of stone to elicit raw textures. The designer also went for an open and uncluttered floor plan by removing the partitions between the main living area and one of the rooms. 
The dining room's lights will immediately capture your attention with its unique trapezoid shape.  
Industrial interior design: dining room
HDB 3 Room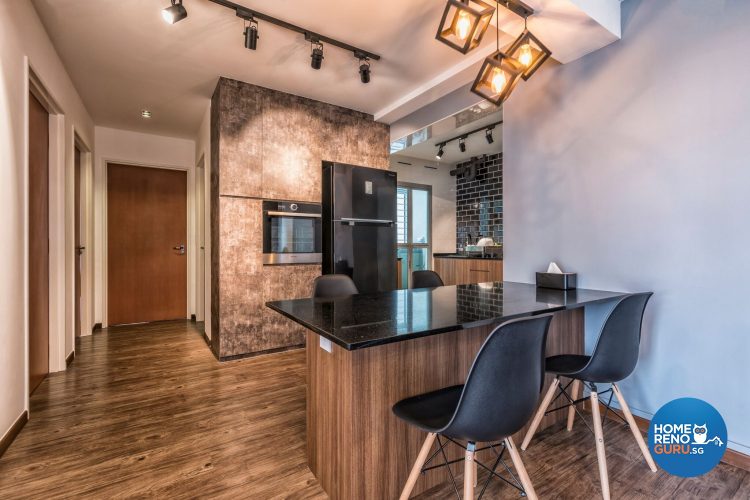 Designed by U-Home Interior Design
This HDB dining room looks effortlessly sophisticated with its deep brown and solid black palette. The interesting light fixtures and curved chairs add more dynamic forms to the space. 
HDB 4 Room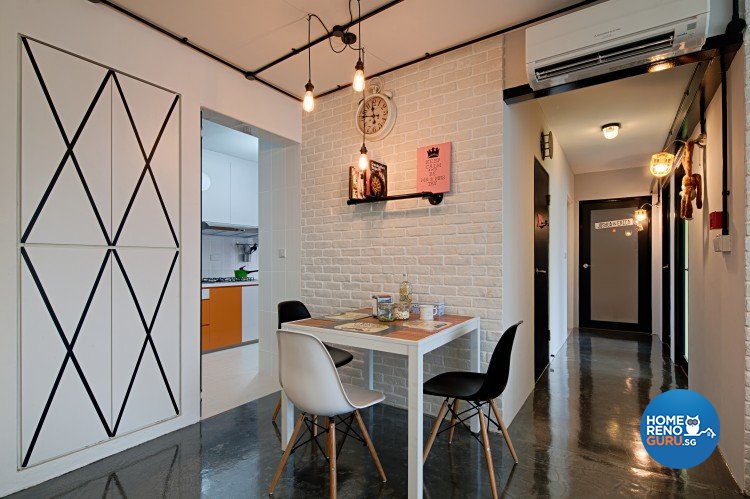 Designed by Weiken.com Design
This design puts a lighter twist on the typically dark industrial theme. Colourful books and a vintage clock are used to include a hint of colour to the white brick feature wall. 
The usage of steel pipes along the ceilings and hanging of light bulbs fits the theme and gives this dining room a cafe-style atmosphere. 
HDB 5 Room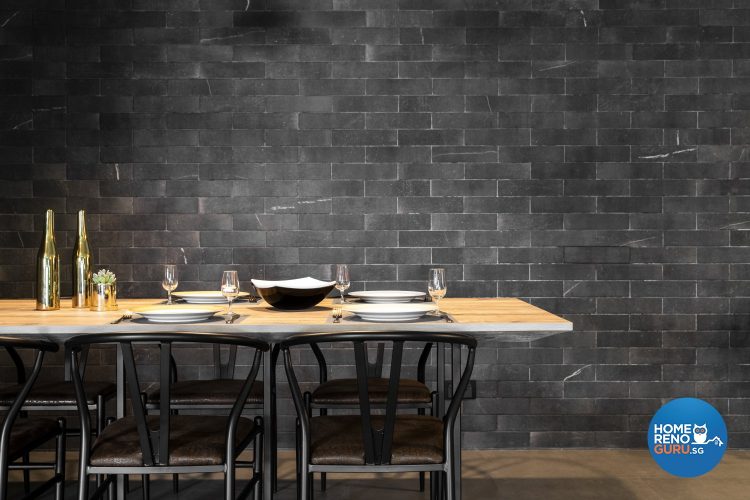 Designed by Fineline Design
The contrast of the light wooden furniture to the black brick wall gives this dining room a dynamic and elegant look.
The sleek black chairs padded with deep brown cushions complete the entire set and create a restaurant-like setting.  
Industrial interior design: kitchen
HDB 3 Room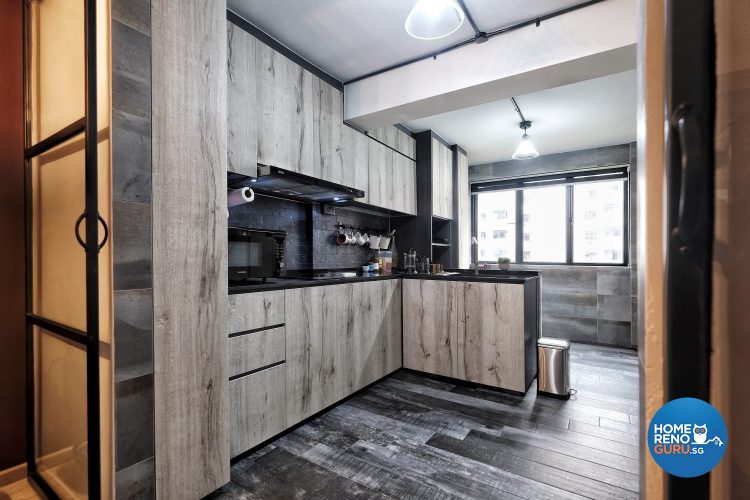 Designed by United Team Lifestyle 
This HDB kitchen design adds a hint of rustic styles with its aged yet charming wooden cupboards. This kitchen showcases a perfect harmony between natural and industrial elements. 
HDB 4 Room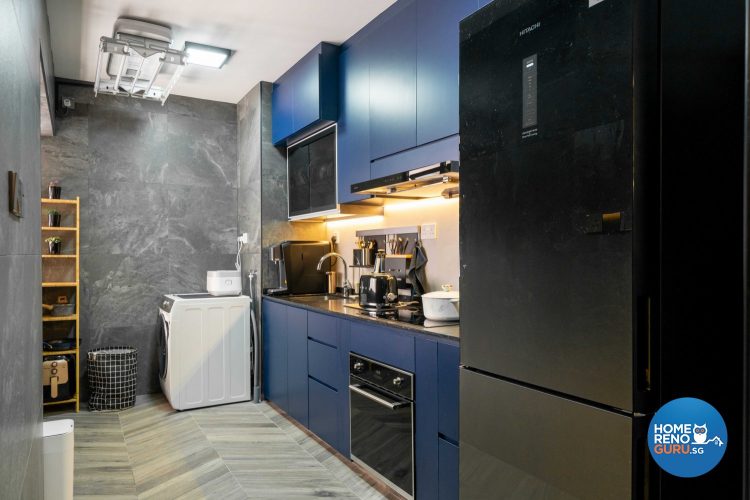 Designed by Design 4 Space
To spice an otherwise simple-looking kitchen, the designer made use of bold royal blue cabinets to complement the subtleness of the marble grey walls. 
HDB 5 Room
Designed by Sky Creation 
The use of wooden textures on the cabinets helps to add an extra dimension to the kitchen's black accents. 
While it's an open kitchen concept, there's a clear distinction with the rest of the house with the use of colour and lighting. 
Industrial interior design: bedroom
HDB 3 Room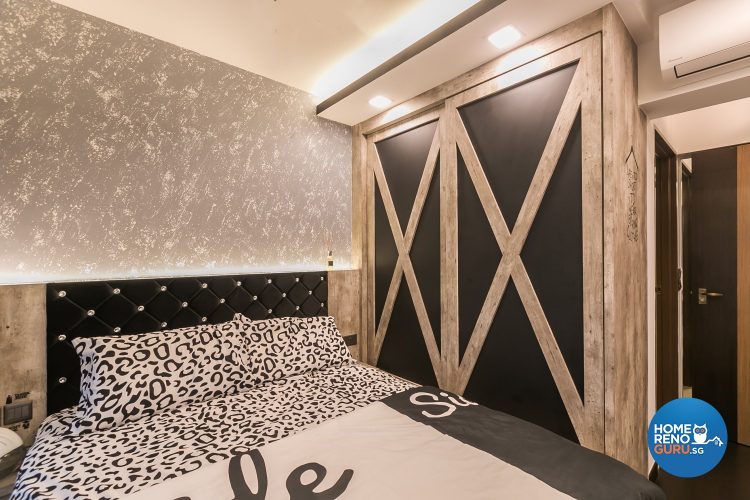 Designed by Swiss Interior Design
The first thing that you'll notice about this bedroom is the unique wooden pattern on the cupboard. To make the room even brighter, lights are installed behind the bed and in the false ceiling.
HDB 4 Room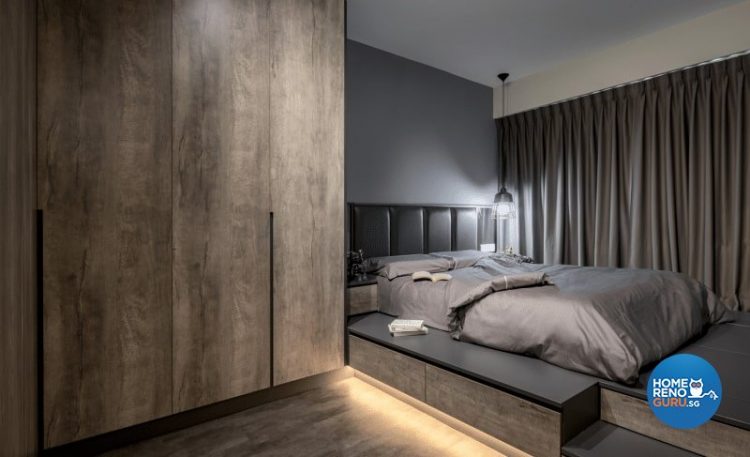 Designed by Weiken.com Design
The bedroom makes use of cool grey and black tones to bring out the wooden textures. The bed is positioned on a platform that separates the sleeping area from the closet, helping to create the illusion of more space. 
Lights under the platform bed are used to create a warm and comforting ambience. 
 HDB 5 Room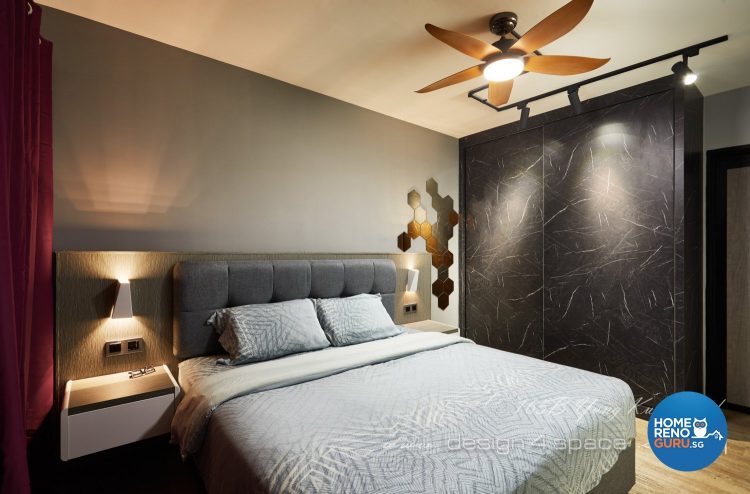 Designed by Design 4 Space 
This bedroom design showcases a couple of interesting visuals. Firstly, the unique pattern on the black cupboard resembles an aged concrete wall. The designer also included hexagonal mirrors, a shape that's not commonly seen. 
With the cushioned bed frame and red velvet curtains, you'll feel as if you've stepped into your personal hotel room.  
Industrial interior design: toilet
HDB 3 Room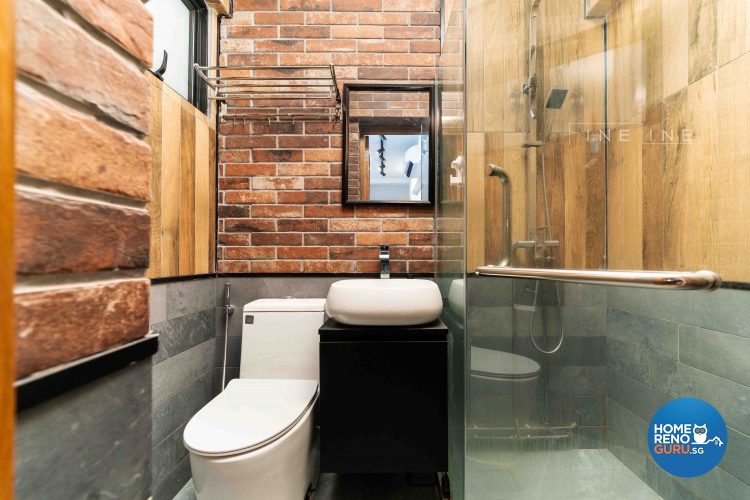 Designed by Fineline Design
With its use of brick and wood, this HDB bathroom design is reminiscent of a rustic chalet. The circular shape sink also adds more character to the room. 
HDB 4 Room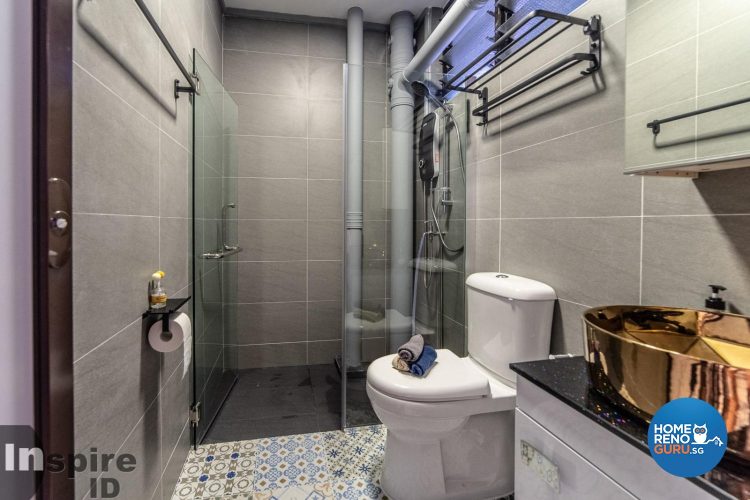 Designed by Inspire ID Group
The golden sink acts as an elegant centrepiece to this bathroom, while the colourful patterned tiles create an interesting visual. Lastly, the exposed pipes tie the industrial design together.  
HDB 5 Room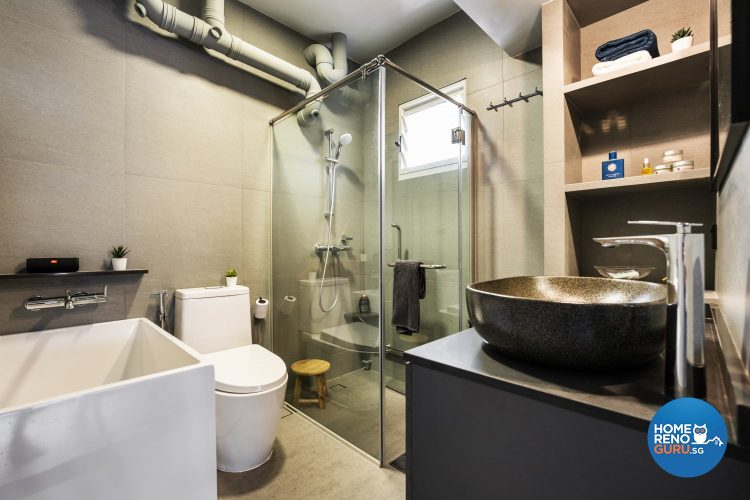 Designed by Fineline Design
This industrial-style bathroom keeps in line with the theme by focusing on neutral shades of grey, black and brown. The pure black sink and exposed pipes complete the sophisticated design of the room. 
Different genres of industrial design
One of the best things about industrial design is its versatility. It can be cleverly mixed with elements from other design themes, such as rustic, contemporary and retro. 
To illustrate these unique combinations, here are some beautiful HDB interior designs! 
Rustic industrial design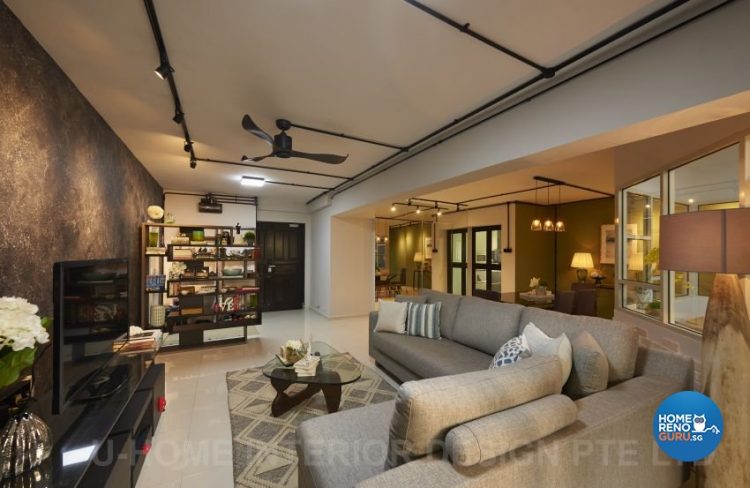 Designed by U-Home Interior Design
The rustic industrial style is a beautiful marriage between the modern and rural. This HDB flat design incorporates warm earthy tones to give the rustic look, while metal pipes and factory-style lights show the industrial side. 
Contemporary industrial design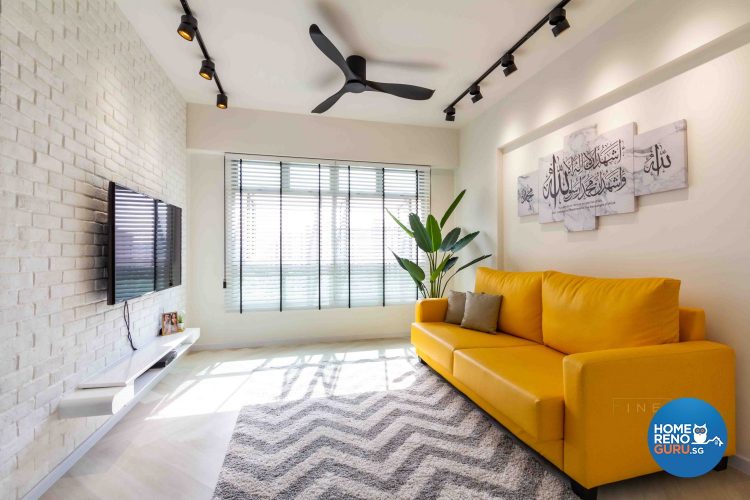 Designed by Fineline Design
The contemporary style is one that continuously morphs as time passes. Common characteristics of this theme include the use of both straight and curvy lines, as well as random bursts of colours. 
This contemporary industrial HDB design combines brick and steel textures with interesting geometric patterns. The bright yellow sofa and potted plant add more life to the space. 
Retro industrial design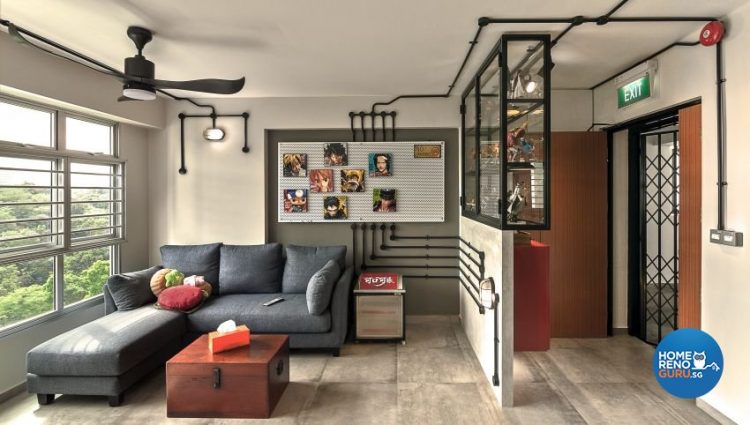 Designed by Swiss Interior Design
The aged aesthetic of the industrial design works especially well with vintage furniture and quirky pop culture references. 
This HDB flat design combines industrial and retro themes and the end result is worthy of a conversation starter. The designer included exposed pipes and industrial-styled lamps, while highlighting the owner's colourful anime collection. 
Advantages of industrial interior design
Easy to pull off
One huge advantage of industrial interior design is that it's generally easy to execute. It comprises mostly neutral or warm tones and the usage of raw materials. 
There's no need to go over the top for this theme. Even the infrastructure of your house can become part of the overall design. 
Versatile 
The industrial style is pleasingly flexible and can be easily combined with other styles of interior design. With the variety of textures, mixture of lines and the neutral colour palette, other designs can easily merge with it without having any clashes. 
You can choose what styles to incorporate based on your own preferences and lifestyle. 
Environmentally friendly 
You don't have to splurge on expensive decorations for this design style! You can simply recycle objects that no longer serve their purpose. 
An old suitcase could be repurposed as a coffee table and it would fit right in! As a bonus, this pointer makes the industrial design style cost-effective as well. 
Disadvantages of industrial interior design
Requires consistency
While you're able to mix industrial design with other styles, you shouldn't drastically contrast rooms. This means that you shouldn't have one room in industrial and another room in a minimalist style. 
With the distinct look of industrial design, design inconsistency can easily turn a beautiful home into a confusing mess. 
May look dirty if not maintained properly
A central characteristic of the industrial design is the exposure of elements. However, if your exposed pipes and ducts aren't cleaned up, your sleek home could end up looking cheap and dirty. 
To prevent this, you have to put time aside to clean your exposed surfaces.  
Might not work in smaller houses
This design style usually works better with bigger houses that have open spaces, because it features a lot of factory-inspired design elements and exposed textures. 
Thus, it might not fit with smaller houses as it can make them look cluttered if not done properly. 
Achieving the industrial look in your HDB flat 
The industrial design is all about exposure of materials and the charm of having an unfinished look. It's both simple to achieve and versatile enough to combine with other interior designs. 
If you've decided to go with industrial interior design your new HDB flat, engage our interior designers! 
Looking for an interior designer to help you create your dream home?
HomeRenoGuru is here to help!