8 Amenities For Your Bachelor Pad
While condos and HDB apartments often target the family demographic, what do young, single males look for in a place to call home? For independent bachelors who spend the work day crafting their careers and nights out networking, there's not a lot of time left to think about the amenities a young man might appreciate when he loosens his tie and settles in to the sofa. While he may not want go as far as building a man-cave, he wants his home to reflect his masculinity, while also exposing his softer side to those he allows in. Here are a few things he will want to start with when conceiving the ideal bachelor pad.
Blk 70B Telok Blangah Heights by Swiss Interior Design Pte Ltd
1. Get Artsy
Even the dullest spaces can be brought to life with a little bit of art (take museums, for example), but it's important that the artworks you showcase in your home reflect your personality. A painted masterpiece by Rembrandt might not exactly say youthful bachelor, but a pop art canvas or urban art sculpture might speak more to your character than anything considered high art, while also keeping within your budget.
If you believe that art shouldn't only be confined within the edges of a frame, decorative wall fixtures, graphic wallpaper, and statement furniture are other ways you can spice up your space. For those aspiring for a cosmopolitan look and feel, Colin Phua of Renozone suggests incorporating decorative wallpaper and unique items of furniture to serve as statement pieces in the home.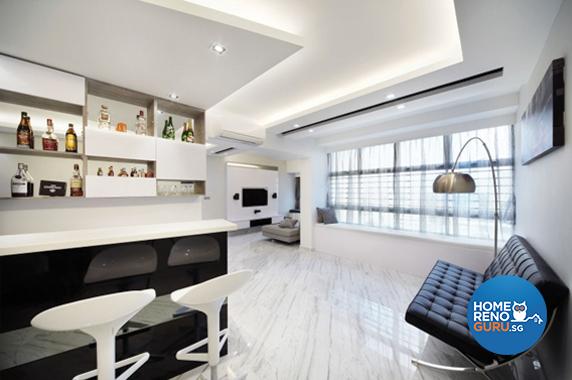 Strathmore Avenue by Artrend Design
2. Mix Things Up With A Bar
There's something undeniably masculine about a man who knows his liquor, and even more so when his collection is presented in an organised and respectable manner. While a messy, disorderly liquor cabinet – or worse, bottles left haphazardly around the home– might hint at a worrying habit, designating shelving for your single malts and crystal glasses, and installing a bar counter with contemporary stools, is a great way to bring a level of sophistication to clinking glasses with old friends. Not only does it separate your drinking rituals from the kitchen  often lacking space due to cooking utensils  but it also provides an appropriate space to entertain guests and facilitate engaging conversation.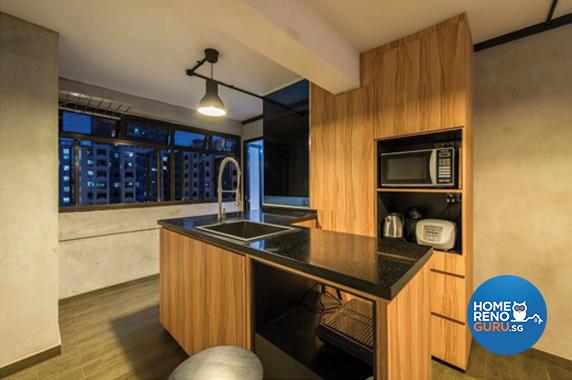 LorLimau by Ace Space Design Pte Ltd
3. Conceal Your Clutter With Smart Storage
In an increasingly urbanised country like Singapore, space is a growing concern, and smaller apartments don't necessarily mean you'll be reducing the number of material goods in your possession. However, cleverly making use of storage space, particularly through concealed storage units, allows you to cut out much of the clutter without purging your belongings. While storage units concealed under the bed, integrated in walls and within wardrobes provide discrete solutions without having to fill up shelf space, even refrigeration units can be disguised as drawers in the kitchen.
Irene Koh of Chapter One Interior Design Pte Ltd asserts that a fuss-free environment is ideal for the bachelor to maintain a clean, bold and independent space, where single males should look to a minimalist aesthetic with more hidden storage to keep away the mess. Out of sight and out of mind definitely works for most males.
Looking for an estimate of your renovation costs?
Let HomeRenoGuru help!
Ask For Quote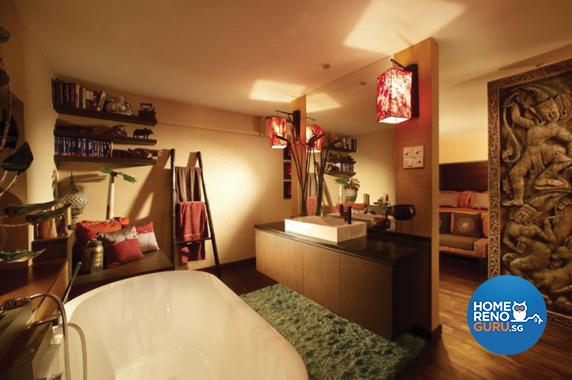 HDB- Blk 54 Jalan Mamor by RenoZone Interior Design House
4. Use Partitions To Break Up Your Space
When lack of space is a concern, sometimes you have to revisualise your home beyond what the blueprints tell you. Perhaps the kitchen is a little too open to prying guests, the living room a little too large and empty, the bathroom a little too far from the bedroom. Often were quick to tear down walls, but don't think about building them. This is where partitions come in. Through the simple addition of a single wall, you can completely transform one space into two distinct areas, allowing you to redefine the dynamics of your home. Split your living room into distinct areas for dining and kicking back in front of the TV; create an ensuite bathtub and sink in the bedroom for a renewed sense of intimacy; the possibilities are endless.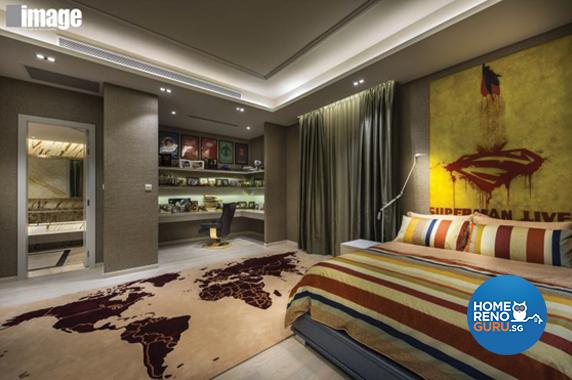 Condo – Costa Rhu by Image Creative Design Pte Ltd
5. Make Room For Rugs
A glossy, pristine floor may please the eyes, but it doesn't necessarily please the soles of your feet – especially in our tropical climate, in which air-conditioners can bring a chill to your toes once your shoes are off. Having a bachelor pad doesn't mean you need to roll out a bear skin; a simple area rug for your living room floor can bring a warm dynamic to your space without diminishing your masculinity.
In fact, it might even do the opposite. Invited guests of the fairer sex can kick off their shoes and not worry about getting cold feet (both literally and figuratively), and the comfort of a soft rug can counterbalance the muted colours and colder aesthetic that is popular among modern men. Furthermore, to achieve a warm, inviting feel to your home, Ivan Yeo of I-Chapter Pte Ltd recommends looking to the ceiling too, where a canopy constructed of timber and fabric can enhance the softness and cosiness of a particular space.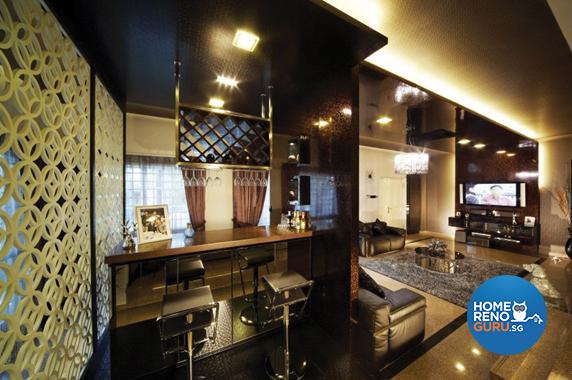 Landed Semi D – JalanDondangSayang by I-Chapter Pte Ltd
6. Devices For Your Downtime
Whether you're spending a night in alone or throwing an impromptu get together or date night, investing in a solid entertainment system can't do you wrong and you don't need an unrealistic budget to make it happen.
While even something as compact as a wireless Bluetooth speaker, like the Bose SoundLink Mini II (SGD329), can deliver big sound anywhere from the living room to the kitchen on a smaller budget, renowned electronics brands like Sony offer 4K TVs that wont break the bank, like the Android-equipped X83C 4K Ultra HD system (from SGD1,799 for 108cm).
While mounting a flat-screen TV on an uncluttered wall or installing screens on your entertainment cabinet will give your living space a tidy, streamlined aesthetic, keeping televisions out of the bedroom will ensure you (and visitors) will see your bed as a place for rest, and not for being a slob.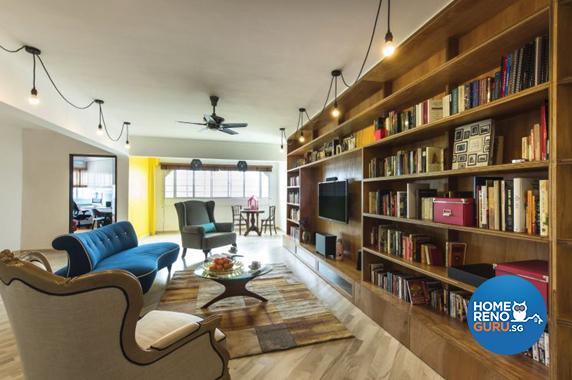 Bukit Batok by Fuse Concept Pte Ltd
7. Curate Your Own Library
You don't need to be well-versed in the writings of Hemingway to show off your interest in reading. In fact, dedicating some space to stow your collection of books gives the impression that your interests extend beyond Netflix-ing on weekends, whether you're into literary classics or cook books.
From humble to expansive, installing a shelving system, as opposed to a typical standalone bookshelf, to neatly organise your reading material will not only illuminate your enthusiasm for taking the time to broaden your literary horizons, but also increase the aesthetic value of your space. Like wood, leather and other organic materials, tangible printed material is a pleasing sight in an increasingly digitally dependent world, and you can guarantee that visitors won't be able to resist flipping through your collection.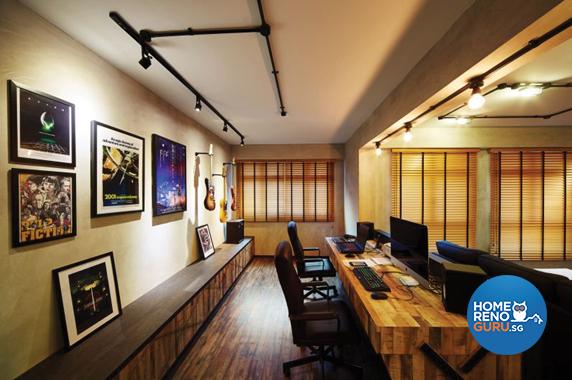 HDB Standard 5-Room BTO-Pasir Ris by The Local Inn.Terior
8. Work Harder At Your Work Space
In today's connected world, there's a good chance you take work home to catch up on a critical project or proposal from time to time, or every day, for that matter. But there's no reason your work space should have to take on the character of a dull office cubicle, nor should it be relegated to the edge of your bed or sofa (we all know how unproductive doing work in a horizontal position can be).
You don't have to designate a room to serve as a home office– all you need is a) a spacious desk; and b) an ergonomic chair. Those two things will make sure you get your work done quickly and comfortably to free up more time to lounge around, and they'll also make your home appear organised without laptops or papers cluttering up your coffee table.