False Ceiling: Design and Lighting Ideas For Your Home
26 Jan 2021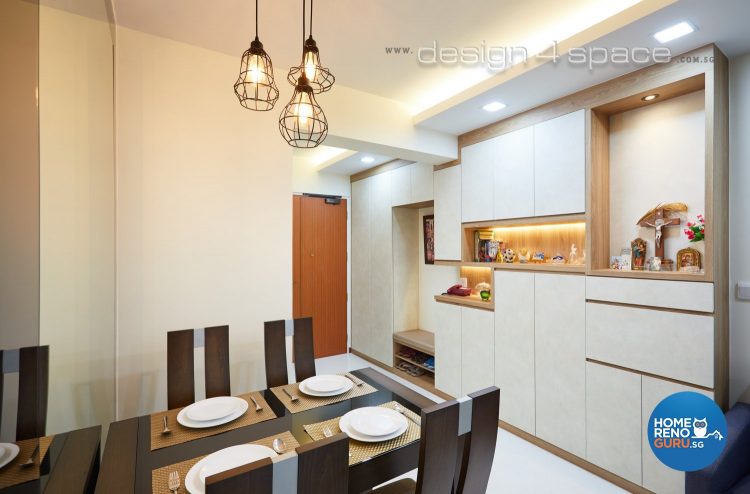 Designed by Design 4 Space
A false ceiling, also known as a dropped ceiling, is an extension of your original ceiling. It's typically suspended by metal or wooden frames and comes in a variety of designs. 
A false ceiling is a popular added feature in home renovation projects, as seen from a poll conducted with 574 members of Facebook group Budget Reno (Singapore) and Telegram group Singapore Renovation, where 249 respondents (43.4%) shared that they have a false ceiling installed at home.
Thus, in this article, we'll explore the advantages and disadvantages of installing a false ceiling at home and share some design and lighting ideas that you can use!
Materials Used For A False Ceiling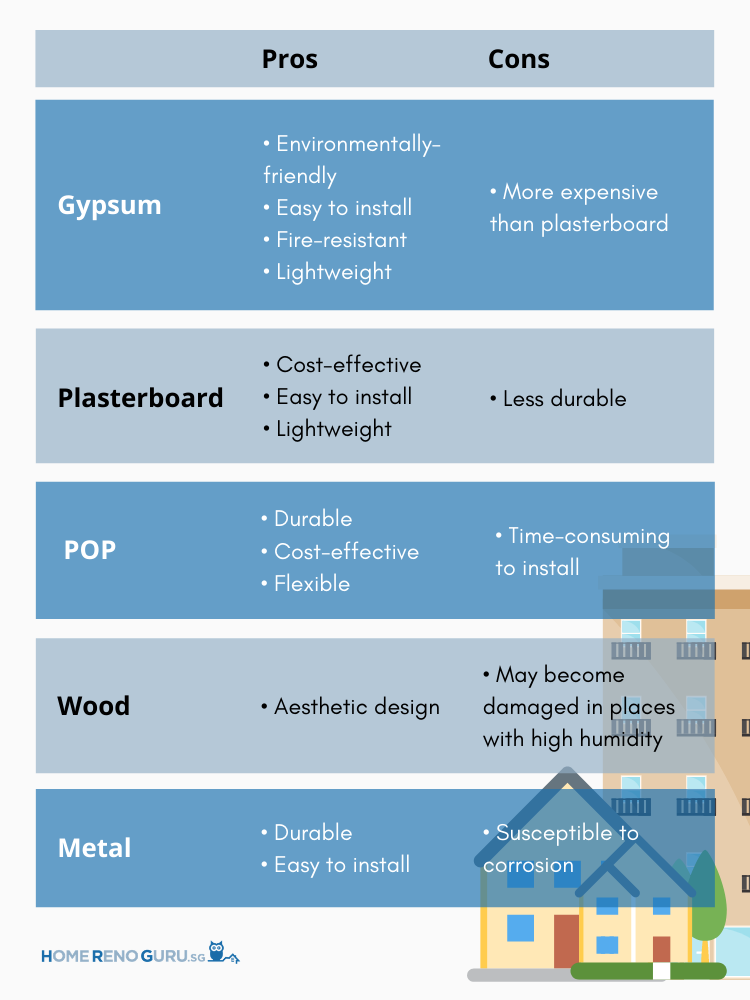 Gypsum
Gypsum boards are lightweight, fire-resistant and easy to install. They are also a more environmentally friendly option.
However, they are typically more expensive than their plasterboard counterparts.
Plasterboard
Plasterboard and gypsum share similar features.
However, it's cheaper and less durable than the gypsum alternative.
POP
POP, otherwise known as Plaster of Paris, is a flexible and durable material that can be used to create unique shapes and designs. 
While it is relatively cost-effective, it is time-consuming to install.
Wood
Although wood is often used to create a warm and natural aesthetic for the room, it's not suitable for places with high humidity as the material could become damaged.
Metal
Metal is a strong and durable material that's easy to install. However, the downside is that it's prone to corrosion and not commonly used in residential interior designs.
Advantages Of A False Ceiling
Improved aesthetics
Designed by DC Vision Design
False ceilings are often used to enhance the appearance of the room. They are commonly employed in modern, contemporary and Scandinavian designs.
This feature is versatile and can be installed in various shapes and sizes to suit your design preferences.
Sound insulation
False ceilings are great for sound proofing as they can absorb the sound waves coming from your neighbour living above you.
Thus, it's ideal for your study room and bedroom. False ceilings are also commonly installed in home theatres as they promote better acoustics within the room.
Hides wires and trunking
If you wish to create a clean, sleek look for your home, installing a false ceiling is the perfect way to hide the wires and trunking that run across the roof of the house.
More lighting options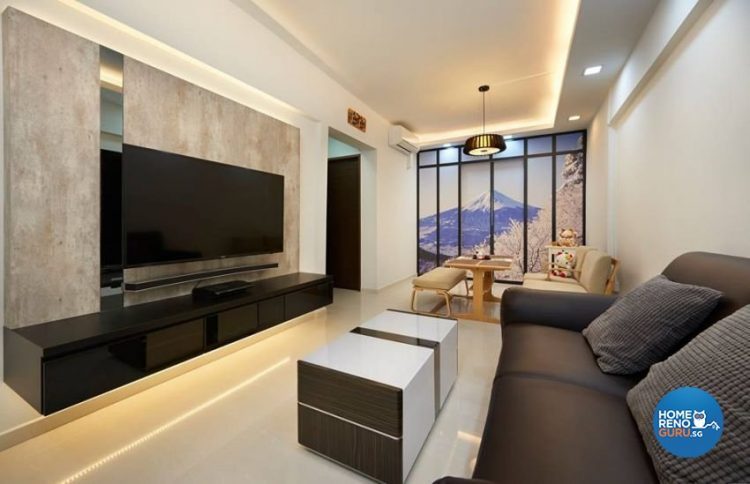 Designed by DC Vision Design
Building a false ceiling opens up additional lighting options that you can explore including spotlights, cove and recessed lights.
Thus, you can personalise your room's lighting without having to worry about fixtures or wiring.
Energy efficient
Air that's trapped between the original and extended ceiling helps to lower the temperature in the room.
Furthermore, it reduces the area that's to be cooled by your air conditioner. Thus, it promotes greater energy efficiency and lowers electricity bills.
Disadvantages Of A False Ceiling
Lowers the ceiling height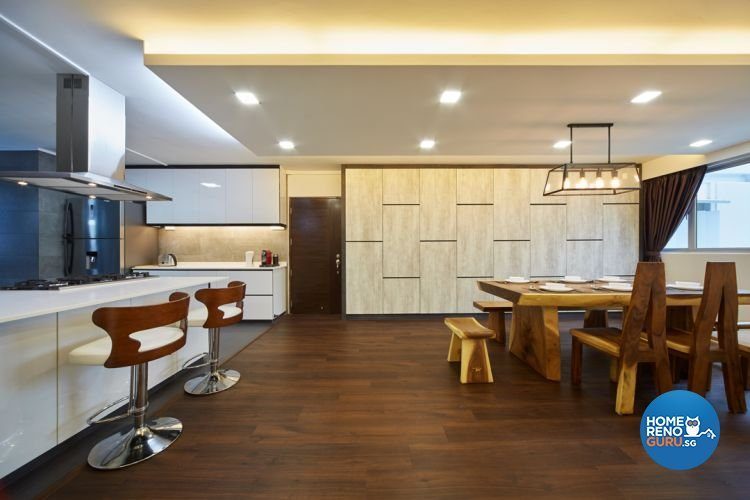 Designed by Design 4 Space
False ceilings can make the house look smaller as it lowers the height of the roof. This may be undesirable for certain homeowners.
However, this issue can be mitigated by installing a partial false ceiling like the L-box or one bar false ceilings.
Difficult to repair
According to handyman Dmitri Kara, if there are problems with the electrical wiring or trunking hidden within the false ceiling, the electrician may have to remove a portion of the ceiling to conduct the repair works.
Difficult to clean
Cleaning a false ceiling can be challenging and tiring as you'll need to constantly move up and down a ladder.
Additionally, certain types of lighting such as cove lighting may require you to reach deep inside the extension to clean it.
As you may have difficulties seeing the dirt and dust, the cleaning may not be thorough.
Potential for pests
After your false ceiling is installed, it's essential to check that the ceiling is properly sealed on all sides. 
This will prevent any pests from slipping into the false ceiling and turning it into a breeding ground.
Types Of False Ceiling Designs
A separate poll was conducted with 145 members of Budget Reno (Singapore) and Singapore Renovation. This poll allowed for multiple responses and gathered 151 votes in total.
L-box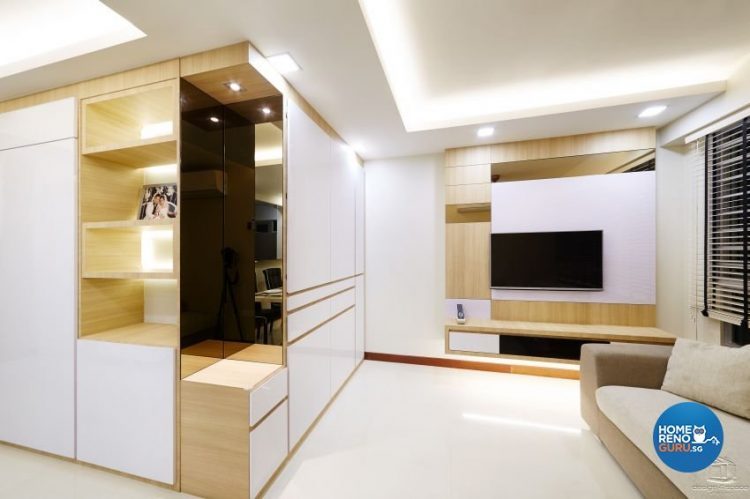 Designed by Design 4 Space
The L-box design is one of the most popular among homeowners (49%), possibly due to the simplicity of its design.
It's built along the perimeter of the original ceiling, typically on 2 sides (image above).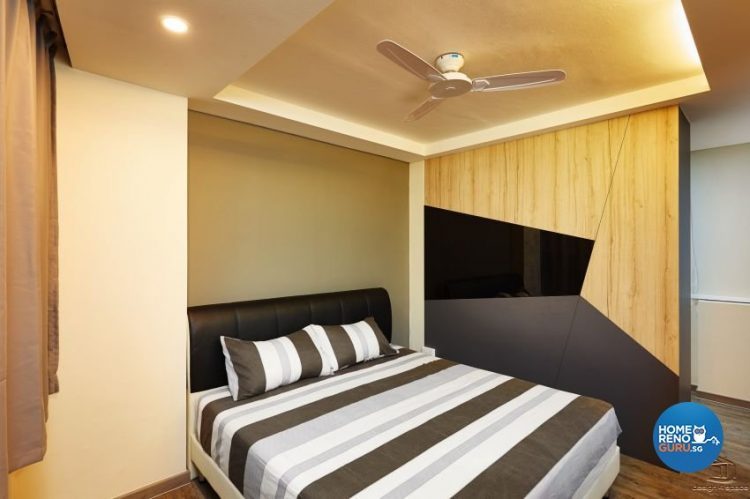 Designed by Design 4 Space
However, it can also be built on all 4 sides of the ceiling.
Flat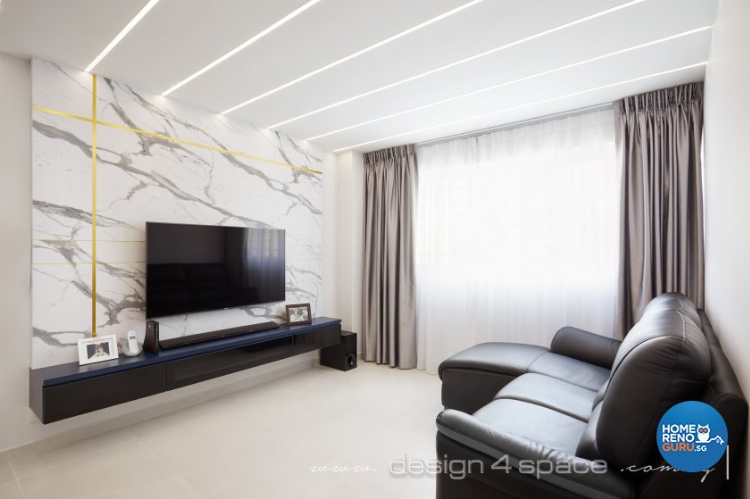 Designed by Design 4 Space
The flat false ceiling is another popular design featured in many Singapore homes (41%).
Unlike the L-box and one/twin bar designs, a flat false ceiling conceals the entire roof. This may be ideal if your original ceiling is uneven.
Additionally, this design helps to distribute lighting more evenly across the entire room without compromising the aesthetics of your home due to additional wires or trunking.
Cornices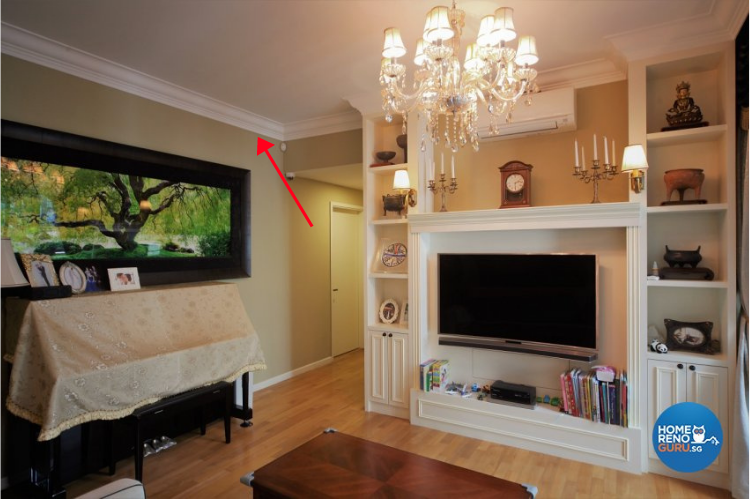 Designed by Interior Diary Pte Ltd
Cornices are a type of false ceiling installed along ceiling joints. It's one of the least common types of false ceiling designs (7.3%) and is typically used in vintage interior design.
While cornices help to enhance the appearance of a house, it can also be used to conceal water damage or cracks located at the ceiling joints.
One bar/twin bar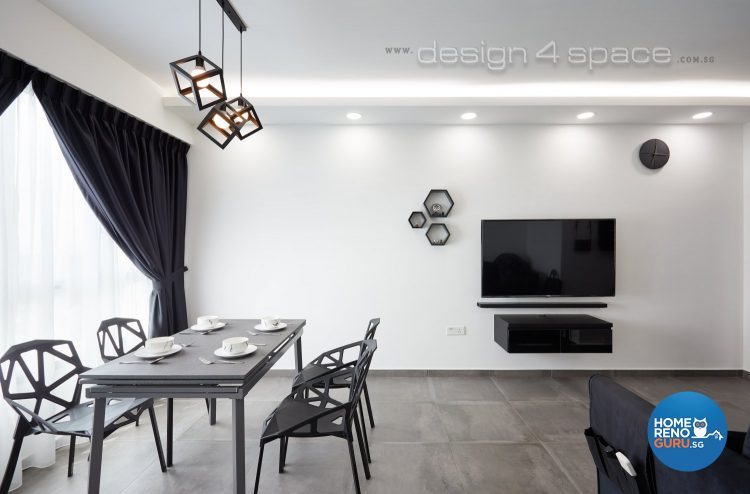 Designed by Design 4 Space
The one bar (image above) or twin bar (image below) false ceiling is a minimalistic design adopted by some homeowners in Singapore (0.66%).
As it's located on either 1 or 2 sides of the ceiling's perimeter, there's sufficient space to install other additional decor or furniture such as ceiling fans.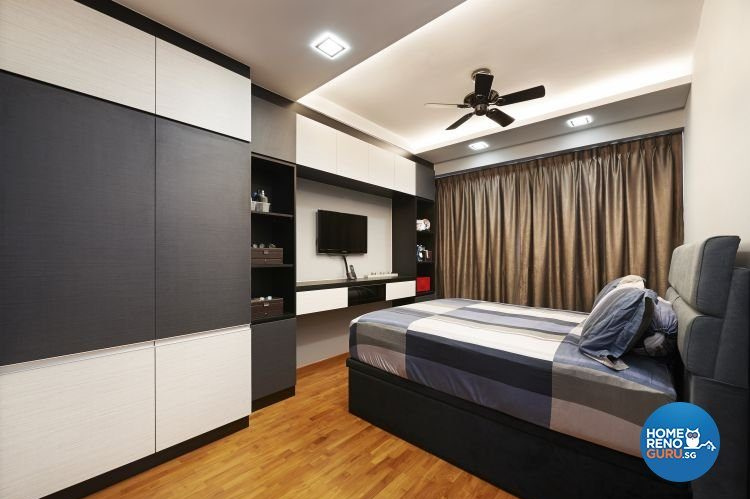 Designed by U Home Interior Design
This false ceiling design also creates a perception of a longer or wider room, depending on where the bar is located.
Types Of Lighting For False Ceilings
Recessed Lighting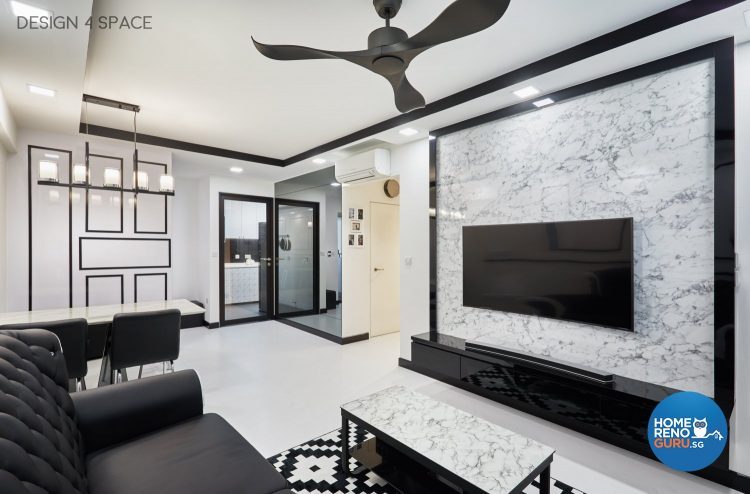 Designed by Design 4 Space
Recessed lights, also known as can lights, are cost-efficient light fixtures installed into false ceilings.
They can serve as ambient or task lights depending on your preferences.
Cove Lighting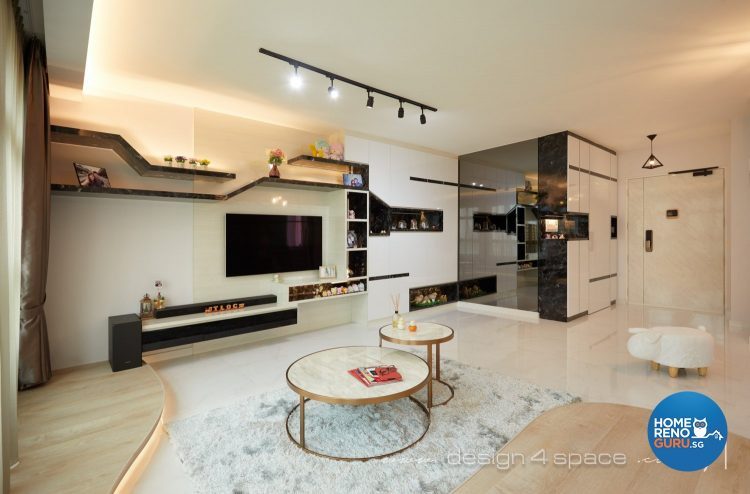 Designed by Design 4 Space
Cove lighting utilises LED lights to emit light towards the ceiling and create a cosy ambience.
It diffuses illumination and can be used to bring attention to a design on the wall or ceiling of the home.
Cove and Recessed Lighting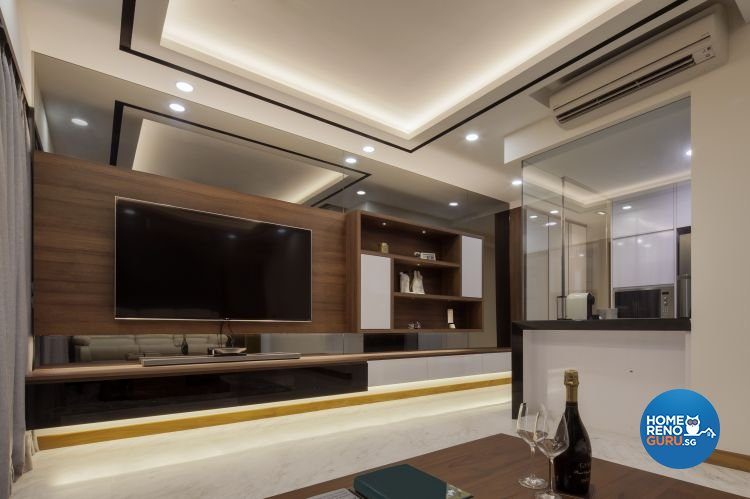 Designed by Weiken.com Design
To enjoy the benefits of the 2 above-mentioned types of lighting, you may choose to install both cove and recessed lights onto your false ceiling.
This maximises the overhead lighting in your room without utilising additional space on your ceiling.
False Ceiling Design Ideas
Living Room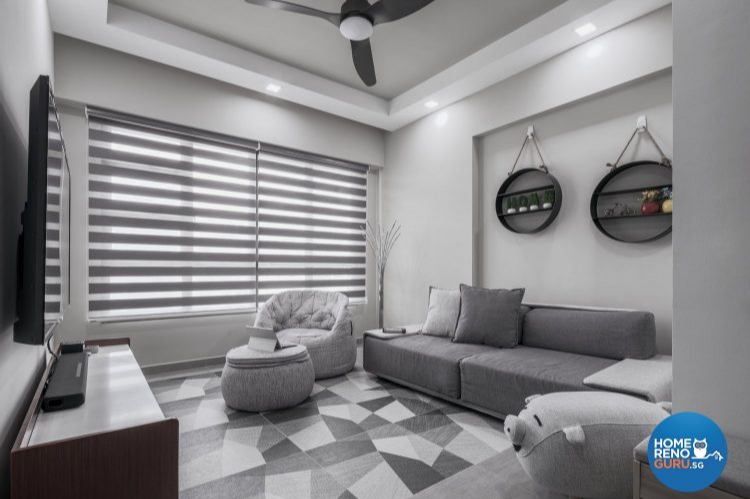 Designed by Weiken.com Design
This monochromatic living room utilises the L-box ceiling design with recessed lighting on all sides to illuminate the room.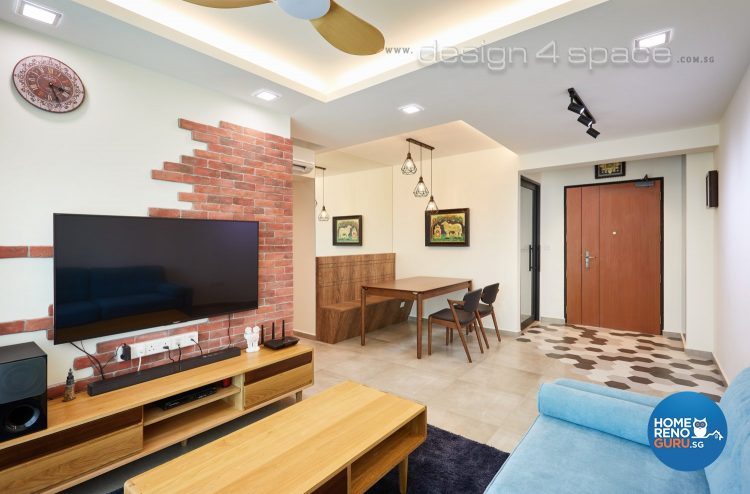 Designed by Design 4 Space
This 4-room HDB flat features both cove and recessed lighting to complement the contemporary design of the home and create a warm, inviting atmosphere.
The lights are installed onto an L-box false ceiling, where parts of the original ceiling are left exposed.
Bedroom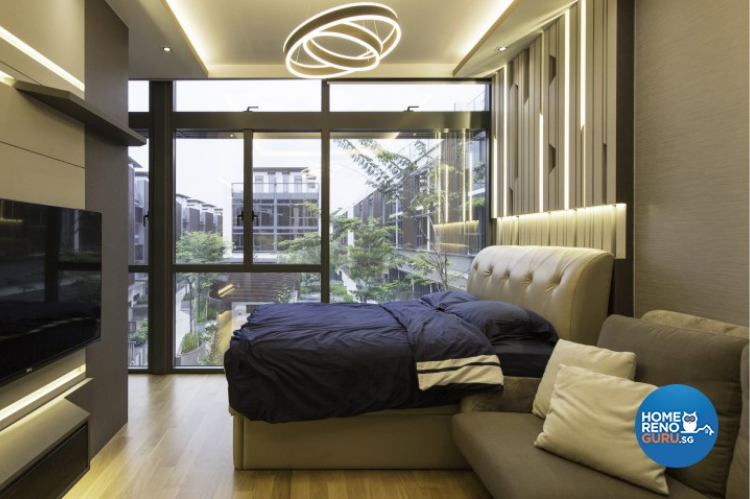 Designed by U Home Interior Design
This bedroom showcases a twin bar false ceiling design with cove and recessed lights. 
The design is coupled with modern and sophisticated decor to add an element of warmth.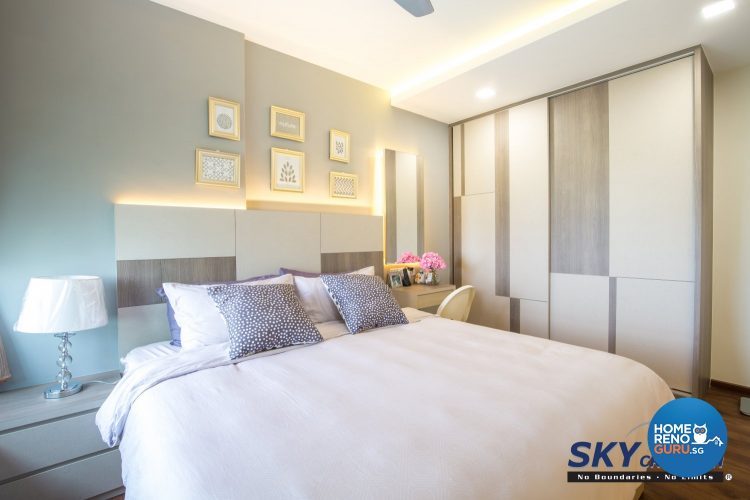 Designed by Sky Creation
This bedroom features a one-bar false ceiling design located above the wardrobe.
The cove and recessed lights help to highlight the uniquely-designed wardrobe doors and the white light used contrasts the warm ambient lighting behind the bed frame.
Bathroom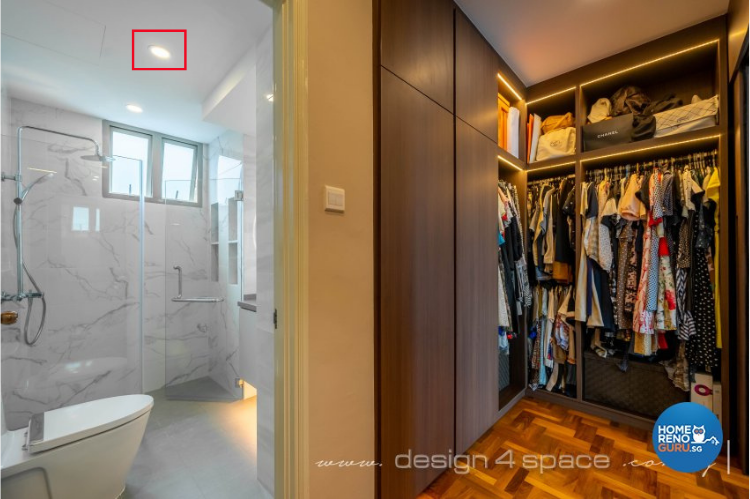 Designed by Design 4 Space
False ceilings can also be installed as part of your toilet design to spruce up the overall look.
For example, this bathroom features a flat false ceiling with white recessed lights, which matches the elegant white marble walls.
It also helps to spread the light evenly throughout the bathroom especially during the night where natural light is lacking.
Kitchen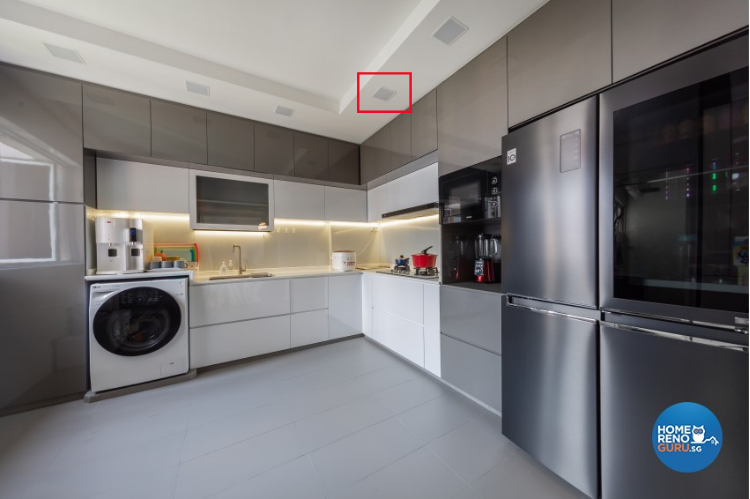 Designed by U Home Interior Design
This minimalistic kitchen design features an L-box false ceiling with rectangular recessed lights.
As the false ceiling is installed along the perimeter of the room where the stovetop, cupboards and fridges are located, the lights help to illuminate the working areas of the kitchen.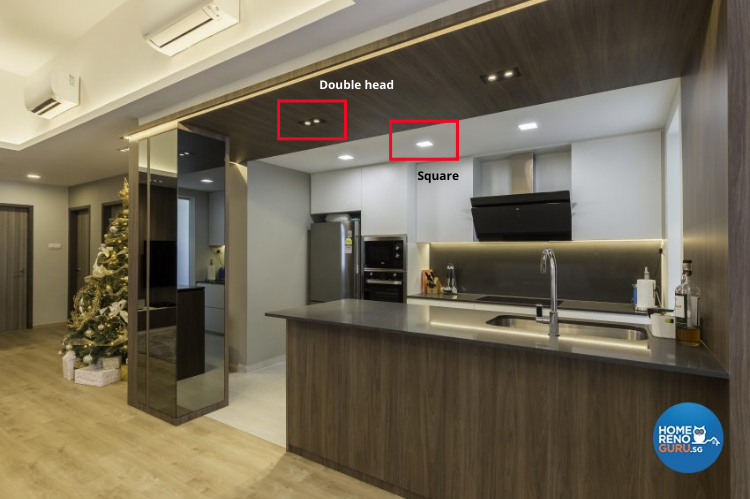 Designed by Ciseern by Designer Furnishings
This open kitchen showcases both square and double head recessed lighting.
The double head lights are equipped with warmer toned bulbs while the square lights are equipped with white bulbs.
Installing A False Ceiling
False ceilings can complement a variety of interior design styles and home decor.
You can contact our interior designers for advice on the type of false ceiling to install or check out our article on renovation ideas for some inspiration for your next home renovation project!
Need advice on your false ceiling design?
HomeRenoGuru can help!
FAQs
Do I need a minimum ceiling height to install a false ceiling?
The false ceiling is suspended at least 0.2m below the original ceiling. Thus, the height of the original ceiling should minimally be 3.35m in height.
This is typically not an issue for houses in Singapore as they follow the respective heights:
HDB: 2.5m – 2.6m

Condominiums and Executive Condominiums: 2.8m – 3m
Which material is the best for false ceilings?
A popular material used for false ceilings is gypsum. It provides some thermal insulation and soundproofing and is also fire-resistant.
Plasterboards, which share similar properties to gypsum, is also a commonly used material due to its cost-effectiveness.
What should I take note of when installing false ceilings in wet zones like the kitchen and bathroom?
You should ensure that water-resistant plasterboard is used instead of a standard plasterboard as the latter isn't water-resistant.
How long do false ceilings last?
If well-maintained and properly installed, a false ceiling can typically last up to 20 years.
How do you clean false ceilings?
To remove any dirt, you can simply clean the false ceiling with a smooth, dry cloth or broom.
It's crucial to ensure that the false ceiling doesn't come into contact with water as the majority of such installations aren't resistant to water.