Buying A BTO vs Resale Flat: 9 Factors To Consider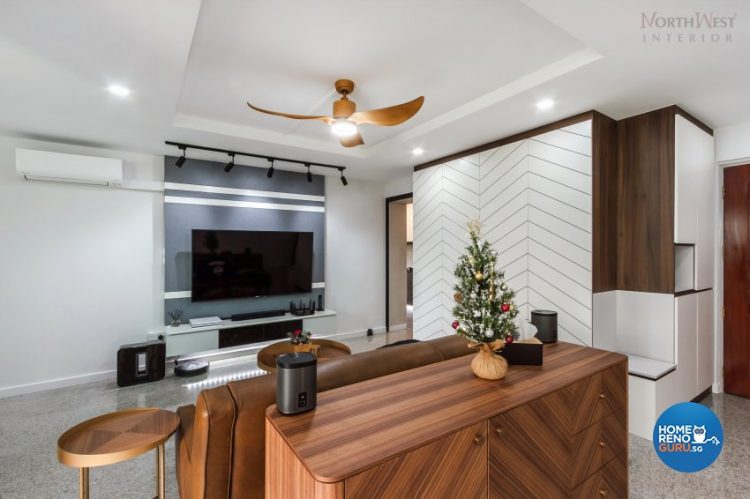 Designed by Northwest Interior Design
For the majority of Singaporeans buying their first home, the typical choice would be to opt for a HDB flat. Once this decision has been made, the real dilemma begins – should you and your partner buy a build-to-order (BTO) or resale apartment?
When thinking about this question, 2 main factors come to mind – price and waiting time. Many of us are aware that BTO flats come with a longer waiting time but a lower price tag than resale apartments. However, that's not all when it comes to weighing your options!
In this article, we'll share 9 key factors to consider when deciding between a BTO vs resale flat as well as the pros and cons of opting for a Sale of Balance flat.
What Is A BTO Flat?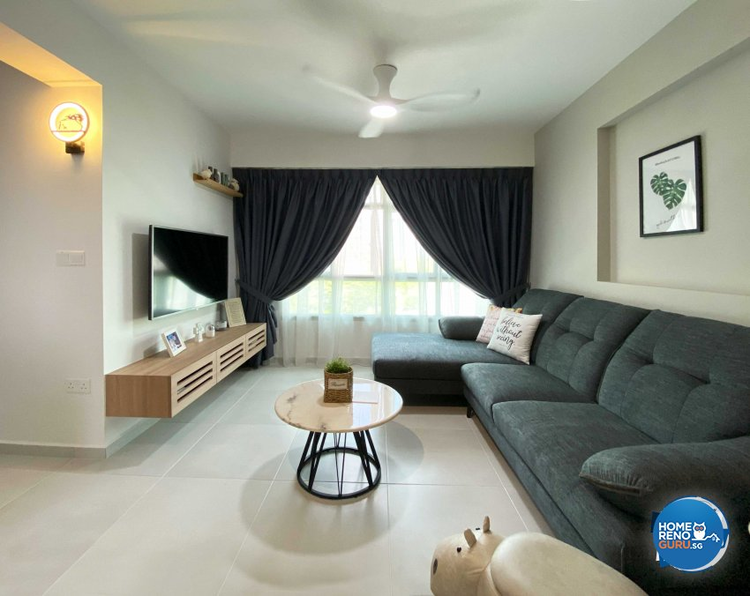 Designed by Sky Creation
A BTO flat is a newly-built HDB flat that's launched prior to its construction. These houses have a fresh lease of 99 years.
During the sales launch, buyers will submit their application and the construction of the flat will only begin once 65-70% of the apartment units are booked. Buyers will then be required to wait for a minimum of 3 – 5 years for the flat to be completed.
As BTO flats are high in demand, balloting for an apartment can be extremely challenging especially for those located in mature or popular estates.
Learn more about how to apply for a BTO flat.
What Is A Resale Flat?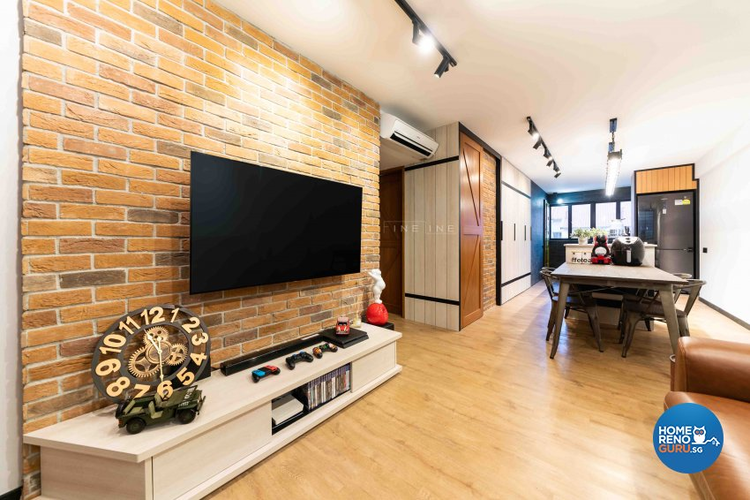 Designed by Fineline Design
A resale flat is a house that's currently owned by another party. Hence, it has a shorter lease tenure than a BTO flat.
The price of a resale apartment is subject to demand and supply and is often more expensive than its BTO counterpart.
Learn more about the application procedure for a resale flat.
Factors For Consideration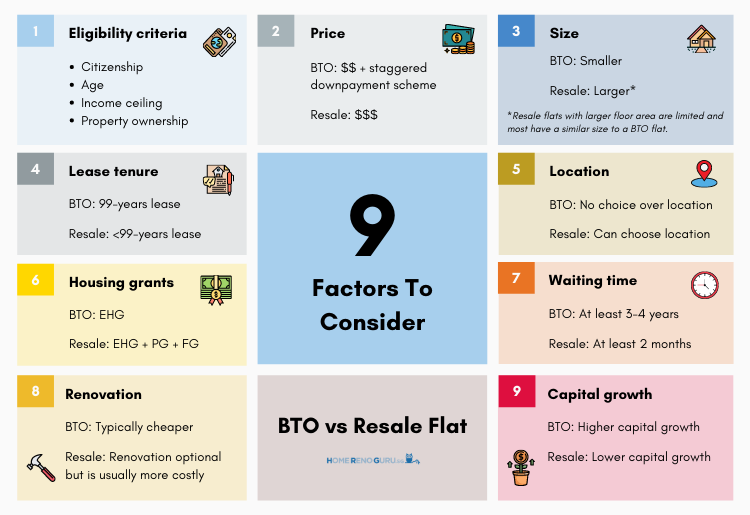 Factor #1: Eligibility Criteria
In order to buy a BTO or resale flat, there are some criteria you're required to meet in order to be eligible for either one.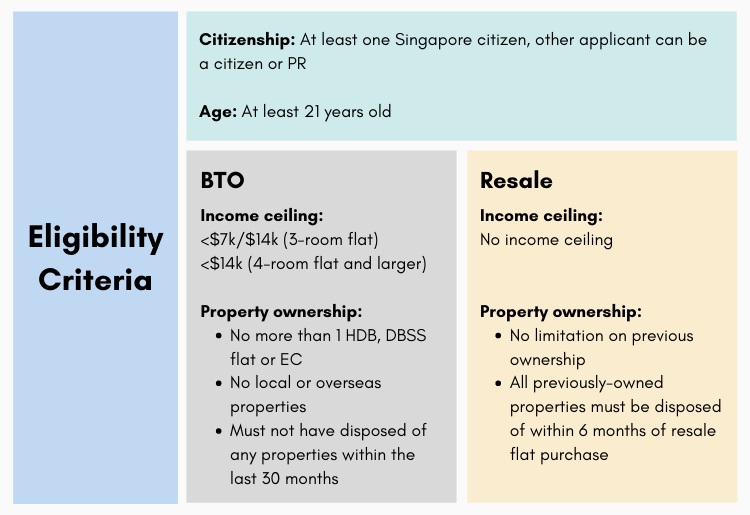 Citizenship
Whether you're applying for a BTO or resale flat with your partner, at least one of you is required to be a Singapore citizen. The other party applying will have to be a citizen or a Permanent Resident (PR).
If you're applying as an individual, you'll have to be a Singapore citizen.
Age
For both BTO and resale flats, applicants must be at least 21 years of age.
Income ceiling
There's no income ceiling for purchasing a resale apartment. On the other hand, for BTO apartments, different income ceilings are implemented for different types of flats
3-room flat
For 3-room flats, the income ceiling is dependent on the project. It could be as little as $7,000 or as much as $14,000.

4-room flat and larger
Currently, the income ceiling for a 4-room BTO flat and larger is $14,000 per month. For applicants with multi-generation or extended families, the monthly household income is capped at $21,000.
Property ownership
To qualify for a BTO flat, you must not have
bought more than 1 HDB/DBSS flat or Executive Condominium previously,

owned any local or overseas residential properties and

disposed of any such properties within 30 months before the BTO application.
Investment in any private residential properties is also prohibited until after the BTO flat's Minimum Occupancy Period (MOP) of 5 years.
For resale flats, all previously-owned HDB apartments and local and overseas private properties must be disposed of within 6 months of purchasing a new resale apartment.
Factor #2: Price of flat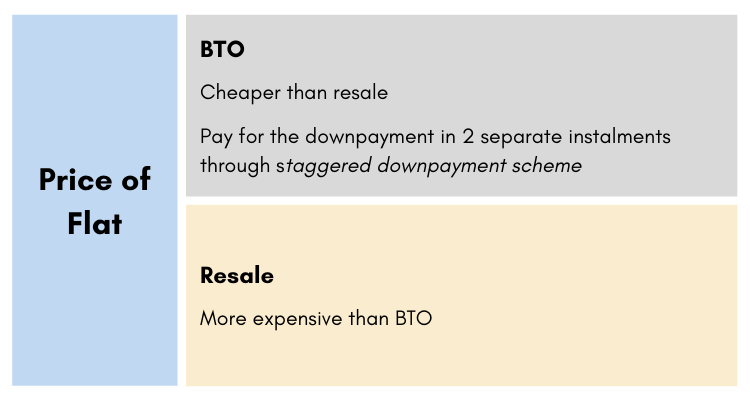 BTO flats are known to come at a lower price than resale flats located in the same area. For example:
November 2020 BTO Prices
Non-mature town:

Price of a 3-room flat in Sembawang is

$163,000

(excluding grants).

Mature town:

Price of a 3-room flat in Toa Payoh is

$324,000

(excluding grants).
Resale flat prices
Non-mature town:

Price of a 3-room flat (93-year lease) in Sembawang is

$270,000.
Mature town:

Price of a 3-room flat (95-year lease) in Toa Payoh is

$520,000.
Additionally, when purchasing a BTO flat, you can pay the downpayment in 2 separate instalments through the Staggered Downpayment Scheme, thus spreading out the financial burden of owning a house.
However, looking merely at the price of the flat may not give you a full picture of the value of the house. Another thing to consider would be the price per square metre of the house.
On the surface, a resale flat may cost more than a BTO flat. Yet, when looking at the price per sqm, a resale flat may possibly be cheaper as it offers a larger space for the same number of bedrooms.
Factor #3: Size of the flat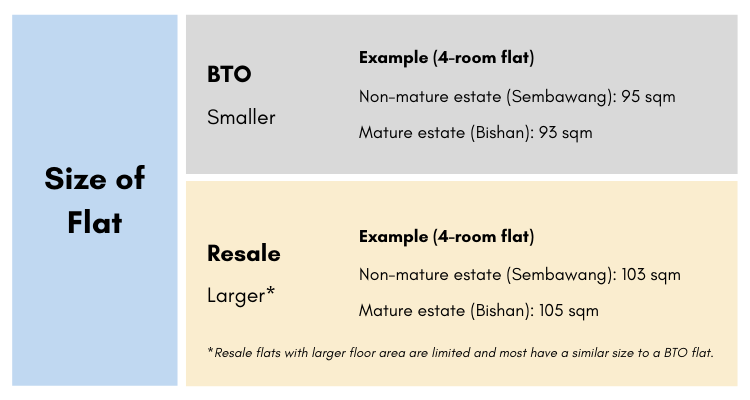 A common belief among homeowners is that BTO flats are often smaller than resale flats with the same number of bedrooms.
For example:
Non-mature town
4-room BTO flat in Sembawang:

95 sqm

4-room resale flat in Sembawang:

up to 103 sqm
Mature town
4-room BTO flat in Bishan:

93 sqm

4-room resale flat in Bishan:

up to 105 sqm
However, such resale flats with a large floor area are limited and the majority of flats fall within the range of 83 to 95 sqm.
Factor #4: Lease tenure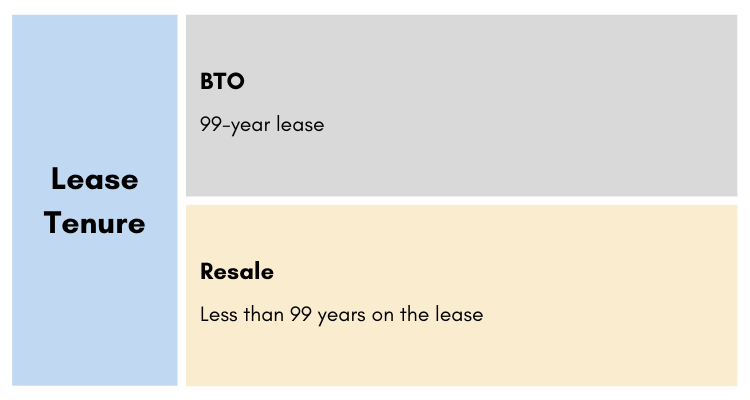 The lease left on the house is another significant factor for consideration when it comes to choosing between a BTO and a resale flat. This is especially so if you're planning for a family.
BTO flats come with a 99-year lease, ensuring that your children will be able to continue staying in the flat throughout their entire lifetime if they want to.
Resale properties, however, have a shorter lease term with some having less than 50 years remaining.
Factor #5: CPF Housing Grants
The amount and type of grants that you can receive are dependent on whether you're applying for a BTO or resale flat.
While both BTO and resale flat buyers are applicable for the Enhanced CPF Housing Grant (EHG), the following grants are only available to resale flat buyers:
Proximity Housing Grant (PHG)

Family Grant (FG)

Step-Up Grant

Half-Housing Grant
Find out more about the respective resale flat grants!
Factor #6: Location of flat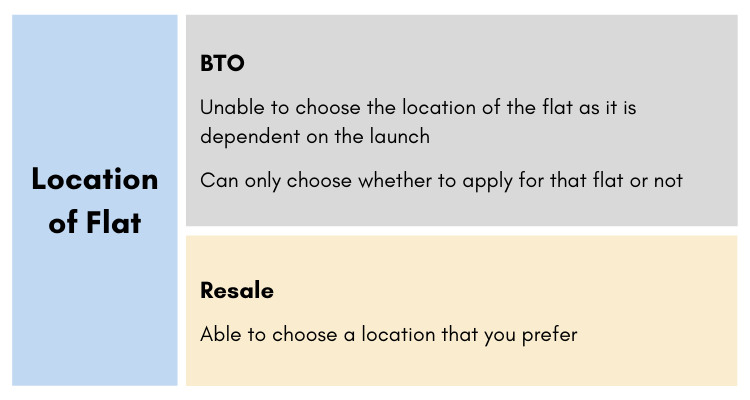 One of the major drawbacks of a BTO apartment is the location.
You may have to settle for a less-than-ideal location as most of the new BTO flats are built in quiet, non-mature estates with little amenities and/or facilities. This means that it might be more inconvenient for you in the initial years of owning the house.
BTO properties that are located in mature estates are few and often difficult to get as they're likely to be oversubscribed.
On the other hand, buying a resale flat means getting to choose the location that you prefer, often at a higher price.
Factor #7: Waiting time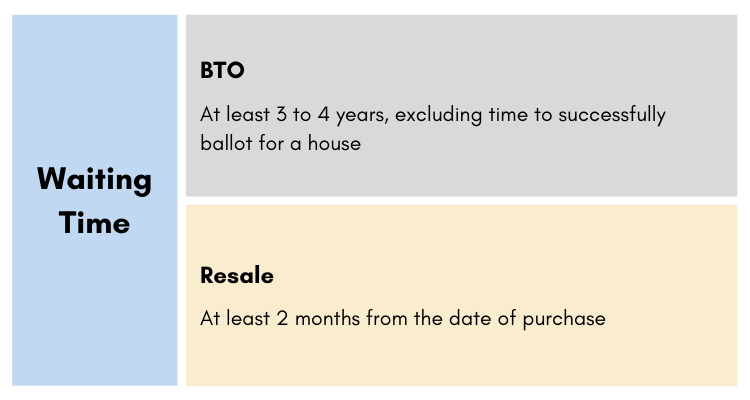 The difference between the waiting time for a resale vs BTO flat is known to many.
For a resale flat, it's possible to receive the keys to the house as early as 2 months from the date of purchase.
A BTO flat, however, will require a minimum of 3 – 5 years to complete construction, excluding the time needed to successfully ballot for a house (which can stretch to a couple of years).
Thus, getting a BTO property not only requires patience, but lots of luck if you wish to cut short your waiting time as much as possible!
Factor #8: Renovation cost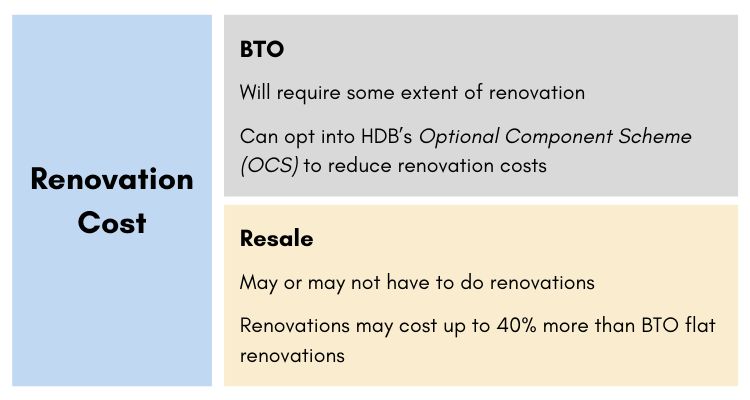 BTO flats are equipped with the bare minimum. Thus, you'll likely need to do a significant amount of renovation. The cost will then depend on factors such as the extent of the renovation, type of design and more.
If you wish to reduce your expenses, you may choose to opt into HDB's Optional Component Scheme (OCS) where you can get components such as sanitary fittings or floor finishes at a lower price.
On the other hand, if you're purchasing a resale flat, you may or may not have to do any renovations at all.
If you do wish to carry out renovations on your resale apartment, it's important to note that it could cost up to 40% more than a renovation on a BTO apartment due to additional works like
hacking of tiles and/or walls,

piping and

re-wiring.
You can use a renovation calculator for an estimate of the renovation costs of your apartment.
Factor #9: Capital growth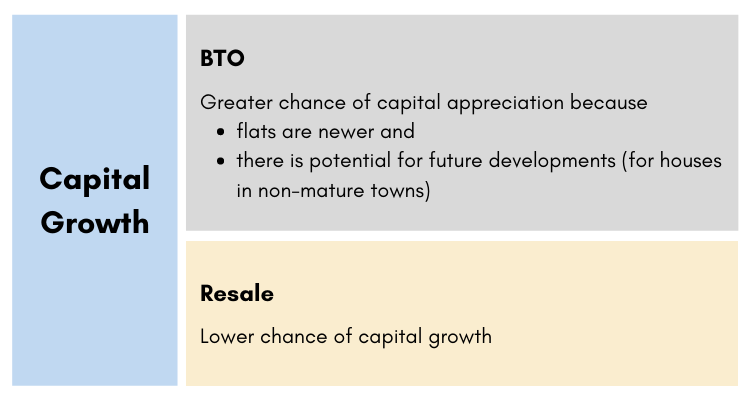 BTO flats have a greater potential for capital growth as compared to their resale counterparts due to 2 reasons:
Upon reaching its MOP, a BTO flat can be sold on the resale market. Such flats are usually able to command a higher price as they're newer than the resale flats listed.
Potential for future developments
BTO flats that are located in non-mature towns are likely to see significant developments in their estate over the years. This will cause the value of the apartment to appreciate over time.
However, this is not applicable to BTO flats located in mature estates.
BTO vs Sale Of Balance Flat
Beginning from March 2020, all BTO apartments that remain unsold are offered to buyers through the Sale of Balance Flats (SBF) exercise.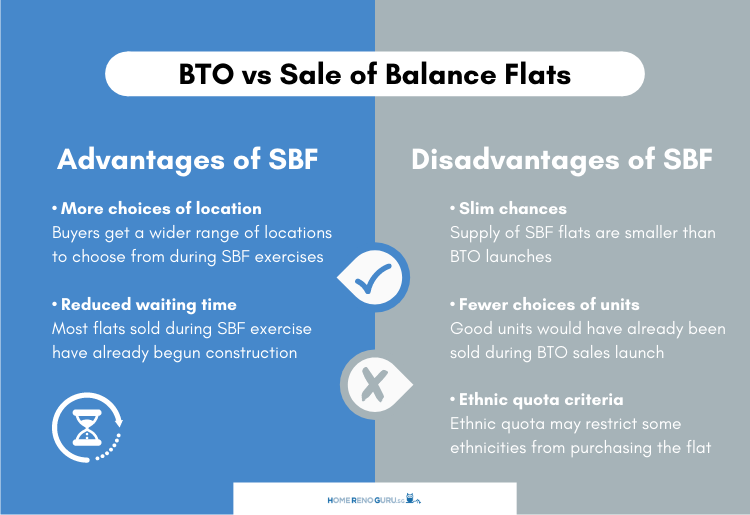 Advantages of a Sale of Balance Flat
Unlike a BTO sales launch, buyers get a wider range of locations to choose from during a SBF exercise.
In most cases, the flats available during a SBF exercise have already begun construction. Thus, buyers can enjoy a shorter waiting time.
Disadvantages of a Sale of Balance Flat
The supply of flats during a SBF exercise is significantly smaller than that of a BTO sales launch. Hence, the odds of succeeding in your SBF application are often slim.
As SBF are units that are left unsold at the end of a BTO sales launch, good units are often unavailable during a SBF exercise.
As shown in the image below, HDB reveals the ethinic quota for each flat during a SBF exercise and certain ethnicities may not be able to apply for some flats due to the quota.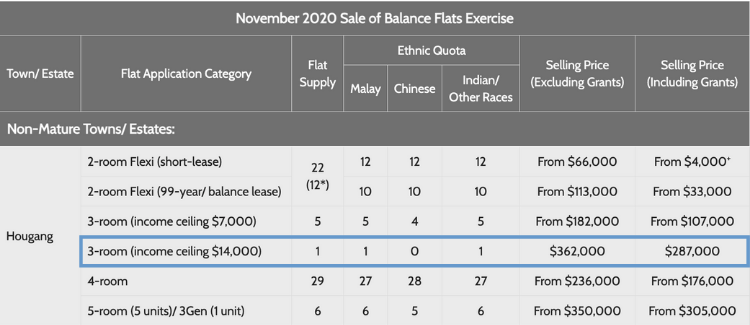 Buying A BTO vs Resale Flat In Singapore
It can be difficult to make a decision when it comes to buying a BTO or resale flat as some considerations cannot be measured quantitatively. By listing some of the key considerations in this article, we hope to help you make a more informed choice.
Once you've decided on the type of flat to buy, you can check out our guides on how to apply for a BTO or resale flat!