Easy Step-By-Step Guide on How to Apply for a BTO in 2021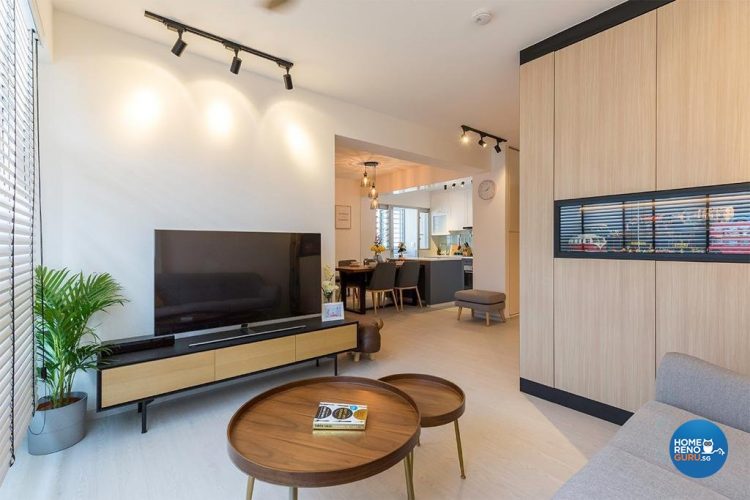 4 Room HDB Designed by Swiss Interior Design
Applying for a BTO flat is no easy feat. It involves a ton of research which may be confusing, especially if you're a complete newbie.
To save you the hassle, here's a comprehensive guide on how to apply for a BTO flat to help you through the process!
Summary of BTO Application Process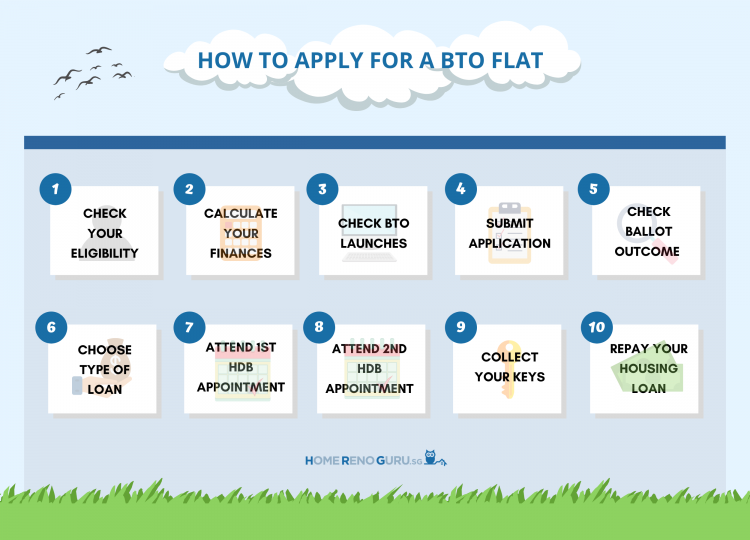 Pre-purchase
Step 1: Check Your Eligibility to Apply for a BTO Flat
The first step of the process is to check out HDB's eligibility criteria to apply for a BTO flat. 
Here are some basic criteria you'll need to satisfy:
Criteria
Details
Citizenship
At least 1 applicant must be a Singapore Citizen or permanent resident.
Age
Applicants must be at least 21 years old.
Income ceiling
The income ceiling requirement will vary based on the type of flat that you intend to buy.
Family nucleus
Applicants need to qualify for a new flat under one of the following eligibility schemes:

• Public Scheme

• Fiancé/Fiancée Scheme

• Orphans Scheme

Property ownership
All applicants and occupants listed in the flat application must not

• own other local or overseas property at least 30 months before the application,

• invest in private residential property until after the 5-year Minimum Occupation Period (MOP),

• have bought a new property (HDB, DBSS flat or EC), and

• have received a CPF Housing Grant before.

Step 2: Calculate Your Finances
4 Room HDB Designed by Weiken.com
You'll need to calculate your finances to determine your ability to pay for the type of flat you intend to purchase.
Here are some things to consider when trying to work out a budget:
Apart from your basic expenses, you'll also need to account for the costs involved in owning a home. These include utility bills, monthly loan instalments, and cost of renovation.
It's prudent to set aside savings for emergencies and major life events such as having a child.
Step 3: Check Upcoming BTO Launches
Upcoming BTO launches are revealed 6 months before their launch dates.
During this time, you should research and decide on the launch that's most suitable for you. This means looking into the
location of the property, 

size of the flat,

surrounding amenities, and

possible prices.
Tip:
Receive email and/or SMS alerts and stay updated with BTO sale launches by signing up for HDB's free
eAlert Service
.
Balloting for a BTO flat
Step 4: Submit application
You must submit your flat application online during the 1-week application period. It's important to note the application is not on a first-come, first-served basis, so you don't have to rush into it.
As part of the process, you'll be charged a non-refundable application fee of $10. You'll also want to think about the priority schemes that you may qualify for to increase your chances of getting a flat.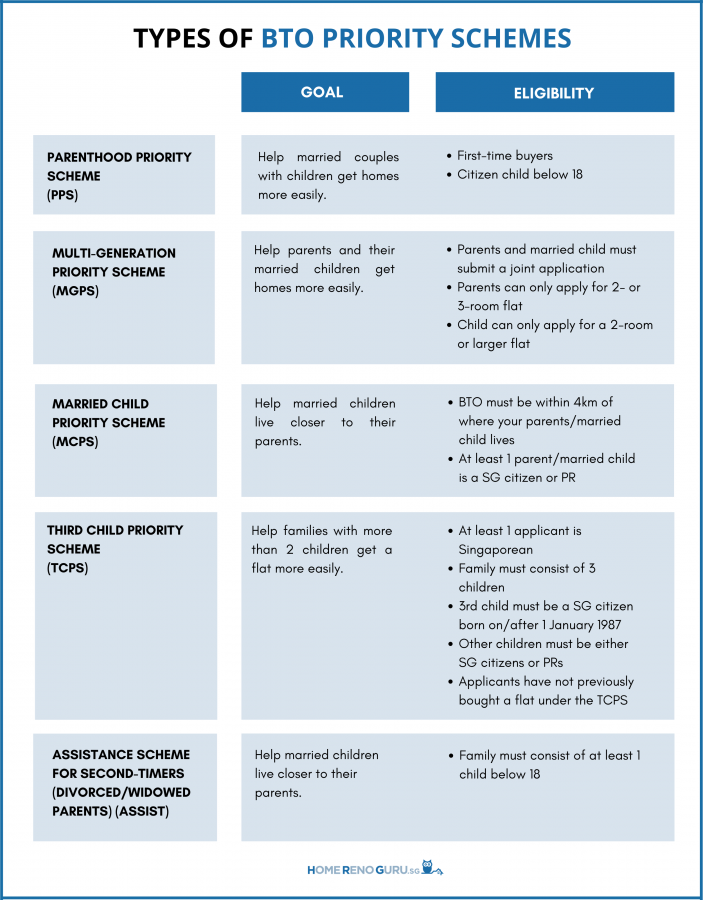 Note:
HDB requires you to indicate whether you want to opt for the Optional Component Scheme (OCS) during the appointment for flat selection (
Step 7
).
The OCS offers you the option to install essential fittings like floor finishes and sanitary fittings in your BTO flat. This helps to get you home closer to move-in condition by the time you collect your keys.
Thus, you should think about this before heading down for the first appointment.
Step 5: Check Outcome of Ballot
You'll be informed of the outcome of your ballot and assigned a queue number in approximately 3 weeks after the application period closes.
The queue number determines your priority in picking a unit; the lower your queue number, the more choices you will have.
Successful ballot

Queue number within the number of units available
Congratulations, you've secured a flat!
Queue number exceeds the number of units available
Chances are you won't be able to get a flat and have to wait till the next BTO launch to ballot again.
Unfortunately, this means that you'll need to ballot for a flat again.
The good news is, if you're a first-time applicant applying for a flat in a non-mature estate, HDB offers additional ballot chances after 2 unsuccessful applications.
| No. of Previous Unsuccessful Applications | Additional Chances | Total No. of Chances |
| --- | --- | --- |
| 0 - 1 | 0 | 2 |
| 2 | 1 | 3 |
| 3 | 2 | 4 |
| 4 | 3 | 5 |
Step 6: Determine How to Finance Your BTO Flat Mortgage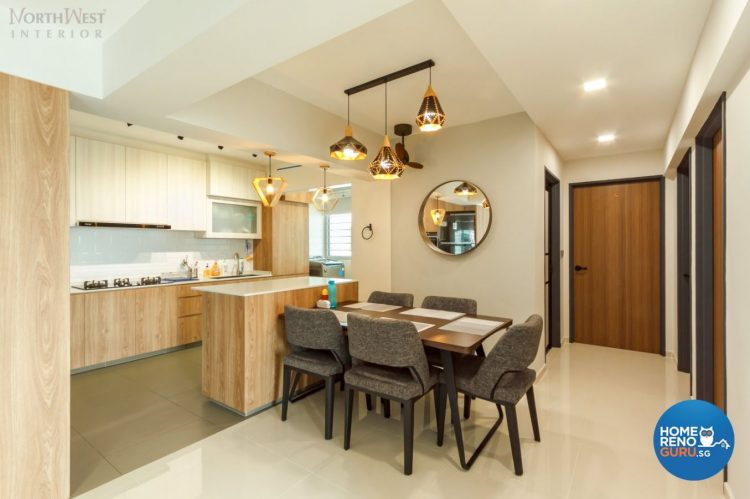 4 Room HDB Designed by Northwest Interior
With a queue number on hand, it's time to decide whether you'll be opting for a HDB or bank housing loan to finance your mortgage.
Here are the key differences between the types of housing loans:
HDB Housing Loan
Bank Housing Loan
Interest rate
2.6%
(Pegged at 0.1% above the CPF OA interest rate)
Ranges from 1.3% to 2.4%
(Varies among banks)
Income ceiling
Monthly household income must not exceed $14,000 (families) or $7,000 (singles)
Varies among banks
Maximum amount available for loan
90% of BTO flat price
Up to 75% of the purchase price
Downpayment
10% of the purchase price
20% of the purchase price
Early repayment
No penalty
Penalty fee varies among banks
Late repayment
7.5% per annum
Penalty fee varies among banks
Step 7: Attend the First HDB Appointment
During the appointment, you'll have to bring along documents such as the appointment letter, your IC, and HLE Letter (if you're taking a HDB housing loan). 
Refer to HDB's website for the full list of documents that you're required to prepare.
Unit Selection
During this appointment, you'll get to book a flat based on the units that are still available. 
Tip:
Shortlist several units before attending the appointment.
That way, you can still pick one of your preferred alternatives in the event that your dream unit has already been selected.
How to shortlist the units:
Bring your BTO map and visit the BTO site

Head over to the neighbouring HDB block and take the lift to the highest floor to view the BTO site from the top

Visualise where the units will be facing
In general, you may want to consider these factors:
Proximity to bus stops or MRT stations

The direction of sunrise and sunset

Whether the unit is facing the main road

Proximity to the bin centre

Proximity to the lift or staircase
Payment of Option Fee
Once you've selected your preferred unit, you have to pay an option fee. The amount paid is based on the type of flat that you've booked.
Flat type
Option fee
Executive HDB
$2,000
5 room flat
4 room flat
3 room flat
$1,000
2 room flat
$500
If you're taking a HDB housing loan, the option fee will be reimbursed in cash if you have enough savings in your CPF Ordinary account (OA) to pay for your downpayment.
If not, the amount will be used to pay for the cash portion of the downpayment.
The reimbursement will be done within 14 days after you have signed the Agreement for Lease and paid the relevant fees (Step 8).
If you are taking a housing loan from a bank, the option fee won't be reimbursed as it'll form part of the required cash downpayment.
CPF Housing Grant Application
You'll also apply for your CPF housing grants at this point. Do note that the types of BTO grants homeowners are eligible for are different from the types of HDB resale grants available.
Additionally, the grant amount you'll receive is calculated based on your average gross monthly household income.
Ensure that you download the necessary application forms and submit them during the flat booking appointment.
Some of the HDB grants offered to buyers of BTO flats include: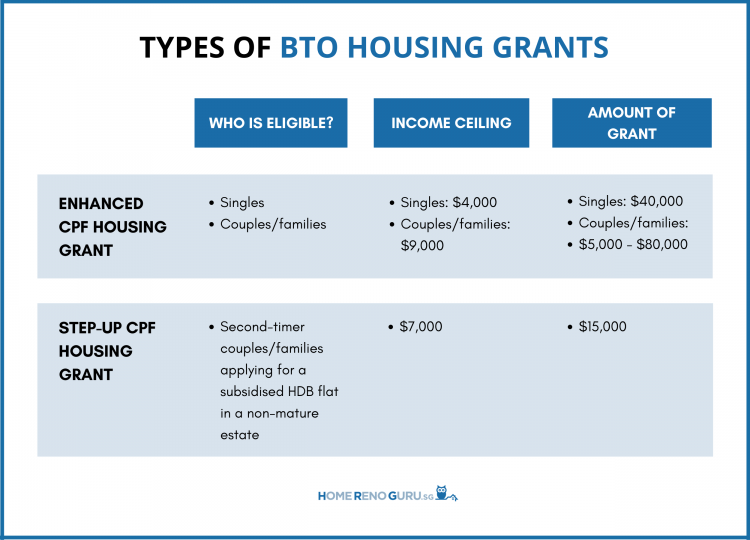 Please visit the HDB website for more details on the types of housing grants available for BTO flats.
Deferred Income Assessment
The Deferred Income Assessment scheme is perfect for young couples who are interested in applying for a BTO and leveraging the relevant HDB grants.
These grants, such as the Enhanced CPF Housing Grant, require either one of the applicants to have worked for 12 consecutive months prior to their housing application. 
Thus, under this scheme, eligible applicants can apply for a flat and defer the assessment of income for grants until nearer to the key collection appointment. 
It helps couples who wish to receive the HDB grants to apply for a flat first without having to delay their application until when they start working.
Refer to HDB's website to find out more about this scheme and its eligibility criteria.
Step 8: Attend the Second HDB Appointment
Signing of Agreement for Lease
Here are some documents you'll need to present at the appointment:
Identity cards

HLE letter (if you're applying for a HDB housing loan)

Letter of Offer (if you're taking a loan from the bank)

Latest CPF statement

Receipt of your option fee

Your bank passbook
Payment of Fees
You'll also be required to pay for the following fees:
stamp duty, 

legal fees and 

downpayment for your flat.  
Payment of Downpayment
The amount to pay for your downpayment will differ depending on whether you are
taking an HDB housing loan,

taking a bank loan, or

not taking any housing loan.
Type of loan
Downpayment
Mode of payment
HDB housing loan
10% of the purchase price
• CPF and/or cash

Note:
You can use the savings in your CPF OA to pay for the downpayment.

If you don't have enough in your account, the balance must be paid in cash.
No loan
Bank housing loan
20% of purchase price for a loan ceiling of 75%
• 5% in cash
• 15% in cash or using CPF OA savings

Note:
Since the maximum loan ceiling is 75%, you'll have to pay the balance 5% of the purchase price during the key collection (Step 9).
20% of purchase price for a loan ceiling of 55%
• 10% in cash
• 10% in cash or using CPF OA savings

Note:
Since the maximum loan ceiling is 55%, you'll need to pay the balance 25% of the purchase price during the key collection (Step 9).
Note:
HDB offers a
Staggered Downpayment Scheme
that allows you to pay for your downpayment in 2 instalments.
The first half of the downpayment is paid when you sign the Agreement for Lease. The balance amount is paid once you've collected the keys to your new home (Step 9).
Here's how the scheme works:
Downpayment
(Signing of Agreement for Lease)
Downpayment
(Collection of keys)
HDB housing loan
5% in cash or using CPF OA savings
5% in cash or using CPF OA savings
No loan
Bank housing loan
(75% loan ceiling)
5% in cash
5% in cash or using CPF OA savings
15% in cash or using CPF OA savings
Bank housing loan
(55% loan ceiling)
10% in cash
35% in cash or using CPF OA savings
Step 9: Collect Your Keys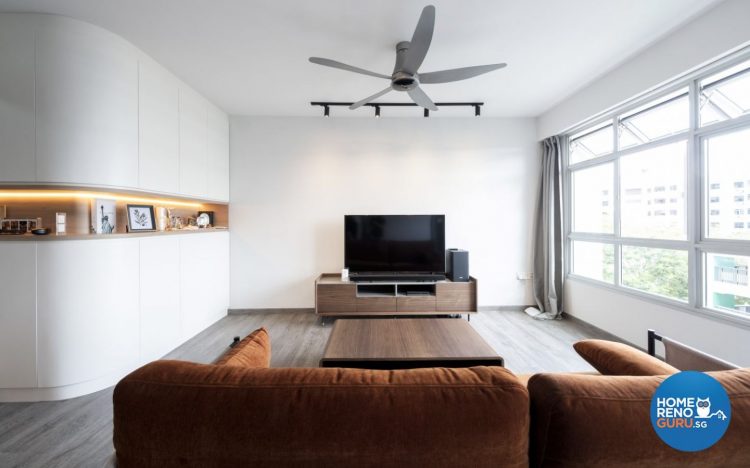 HDB 4 Room Designed by Starry Homestead
Once your flat is ready, you'll be notified to pick up the keys to your unit at HDB.
If you're on the Staggered Downpayment Scheme (Step 8), you'll also have to pay the remaining downpayment here.
Step 10: Repay Your Housing Loan
Your mortgage payment kicks in once you've received the keys to your flat. 
The amount of monthly instalment to pay is dependent on the
amount of loan granted, 

repayment term, and

interest rate as at the instalment commencement date.
You can use a mortgage calculator to estimate your monthly repayments to help you in your budgeting.
Applying for a BTO Flat
Hopefully, with this guide, you now have a clearer understanding of how to apply for a BTO flat.
After getting the keys, it's time to renovate your home! 
Kickstart your renovation journey by contacting an interior designer or check out this list of renovation ideas to get inspired now!