Laying Low: The Rise of Platform Beds
Platform beds are popping up in homes everywhere. You get to save on a bedframe, gain storage space below, minimise the risk of falling out of bed (or at least shorten the fall)… What's not to love?
Room Within a Room
A platform bed that spans wall to wall creates a room within a room. It's like stepping up into your own private sleeping pod, or TV-watching pod, or reading pod. Add natural sunlight filtered through blinds and you have the perfect scenario for sleeping in. We love this bedroom!
Condominium 38 Forestville | Carpenters
Standout Stand-Tall Bedhead
Because it's closer to the ground, a platform bed allows you to create a taller-than-usual bedhead, thereby visually elongating the height of the ceiling. This stylised coral bedhead emulates a rustic brick pattern while feeling thoroughly modern.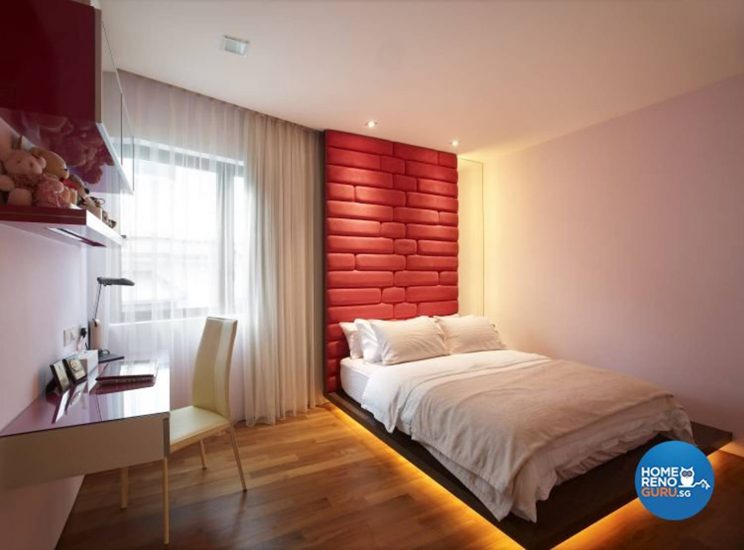 Landed House Lynwood Grove | Renozone Interior Design House
At Arm's Length
This simple, striking room design makes clever use of protruding pillars by using the recessed space as shelving for books, earplugs, even a laptop for when you can't sleep at night and figure you might as well catch up on work or study and buy yourself some naptime during the daytime. White against grey creates an attractive contrast and improves the visibility of the shelves in dim light.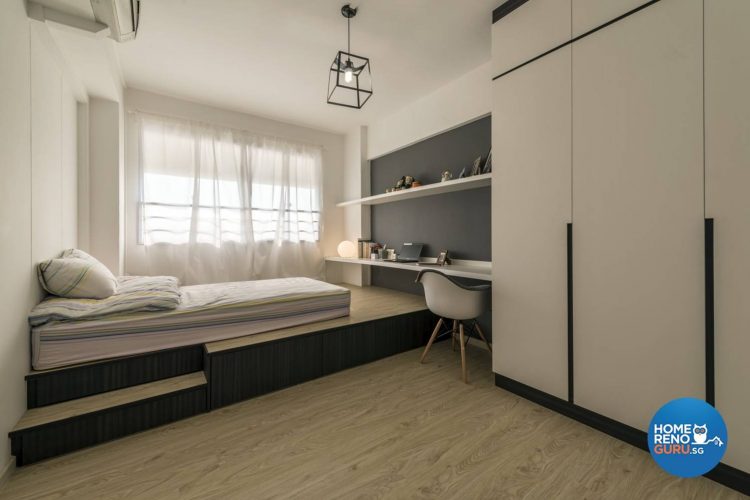 HDB 5 Room Jurong West St 93 | Leef Deco Pte Ltd
Luxury and Light
An elaborate built-in bed with connected lighting and a matching bedhead requires commitment. Then again, who wouldn't fall in everlasting love with this gorgeous monochromatic room? The paltform bed is connected to an upholstered bedhead and built-in bedside tables.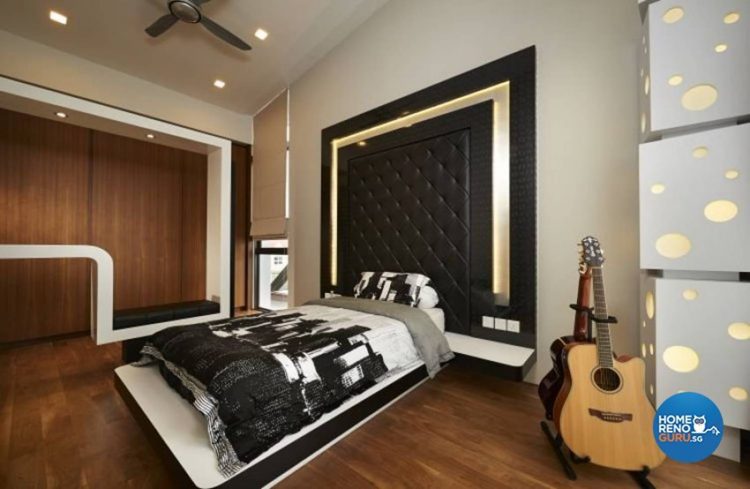 Landed House Goodman Road | U-Home Interior Design Pte Ltd
Looking for Interior Designers?
Let HomeRenoGuru help!
Simple Forms and a Splash of Colour
Bold colour choices can transform a plain room into something special. The clean lines and right angles of a platform bed lend themselves to isolating and highlighting rectangles of colour. This ivory room with a burnt orange feature wall and TV wall is a perfect example.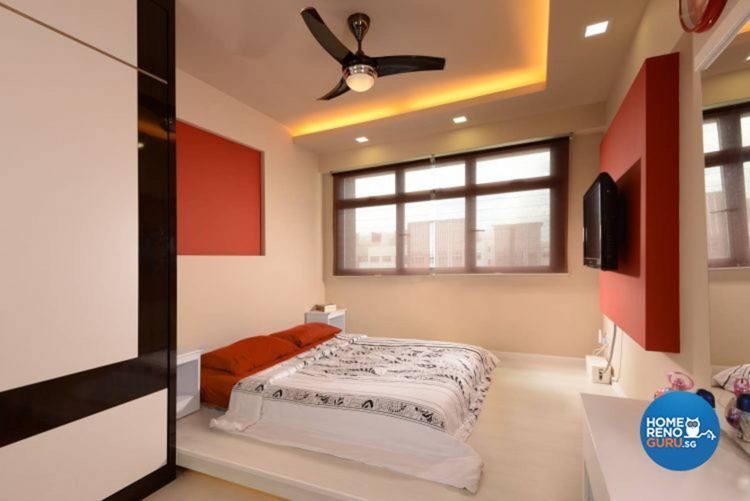 HDB 4 Room Anchorvale Link | Y-Axis ID
The Suite Life
In a large room, a platform bed can semi-divide the space by function – sleeping and sitting. This stunning black-and-white bedroom cum living space plays with straight lines and circles, which are echoed in the wallpaper, in the lampshade, floor lamp and curvilinear chair. You'd never want to check out of this 'hotel'…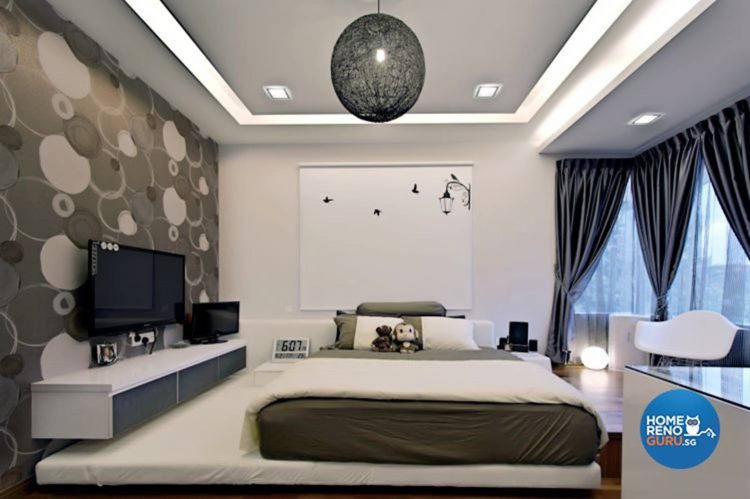 Landed House Choa Chu Kang | Northwest Interior Design Pte Ltd

Get Into Bed with the Right ID
Before you commit a sizeable sum of money to renovating your home, it's very important to find the right interior design company. A hasty decision can turn into a costly mistake, and endless sleepless nights. Put your home in the right hands and you'll be sleeping easy for years to come. HomeRenoGuru, Singapore's leading home renovation website and app, can provide you with a list of recommendations for reputable interior design companies that match your budget and your needs. Request for a no-obligation quote now!