6 Small Bedroom Ideas for Little Red Dot Singapore
In little red dot Singapore, it's not uncommon to have fantasies of owning an island villa in Bali or a sprawling bungalow in the Bahamas.
While we can't all be owners of large estates in Singapore, it does not mean that we are sentenced to an eternity (or 99-years for HDB-flat owners) of living in claustrophobia-inducing spaces. If life throws you lemons, start making whisky sours. From an interior design perspective, there are many small bedroom ideas that you employ for your limited space, such that it starts resembling your dream home. And what better place to start than the bedroom? We spoke to 4 HomeRenoGuru interior design experts to seek their insights on how design can make your small bedroom feel like a King's suite!
Mirror Mirror on the Wall
Don't be too quick to kiss your dream full-length mirror goodbye just because of your tiny bedroom. In fact, mirrors help to make the room feel spacious by reflecting the light around the room. Roger Sim from Fineline Design advises homeowners to "play around with mirrors to get an extended feel". Having a wall-to-wall mirror may be a wee too crowded for a small bedroom. The perfect small bedroom idea — you can lean a full-length mirror against the wall or hang up several smaller mirrors instead.
Ecopolitan 126 Punggol Walk | Fineline Design
Lighter Colours and Smaller Patterns
Colin from Ciseern by Designer Furnishings believes light colours help make your bedrooms look bigger. Having a light colour palette opens up your small bedroom, and it works for both solid colour and patterned wallpaper. The most important hack is to keep the bulky items in your room light in colour — your bed sheet, ceiling, wall and wardrobe. Of course, the easiest way is to paint your room in different hues of white, but if your adventurous soul screams in protest, Colin suggests blending some colours suited for a small bedroom.  Mix cool colours — shades of blue, green and purple — with white or pale hues to achieve the enlarging effect. Stay away from warm hues such as red and yellow that will create the opposite effect.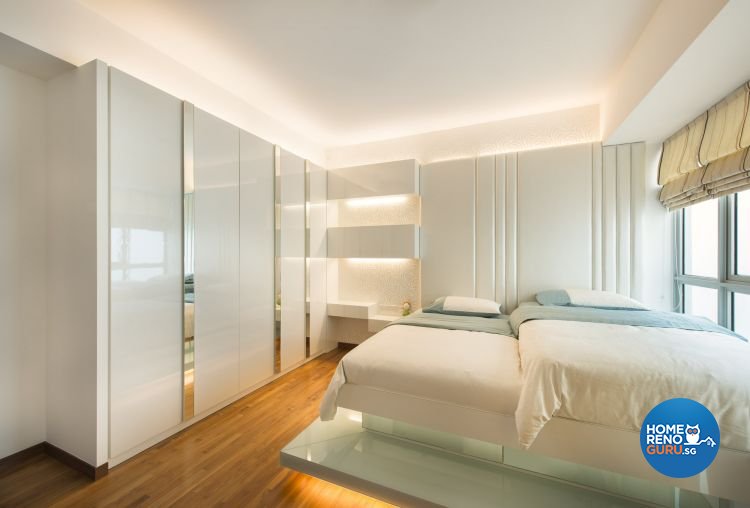 Kovan Residence | Ciseern by Designer Furnishings
Hidden Spaces
There are plenty of spaces often forgotten in your bedroom, such as your wall. A necessary small bedroom idea — floating shelves come in handy to display little trinkets on the wall without occupying floor space. Another huge area often wasted is space below your bed. Nowadays, most bed frames come with storage, but if yours do not, just create your own storage area.
Open Windows
Instead of installing thick drapes for the window, let sunlight barge into the room. A bright room usually seems bigger than it really is, even for a small bedroom. It also helps to add invisible patterns and texture to your room. If you insist on having a curtain for privacy, a gauzy sheer will block people's view while letting the sun ray break into the room.
False Ceiling
Esther Lee from Carpenters Interior Design recommends false ceilings for small bedrooms. "False ceiling hides all the messy pipes and electrical wiring, so your room looks sleek and stylish". She also adds that using cove lighting helps to make the ceiling seem higher and brighten the whole room. Besides, it also lends an elegant touch to your room while keeping things simple.
Declutter
After all the storage and design hacks, it all goes back to the root of all problems: clutter. A messy room, despite its size, often causes your bedroom to feel small and stuffy. Ashton Chong from Darwin Interior advocates simplicity for a seemingly bigger bedroom. He suggests keeping "one or two feature ornaments or paintings" in the room rather than having a set of figurines and artwork on display.
With all these useful small bedroom ideas at hand, designing one fit for a king in Singapore is not a far-fetched dream. If you are unsure of where to start, get help from trustworthy interior designers for a bedroom that is both practical and aesthetically pleasing. Well, everyone deserves a huge comfortable bedroom for a good night rest!
Wait no more and get started now! Request for a free renovation quote here , and we'll source an interior designer who fits your requirements. But that's not all! Stand a chance to win a Mercedes-Benz CLA 180 Coupe & Free Home Renovation worth $30,000!