The Monochrome Palette for Millennials
Millennials, the world exclaims sadly, as it looks at its various articles which attempt to explain their mystifying behaviour. For a term that merely describes people born sometime between the 1980s-2000s, it sure carries a lot of weight. Millennials have been given the dubious title of "selfie generation", amongst many other titles. What about in the area of home decor? What might they like? We present a few options.
1) Black and white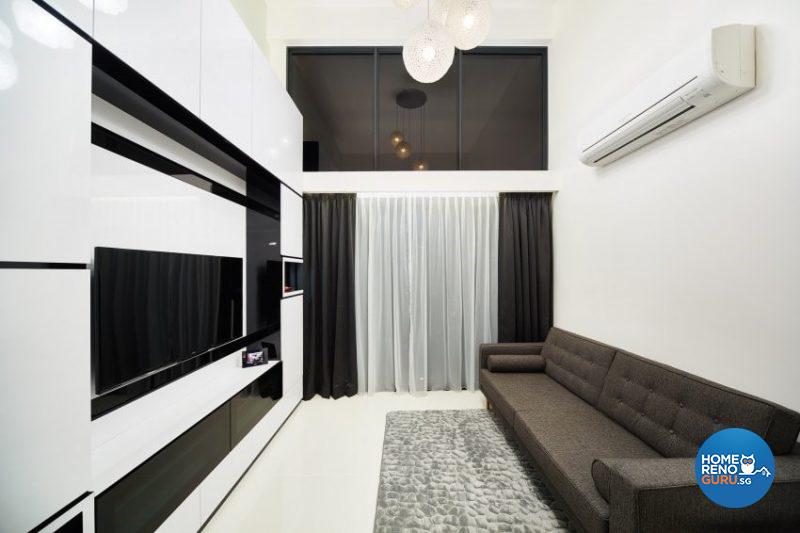 HDB EC Condo – Choa Chu Kang / Areana Creation
This one is a classic. Most people immediately associate the black and white scheme with a monochrome colour palette, and it's the same for millennials who are looking to build their own chic home. When you've got your home decked out in such contrasting colours, it instantly creates a fresh and strong vibe that conveys your youth. You can't really go wrong with this timeless combination!
"I've seen this colour scheme established using a combination of paint, wallpaper and laminates for custom-made furniture. The contrast between the 2 colours for soft furnishings such as artwork- black frame on white wall, tinge of black on ceiling to make it look sleeker. In my experience, people who use this combination generally do tend to be younger." Albert from Areana Creation explains so to us.
2) Bright green

Keat Hong Crest by U-Home Interior Design
Pantone, the authority on all things bright and beautiful, has spoken. Greenery is the Colour of the Year, and millennials are sure to turn to such a nurturing colour after the setbacks of 2016. According to Houzz's Decorating Trends of 2014, millennials are more likely to use bold and bright colours. Use this bright shade of yellow-green liberally to liven up your house, instantly putting you in a better mood.
Herawaty from U-Home Interior Design said that the owner asked for a clean cut, spacious and easy maintenance. Coupled with the occupier's love for green colour, they decided to propose a nice soft soothing green to freshen up the home!
3) Rose gold
With the rise of the rose gold iPhone, this gorgeous colour's fame rose (haha) as well. While not a commonly seen paint colour just yet, you can easily incorporate rose gold into your home decor through trinkets and furniture. This trendy colour made waves last year, and even in the fashion/beauty industry-millennials can now match their home to their hair! A compromise on stereotypically feminine colours like baby pink, rose gold will add a hint of edginess to your home.
4) Yellow
If you'd like to weave the colour of sunshine into your home decor, it's really not that hard. Millennials, as mentioned above, are more likely to experiment with colours in their home decor, so yellow in its different shades is a pretty safe foundation to start experimenting from. After all, this colour radiates positivity and happiness.
5) Metallics
Metallics have never been easy to pull off, and particularly in home decor. Too much of it has the potential to look tacky, so it's not usually a favourite amongst homeowners. However, silver and gold are both elegant and illuminating when used properly- as millennials might say, extremely #aesthetic. If you're going the monochrome route, why not use this palette to make your home befitting of royalty?
"For metallics, people mostly use special effects paint with a base coat of red/blue. They like to use these mainly in the living hall, and it tends to bemostly younger homeowners," explains William from Home Concepts.