While pastels and neutrals are sweeping homes and hotels from cities to suburbs, there is a diametrically-opposed trend that is gaining traction. Yes, black is back. Embrace this darkest of colours for a high-end, on-trend look that never really grows old.
Black and Write
This inventive space is anchored by a black built-in bookshelf with a sliding blackboard for writing thoughts for the day and notes to self, and a striking raised asymmetrical black platform that loosely defines the study space. The black thread is picked up by the black desk, sofa, swing chair, track lights and ceiling fan. A furry white rug and monochromatic cushions keep add loads of textural interest to the disciplined palette of black and neutrals.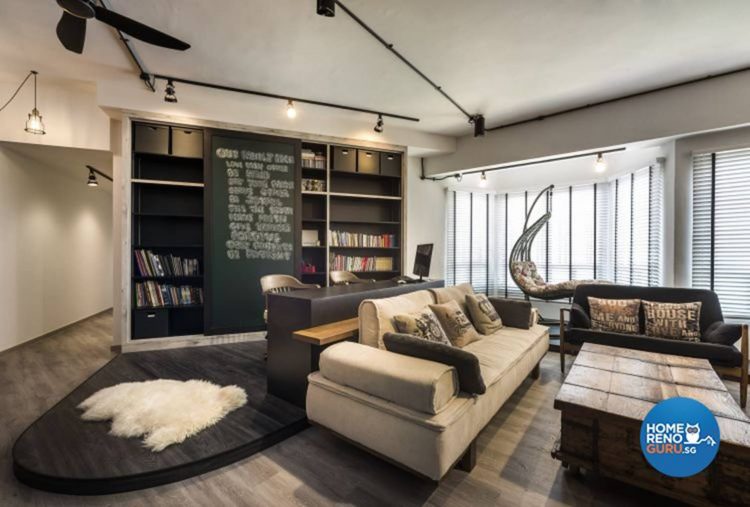 Scandinavian | Rezt & Relax Interior
Light and Dark
This open concept living and dining room is dominated by a black TV feature wall and a trio of rose gold pendant lights. A flood of natural sunlight from the floor-to-ceiling windows eliminates any risk of dinginess, while a black leather sofa and textured floor rug separate the lounge area from the dining area.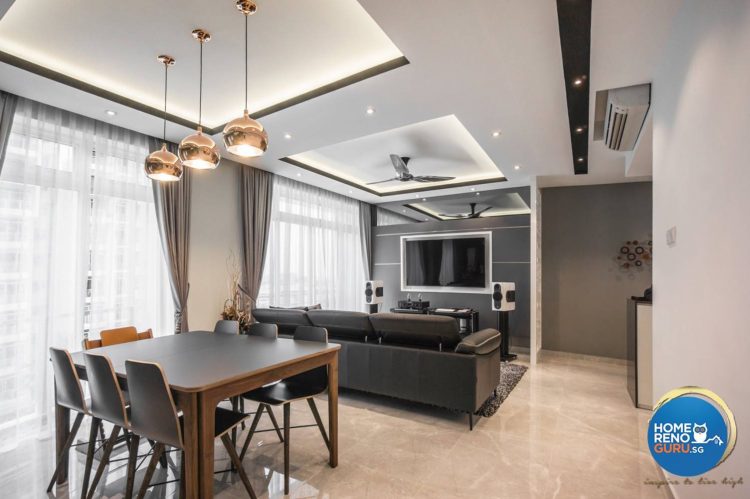 Condominium Monterey Park Condo | Flo Design Pte Ltd
Black Ground Not Background
This quietly dramatic open concept kitchen-dining area is made spectacular by the dramatic black and white-flecked flooring. The floor-you-can't-ignore is picked up by a framed print, a black fridge, powder-coated legs on the dining table, upholstered seats on the dining chairs and a thoughtful bench by the doorway for taking shoes on and off.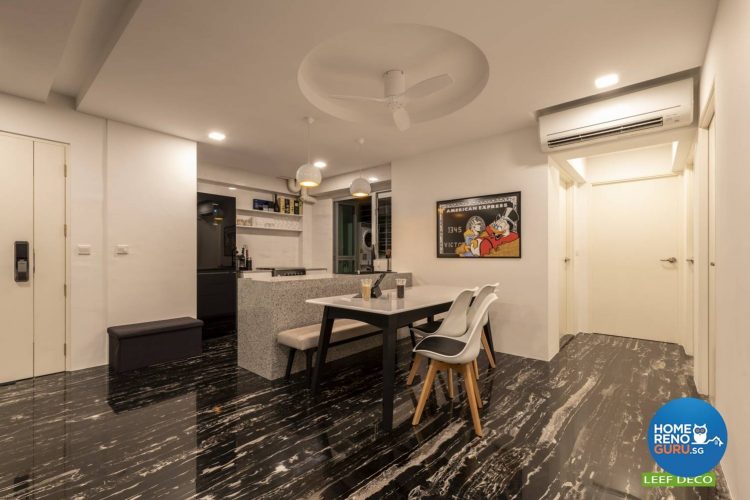 HDB 4 Room Ang Mo Kio | Leef Deco Pte Ltd
Looking for Interior Designers?
Let HomeRenoGuru help!
Dark Kitchen Magic
Black makes sense for one very obvious reason – it hides the dirt. But beyond its grime-concealing properties, black has many benefits in the kitchen. First among them is its ability to unify the many elements in a busy utilitarian space. In this stylish open concept kitchen, black pulls the splashback and wall-mounted cabinets together. Wood-look cabinet doors and white countertops, flooring and ceiling relieve the darkness and dispel any risk of claustrophobia.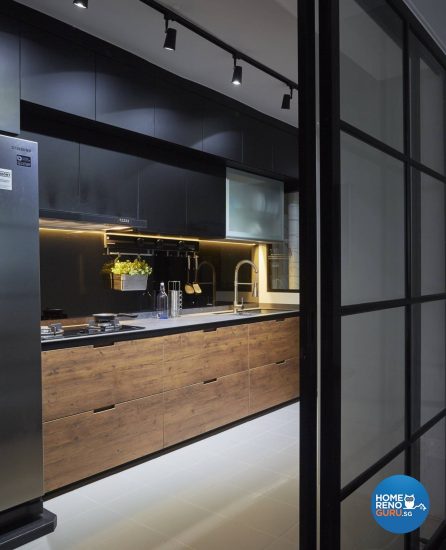 HDB 4 Room 808D CCK Ave | Carpenters
Night is Day and Day is Night
Black bedrooms are alluringly seductive and create a restful sense of 'night-time' at all times, conducive to late rises and afternoon naps. This luxuriously large bedroom is actually two rooms joined into one. After the original wall was partially hacked, the remaining partition was painted in matte black. Akin to a suite, the resulting space encompasses a bedroom cum study cum dressing room cum home gym. A black bedhead is echoed in the striking black and white bed linen, black rocker, ceiling fan, track lighting and punching bag.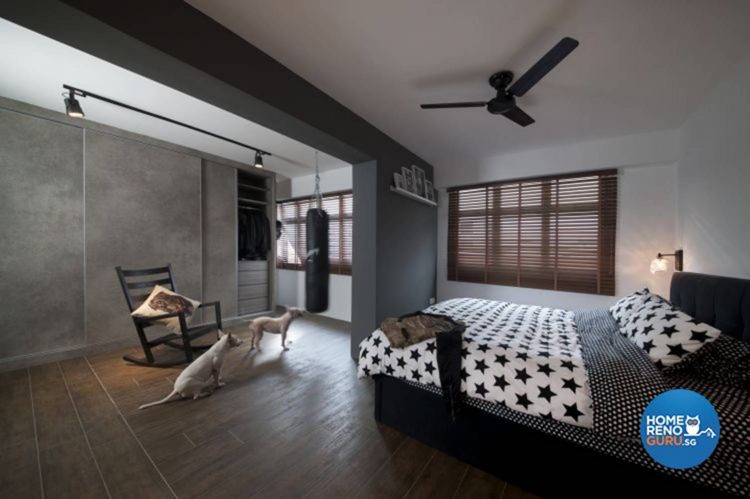 HDB 5 Room Blk 329 Anchorvale Street | Starry Homestead Pte Ltd
Choose an ID Who Won't Keep You in the Dark
Communication is key to a happy and smooth renovation journey. Glowing reviews consistency cite good communication as a positive aspect of their renovation journeys. HomeRenoGuru, Singapore's leading home renovation website and app, can connect you with a shortlist of recommended interior design companies who will keep you informed on the progress of your renovation. Simply fill out a simple online form, stating your house type, preferred theme and budget, and HomeRenoGuru will do your homework for you.