Should You Get a Kitchen Splashback?
While the function of a splashback is quite basic, the choices are anything but.
From toughened glass to subway tiles, the choices in kitchen splashbacks are ever expanding. So long as the basic criterion of protecting your walls from cooking vapours and food splatters is met, a splashback can be made of anything at all.
A new splashback can revamp an old kitchen and set the tone for a complete change of décor. Unlike under-sink cabinets and wall-mounted cabinets, a splashback is directly at eye level. Feast your eyes on these.
Top of the Glass
Arguably the most popular choice for splashbacks is toughened glass. Those from reputable suppliers comply with rigorous safety standards to ensure that they are shatterproof and heat-resistant. What's more, glass splashbacks are easy to clean and do double-duty as noticeboards. You can write your shopping list and pen 'reminder notes to self' with a marker pen, which can be easily wiped off.

Kitchen of a 3-room HDB Flat by WHST Design
The glass splashback in this sleek modern kitchen opts for a colour seldom associated with food – blue. The deep sky blue tempered glass splashback is illuminated by blue LED lighting to create a crisp, modern feel in the colours of the Mediterranean.
Kitchen of an HDB Executive Apartment by Yujia Interior Design Pte Ltd
A highly reflective black glass splashback completes this dark cocoon-like kitchen, which breaks with convention to stunningly elegant effect.
Way-cool Subway
Subway tiles, which first appeared in New York City subways, have been trending for a good few years and show no sign of waning in popularity. In fact, many variants have hit the market – including slimmer, longer finger-shaped tiles and colours ranging from hospital green to grey and black.
Kitchen of a Condominium by Design 4 Space
While white can do no wrong, these longer-than-standard smoky grey subway tiles create a pleasing contrast with the light wood cabinets and white countertops of this condo kitchen. A cautionary note: ensure your tiles are laid by an expert so that the grout is easy-to-clean and non-porous.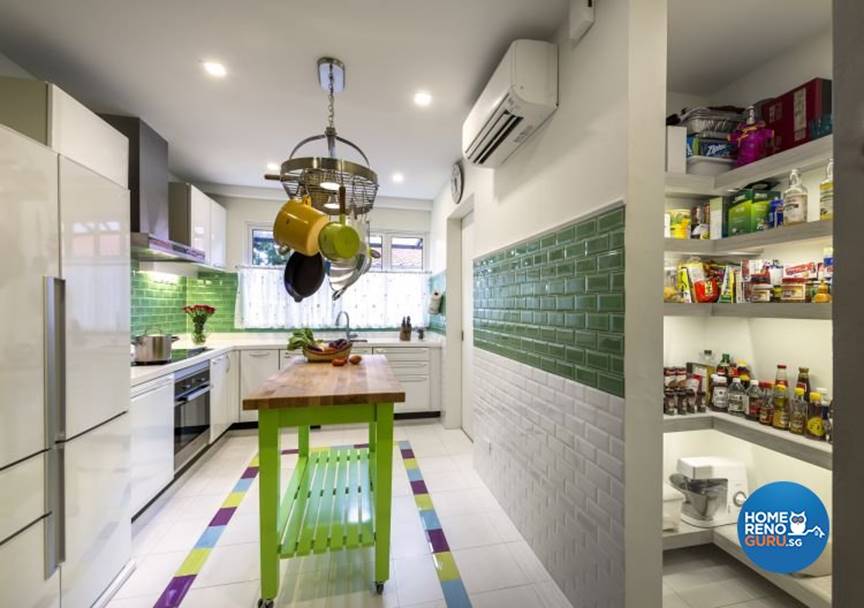 Kitchen of a Landed House at Sunrise Walk by Ciseern by Designer Furnishings Pte Ltd
The green subway tiled splashback is extended to a partially tiled two-toned wall, creating a wraparound band of green in the kitchen of this landed property. The hue is echoed in the painted legs of the island bench on castors.
Tiles in Style
Subway tiles aside, arguably the strongest tiling trend of the past few years has been the revival of Peranakan design. It has surfaced in floor tiles, bathroom tiles and wall tiles. Depending on the treatment and the context, mod-Peranakan tiles can look old-school colonial, Bohemian-gypsy or modern-eclectic.
Kitchen of a Resale Flat at Dover by Home Concepts Interior & Design Pte Ltd
Here, these mismatched Peranakan-inspired patchwork tiles in shades of grey and white create a strong statement in an otherwise neutral kitchen. They transcend the function of a splashback and cover the entire exposed kitchen wall to ceiling height.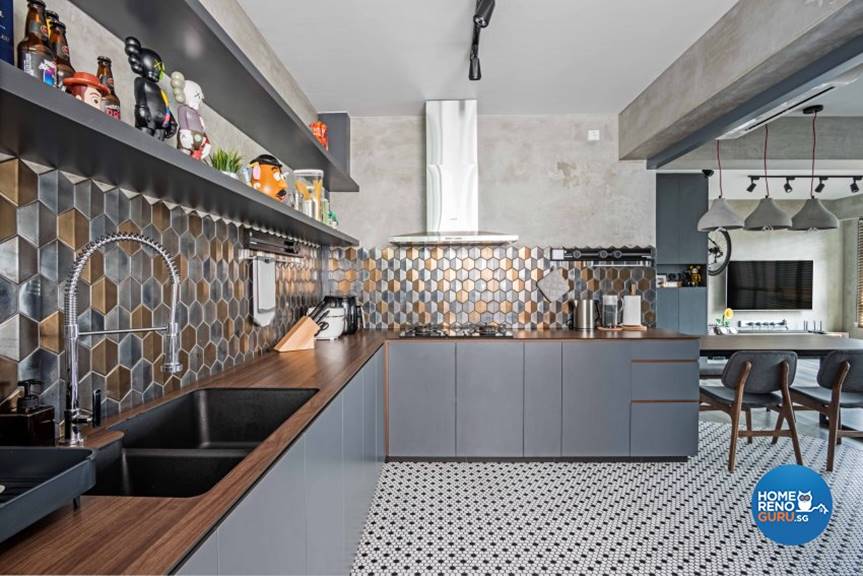 Kitchen of a 4-room HDB Flat at Anchorvale Crescent by DB Studio Pte Ltd
A little bit industrial, a little bit hipster, this combined kitchen and utility yard is dominated by the gorgeous copper and silver tiled splashback. The dull matte metallics tie together the mashup of textures, which range from cement screed to glossy woodgrain.
Whether you're eyeing a splashback made of glass, subway tiles or fancy mod-Peranakan tiles, the importance of quality materials and expert installation cannot be overstated. Request for a free renovation quote here, and we'll connect you with an interior designer who fits your needs.
But wait, there's more! Stand a chance to win a Mercedes-Benz CLA 180 Coupe & Free Home Renovations worth $30,000