What is 'Industrial Interior Design', and Should You Choose It?
What is 'Industrial Interior Design', and Should You Choose It?
Industrial is arguably the biggest interior design craze of this millennium. Love it or hate it, it's everywhere you look, from your local café to the hip co-working space downtown and possibly your own home. But, is it here to stay?
What exactly is 'industrial'?
In the interior design context, industrial can be defined as an aesthetic trend that takes its cues from old industrial and commercial spaces, with utility as the driving force behind it all. In its execution, it tends to blend vintage and modern elements, with repurposed mechanical parts deliberately on display.
Typically, it contrasts rough and raw with sleek and polished. Like the hipster sub-culture that facetiously references the hairstyles and beards of our grandfathers, it embodies irony. I mean, who really needs a filing cabinet in their kitchen with 26 alphabetically labelled drawers? Or, why pay money to rip out your expensive tiles and install a raw concrete floor in your living room?
But that's the cynical view. On a more positive note, industrial chic champions sustainability. Truly repurposed items, versus new stuff made to look like old stuff, is recycling at its very best – or in other words, upcycling. Adding value to junkyard scrap by turning it into furniture – now that's truly cool.
Let's take a look-see at locals' takes on industrial.
Read the Signs
This comfortable living area at Telok Blangah Heights ticks most of the boxes for industrial. Exposed brickwork – tick; exposed piping – tick; cement (or cement lookalike) floors – tick; distressed leather couch – tick; upcycled wooden furniture – tick. The icing on the industrial cake is the distressed vintage signboard, which adds a welcome splash of colour to the monochromatic and earthy industrial palette. The standing lamp typifies the common coupling of industrial with retro.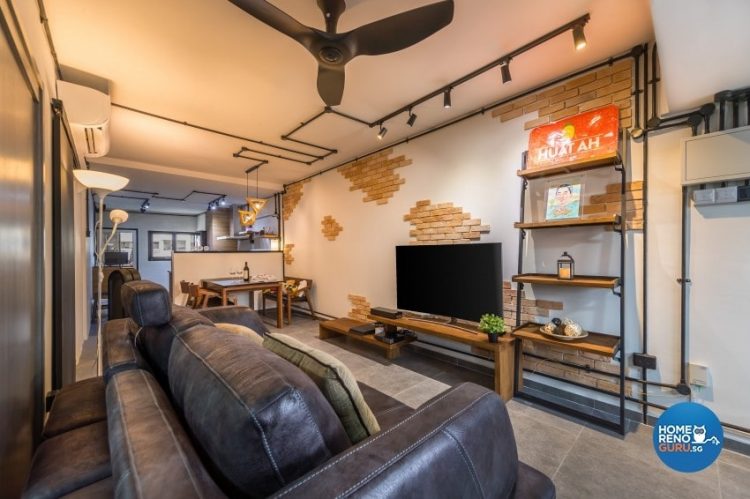 HDB 3 Room Blk 33 Telok Blangah Heights | Swiss Interior Design Pte Ltd
Cogs and Wheels, Bits and Bobs
This luxe take on industrial mixes high-end with low-end. The distressed sideboard and wall art made from giant cogs and wheels contrasts ironically with the state-of-the-art audio system, monochromatic plush floor rug and metallic copper-toned feature wall. Glass, another material synonymous with industrial design, reveals naked bulbs beneath the lampshades. As you can see, it only takes a touch or three to nail that industrial vibe.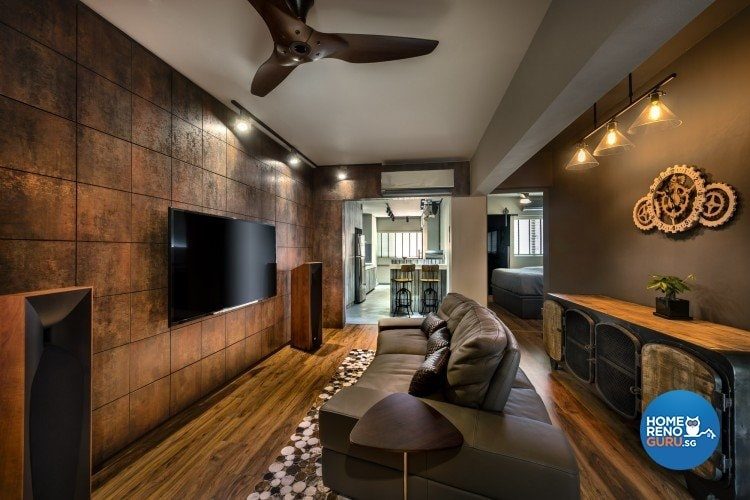 Others | Rezt & Relax Interior
Wheels on the Wall
An increasingly popular space-saving feature is a wall-mounted bike rack. It fits comfortably into the utilitarian concept of an industrial interior. In this living area, the wall-mounted bike is mirrored by a standing bike on the floor below, and kept company by wall-mounted guitars. Sumptuous Victorian-inspired chairs and a Persian floor rug contrast ironically with the raw brick wall, exposed piping and rugged track lighting.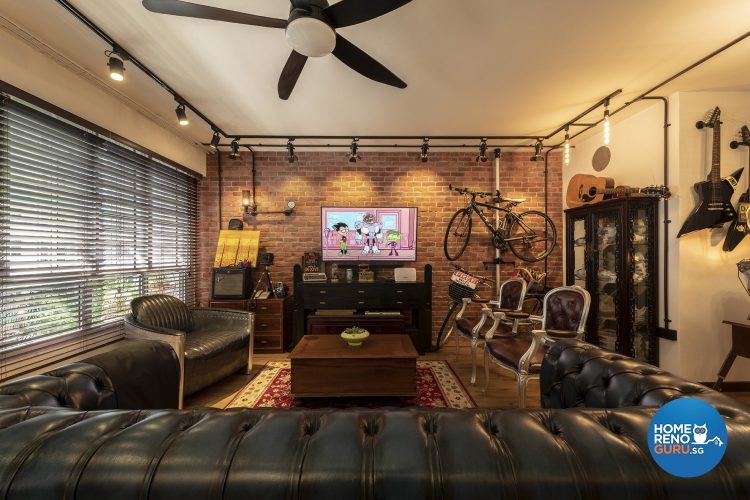 HDB 784C Woodlands | The Two Big Guys LLP
Junkyard Chic
This standout industrial interior swaps the usual feature wall of exposed bricks for metal plates. The riveted metallic wall is spotlit by track lighting, which is augmented by a retro standing spotlight. The two statement pieces are Frankenstinian creations fashioned from an old scooter – the back half has been transformed into a padded bench while the front half has been artfully reinvented as a wine rack. These nostalgic wheels put the 'cycle' into 'upcycling'!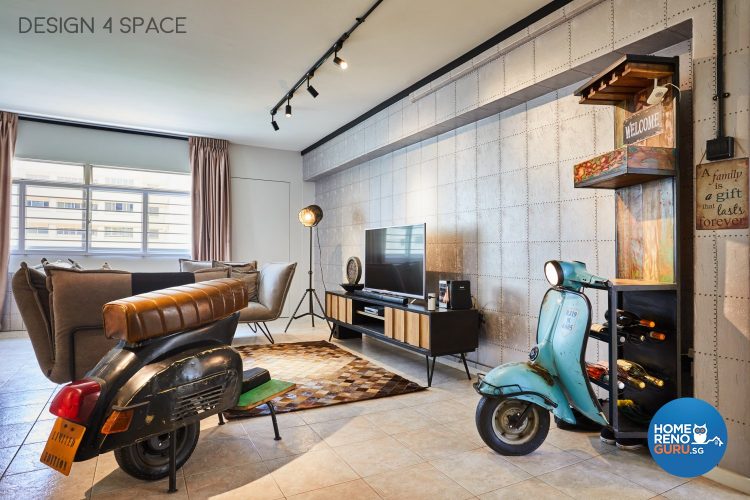 HDB 4 Room Blk 773 Pasir Ris | Design 4 Space Pte Ltd
Looking for Interior Designers?
Let HomeRenoGuru help!
'Industranavian', 'Scandustrial'?
It was inevitable that the two hottest interior design trends would hook up and marry. In fact, many contemporary interiors actually blend the aesthetics of the two, which are thematically linked by their shared respect for utility, or functionality. This sunny open concept living and dining area is a great example of dual themes in one interior. The distinctly Scandinavian abundance of light blonde woodis injected with a shot of industrial via the multi-toned recycled table and durable metal lampshades.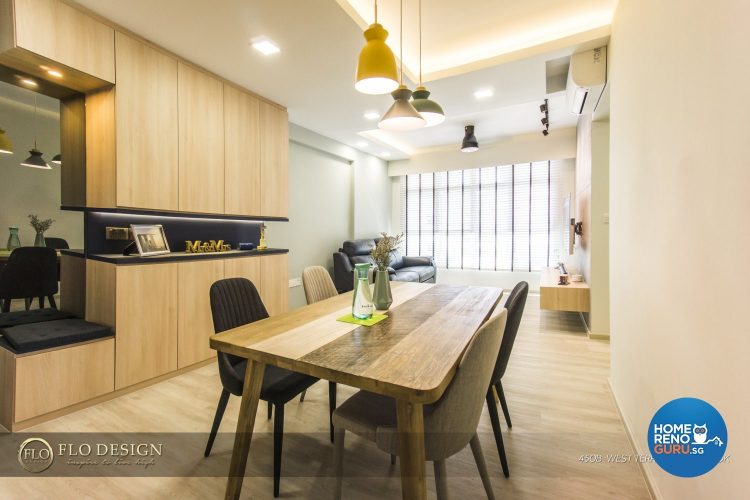 HDB 4 Room 450B West Terra@Bukit Batok | Flo Design Pte Ltd
Cement Mixer
This cool pad mixes Peranakan-inspired tiles with a polished cement screed floor, to stunning effect. The vintage olive green armchair sits comfortably with utilitarian pieces fashioned from wood and piping. Everything is tied together by exposed black piping and black powder-coated metal track lighting.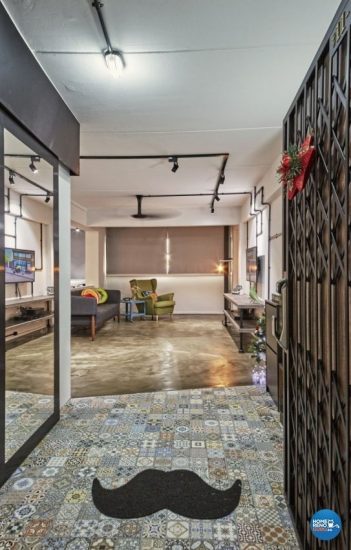 HDB 5 Room Blk 639 Jurong West 61 | i-chapter  Pte Ltd
Industrial Will Endure
Whether you go all the way or incorporate just a few industrial touches into your décor, it looks like you'll be bang-on trend for the foreseeable future. Given the world's ongoing conversations about sustainability, we should be seeing more and more industrial interiors that feature genuine mechanical devices upcycled into statement furniture. Breathing new life into old stuff screams 'creative' and 'mindful' – what's not to like?
Industrial or resort style, Victorian or art deco, regardless of your interior design concept you'll want an interior designer who is, well, industrious. They also need to share your vision and respect your budget.  HomeRenoGuru can furnish you with a shortlist of established and reputable interior design companies that fit your dollars and your dream. Request a no-obligation quoteand you'll stand a chance towin home renovations totalling $30,000!