Dark & Dreamy: Achieve Hotel Luxe through Gorgeous Midnight Shades
Dark & Dreamy: Achieve Hotel Luxe through Gorgeous Midnight Shades
SF: Play up the mood of sophistication by going over to the dark side. These staycation-ready homes show you how to execute it beautifully.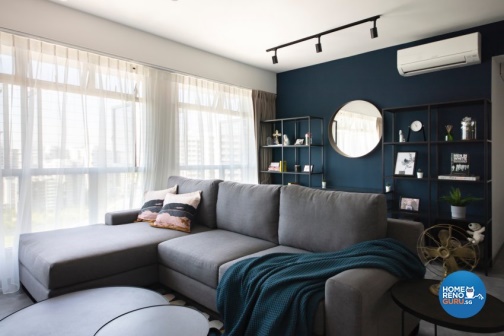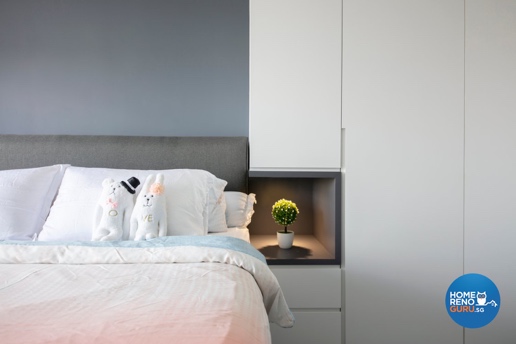 5-Room HDB flat 323 Sumang Walk | Starry Homestead Pte Ltd
Dark + Scandi Touches
We all know dark colours can dwarf a space, but it can also elevate the look of the space with the right colour pairing. By having a deep shade of blue to draw out the crisp, white colour palette, this strong visual anchor pulls out a homely Nordic touch which is accentuated by fitting décor accents. The designers from Starry Homestead also applied a similar colour contrast for the bedroom to establish design uniformity, and this renders such a cosy yet well-appointed look that the only thing lacking is room service.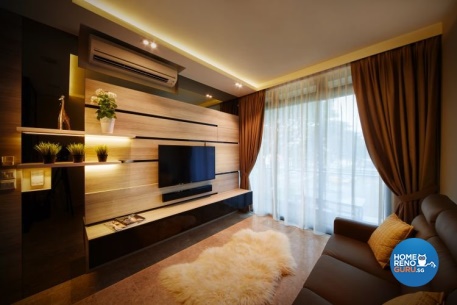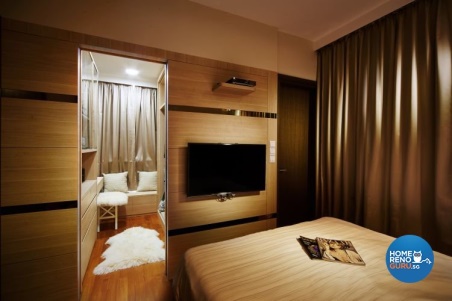 3-Bedroom Condo Mackenzie Road | Design 4 Space Pte Ltd
Dark + Woody Textures
Switch up the texture with wood finishes for a picture of quiet sophistication in your hotel luxe inspired home. The Design 4 Spaceteam engaged strips of wood-effect finishes with tinted mirrors to amplify the amount of warmth and visual space of this condo unit. The same style treatment was applied for the bedroom and the designers even managed to squeeze in a compact but classy walk-in wardrobe.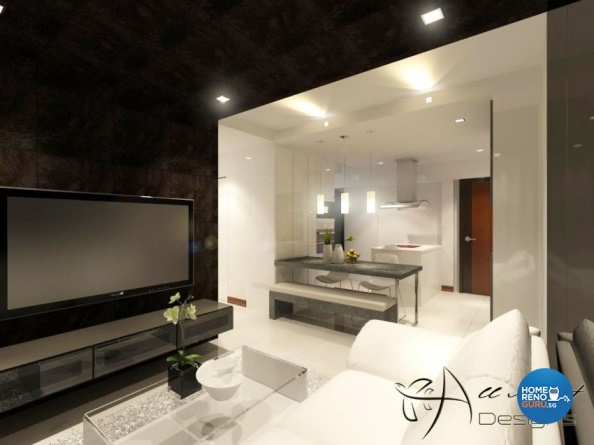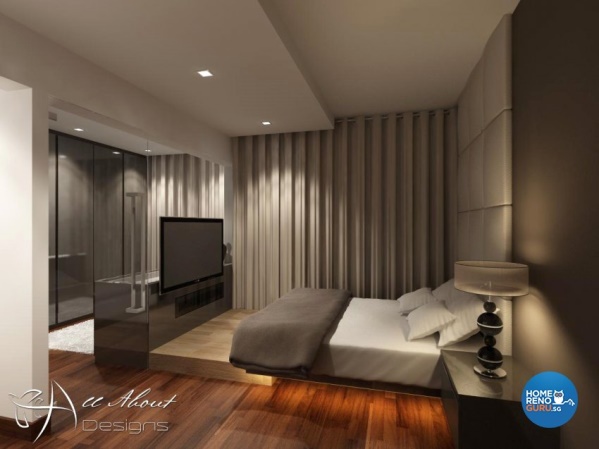 4-Room HDB flat Punggol Walk | All About Designs Pte Ltd
Dark + Monochromes
Black tones can create a solid visual anchor and this is best exemplified in this 4-room HDB flat unit with a high contrast pairing of blacks and whites.  The dark colour on the ceiling design feature lends more definition to the living area and exudes a chic cocooning effect.  Similarly swathed in dark, moody tones, the master bedroom is all set to introduce stylish slumber to its occupants.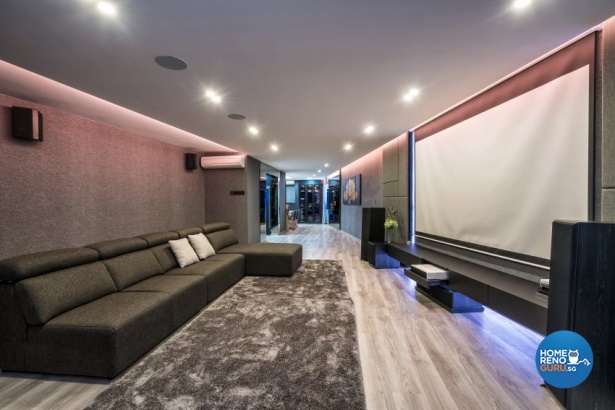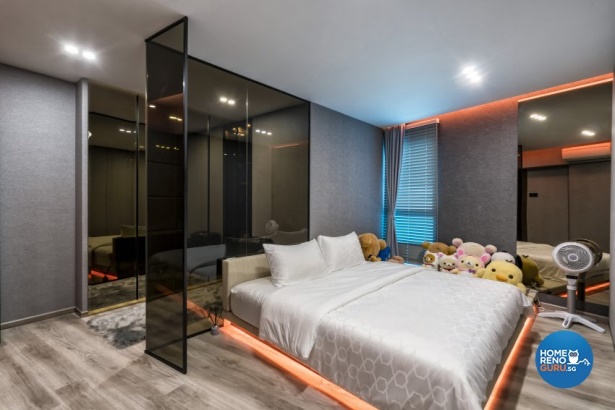 HDB 5-Room Flat Admiralty Drive | New Interior Design
Dark + Sleek Accents
Sleek things up in your hotel inspired home with understated design accents, dark colours and ambient lighting which all work effortlessly together to create a posh boutique hotel suite look. This moody grey colour scheme, while on the darker colour spectrum, can still appear spacious and soothing, as demonstrated by the New Interior Design team in this 5-room flat unit. The bedroom is also a delightful example –the application of space-enhancing touches like a glass divider and a clean-looking ceiling prevent the room from looking closed-in.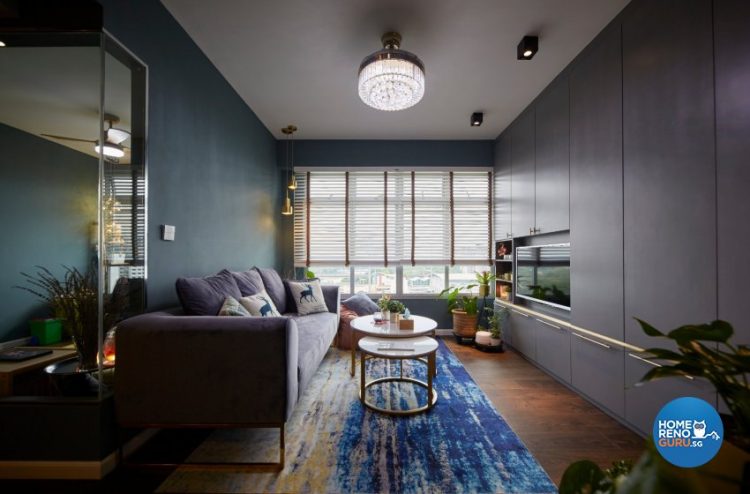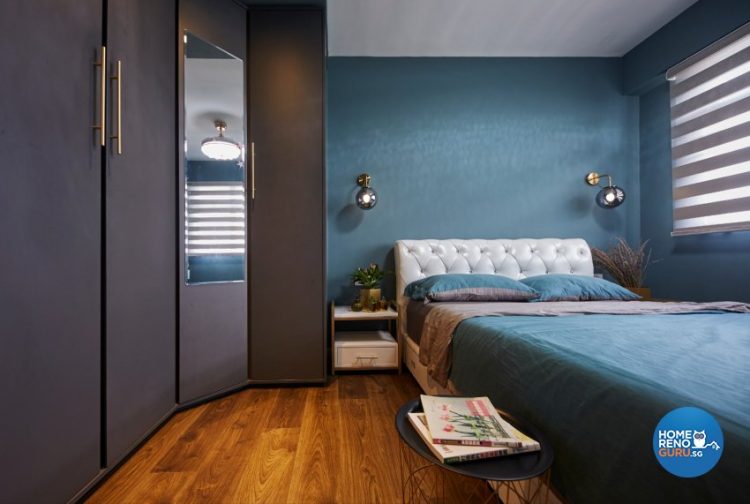 HDB 4-Room Flat Anchorvale | Carpenters
Looking for Interior Designers?
Let HomeRenoGuru help!
Dark + Metallic Accents
Nothing makes dark colours pop more than shiny metallic accents and this 4-room HDB flat can attest to that. Just a tiny tint and the mood of the room changes from drab to a vision of opulence. That said, it's best to downplay the metallic finishes and apply with restrain as a little goes a long way. The bedroom is a fine example; metallic finishes on the handles and bedside lighting are enough to illuminate the dark colour scheme with elegance.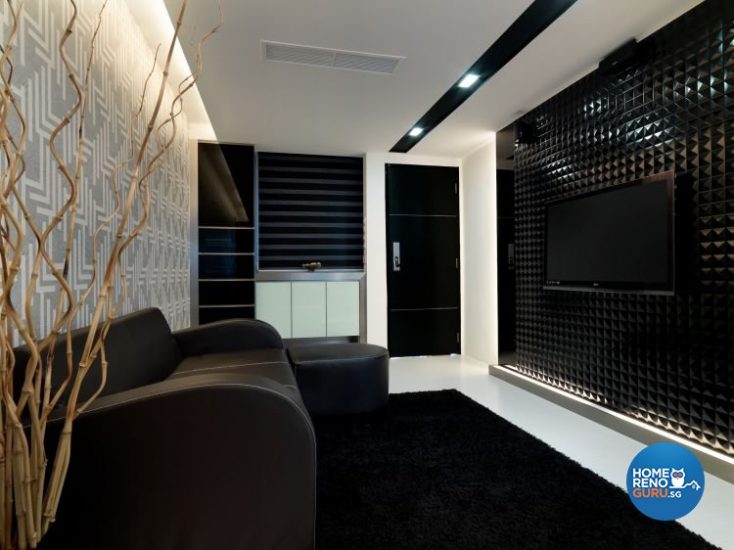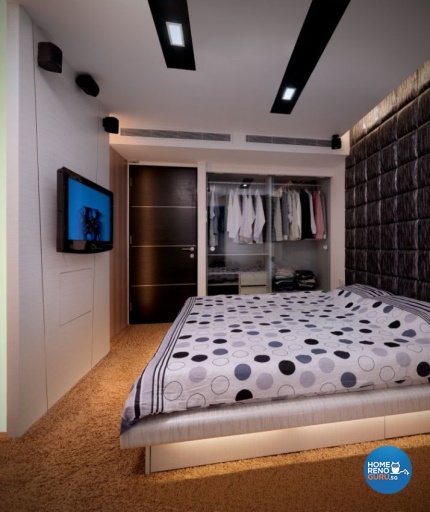 HDB 3-Room Flat Woodlands | Northwest Interior Design Pte Ltd
Dark + Modern Contemporary Accents
Modern symmetry and a dark colour palette can gel well together like milk and honey and this 3-room flat unit shows off this bold pairing impeccably. The result is a stylish and snazzy living area which is reminiscent of a trendy boutique hotel lobby. The same très chic treatment of three-dimensional wall coverings in a dark colour has been engaged for the master bedroom, and it can definitely pass off as a top Airbnb listing.
Request a no-obligation quote and HomeRenoGuru will provide you with a shortlist of highly-rated interior designers that match your budget and your needs. What's more, you'll stand a chance to win home renovations totalling $30,000