Dark Colour Palettes That Won't Diminish the Size of Your Home
With the reality of our space-starved living spaces, favouring light tones over dark colour seems to be practical and safe. That said, while white often projects an expanse of space, the downside of it is it can feel cold, clinical and be viewed as a conservative colour choice. These designers dared to go with the opposite colour spectrum by using midnight hues. Here's how they did it without diminishing the visual size of these homes.
#1 Glossy + Tactile Textures
Condominium @ H20 Residences by The Orange Cube
Like a canopy, this cosy living area is enveloped by the ceiling feature in a cement screed-like finish. The grey distressed-looking textures draw out a warehouse loft appeal and are integrated with a full-height cabinet in a high-gloss finish. The design harmony of these matte and glossy finishes bestows a warm yet stylish ambience without the space feeling closed-in.
#2 Art of Symmetry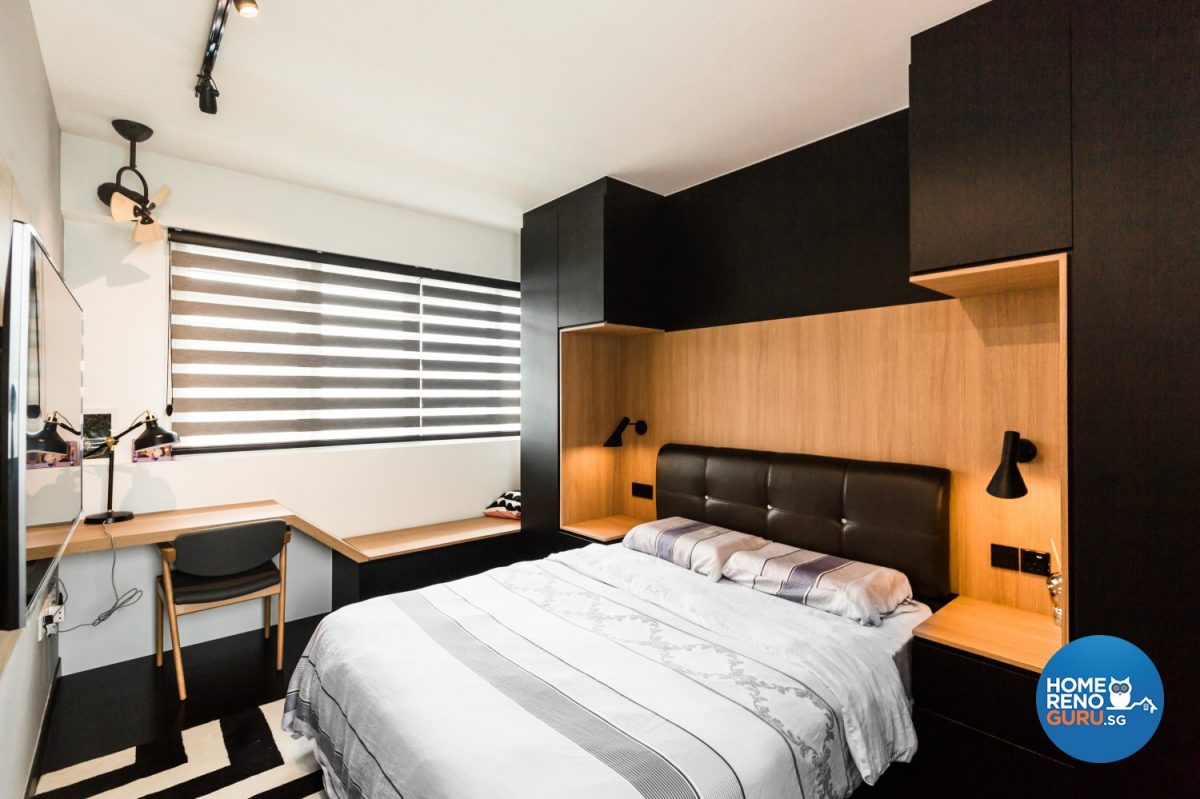 5-Room HDB Flat @ Bukit Batok by Hue Concept Interior Design Pte Ltd
Custom carpentry in arresting forms fills this bedroom with an edgy design tone. The black accent colours actually emphasise the interesting shapes and are paired with warm woodgrain patterns for a moody and masculine design touch.
#3 Luxurious Details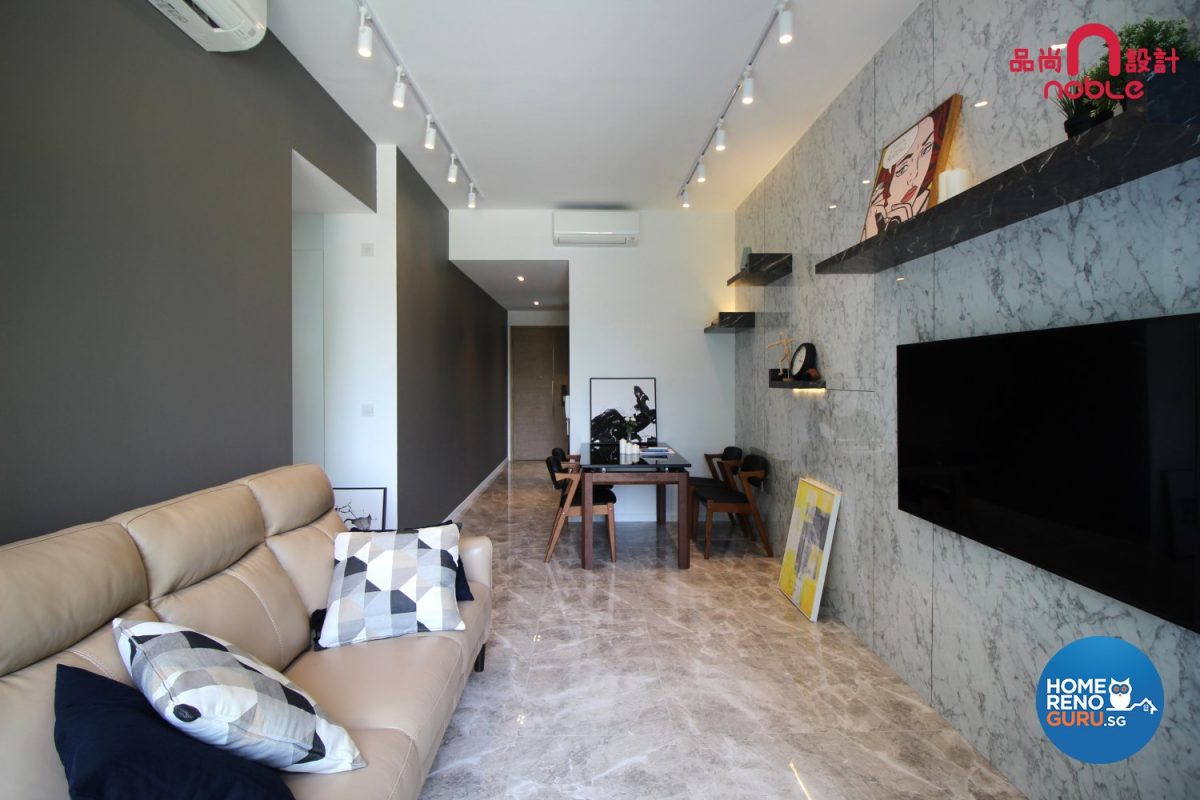 2-Bedroom Condo @ Santorini by Noble Interior Design Pte Ltd
When dark neutrals like grey are paired with natural stone finishes, the results can be spectacular as seen in this condominium unit. Both elements bring out the best of each other and this imparts a style that is timeless and effortless.
#4 Decorative Shelving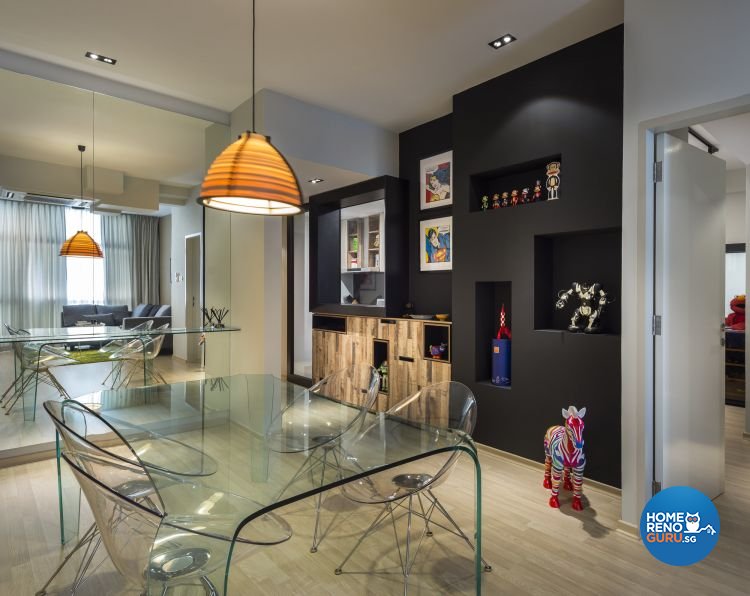 Condo @ Havelock Residence by Prozfile Pte Ltd
For more breathing space, incorporating shelving or niches within dark-coloured finishes will lighten the heavy tone. These shelves allow the homeowners to showcase artworks and other decorative pieces with flair. Their bright colours and distinctive forms definitely pop amidst the grounded backdrop.
#5 Nature-Inspired Elements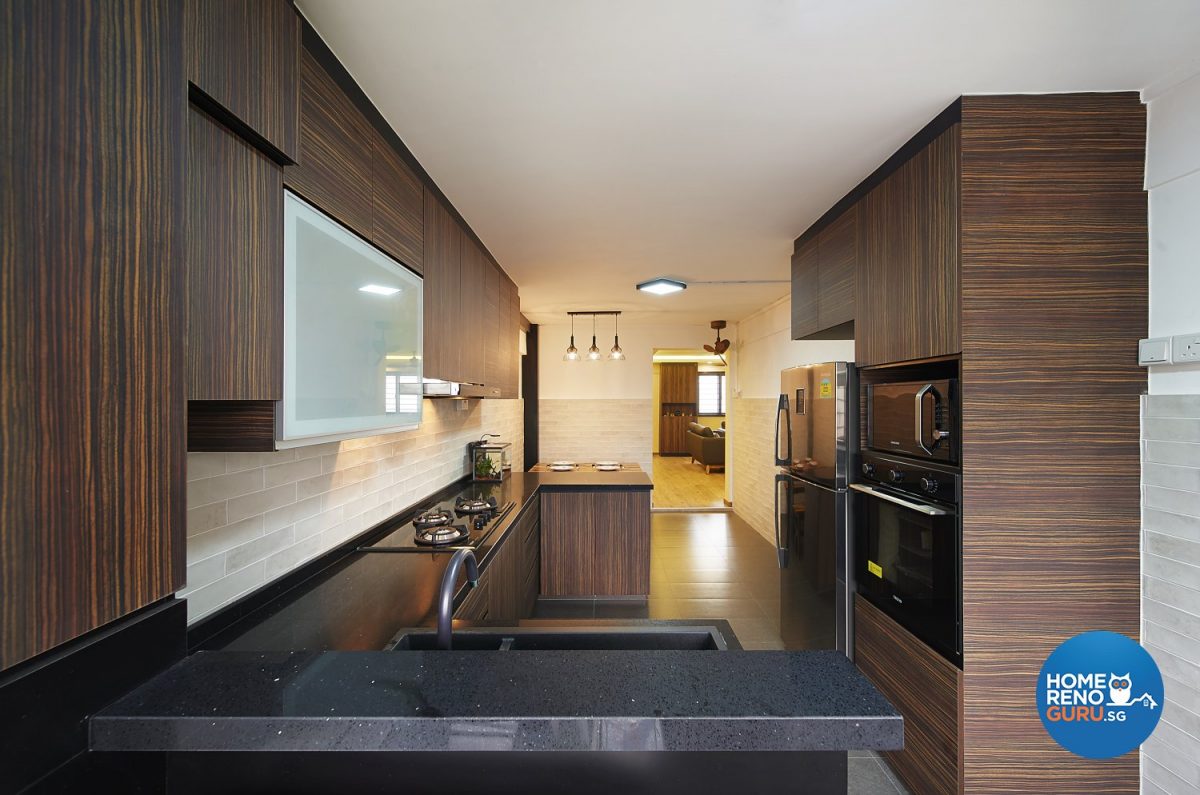 4-Room HDB Flat @ Bedok North Ave 4 by Dezign Culture
What draws more daylight in than nature itself? By using a sandy-coloured tiled backsplash, this kitchen's cabinetry in dark woodgrain accents appears brighter and easier on the eye. A solid-coloured backsplash in a lighter tint works just as well but using nature-inspired palettes will complement the overall look better.
#6 Painted Feature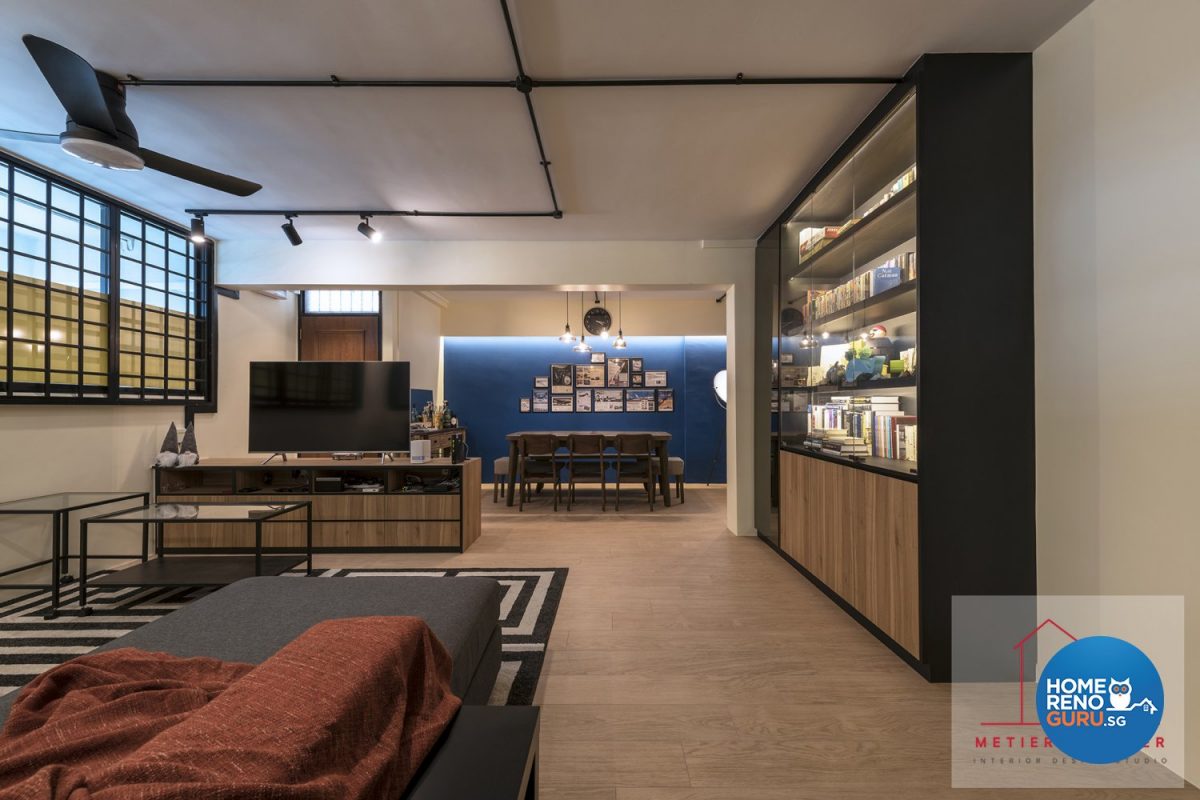 4-Room HDB flat @ Bedok South by Metier Planner Pte Ltd
Dark outlines like the exposed lighting wires and track lighting may achieve the desired effect of an industrial style; it can also create a messy outlook for the ceiling. To dial down on that, shift the focus with a painted wall in an eye-catching tone of blue.
#7 Illuminated Platform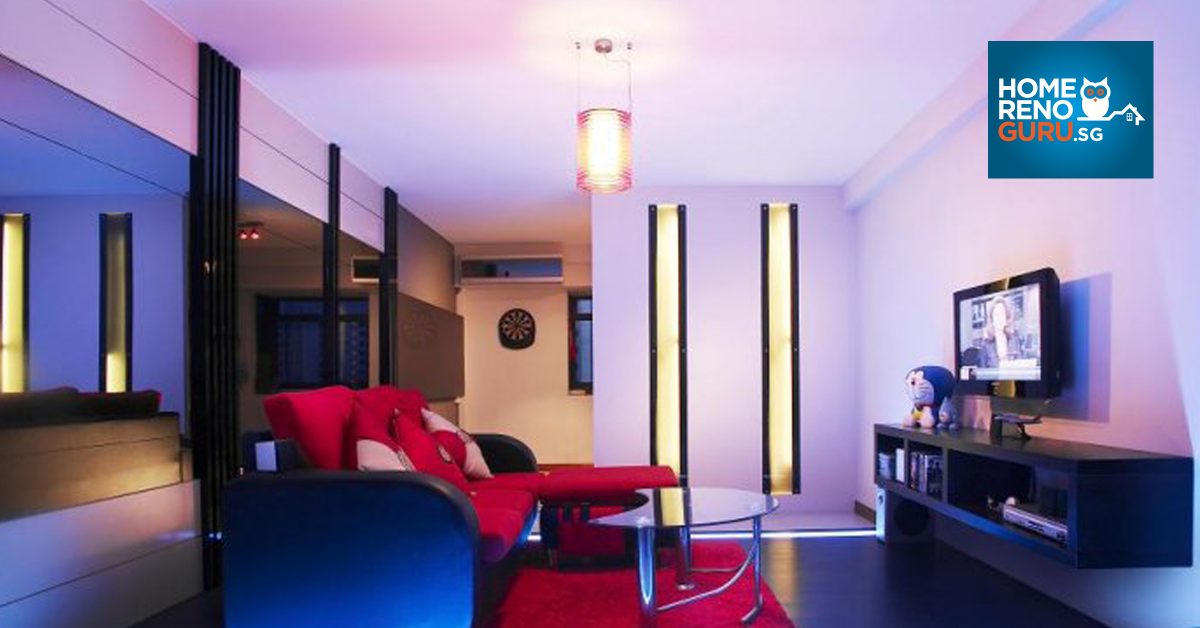 Flat @ Jurong West By Dreamvision Designer Pte Ltd
Black or other dark-coloured flooring colours make a sensible option; especially for areas that receive high traffic like the communal zones.  It is practical because it masks dirt and stains. This dark-coloured raised platform elevates the living zone to mark a distinction from the rest of the zones. The application of light strips at the base adds a sleek floating effect that minimises the visual overload of dark hues.
Ready to the dark colour palette that perfectly suits your renovation aesthetics? Leave the ideation to the experts! Simply request for a free renovation quote here, and we will match you up with interior designers based on your needs.
What's more? Stand a chance to win a Mercedes-Benz CLA 180 Coupe & Free Home Renovations worth $30,000!