How to Create An Optimal Sleeping Environment in Your Bedroom
25 Aug 2017
Who doesn't like sleeping? Long gone are the days when our parents had to forcefully drag us to bed because we hated sleeping so much. In fact, most of us are often caught saying, "I need my bed right now." Many times, we go to bed feeling exhausted and wake up not feeling any better. When was the last time you actually had a good night's sleep? A few days ago? Last week? Or it's been such a long time that you can't even remember? Then perhaps it's time for you to get some tweaks done to your bedroom.
1. Get Room Darkening Shades or Curtains
Cool, dark and quiet. Those are what an ideal sleeping environment is. Darkness helps to increase the amount of melatonin in your body — the hormone that controls drowsiness and body temperature — so that it is easier for you to fall asleep. Your sleeping eye mask is probably useful in blocking the light into your eyes, but that's about it. Get some shades or curtains to keep the brightness away from your room.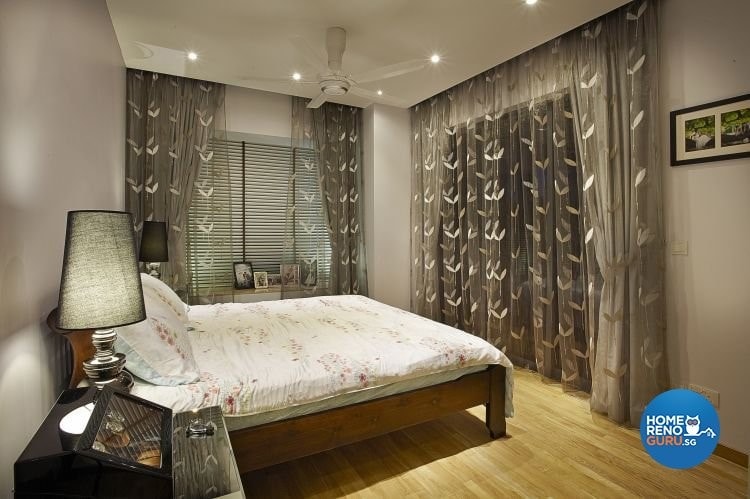 Condo – Amber Gardens by Carpenters Design Group
To achieve a "peaceful Zen ambience for the master bedroom", Lawrence Ho, the Creative Director of Carpenters Design Group, used "translucent day curtains and mid-grey night curtains so the sunlight coming through the windows would not be too glaring." He also added, "I also designed the down lights to be arranged in a L shaped fashion so the lighting would be all-rounded in the room's area to create a soft warm ambiance instead of a large focus at the center of the room like other common room designs would have."
2. Keep The Room Uncluttered
A messy room is the last thing you need for a good night sleep. Clear the piling mess as soon as possible and always make your bed after your sleep. It will definitely make you feel better and relaxed seeing a neat comfortable bed after a long day at work. It is not a good idea to have a lot of accessories (especially with clashing colours and sizes) hanging on your wall or on the table. Make it clean and organised just like what you want your mind to be when heading to your bed.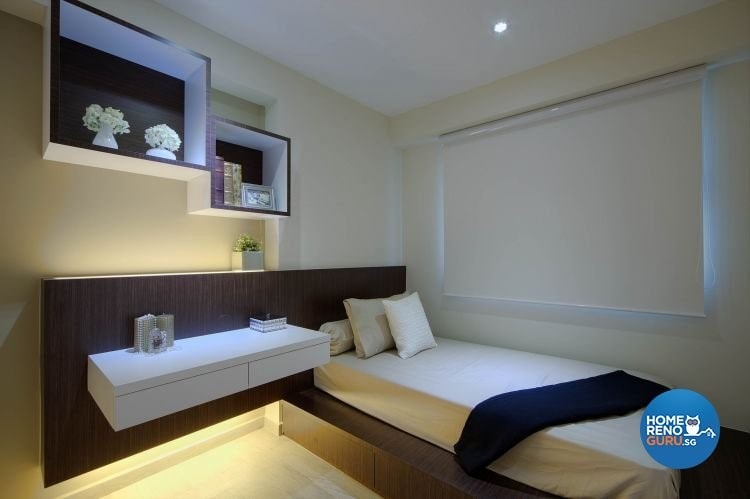 HDB – Buangkok Vale by Thom Signature Pte Ltd
Thomas Poon from Thom Signature Pte Ltd created this minimalistic layout to "explore more space in the centre of the bedroom." The addition of the simple platform for the bed also helps to "optimise storage space and visually enlarge the bedding area," so the bedroom will look more organised.
3. Pick The Right Colour For Your Bedroom Walls
While you may be obssesed with the colour shocking pink, or you are just a plain boring person that paints your bedroom (or the whole house) white for simplicity sake, be surprised that the colour of your bedroom can determine the amount of sleep you get. Look for cosy and soothing colour such as blue, yellow, and green to have a longer sleeping time. Meanwhile, the colour purple, grey and brown are best to be avoided since they give a rather depressing and gloomy tone.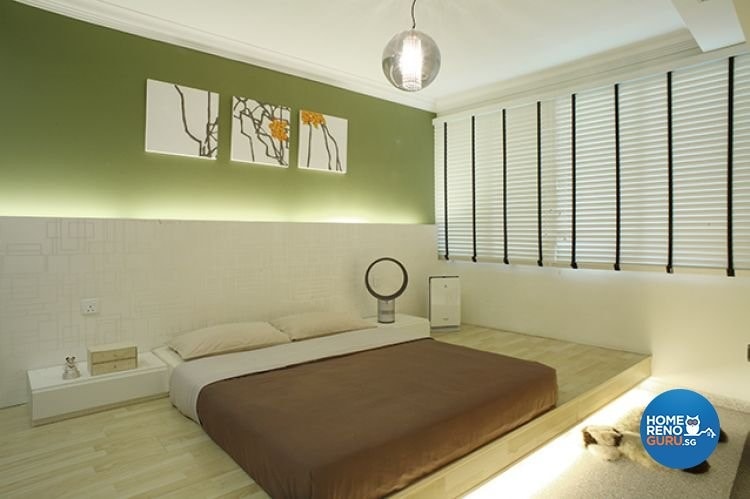 HDB Project by Wideangle Pte Ltd
4. Make It Personal
All these tips may sound too rigid for you, but don't be afraid to make your bedroom as personal as you can. You have some eclectic artwork or nostalgic soft toy that you love so much? Bring them to your bedroom! Your bedroom is the reflection of your personality and styles. Personal touch helps you to snooze faster, but the key is not to overdo it.

HDB Resale Executive Apartment – Hougang by The Local INN.Terior
5. Utilise The Space
Everyone needs some space to breathe, literally and metaphorically. The cardinal rule is to never place your bed diagonally. Placing the head of the bed against the wall gives not only space, but also a neat look for your bedroom. Another cool trick is to get some furniture with built-in storage. Besides saving some space, they can be some of the things you "wow" your visitors with.

HDB 4 Room Tampines by Luck Ann Construction and Renovation
"The room is designed rather bright with light shades so that it will look neater yet not overly glaring," said Richard Soon from Luck Ann Construction and Renovation. He realised that nowadays, the HDB rooms are getting smaller so "putting the bed on top of storage units will help to optimise the space well."
No one should be deprived of a good rest, so start making it happen! Another thing you may also want to check on is the condition of your mattress and pillows. If you are still not sure where and how to start on a major revamp on your bedroom, do seek for consultation with an expert to make your life so much easier.