Visual Harmony: A Single Material Across Multiple Surfaces
22 Oct 2021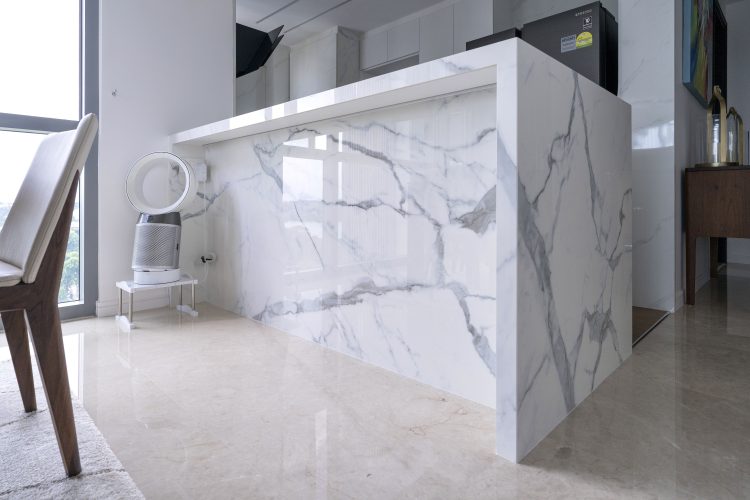 When it comes to surface materials and finishes in interior spaces, less is almost always more. The widespread use of a single material such as Gardenia Slabs Sintered Surface creates a flow of colour and texture that visually connects your open spaces and gives you the luxury of concentrating on the details.
Simplicity and Continuity

If you've lived in a home for more than a decade, you've probably made a succession of ad hoc repairs, replacements and improvements in a piecemeal fashion. No doubt every choice seemed like a good idea at the time, but the nett result is probably 'eclectic' at best and a mixed bag of clashing styles at worst.
A pending home renovation is the perfect opportunity to wipe the slate clean and create a clean canvas and an elegant backdrop for living well.
If you number among the majority who have opted for an open plan concept, stand in the middle of your living area and look around you. Take note of what's visible in every direction. These are your sight lines. Ideally, there should be a thread of continuity connecting the purpose-defined areas of your kitchen, dining area and living area, and the entrance hall and passageway that lead in and out of them. While flooring and a common paint colour go a long way to establishing continuity, Gardenia Slabs Sintered Surface adds a new dimension, quite literally, for they can extend beyond flat surfaces and wrap around your built-in fixtures.
The application of Gardenia Slabs Sintered Surface in a single colour, or in a pair of contrasting colours, imparts an elegant architect-designed feel to a home. They are virtually indistinguishable from marble and other types of natural stone, yet are far more affordable and durable. Available in over 80 colours and a myriad of matte and polished finishes, they offer endless scope for creative freedom.
It's not surprising that a growing number of local and international architects are embracing this all-natural engineered material from Italy, which imparts a grandeur that far exceeds its price tag.
In the Living Area
Television has assumed new importance as technology has turned our TV sets into multi-media screens for gaming, videoconferencing and watching TV. Not surprisingly, the TV feature wall has become an almost standard feature in modern homes.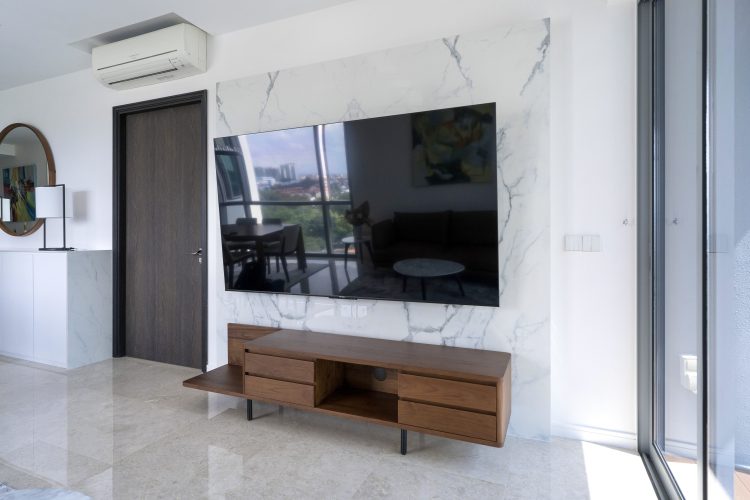 Rather than a timber veneer or laminate, why not consider the enduring beauty of Gardenia Slabs Sintered Surface for your TV feature wall? Two slabs with identical patterns of veins can be joined to create a stunning bookmatched effect, and multiple slabs can be joined to create continuous patterns.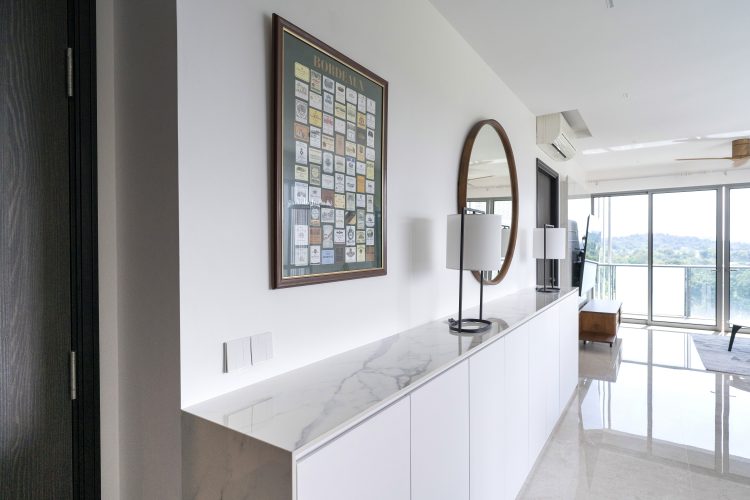 The constant lament of homeowners is that they never have enough storage space. Ideally, the problem should be addressed at the planning stage of your renovation.
In the living room, a built-in console or cabinet clad in Gardenia Slabs Sintered Surface is an ideal way to integrate much-needed concealed storage with your contemporary decor. Unlike free-standing cabinets that tend to segment a space, it can also visually enlarge the length of a room.
Gardenia Slabs' large format panels are available in a wide range of thicknesses, from a mere 6.5mm to a sturdy 20mm, making them suitable for everything from lightweight consoles that merely conceal wiring, to cabinets that carry heavy loads.
In the Kitchen

Gardenia Slabs Sintered Surface is a great choice for modern kitchens not only because of their stunning looks, but also for their durability and ease of maintenance.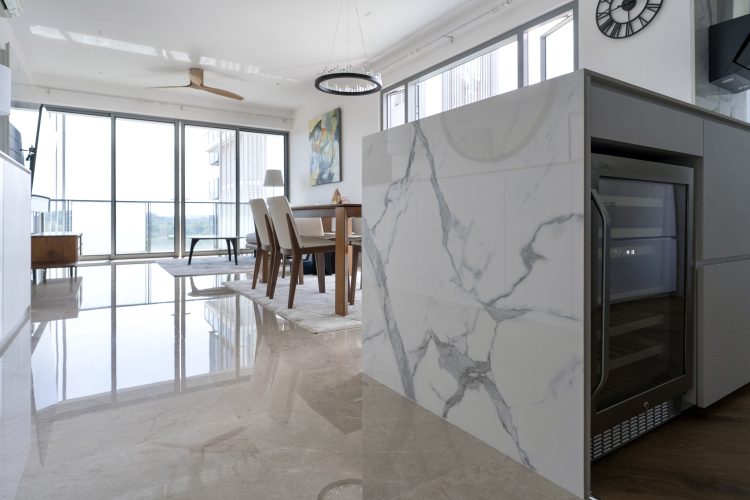 Unlike marble, granite, quartz and other undeniably beautiful yet relatively fragile natural stones, Gardenia Slabs Sintered Surface is stain-resistant, impact-resistant, scratch-resistant and heatproof. They relegate chips, scratches and heat rings from hastily placed hot cookware to a thing of the past. In addition, because they come in large format panels, all except massive commercial-scale fixtures can be clad with single panels, avoiding unsightly seams that collect grime and bacteria.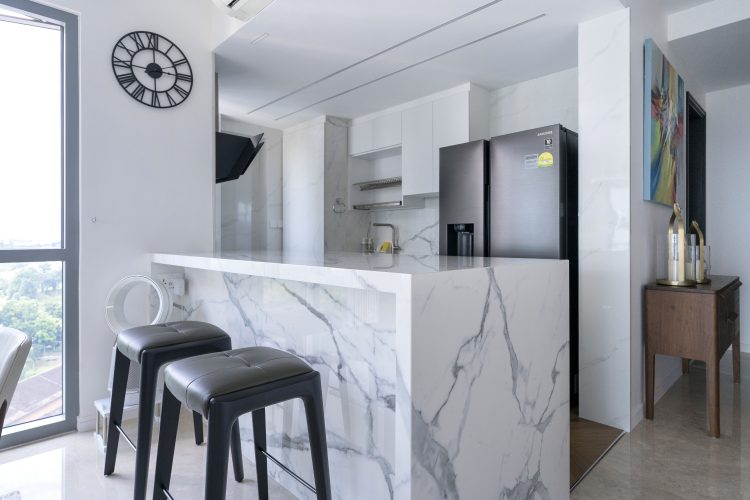 An almost standard feature in compact flats and condominium apartments, the semi-attached breakfast bar is transformed into a showpiece with Gardenia Slabs Sintered Surface. Nobody ever needs to cry over spilled milk or even red wine – come evening when the breakfast bar morphs into a sophisticated cocktail bar. Since the surface is non-porous and stain-resistant, it is restored to pristine perfection with just a wipe of a cloth and an everyday multi-purpose spray.
Countertops with matching backsplashes, standalone island benches with built-in hobs and ovens – you can confidently clad them all in Gardenia Slabs Sintered Surface for a put-together, designer kitchen.
In the Bathroom
The smallest room in the house has become so much more than a place for cleaning and grooming. It is now a personal sanctuary for self-care, pampering and mindful reflection. The visual appeal and tactile pleasure of Gardenia Slabs Sintered Surface add a luxury feel to vanities, feature walls, shower partitions, built-in tubs and more.
Thanks to the absence of seams and grout lines, Gardenia Slabs Sintered Surface is a breeze to clean. You can confidently disinfect them, too, without fearing chemical erosion or discolouration.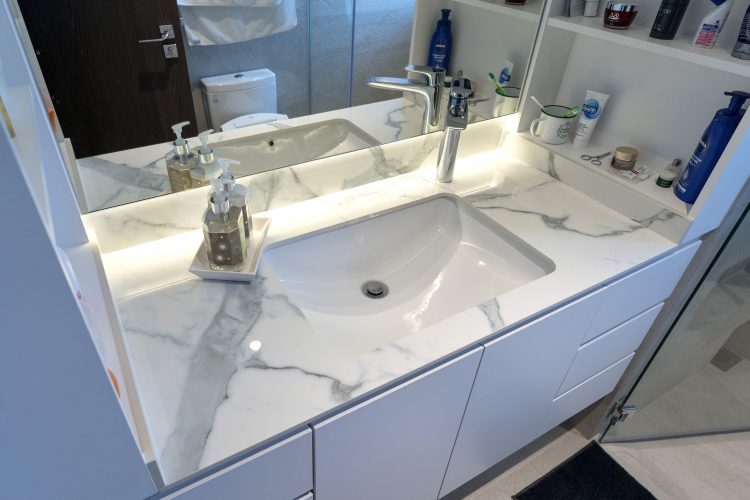 In Person
Pictures and words alone barely do justice to the natural magnificence of Gardenia Slabs Sintered Surface. Why not visit the inspiring showroom of the Bellus group, the exclusive distributor of Gardenia Slabs Sintered Surface in Singapore, and see them in person? Alternatively, download the catalogue or call 6555 3528 and enquire about an obligation-free quote for your home renovation or commercial project.