Meet Me At The Bar - The Versatility Of Bar Counters
18 Dec 2019
The bar counter is arguably the hottest thing in kitchen design right now. In fact, around half of all local homeowners who renovate their homes now want one. It is no surprise that this is made even more possible with the option of open-kitchen layouts in new BTO flats now. Let's take a look at some brilliant examples that serve a wide array of purposes.

HDB 4 Room 234B Sumang Lane | De Style Interior Pte Ltd
Cook-While-You-Chat-with-the-Guests Bar
This rustic-industrial design extends just above the kitchen sink and work counter, hiding the messy food-preparing while allowing the chef to interact with her guests. The open shelving on the outward facing of the bar is perfect for storing pretty napkins, salt and pepper shakers, toothpicks and that collection of gourmet artisanal salts you've been collecting.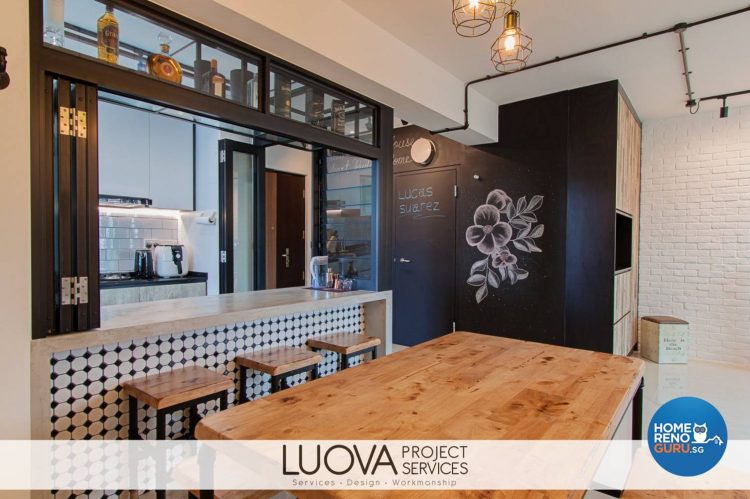 HDB 4 Room McNair Towers | Luova Project Services
Wake-Up-and-Smell-the-Coffee(-or-Not) Bar
This bar counter doubles up as a breakfast bar and the fourth 'wall' of an enclosed kitchen when the folding glass panels are closed. It means you can wake up and smell the coffee – or smell nothing at all. Many homeowners are opting for this flexible configuration to contain cooking smells when necessary – and open up the space when it's not.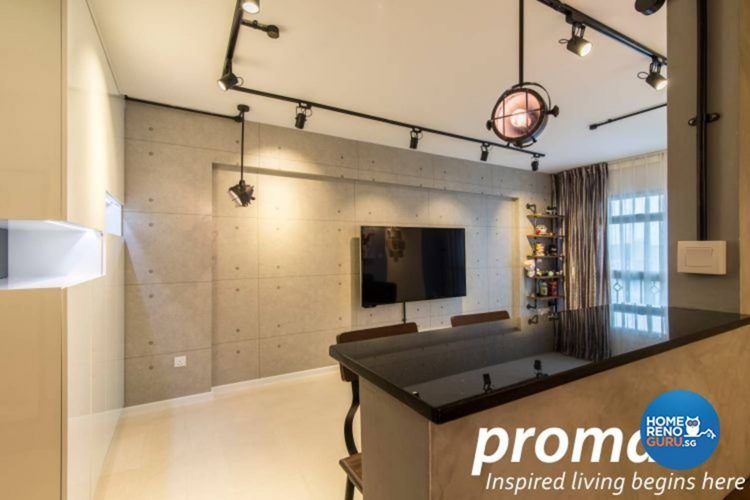 HDB 4 Room 51 Strathmore Ave | Promax Design Pte Ltd
Do-Anything-and-Everything Bar
This neat 2-seater counter is good for breakfast, lunch, dinner, midnight snacks, reading the newspaper, working on your laptop… the list goes on. May we also add that the glossy black laminate is a breeze to wipe clean, and visually chimes with the black powder-coated track lighting and semi-industrial lamp design elements of this house. Score!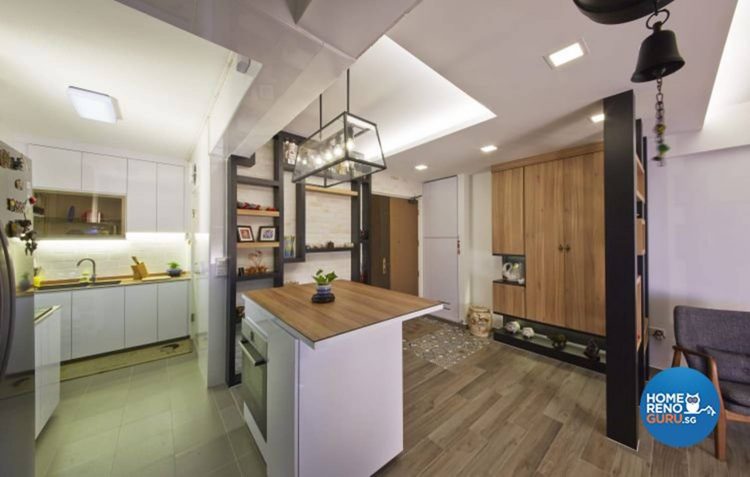 HDB 4 Room 670C| Edgefield Plains Waterway Ridges|Carpenters
Looking for Interior Designers?
Let HomeRenoGuru help!
Mum's-Home-Bakery Bar
This seemingly-small bar counter in this open-concept kitchen accommodates a built-in oven and also serves as the preparation space and storage space. You can mix up a batch of biscuits while you chat with the family in the living area, and even steal a glance or two at the TV while you're creaming the butter and sugar. Store your stand mixer, bowls and baking trays in the cabinet alongside the oven for added convenience.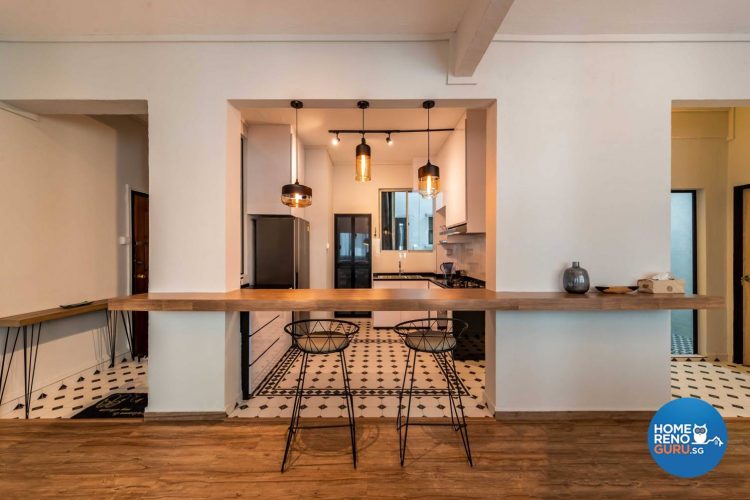 Condominium 1 Jalan Jintan | Leef Deco Pte Ltd
Long-Days-into-Late-Nights Bar
This versatile floating wooden bar counter gives an unobstructed view into the stylish monochromatic kitchen. The transparency of the 'legless and faceless' counter is echoed in the light, wire-framed bar stools that let light pass through them, literally. It's just the thing for casual dining, productive working, and sipping wine into the wee hours… all in the comfort of your own home.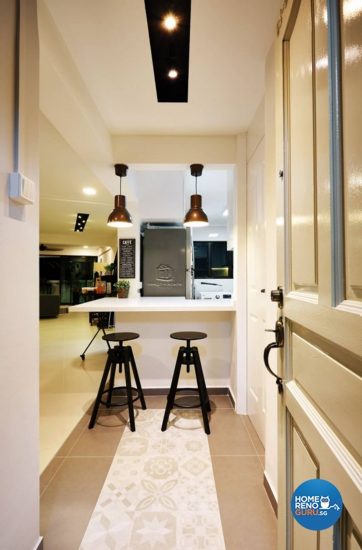 HDB Maisonette Bukit Batok St 52 | Design 4 Space Pte Ltd
Welcome-Home Bar
This L-shaped bar counter is one of the first things you see upon entering the house, triggering a grateful 'Phew, it's good to be home' feeling and strategically screening off the utilitarian area of the open concept kitchen. We love how the use of copper pendant lamps add a cosy glow, and the classic black and white always looks crisp and clean.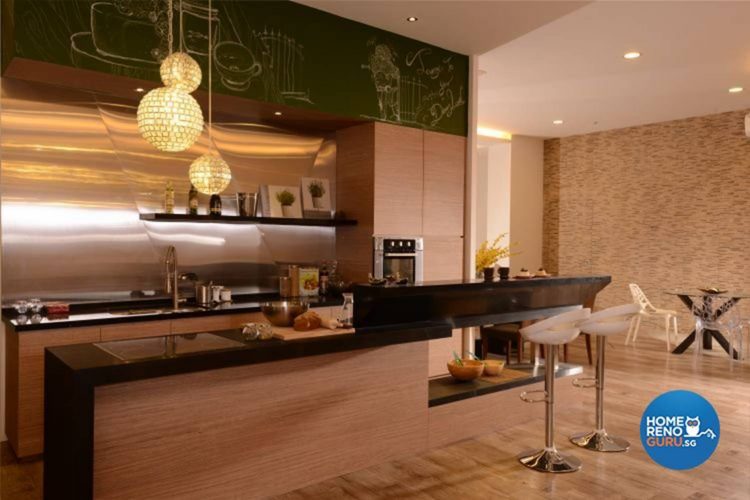 Feels-Like-Working-from-Home Bar
With the growing popularity of co-working spaces that feel like hipster apartments, offices are getting cosier and homelier. This gorgeous office space has a pantry that feels like a kitchen, and a distinctive zig zag bar counter that houses a sink and an extension for snacking, hot-desking and brainstorming. With offices like these, nobody minds working late!
Select the Best ID, Bar None
Regardless of what kind of bar counter you have your heart set on, you'll need a sympathetic and skilled interior designer to make it materialise. The interior design industry spans a ridiculously wide spectrum of IDs, from mediocre to marvellous, and without a trusted recommendation it is near-impossible to make an informed decision ­– unless you seek the counsel of HomeRenoGuru, Singapore's leading renovation app and website. They can match your budget and house type with a list of reputable and reasonably priced IDs. Better still, simply request a no-obligation quote