Interior Design Ideas Inspired by the Apple Store at Orchard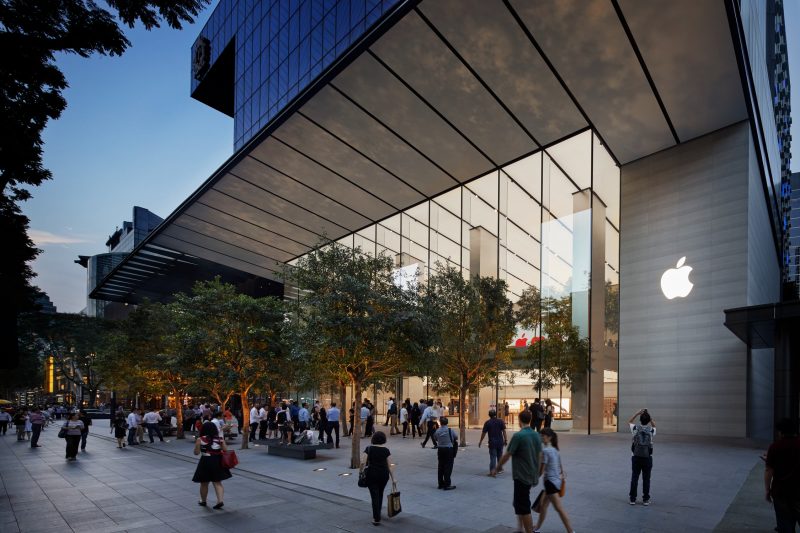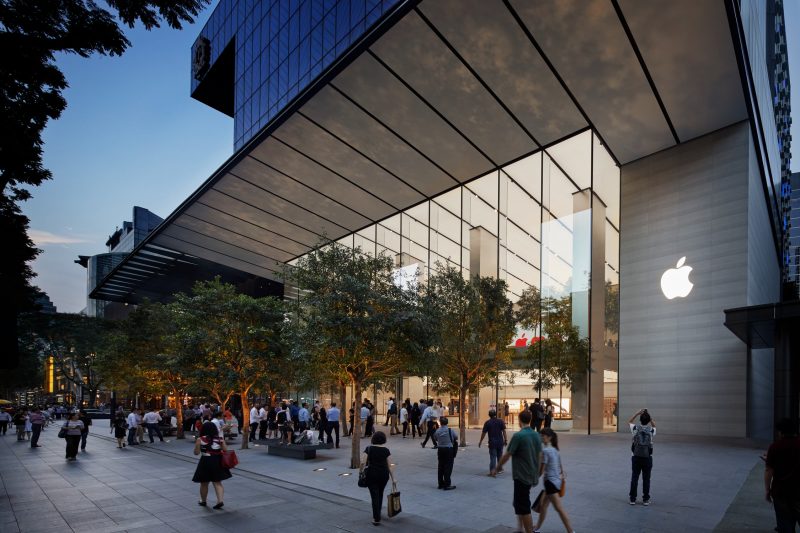 To the legions of Apple fans around the world, an Apple flagship store is so much more than a shop to buy Apple gadgets. It is a beautiful sanctuary that celebrates the love for all things Apple. It is all about the experience.
As Apple's senior vice president of Retail Angela Ahrendts shared,
"We view our stores as a modern-day town square, where visitors come to shop, be inspired, learn or connect with others in their community."
A huge part of creating that effect comes down to deliberate designing of the store interior. We have come up with 5 key elements of the Apple Store design that you can incorporate into your homes.
1. Modular Elements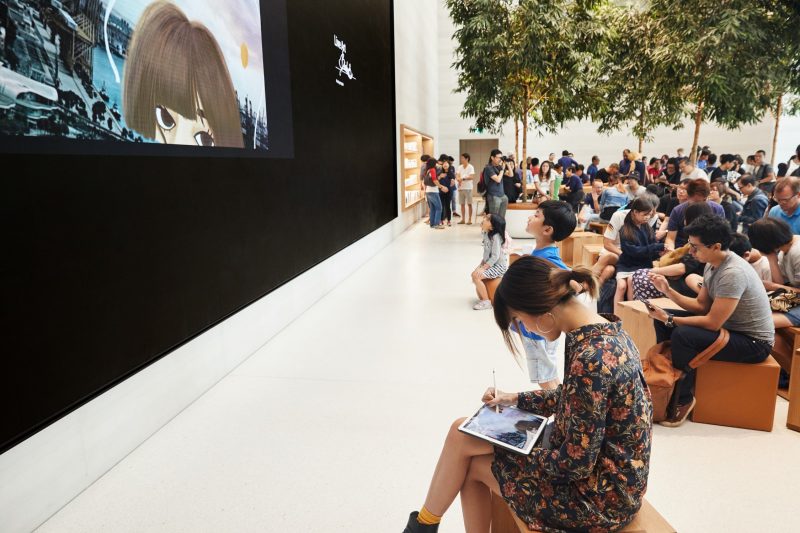 On the second floor of the Apple Store where the much hyped about Today At Apple program is held, you will find a vast screen flanked by two majestic rows of greens with a spread of cute little light brown squares of chairs in between. These little chairs can easily be shuffled about, placed side by side, or even stacked on top of one another, which make them a kind of modular furniture.
In your home, you can also make use of modular furnitures like modular shelves, kitchens and sofas. For modular sofas, be inspired by Werner Aisslinger's Bikini Island and make your very own from Ikea. In terms of functionality, Ivan from Ideal Design recommends modular wardrobes, "if you expect to have a lot more clothes you can always add an extra compartment, like a drawer."
2. Open Spaces
A hallmark feature of Apple Flagship Stores including our local one is its sheer spaciousness. After all, space is luxury and Apple knows that well. In the Apple book of interior design, open spaces have just as much furnishing value as a table or a chair. By consciously planning them into your home's overall design it can elevate your overall home decor by leaps and bounds. But for most who live in HDB units, having a 10 meter high ceiling is a distant dream. Instead, we can try to maximise floor space by using space-saving furniture like foldable chairs and hanging them on your wall. But if you plan on doing that make sure to engage an ID, for it involves many hidden considerations, as Clara from Weiken.com pointed out. "There are many factors, for example you can't hang them too high up or you can't reach the chairs, but if its too low it will obstruct the way."
3. Soft Light & Greenery
Another feature of the new Apple Store is the soft lighting and greenery used in its decor. Notice the lighting in the Apple store always feels natural (even if it's artificial) and is never harsh on the eyes.
While you certainly don't have to go to the lengths that Apple had and hunt for trees from Malaysia, you can consider introducing bigger plants into your homes instead of having the usual small potted varieties. As for achieving Apple's soft lighting, Anne from CAD Associates suggests that you use tube lighting instead of LED, and "create shadows in the room using wall lights."
4. Balance Between Cool & Warm Colours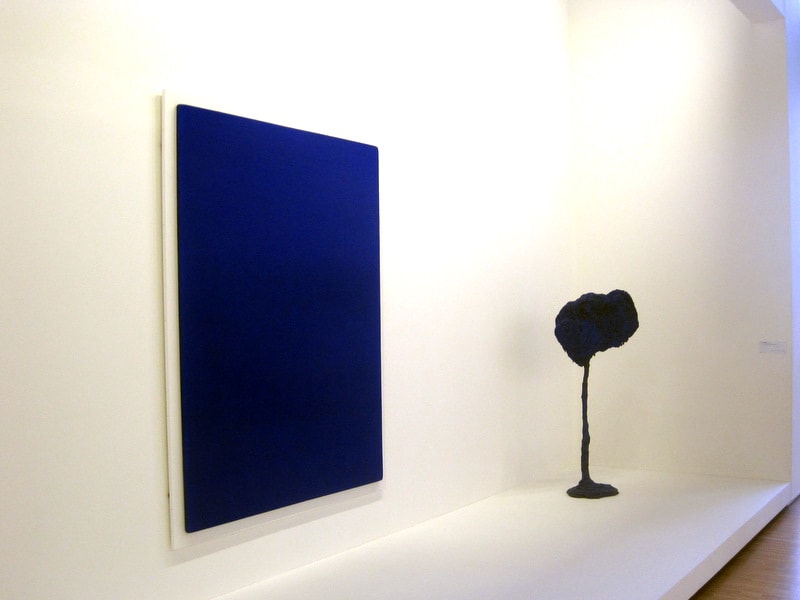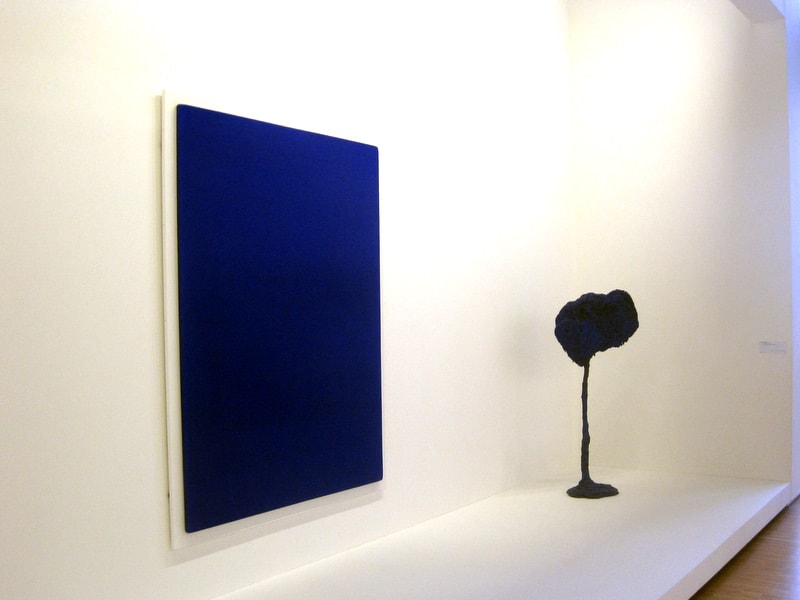 "Yves Klein: Blue Monochrome" by Roger / flickr
Having a harmonious mix of cool and warm colours is key to any well-designed home. If there are only cool colours, the room feels cold; with too many warm colours, the rooms looks drab. The blue-tinged ceiling-to-floor glass panels at Apple's storefront balances the light warm tones of the store interior well. In your homes, it can be as simple as hanging a painting with bold blue colours in the living room if you feel that there are too many shades of brown.
5. Bare Essentials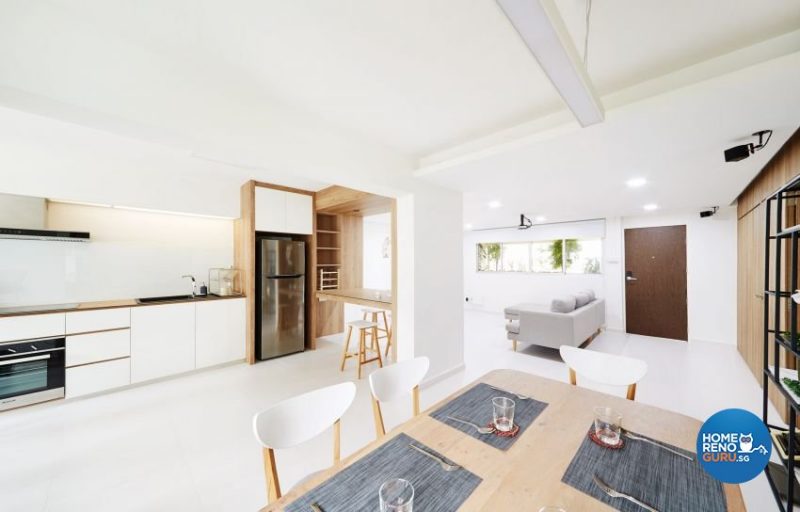 HDB 4 Room by The Local INN.Terior
For anyone who has stepped into the Apple Store, it is striking how clutter-free it is. From the two grand Apple Park inspired curved Castania stone staircases to the minute details like the wires charging the display models, everything is pared down to their essential form and function. In your homes, you can abide by this philosophy by only buyings things you actually need and clearing clutter regularly. This makes cleaning and tidying a lot easier too.