3 Room HDB Design Ideas For A Trendy, Space Maximising Home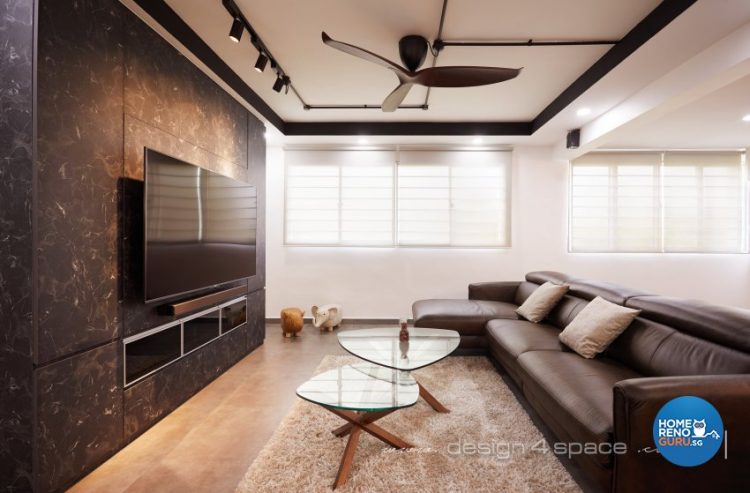 Designed by Design 4 Space
Due to the smaller floor area, 3 room HDB flats are often perceived to only be suitable for singles and couples without children. However, with the right tips and tricks to optimise space, these flats can also be spacious enough for young families!
In this article, we'll show you some stylish 3 room HDB designs that incorporate space-saving tricks and share some additional tips for your home renovation project!
For an open-concept home
Hack down walls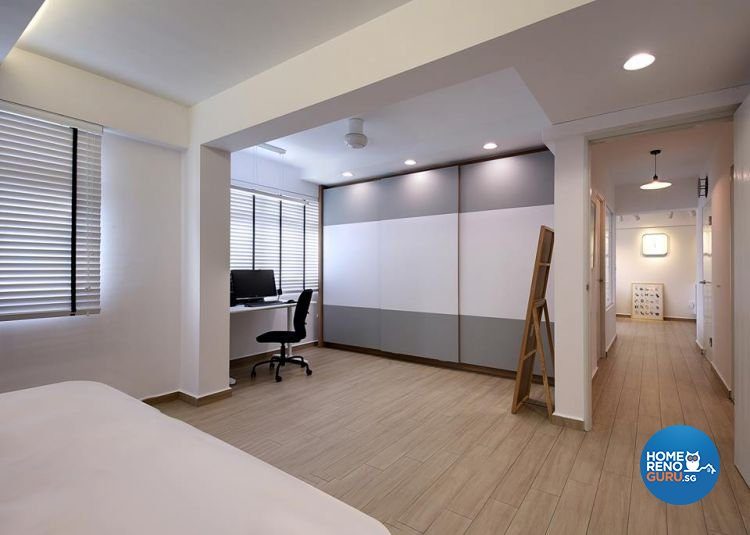 Designed by Renozone
You can instantly make your room feel more spacious by hacking down walls, just like this flat in Yishun. With a larger bedroom, the homeowners could now set up a cosy little home office just near their bed!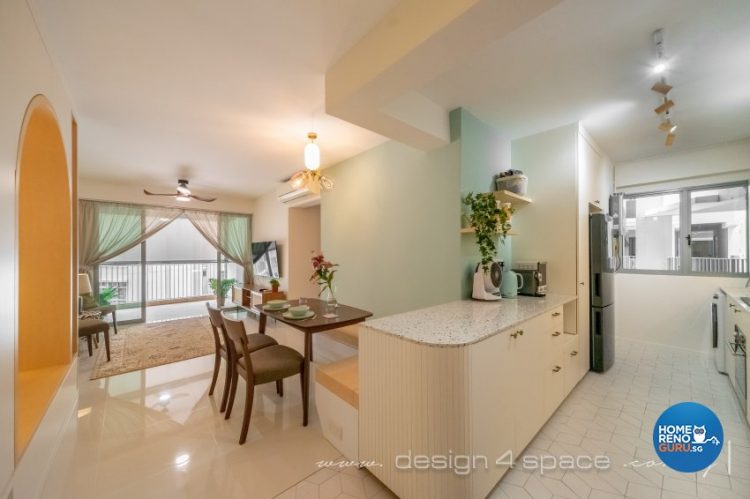 Designed by Design 4 Space
You can also explore the idea of an open kitchen concept so you can entertain guests while whipping up a sumptuous meal.
If you'd like, you can indicate a separation of rooms with different tiles and colours for the walls and furnishings!
Adopt a broken-plan layout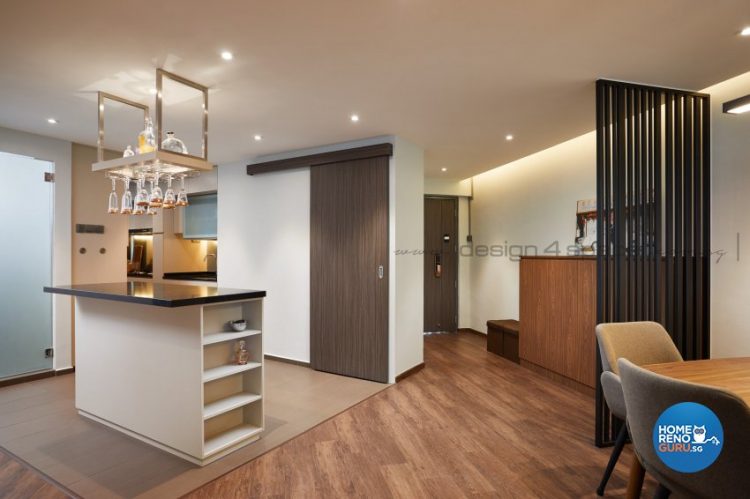 Designed by Design 4 Space
Take the open-concept home to a new level with a broken plan layout. This idea retains the spaciousness of an open concept while using subtle cues to divide the space such as partial dividers and elevated flooring.
In the case of this home, the interior designer (ID) used different flooring to denote the bar and kitchen area as well as a see-through panel partition to separate the entryway from the dining room.
For the illusion of a bigger space
Glass partitions and sliding doors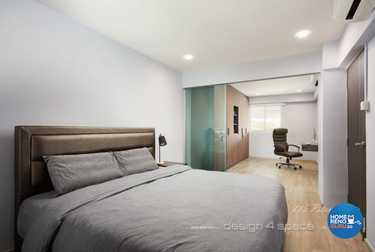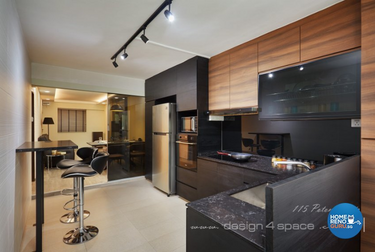 Designed by Design 4 Space
If you prefer to retain some form of physical separation between rooms while still creating a more spacious look, try opting for glass partitions and sliding doors. They help to open up a room and prevent it from looking cluttered. However, glass doors can be easy to miss. 
Guests or family members in a rush may walk right into the door and get injured as a result. To avoid this, consider installing lightly tinted glass doors like this home in Potong Pasir!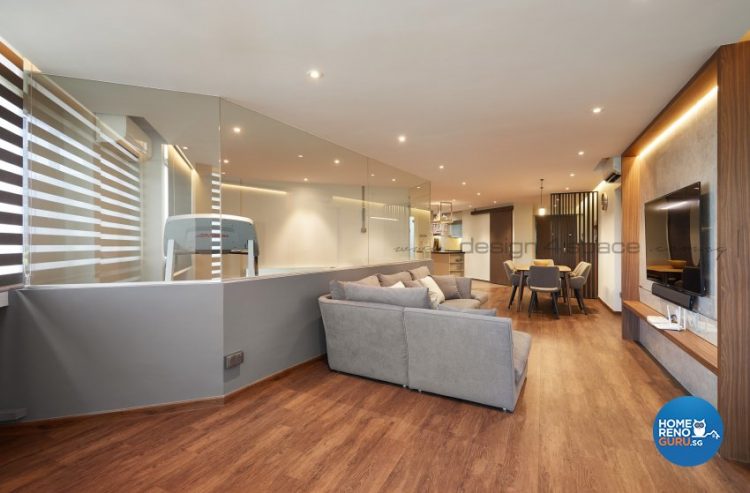 Designed by Design 4 Space
Alternatively, opt for a semi-partition with the top half made of glass like this home gym. With this, you can install important fixtures like wall plugs and even enjoy your favourite Netflix show while working out!
Floating shelves and tables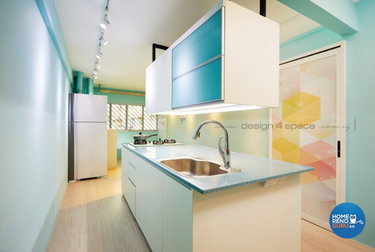 Designed by Design 4 Space
Another way to make your home look more spacious is to leverage the vertical space in the house. Installing floating cabinets and shelves allows you to free up floor space for other furniture.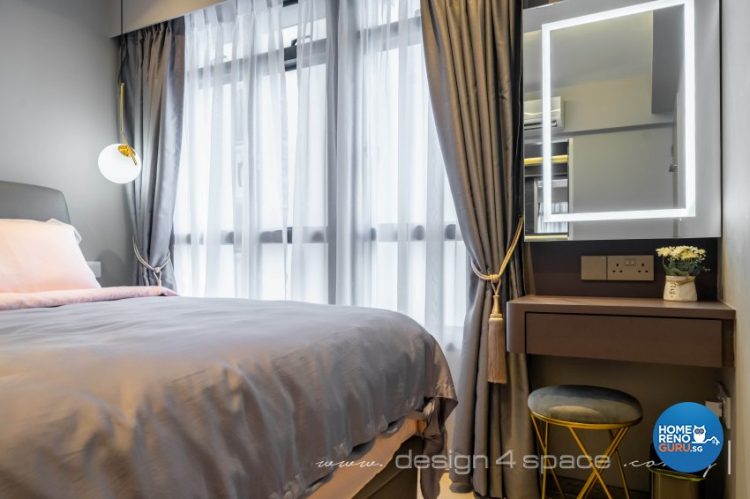 Designed by Design 4 Space
You can even install floating tables like this tiny dressing table to save space and allow a wider area for walking.
Space-saving tables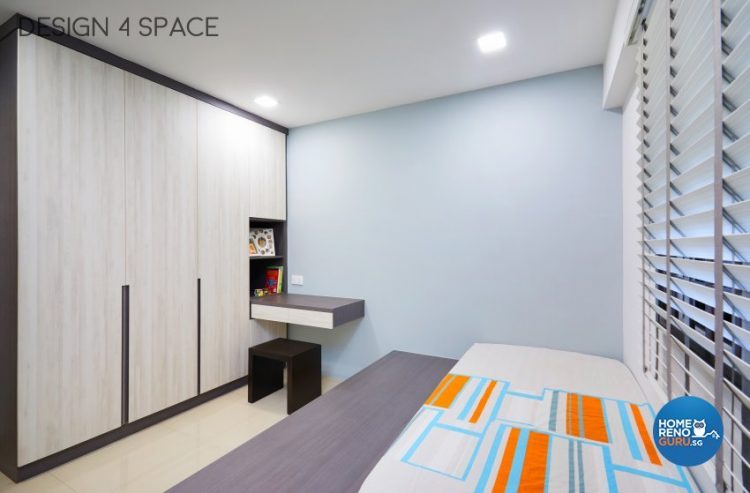 Designed by Design 4 Space
With a 3 room flat, it might be difficult to have a separate home office or study room.
One way around this is to incorporate a space-saving table within your wardrobe. Simply pull it down when you need it and stow it away when not in use.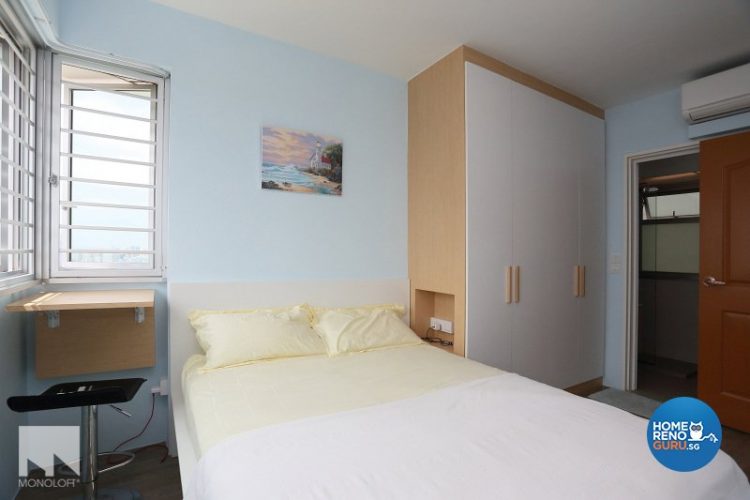 Designed by Monoloft
Another way to install a space-saving table is on your wall. Just fix a small collapsible table in one corner of your room that can be folded downwards when not in use!
Mirrored walls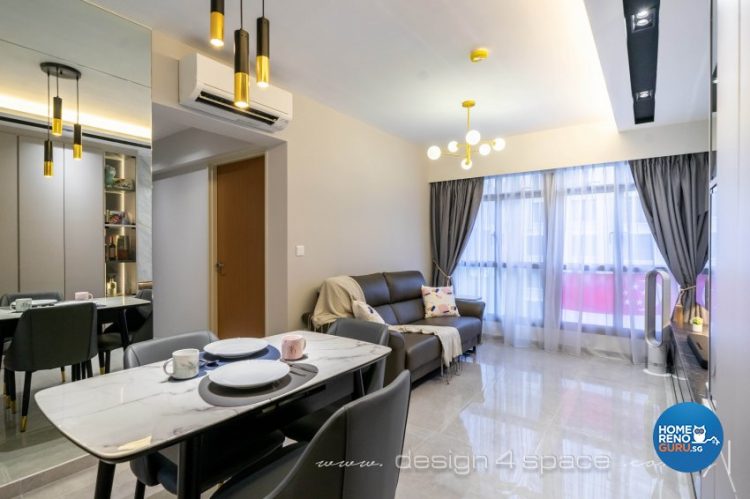 Designed by Design 4 Space
What better way to create an optical illusion than to use mirrors? Transform your wall into a full-length mirror from floor to ceiling and watch as your room turns into one that's double its original size.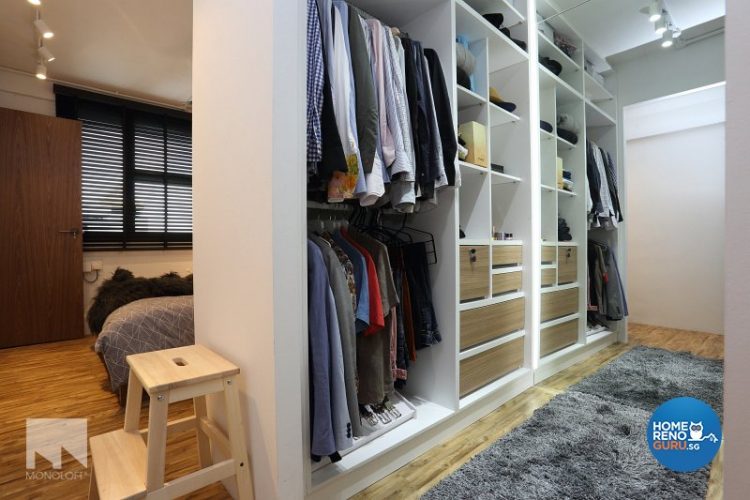 Designed by Monoloft
This versatile idea can be adopted anywhere in the house, including inside a walk-in wardrobe! This clever design allows the owner to have a full view of their outfit while "extending" the room to look twice its length.
For more storage
Integrated shelves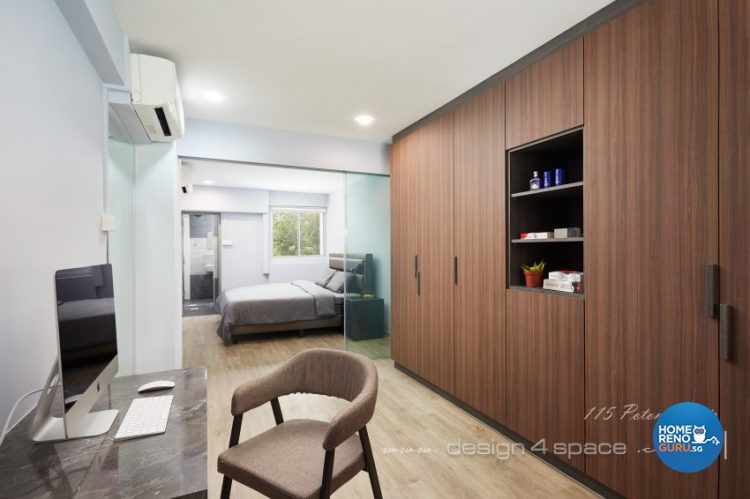 Designed by Design 4 Space
If you don't require as much cabinet space and prefer open shelves, consider asking your ID to design an integrated shelving system.
Designing your cabinet like the one shown in this home allows you to easily retrieve your items without having to open the cabinet doors. You can even display figurines or other decorative items on the shelves for an aesthetic look!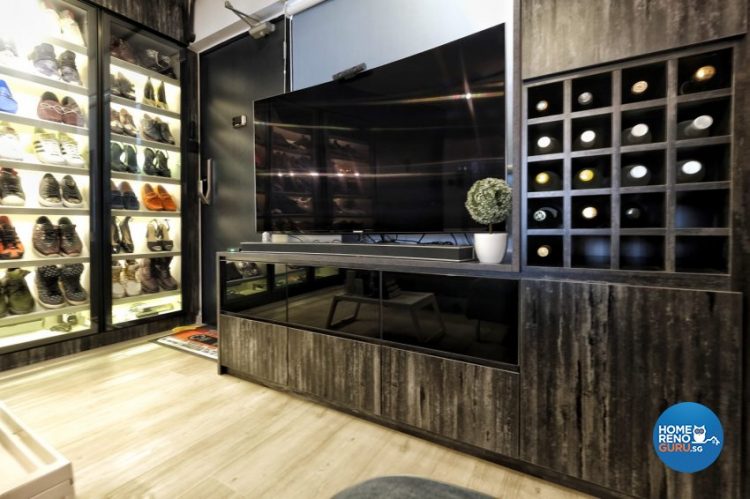 Designed by United Team Lifestyle
Calling all wine connoisseurs — here's how you can display your wine collection for all to admire!
Get inspiration from this homeowner in Bedok who placed their vast collection of empty wine bottles on display in an L-shaped cabinet where the TV sits.
Seats with storage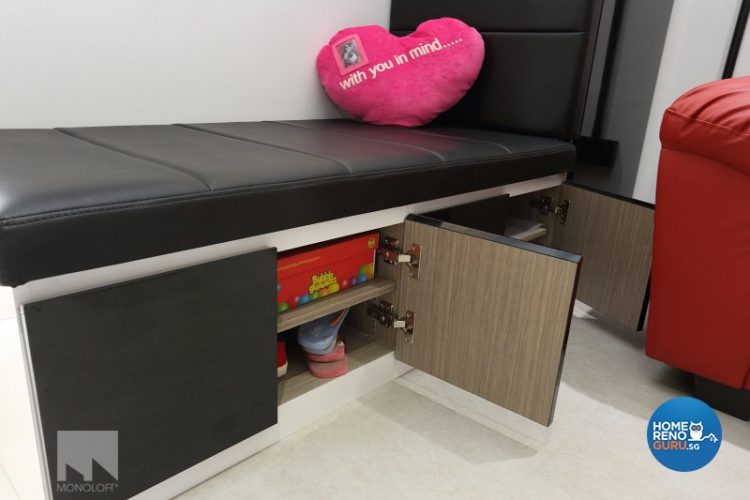 Designed by Monoloft
Some of us may have a seat beside the main door where we can wear our shoes comfortably. Double up on its use by designing or purchasing one with hidden compartments where you can store items like footwear.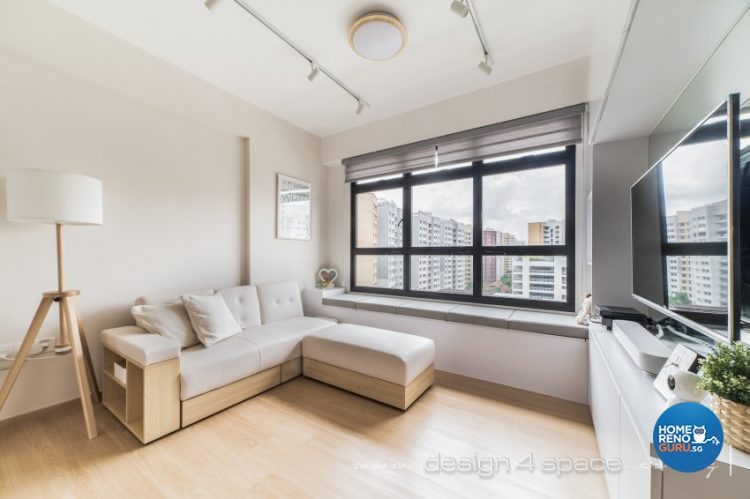 Designed by Design 4 Space
This sofa armrest is a brilliant alternative to storage spaces that are located underneath seats. 
Though it isn't hidden, it's easy to access and incredibly functional since you won't have to worry about moving cushions and pillows just to get to your items.
Platform beds with storage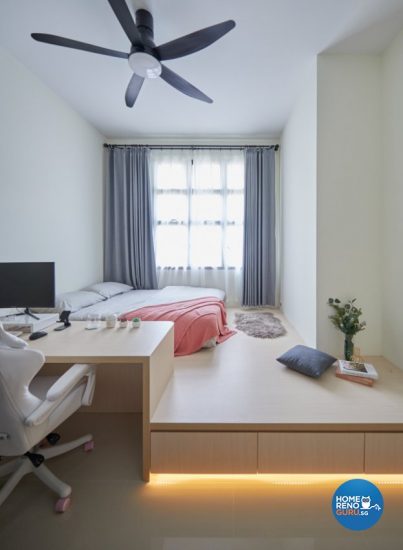 Designed by PRDT Pte Ltd
Platform beds can be functional on top of being aesthetically pleasing when you incorporate storage spaces into them.
Install drawers where you can store extra sheets or design a study table that's integrated with the platform bed like what's being done in this home!
Tips for your 3 room HDB design
Leverage natural lighting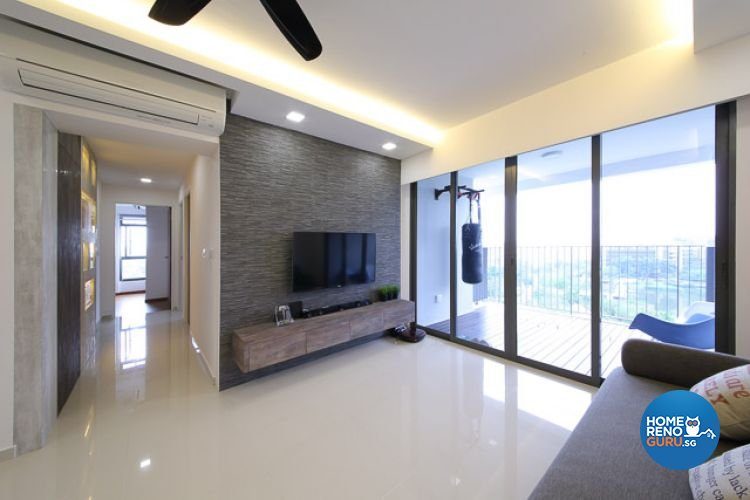 Designed by DAP Atelier
Natural lighting has the ability to make a room look bigger than it actually is. Being in a tropical country like Singapore, leverage the strong sunlight by installing full-length windows or glass doors.
Unclutter your space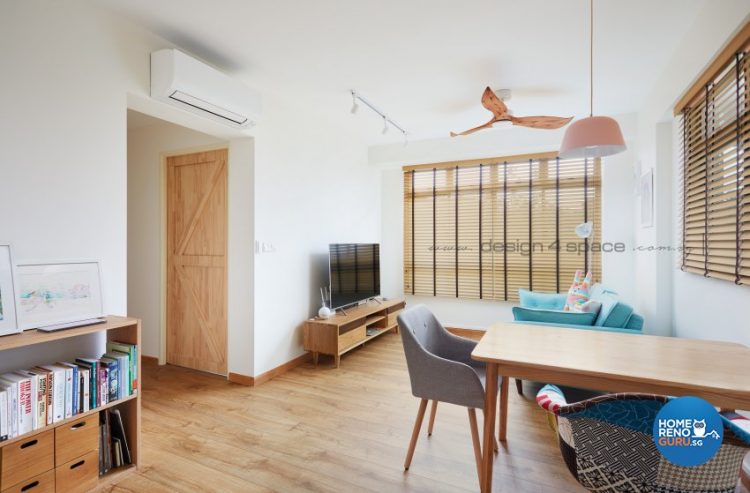 Designed by Design 4 Space
Adopt a more minimalist approach towards your interior design by having only the necessary items in your home. Omit furniture like a coffee table and have ceiling fans instead of standing ones and your home can be a lot more spacious!
Think about dual functionality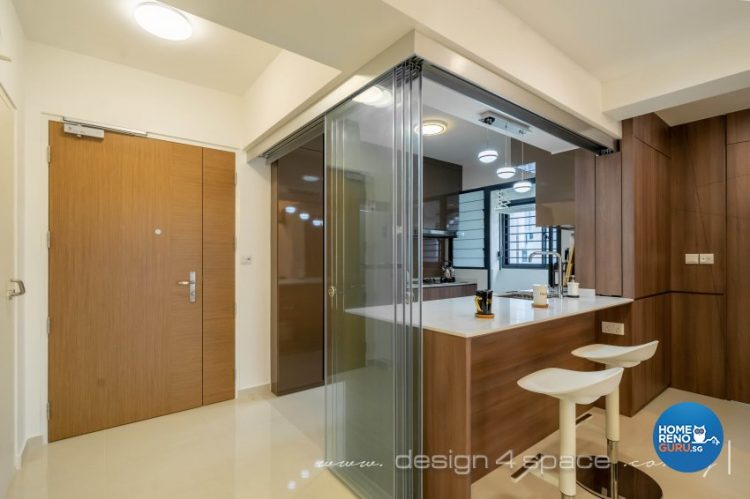 Designed by Design 4 Space
Instead of having a piece of furniture serve a single purpose, you can consider ways to make it serve dual functions.
Take inspiration from this home, where the kitchen countertop has been designed to become a bar counter as well. While one prepares a meal in the kitchen, another can take a drink on the opposite side of the counter.
Use white and neutral colours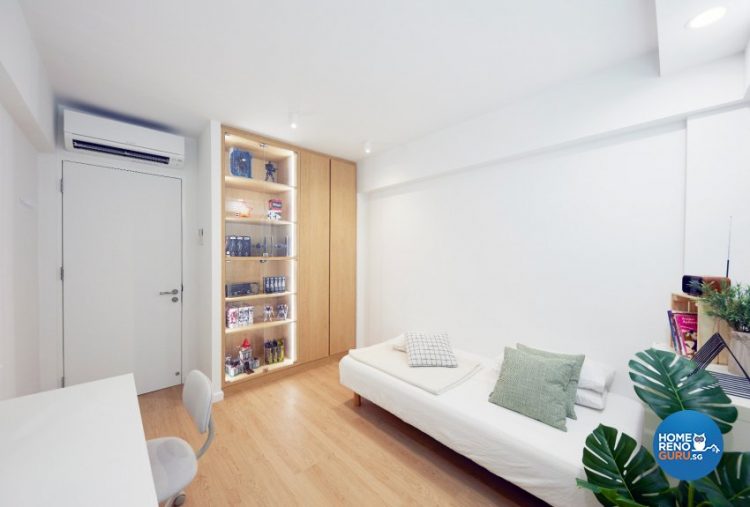 Designed by Carpenters
White and neutral colours are one of the key characteristics of the Scandinavian interior design style, a popular and trendy renovation theme.
These colours help to make a space look bigger, brighter and more spacious. Therefore, when renovating your home, consider using these colours for your walls, upholstery and cushions.
You can also incorporate wooden elements through the flooring, cabinets and other furniture!
Planning to renovate your 3 room flat?
HomeRenoGuru can help you create a more spacious home!
Space-saving 3 Room HDB Designs
With these space-saving ideas and renovation tips, it's time to start planning for your stylish and spacious dream home. Get in touch with our interior designers or browse more interior design ideas!