Interior Design Trends 2019: A List Not To Miss
We've done our homework plus a little educated guesswork to bring you a sneak peek at interior design trends for 2019.
The Year that Is
This year, the ongoing trends that have continued their reign of popularity are industrial in all its many forms, and the pared-down simplicity of Scandinavian interior design –also known as 'hygge', the Danish word that eludes an exact translation but is often likened to 'cosy'.
The outdoors continue to creep indoors with a surge of tropical prints and indoor planters. Wood, which has never really gone out of fashion, is now making an appearance in its more natural and authentic forms, often in recycled timber and rough-hewn wooden furniture. 'Wood and white' remains the most common design brief for local interior designers.
Meanwhile, 2018 has witnessed the rise of 'wabi sabi', the simple Japanese aesthetic that celebrates beauty in imperfection. Several micro-trends have also gathered momentum. Tiles are well and truly back in style – especially modern Peranakan printed tiles in kitchens and bathrooms, and honeycomb and fish-scale tiles in bathrooms.
Now, let's look into our crystal ball (aka the worldwide web) and fast-forward to 2019.
Great Gatsby!
Move over, mid-century modern interior design. The pencil-legged, blonde wooden furniture and washed-out colour schemes have had their day. Maybe. So what's next? Several online sources herald the rise of art deco, arguably the most glamorous, elegant era of the last century. It is often associated with the period known as the Roaring Twenties.
Art deco is characterised by recurring geometry and symmetry, classic black and white colour schemes and reflective surfaces from glass to chrome and a myriad of metallic accents. Porthole windows, parquet floors and potted palms abound. As you can see from these two local interiors, It's an easy style to adapt to a modern interior.
The black and white living room of a condominium by The Orange Cube Pte Ltd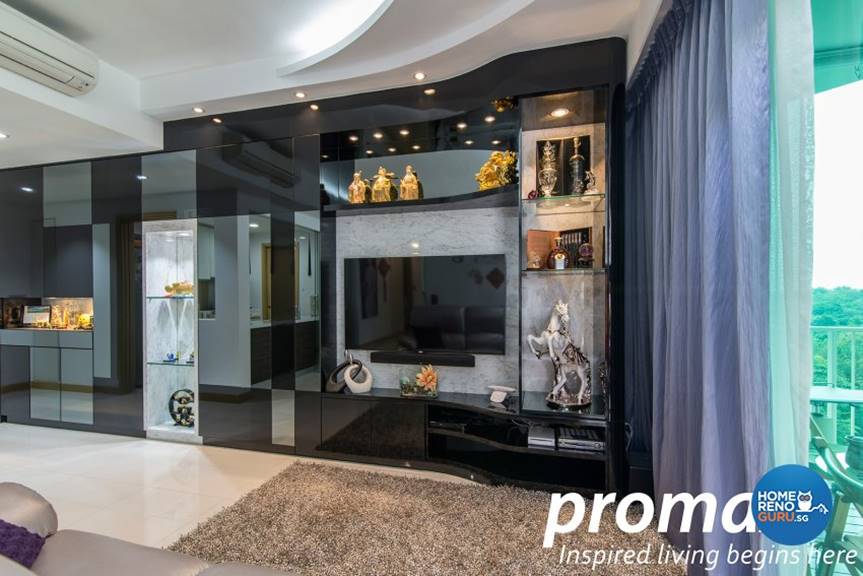 Living area of a condominium by Promax Design Pte Ltd
Cocktail Culture
As home entertaining continues to grow in popularity, home bars are becoming an almost standard feature of young urban professionals' homes. A supporting act, the bar cart is tipped to become the must-have furniture item for 2019.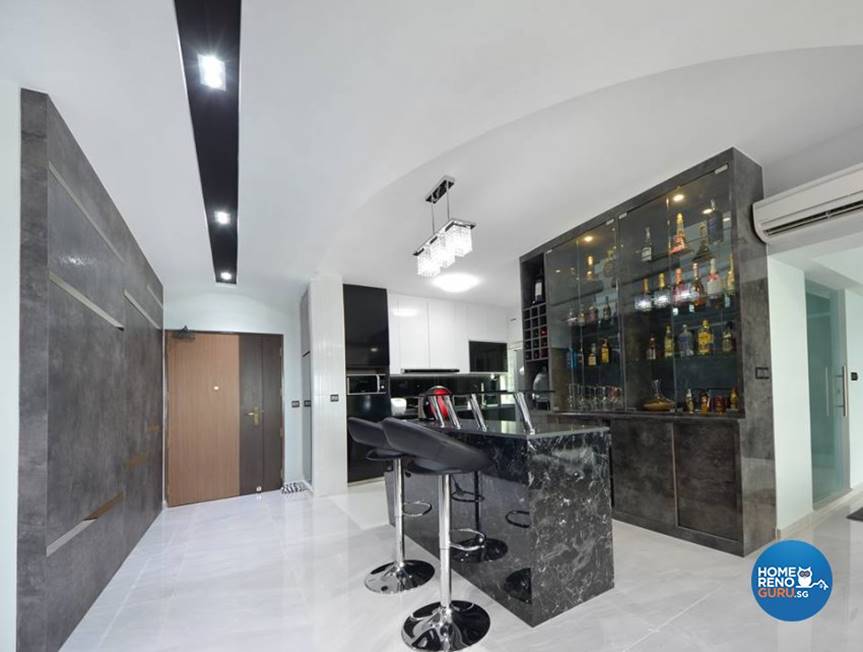 The open concept bar cum kitchen cum living room of a 5-room HDB flat by Jialux Interior Pte Ltd
Of course, few Singaporean homes have the luxury of space required for a dedicated bar room. It's more realistic to incorporate a bar into the living area. Take this 5-room flat – by day, it has a breakfast bar. By night, a cocktail bar.
Convertible Spaces
Pragmatic Singaporeans have already caught on to the merits of convertible multi-tasking furniture. Think benches that double as storage trunks, and staircases that conceal drawers beneath every tread. In 2019, we can expect this multi-tasking trend to gain traction.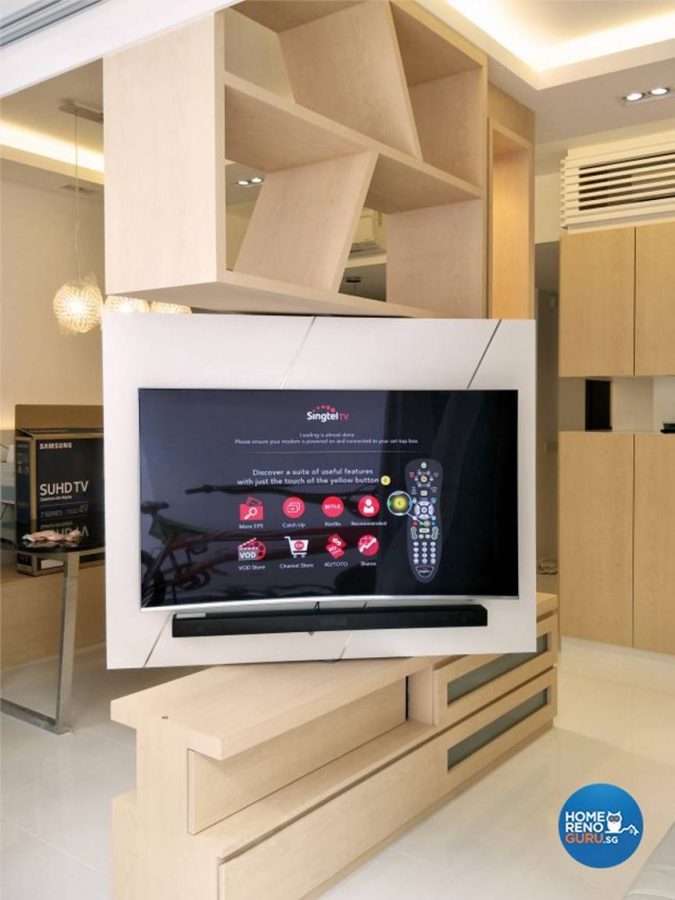 Convertible shelving in a condominium by Arts 2 Design Studio Pte Ltd

This clever pivoting TV screen converts a living room to an entertainment room. A gentle push and the screen is concealed in the study room behind.
Anything-goes Boho

Perhaps we're cheating in calling this a new trend, as it's really never gone away. The shabby chic cum global nomad aesthetic has becoming increasingly popular as once-exotic travel destinations are entering the mainstream (think Croatia, Morocco, Bhutan…).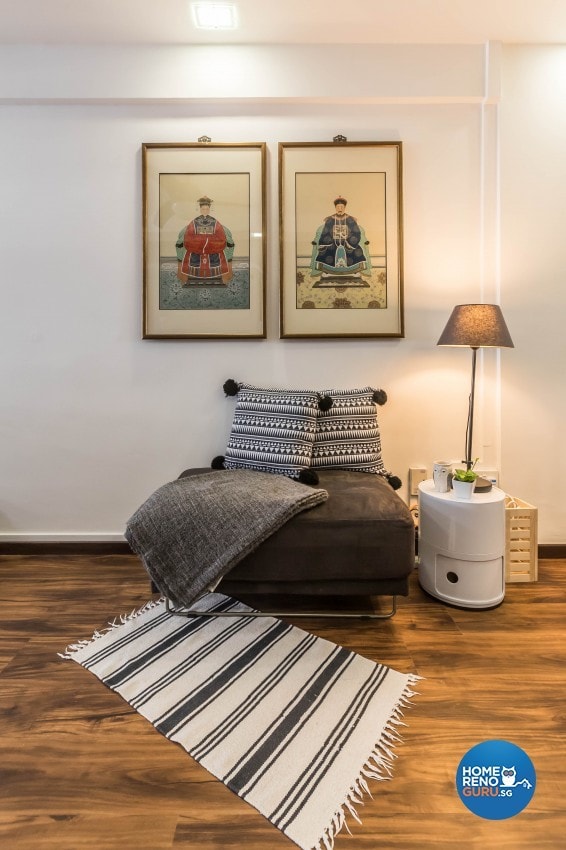 A bohemian corner of a 3-room HDB flat by Hue Concept Interior Design Pte Ltd
Portraits of Ming dynasty emperors meet Indian cotton floor rugs and cushions, mixed up with a retro side table cum cabinet. Rules are made to be broken, after all.
The Rise of Rustic
This trend forecast picks up on the world's growing love affair with natural, unrefined textiles and materials, which make particular sense in tropical Singapore. Cotton, felt, hemp, unpolished wood and stone all contribute to the rustic aesthetic.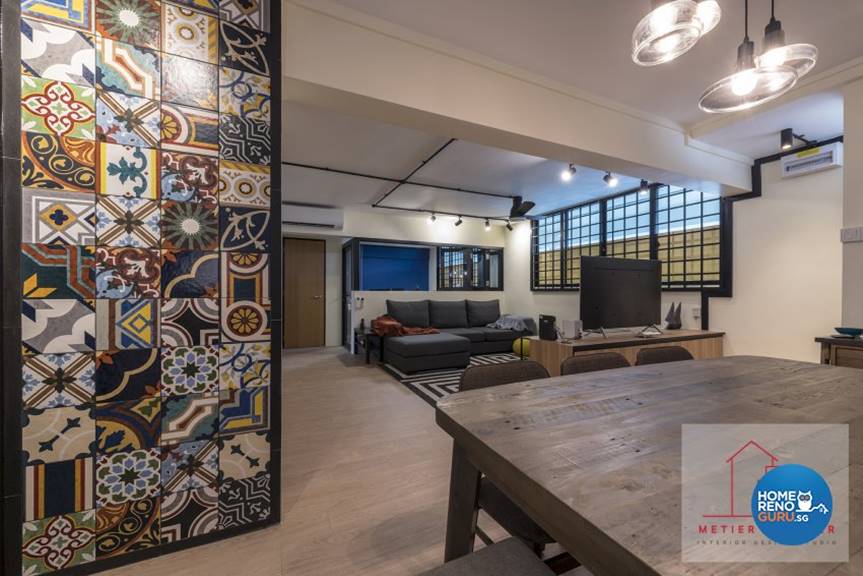 Living room of a 4-room HDB flat by Metier Planner Pte Ltd
This raw, recycled timber dining table injects a rustic vibe into this eclectic interior.
What does 2019 hold for you? Perhaps it will be the year of renovating your home… Why not request for a free renovation quote here, and we'll connect you with an interior designer who fits your needs.
It gets better. Request a quote and you'll stand a chance to win a Mercedes-Benz CLA 180 Coupe & Free Home Renovations worth $30,000!