How Indoor Gardens Can Complement Your Home Aesthetic
22 Jan 2018
Growing up in the Garden City, it's not surprising that many Singaporeans seek to recreate the lush greenery of our natural outdoors in their own homes. Not only is green a soothing colour for our tired, screen-obsessed eyes, house plants are effective at cleaning indoor air and getting rid of nasty pollutants as well. For those of us without the luxury of space for a proper garden, read on to find out how indoor gardens can be incorporated into your home for both an environmentally friendly and stylish look!
Install a garden rack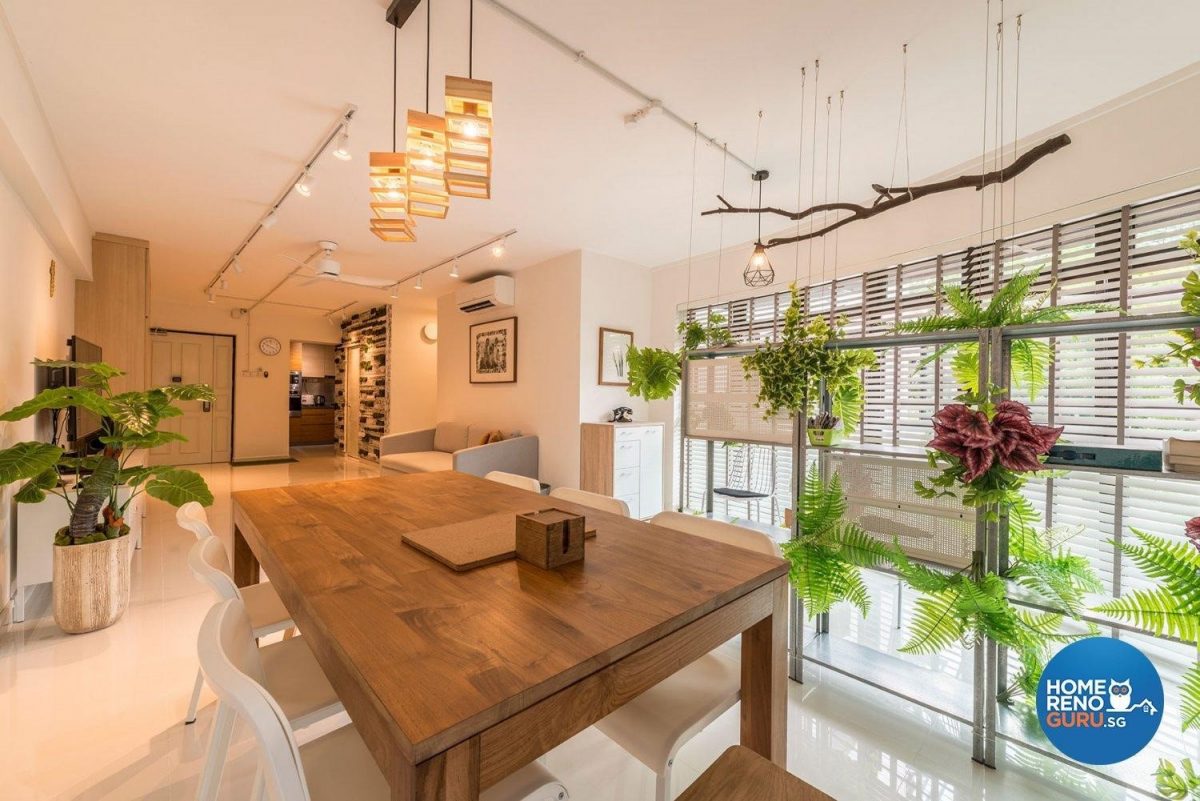 Blk 656 Senja Road by Benz Design Interior
Make your indoor garden blend seamlessly into your home's design by using complementary colours and textures like warm yellow and smooth wood. Benson from Benz Design Interior agrees, adding that the green space "brings out the balance with the wood texture and white background to… soften the interior look." Beyond aesthetics, however, having indoor plants also "reduces carbon dioxide levels and airborne dust levels," according to Benson. The plants' vibrancy will also be more peaceful and less distracting if you use furniture with natural touches (like a stone-speckled pot or a raw wood wall ornament) to make the transition between garden and the rest of the house smoother.
Use greenery for contrast

Condominium 3 Bedroom – Changi Rise by De Style Interior Pte Ltd
If you don't want your apartment to be overwhelmingly green-themed, you can use plants as a contrasting touch rather than a complementary one, especially if you are opting for a more minimalist design. Spruce up the streamlined and modern look by adding small potted plants to your dining table and sofa areas – the pop of green will add just enough colour to an otherwise monotonous palette.
Livening up the space with sunlight and plants

7 Goldhill Place by WEIKEN.COM
For a livelier space, create open spaces that lets in natural light. Eva from WEIKEN.COM notes that "the house had a long edge layout that has a dark interior, and we configured it such that sunlight enters in through the heart of the house".  Bright places filled with plants are easy on the eye and makes the home feel comforting. She said: "modern colours were used to suit the garden's tone – grey textured brick walls and pavements makes it feel modern and evergreen."
Set up a balcony garden

Condominium @ The Inflora by The Orange Cube Pte Ltd
Use space economically by transforming your balcony into a garden! This is a good idea for balconies which are awkwardly sized: too small for more than one chair but, left alone, would be a glaring waste of space. Indeed, designer Chi Ho from The Orange Cube Pte Ltd advises that balconies "can be a great opportunity to introduce greenery into our homes" and just as "mirrors are often used in interior design to create the illusion of the interior space being extended beyond the walls, indoor gardens and greenery create the feeling of nature being extended into our homes."
Try vertical gardening
For the space-conscious, go for a vertical hanging garden instead; set up a little reading corner beneath it (especially if it's near the windows!) so you can truly relax and enjoy a view full of natural flora. Furthermore, having a hanging garden instead of a normal one draws your eyes to unexpected corners of the home, allowing guests an interesting perspective and yourself a spatial reminder of your home.