How To Set Up a Home Garden in Your Balcony
23 Dec 2016
Many of us use our balconies for practical functions, for example to hang our clothes out to dry, or we'll place small tables and chairs to enjoy the semi open-concept beauty, natural light and wonderful views. However, balconies can be so much more than these. If you have one, lucky you, because the possibilities are boundless – you can even have a home garden (yes, in your high-rise apartment)! Here are some tips to transform your balcony into your very own garden in the air.
3 Jalan Anak Bukit Sherwood Tower by GV Design & Construction
1. Build up your confidence by starting small.
Remember that gardening is a long-term hobby and commitment, even if it's a small-scale one that's semi-indoors. If you're new to gardening, don't overwhelm yourself. You can start with a few plants that require minimal upkeep, and preferably a similar level of care. As you get more used to it and have built up more knowledge by keeping track of your success and failures, you can gradually add more plants to your gardening portfolio.
Condominium by Image Creative Design Pte Ltd
2. Check how much weight your balcony can support.
Most balconies are not designed to take on massive amounts of weight. Do you should check with your buildings developer, a structural engineer or any related party before making your purchases, especially if you desire special features like ponds or aquariums in mind. Tip: Try to keep the heavier pots at the edges of your balcony, as the weakest point of the space lies in the centre.
Landed at Yunnan Crescent by Posh Living Interior Design Pte Ltd
3. Understand the maintenance efforts required and plan well beforehand.
It's not simply about watering your plants and trimming dead leaves – there's a lot more work behind all the eye-pleasing aesthetics, with the main factor being maintenance.
Stephanie Tan from Stylerider Pte Ltd highlights temperature and humidity as factors for long-lasting home gardens. She adds, "Home garden flooring can be improvised with outdoor decking panels. To avoid water accumulation, I suggest those that have gaps in between, so that water can seep through in case of rain."
"One important factor about decking is that owners need to do maintenance to the decking. We label it as servicing. It includes varnishing of the decking wood (as it will wear out due to rain and sunshine) and also ensuring no accumulation of water and debris below. This is to prevent breeding of mosquitoes and potential dengue. Servicing is best to be done on a yearly basis preferably," she explains.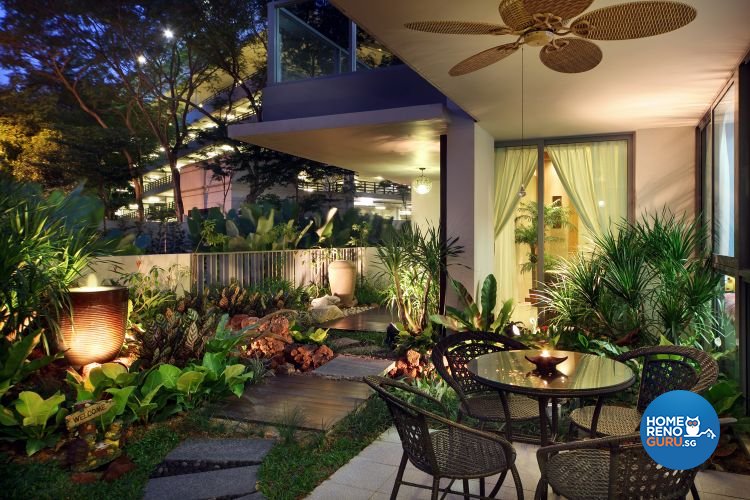 Condominium – Double Bay Residences by De Exclusive Interior Group Pte Ltd
4. Organise your plants.
When arranging your plants, besides keeping visual after-results in mind, try to group them together by their light and moisture requirements, so that you can provide the right care for them.
Adam from GS Interior Design advises, "Use a multi-rack to so that you can have the plants in a tiered formation, and place the biggest plants at the back and smallest in front. If you make full use of your balcony's shape and section your garden, you can make it look larger than it actually is."
[cta1]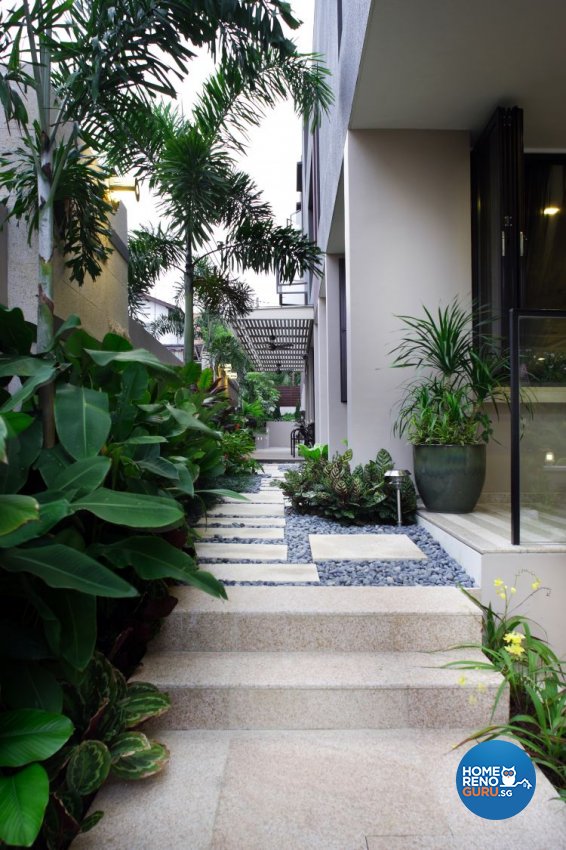 Semi-Detached at Serangoon Garden by Fuse Concept Pte Ltd
5. Get the light right.
Even though your balcony isn't in the great outdoors, it will nevertheless be subject to natural elements. Before you buy your plants, make the effort to monitor how much sunlight and wind your balcony receives, so that you can buy the appropriate ones. Consider the sun direction, as well as how many hours of sun your balcony receives per day, then do your research to find out if it provides a suitable environment for your favourite plants to flourish.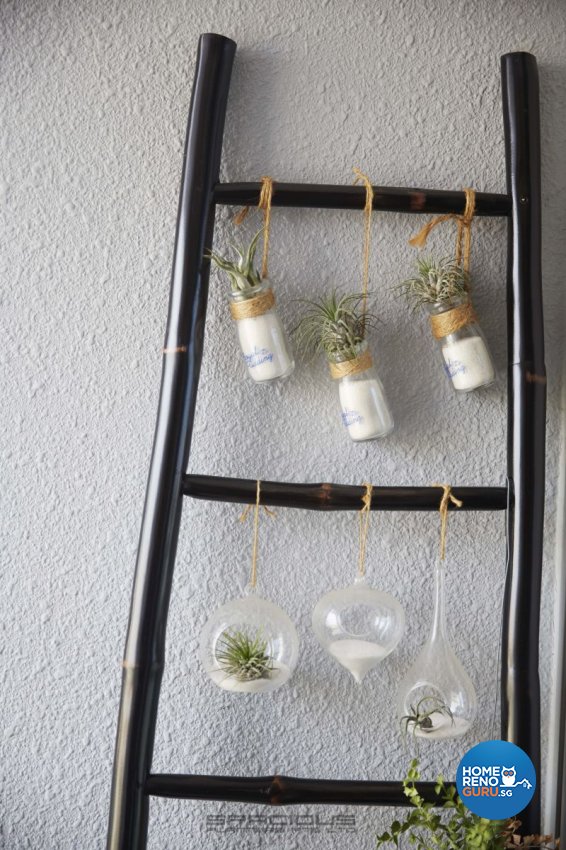 132 The Scala by Spacious Planners Pte Ltd
6. Consider a vertical garden
If you'd like a home garden, but don't wish to sacrifice your space – here's your solution: build a garden on your wall. Vertical gardens come in various forms, from elaborate ones with their own irrigation systems and planter pockets, or DIY types where pots or shelves of plants line the wall.