Rad Red Rooms: 6 Chinese New Year Inspired Singaporean Homes
With Chinese New Year upon us, red is everywhere we look. See how some bold homeowners surround themselves with the colour of fortune all year round.
Everyone responds to red. Whether it's an entire wall or just a splash, it's an eye-catching colour that can't help but become the focal point of a room. If you love it, go to town and paint a whole wall red. If you're fond of it but not a risk-taker, introduce it sparingly.
Fly the Flag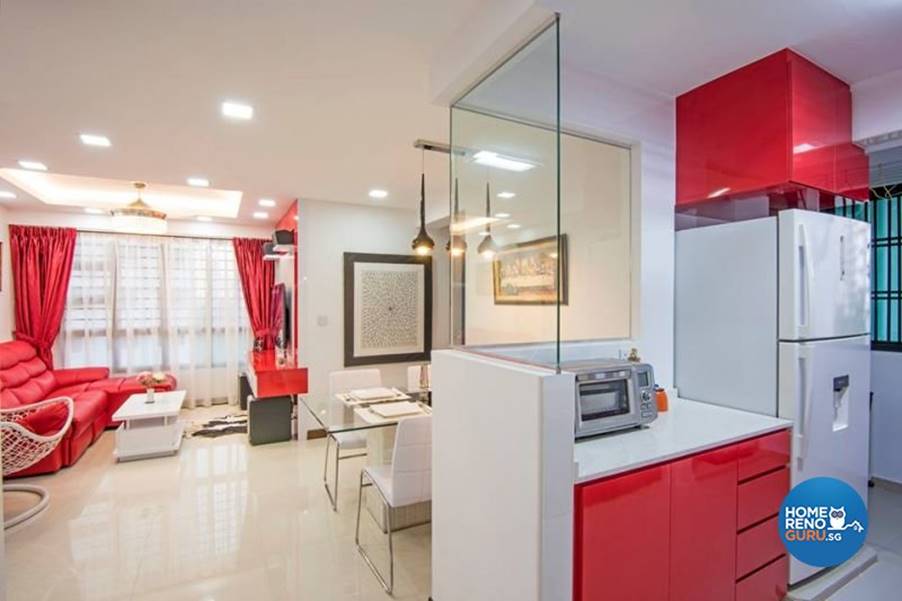 HDB 3 Room | Jialux Interior Pte Ltd
High-contrast red and white is both refreshingly crisp and incredibly patriotic, whether you fly the flag of Singapore, Switzerland, Denmark, Canada… In this open concept interior, shiny-bright glossy red laminate weaves a thread of continuity from the semi-enclosed kitchen to the living area, where it's picked up by a red sofa and curtains.
Red Wine and Dine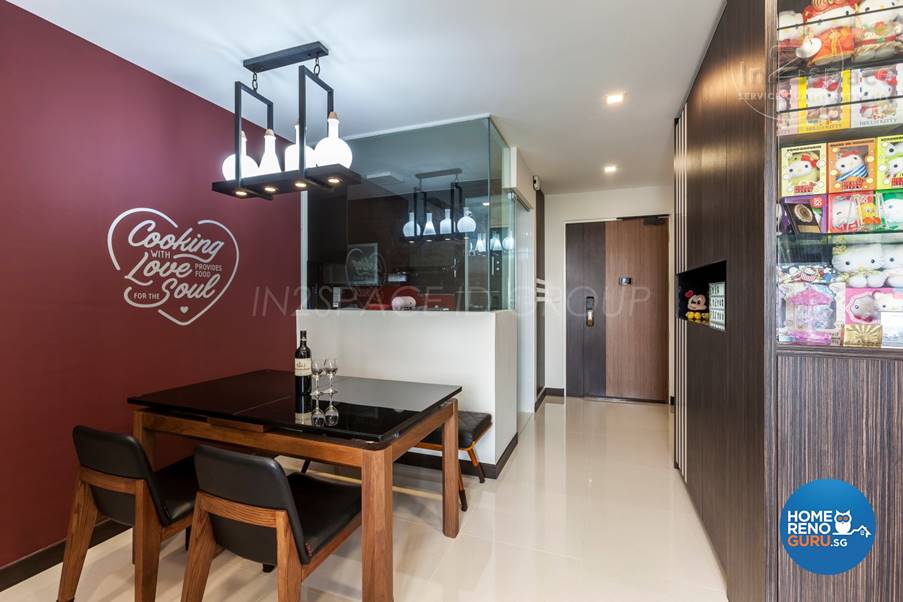 HDB 5 Room Blk 296 Bukit Batok St 22 | In2Space Interior Pte Ltd
Looking for Interior Designers?
Let HomeRenoGuru help!
Have you ever noticed how red seems to recur in every restaurant and cafe interior? Red stimulates the appetite and the heart rate, thus increasing hunger. Here, it forms the backdrop for a cosy dining area and a focal point for an open concept living and dining area. The wall decal is all the adornment needed to create a fun, hip café vibe.
Black and Red Turns Heads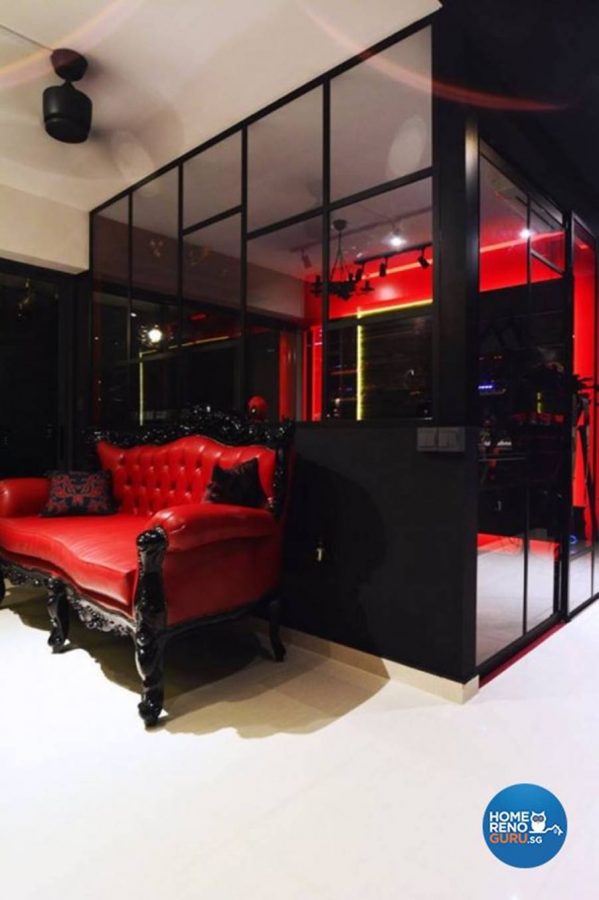 HDB | NID Interior
The classic combination of black and red creates a sexy, provocative boudoir vibe reminiscent of a Parisian boutique hotel. The chilli red walls of the red study connect with the statement-making red sofa, with only a white floor and ceiling to play up the contrast and provide a backdrop for the visual drama.
Trusty Rusty Red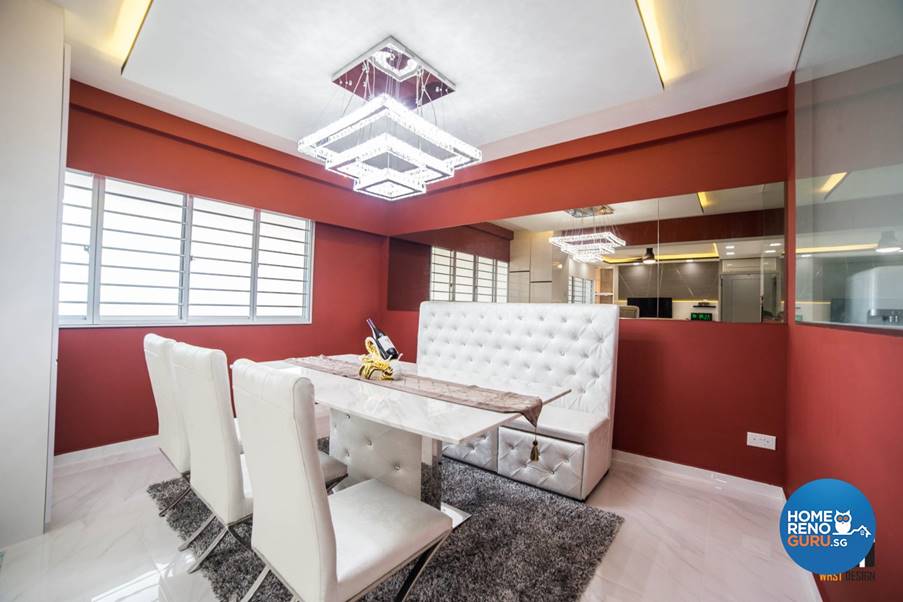 HDB 3 Room 232 Pasir Ris Drive 4 | WHST Design
Easier on the eye than bright red, rusty reds and brick reds create a vintage feel that pairs well with wood and muted colours. This homeowner has paired brick red walls with a white-upholstered dining bench and chairs for a look that is both crisp and fresh yet warm and welcoming.
Red Bedhead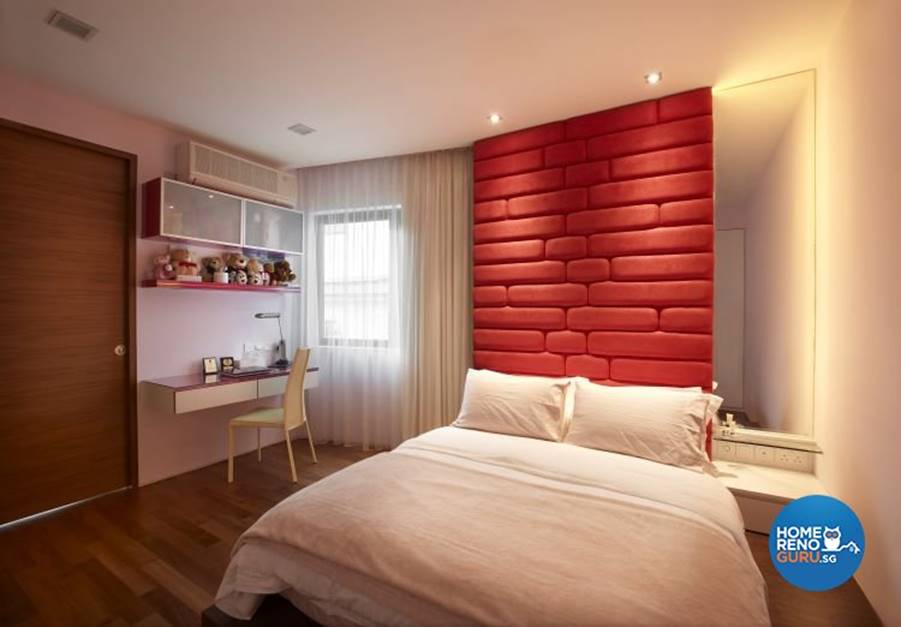 Landed House Lynwood Grove | Renozone Interior Design House
A splash of red works beautifully on the brick-patterned bedhead in the master bedroom of this landed property. The column of red draws the eye upwards, creating an illusion of height and a strong focal point in an otherwise understated room.
Red Letter Days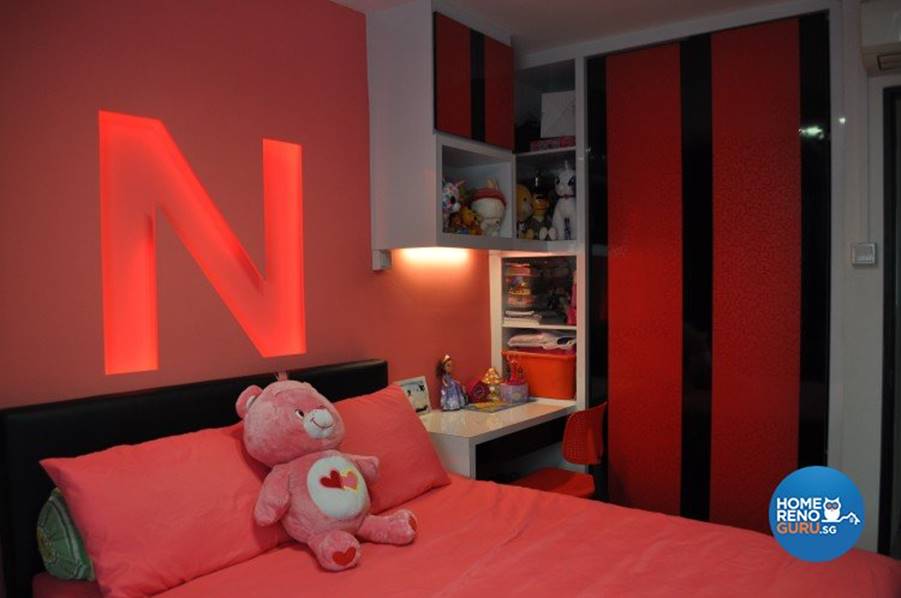 HDB Nee Soon Central Green | Le Interi
A child's bedroom has been personalised with a luminous wall decal spelling out the letter of her first name. It says loud and clear that little Natalie (or Nicole or Nadine) sleeps here – and plays and studies here, too. Allowing a child to adorn their room with their favourite colour encourages a sense of ownership and may even inspire them to keep their room tidy!
Now you've seen red, literally, you may be closer to committing to a colour scheme. Or maybe not. If you're undecided, an experienced interior designer can guide you through the decision-making process of a home renovation, colours to cabinets and beyond. Request for a free renovation quote here, and we'll connect you with an interior designer to fit your needs and budget.
What's more, you'll stand a chance to win free home renovations worth up to $30,000!