5 Must-Do's To Childproof Your Home
26 Aug 2016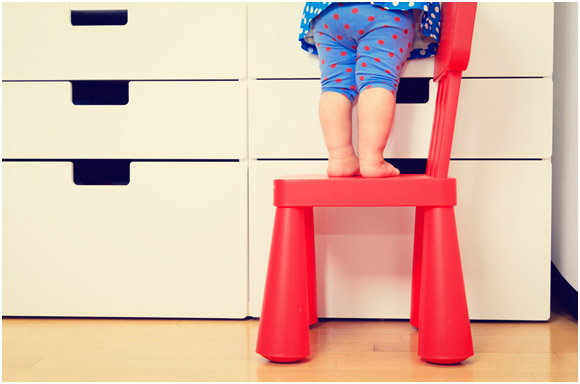 Nadezhda1906 / shutterstock.com
So you've finally attained the home of your dreams. It's the right balance between form and function and the style of which reflects exactly who you are. Then a child comes along and your home is suddenly fraught with 101 ways your child could hurt himself or herself.
Before you convince yourself to throw out your entire furniture collection and replace them with rounded, sharp edge-free, blob-like décor, here are a few unobtrusive ways to childproof your home so that you can retain your sense of space while creating a safe environment for your little one.
1. No Child's Play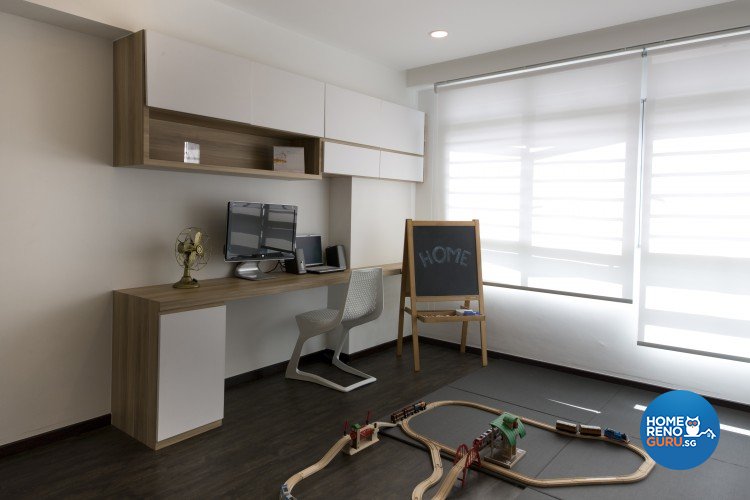 Bendemeer Road by Starry Homestead
Rule one of a safe home environment for children? Make it un-fun (for them, anyway). Of course, you can always create a separate room just for play; just don't have the rest of your home resembling a theme park.
Don't make it conducive for them to climb onto furniture e.g. keep stools and step ladders that support your child's mountaineering aspirations out of reach and away from windows.

211A Punggol Fields by Icon Interior Design
Make sure large furniture and furnishings that are easily toppled over are fixed to your wall securely. This should include bookshelves, the television, picture frames and mirrors. For shelves, stow heavier items at the bottom to avoid the risk of furniture falling over.
2. Conceal, Don't Feel

Norhazlan / Shutterstock.com
Children have the itchiest fingers. While you may wish to train your tyke's motor skills, there are right tools to teach them with, and the last thing you want is have them fiddle with something dangerous!
Here is a list of things you should keep out of reach from little grabbing hands:
Wall sockets – use electrical outlet covers
Medication and cosmetics, or anything that resembles candy
Stove knobs – use stove knob covers
Poisonous substances such as cleaning agents, toiletries, or leftover paint from your renovation
Houseplants that are potentially toxic
Common choking hazards such as fridge magnets, keys, plastic bags
Objects that dangle like electrical appliance wires, window blinds cords, lighting tassels, fashion accessories, or table cloths
Sharp objects such as kitchen utensils
Kitchen crockery – turn the handles of pots and pans inwards facing the wall and keep them as far away from the edge as possible
As for sockets, Mary Yew from Trinity IDee has this piece of advice: "If you're still renovating, you can consider placing sockets in higher areas or harder to reach locations. Or you can get cheap plastic fillers to plug unused sockets."
[cta1]
3. Bump-free baby
Don't want your child to take a serious tumble? Take note of these: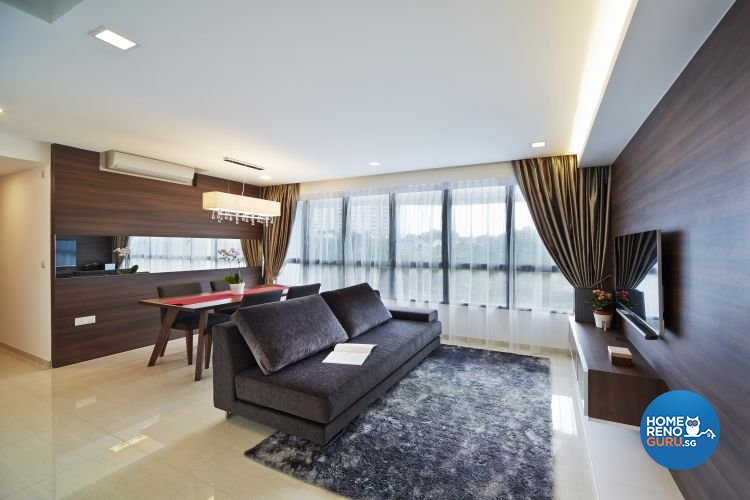 Belysa 59 Pasir Ris Drive by Carpenters Design Group
Marble floors are absolutely gorgeous, we know. But they can be slippery for your little ones. Place area rugs or carpets that can help to cushion falls but use skid-proof pads underneath them. Anti-slip mats and pads in bathrooms are also a good idea since bathroom floors tend to be slippery when wet. And don't worry there are other ways to retain that luxury apartment feel if you have to forsake the marble floor.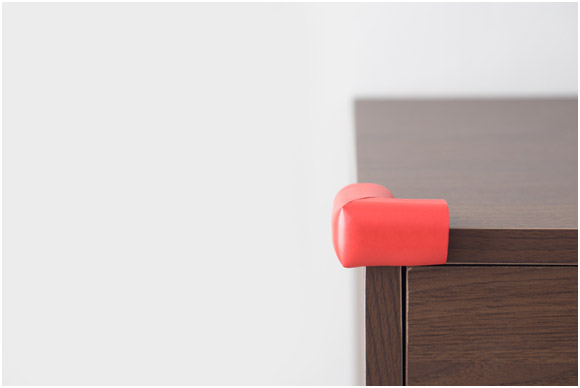 Tieng79 / Shutterstock.com
Install corner bumpers on sharp edges such as the corners of tables, countertops, and cabinet doors. Use doorstops or holders to keep little fingers safe.
Cover faucets with rubber guards to prevent your child from accidentally bumping their head against them. Secure your taps with anti-scalding devices to reduce the risk of scalding.
4. Safe & Secure
Stowing away hazard-prone items behind locked cabinets are one way to keep your child safe. But if it's a frequently used item, a locked drawer isn't the most practical. Safety latches, which you can purchase from supermarkets or major department stores, are a more useful tool.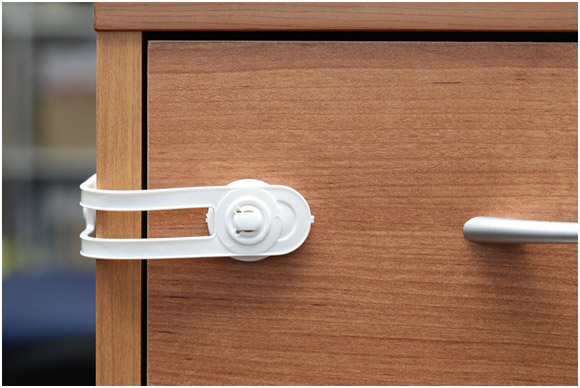 Kate Nag / Shutterstock.com
In the kitchen, major appliances such as the refrigerator, oven or dishwasher—which tend to be within the little one's reach—should be secured to prevent them from poking their heads in.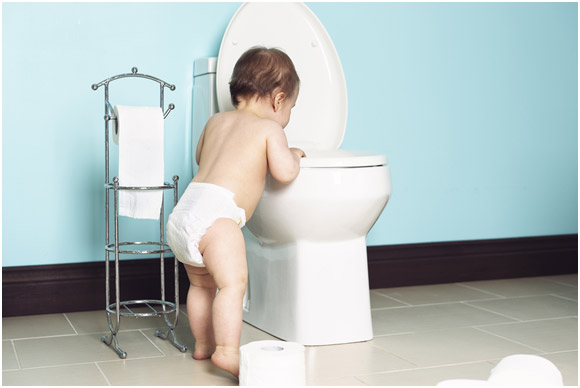 Lopolo / Shutterstock.com
Toddlers are usually heavier at the top than at the bottom. And there is a tendency for them to be incredibly curious about the flushing of a toilet, which may lead them to fall head first into the toilet bowl. To prevent this from happening, secure the lid with a latch.
For other bathroom safety precautions, Anthony Koh from 96 Degree Designers suggests making your floor anti-slip. This can be done with the use of mats, but he also suggested something else:"Homeowners can also consider using an anti-slip chemical wash. It's quite effective and not only benefits the child, but also any old folks as well."
5. Forbidden Grounds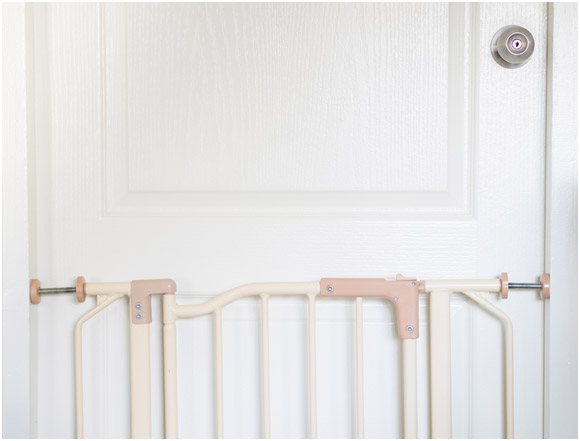 Tieng79 / Shutterstock.com
Sometimes, the best way to keep your child safe is to keep them away from danger zones in the house, and these include the kitchen and bathroom. While locked doors can do the trick of keeping them away, child safety gates are also a good investment to keep them at bay.
Keep your child away from windows. Window guards, usually made of aluminium or steel, may be in the way of that gorgeous verdant view, but they also provide protection for your child.
Conclusion
It must be said that childproofing a home is an ongoing process that requires an update at regular intervals as your child grows. What was once safe for a five-month-old might not be safe for your one-year-old.
It's also important to start early before the baby arrives. It's easier to childproof a home without a child in it. Get down on all fours to see your home from your child's perspective. You might be surprised to find all sorts of hidden dangers.
Finally, childproofing a home is not a 100 percent guarantee for your child's safety. Always supervise his or her actions at home. Last but not least, interior designer and father of four Henry Yeo of In2Space Design Solutions had this to say: "Although the kids may seem like your whole life now, you should remember that they grow up really fast. When it comes to design, avoid built-in furniture and keep the room layout flexible. As they grow, they'll need more space to run around and bigger beds as well!"
As Henry said, it's important to start looking ahead! Check out some of these design ideas for when your children get a little older.