4-Room HDB Renovation Ideas | HomeRenoGuru.sg
Want a refreshing look to your boring ol' HDB layout? Our designers have shared their recent projects in revamping 4-room HDBs. It's time to get some inspirations from leading industry experts on what's in trend and what can be done regardless of space constraint.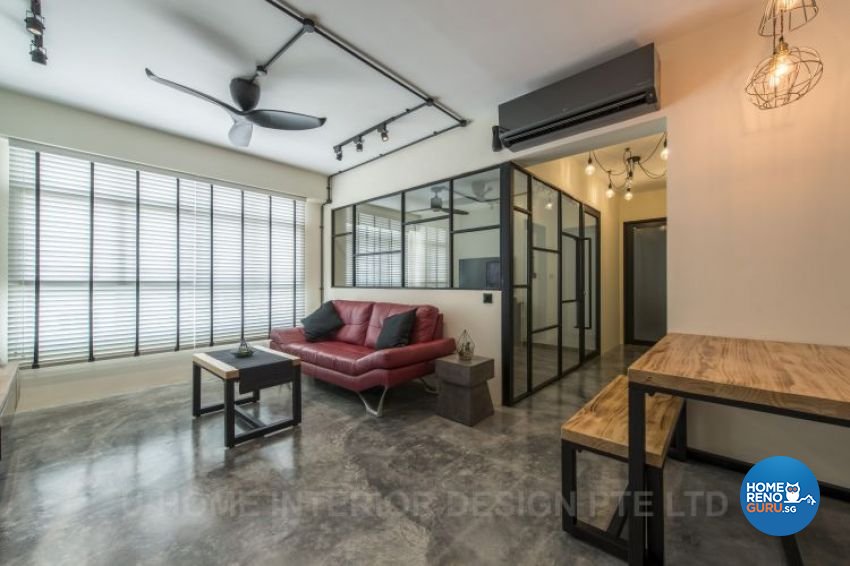 Choa Chu Kang HDB 4 Room | U-HOME Interior Design
It's not uncommon for homeowners to mix Scandinavian design and Industrial design concepts. The contemporary neat-looking Scandinavian features may seem conflicting with the rugged Industrial design, but they need not be. The raw, utilitarian aesthetic of an industrial design concept can exude sophistication and warmth.
On their recent HDB 4 Room project at Choa Chu Kang, U-HOME Interior Design seamlessly combined Scandinavian and Industrial elements under one roof. Said U-HOME's representative, Herawaty Djunadi: "When combining the two concepts, you need to create a soothing palette of wood tones, whites and greys throughout the house to keep the living room looking bright and airy." Having an open concept living area also helps to make your house feel more spacious, giving room for some Industrial design features.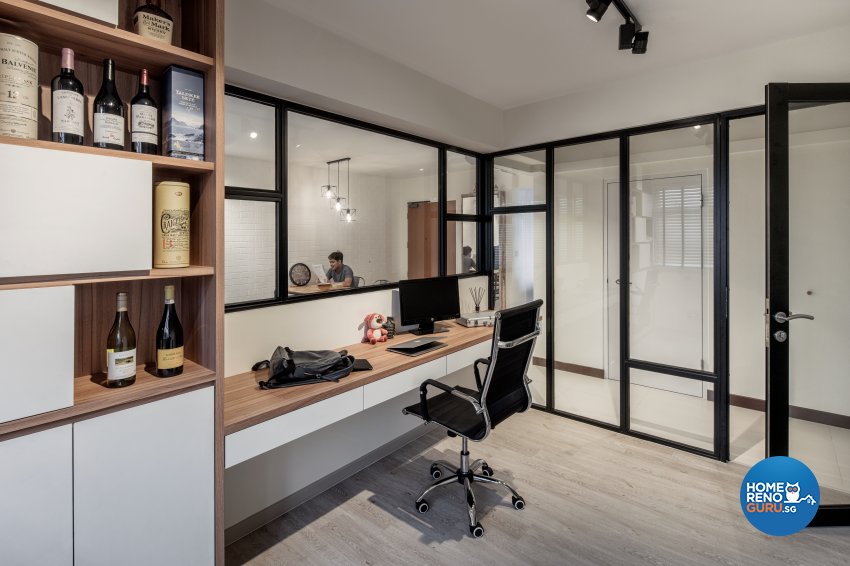 HDB 4 Room 471 Upper Serangoon Crescent | Zenith Arc
 Contrary to common belief, the industrial design concept is not about looking harsh and broken. If you prefer consistency and order in your home design, the understated appeal of Industrial Minimalist may be right up your alley. A 4-room HDB may leave homeowners with extra space, which is usually used for a study room. The last thing you want from your study room is clutter, so for this project, Melissa Chng from Zenith Arc imbues only a little bit of industrial touch to the minimalist style.
The minimalist concept keeps the room decluttered and neat. You can still find the industrial features from the black window frames and metallic elements of the furniture, but they're kept at the bare minimum. The glass window also helps to bring in light and makes the whole house feel more spacious.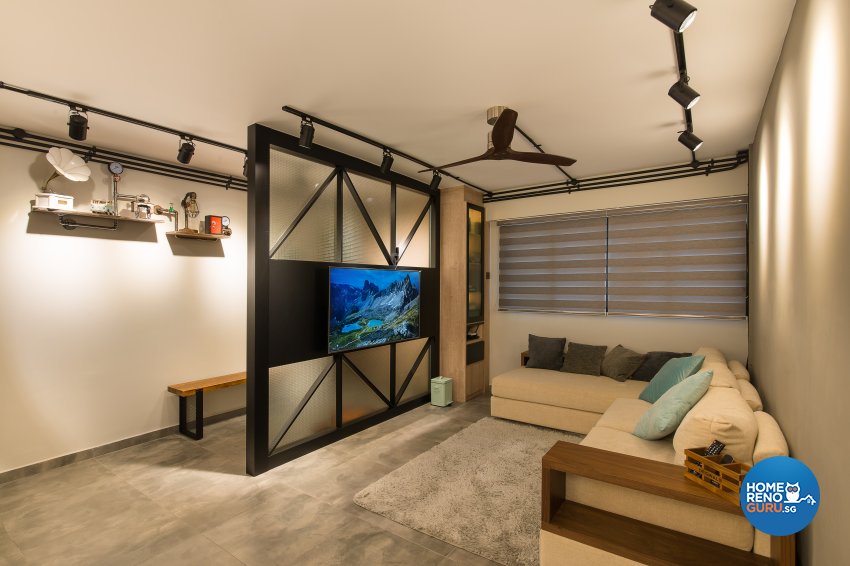 Ang Mo Kio Ave 10 HDB 4 Room | Space Vision Design
 The industrial design concept seems like it's going to stay for another few years. According to Winnie Lim from Space Vision Design, an industrial design concept is easy to implement at HDB flats especially because the electrical works don't have to be concealed. You can also use the black con tubes to prevent the wires from dangling. 
Winnie also shares her favourite part of the house: "I like how the living room TV feature wall blends in with the cement screeding look alike tiles." It's also effortless for the homeowners to incorporate old-school elements to their house by adding an antiquated metal gate as well as vintage decorations.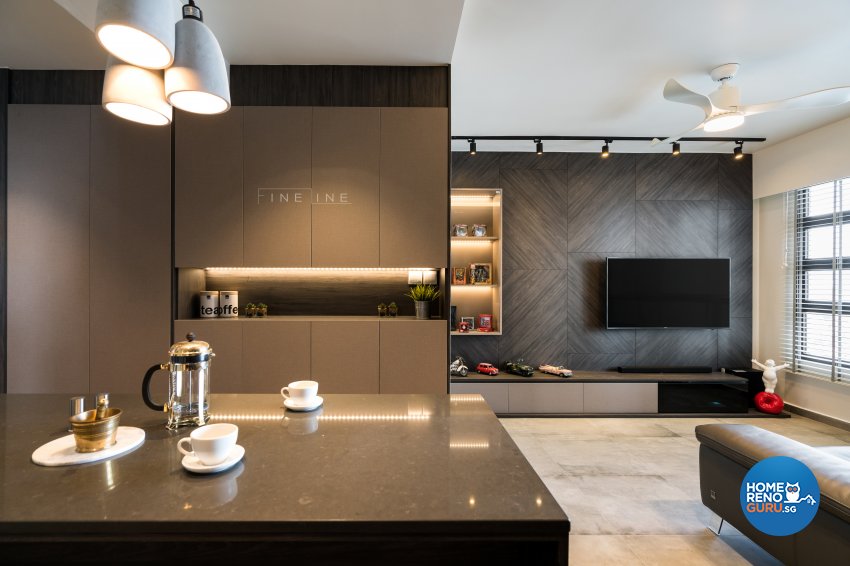 31 Ghim Moh HDB 4 Room | Fineline Design
 Modern contemporary is not exclusive to big houses or commercial units. Raymond Kuek from Fineline Design successfully incorporates modern contemporary to a 4-room HDB in Ghim Moh. Homeowners who wish to have a modern contemporary design have to be smart in utilising space. Beyond the utilitarian approach, a modern contemporary design, when done consistently, creates a beautiful elegant space such as a walk-in wardrobe and bomb shelter to showcase your collection of shoes and handbags.
"Personally, I feel the highlight of the renovation would be the elevation feature design in which the entrance cabinet is connected to the TV console feature design," Raymond added. Modern contemporary is the answer if you want to be different from the crowd and are looking for something more timeproof.
Need more inspirations?
If you are still not sure of what you want your house to look like, perhaps, it's time to contact a trusted interior designer. Knowing the layout of your house and your personal preference help the interior designer to recommend suitable designs for your house. Always be open to new ideas and suggestions for your home renovation. You can also get inspired by other 4-Room HDB flat interior designs on HomeRenoGuru!
Need some help on which interior designer to choose? Why not request for a free renovation quote here, and we'll connect you with an interior designer who fits your needs.
What's more? Stand a chance to win a Mercedes-Benz CLA 180 Coupe & Free Home Renovations worth $30,000!