5 Designs That Would Make Your Home Feel Like a Sanctuary
After a long and hectic day, most of us want nothing more than to come home to some peace and quiet. Maximising comfort in our homes allows us to properly unwind and prepare ourselves for a productive week. Take a deep breath, put on some soothing music and say om – here are 5 home designs that will make your home feel like a sanctuary.
Take note of lighting
Direct lighting sources and white light is great in places like the office or kitchen, but when used around the home living space, they may be harsh and glaring. Consider soft, warm lighting and indirect lighting behind mirrors, walls and ceilings, and under furniture. Warm lighting is also ideal for the bedroom as it promotes relaxation and can lead to a better night's sleep.
Avoid cool, blue light in the bedroom as this throws our biological clocks off and can disrupt sleep. This can be done by avoiding cool-toned energy efficient bulbs for the bedroom and keeping technological devices away from the bed. 

Project at Waterway Brooks by Posh Living Interior Design
For the living room and other communal spaces, stick to natural light. This mimics a natural environment and helps us to condition our minds into wakefulness or rest in the mornings and evenings.
Incorporate nature
When we think of spas and saunas, the first image that comes to mind often involves stone or wooden features along with warm, streaming water. To mimic a spa at home, consider using stone or wooden accents around the home. This can come in the form of wooden flooring, granite or marble tiles, or stone feature walls.
According to Mabel Tan of Space N Living, families can choose a material that suits their own needs. "Families can also choose to use wallpaper or wood laminate as a substitute for real wood if they find it difficult to maintain," she says.
Plants are also another great choice for home decoration. Apart from adding to the natural feel, the right plants can have anti-anxiety properties. Plants like the Golden Pothos and the snake plant are known to relieve stress and tension and can help to purify the air.
Make room for private spaces
Everyone needs some alone-time. Private relaxation activities include a relaxing bath or curling up with a good book at the end of the day. For optimum relaxation, ensure that your cosy corner lets in plenty of natural light, uses plush furniture, throws and rugs, and incorporates a great view.  
Install a stereo in your bathroom so that you can listen to relaxing tunes while enjoying a hot bath. Make sure there are plenty of plush materials in the bathroom as well – soft towels, comfortable robes and furry indoor slippers make sure that you are warm and comfortable.
For someone who loves to indulge in a hobby, set aside a room in your house for your favourite activities. This can include a private soundproof room with musical equipment, or a bright, airy corner of the house for your favourite paints and an easel. Finding time to do your favourite activity or just simply lounge around your home can help you to better relax after a tiring day.  
Utilise scent
Natural scents and essential oils are used in aromatherapy to improve respiratory health, elevate a person's mood and improve their cognitive function. The right home design can provide ample opportunities to utilise scent in creating a sanctuary like interior deisgn.
Growing lavendar or other herbs such as chamomile in the home allows homeowners to reap the benefits of its scents, including increased sensations of calm, decreased fatigue, and decreased anxiety.
In addition, the smell of wood has also been known to have soothing properties. Cedar wood oils have been used to treat patients with insomnia, while sandalwood oils and furniture also produce a soothing scent that have a sedative effect.
According to Kelvin Chua from ARTrend, the right scent can make the home feel more inviting. However, essential oils and scented candles should be used sparingly. "While we associate good scents with good memories, smelling strong scents over prolonged periods can actually make you feel uncomfortable."
Choose the right colours
The right colours are also key in providing a relaxing atmosphere. Lisa Lim of Starry Homestead suggests using earthy tones and whites to brighten up the space. "This helps to relieve the feeling of cramped-ness even in a smaller home," she says. Whites invoke clarity and freshness and help to relieve stress or tension, and help to provide an illusion of space.
In addition to whites and natural shades such as browns, consider other warm colours such as a muted yellow to add cheer to your space. In small doses, pops of greens and yellows can also help to make the home facade more interesting.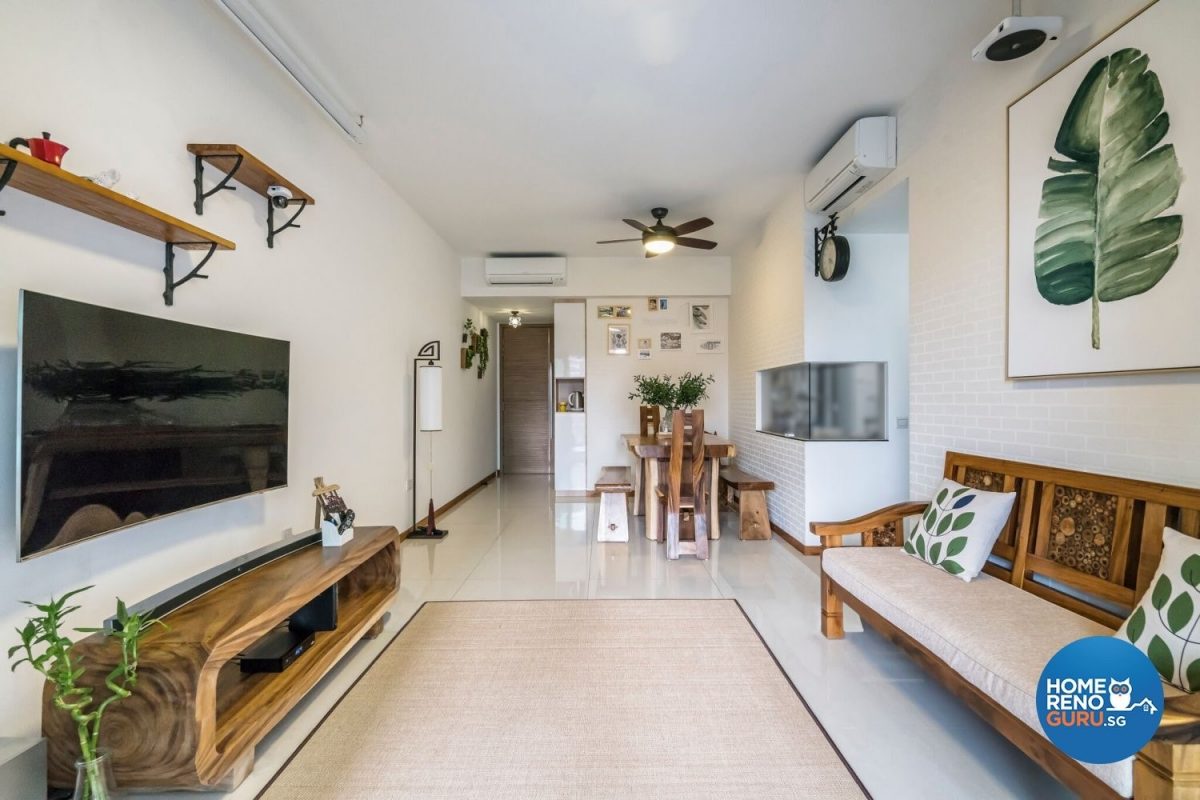 Avoid using bright colours such as bold pinks and purples throughout the house or heavily patterned wallpaper. While these are great for statement pieces, bold colours can increase feelings of stress or anxiety.
HomeRenoGuru
If you dream of a stress-free space to lounge about and indulge in personal space, allow HomeRenoGuru's experienced designers to help you turn your needs into reality. To see how they can help you achieve your vision, visit HomeRenoGuru's design gallery. The gallery features a plethora of design options to help you find the ideal style for your home.  
Want to find out how you get a sanctuary-like interior design? Leave it to the experts! Simply request for a free renovation quote here, and we will match you up with interior designers based on your needs.
What's more? Stand a chance to win a Mercedes-Benz CLA 180 Coupe & Free Home Renovations worth $30,000!