Do You Really Understand Home Renovation Loans?
Do You Really Understand Home Renovation Loans?
It makes sense, and it can make you potential dollars in resale value, to renovate your home sooner rather than later. That's where a home renovation loan comes in. But do you really know everything about it?
Life is Now
Whether you're a new homeowner or you've been living in your home for a number of years, even decades, you should seize the moment and live your best life right now. That applies to your living environment. Why work hard, only to come home to an unwelcoming home filled with peeling paint, poor plumbing and clutter everywhere? You deserve better. And so does your family.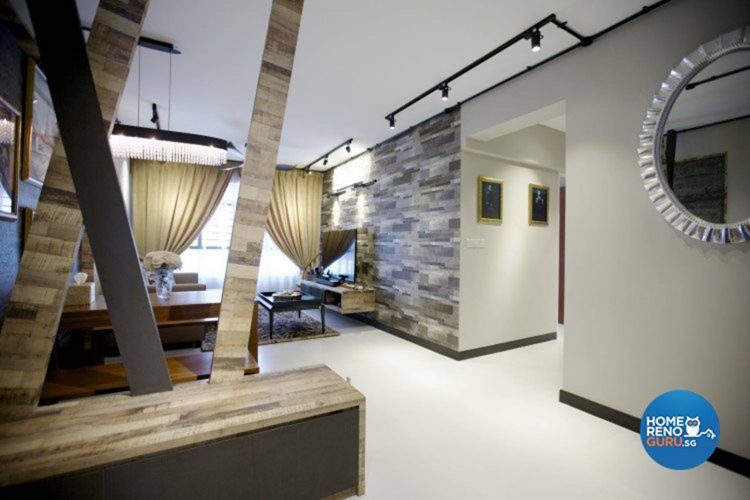 HDB 4 Room 197 Boon Lay Dr | NorthWest Interior Design Pte Ltd
Cost of Waiting
If you diligently save and set aside a few dollars every month to save up for a home renovation, it will probably take you years to stockpile the cash for a full renovation, which will set you back $30,000 or more. And that just covers the basics – kitchen, bathroom, lighting, built-in robes and a TV feature wall.
When you start adding the extras, like hacking walls and reconfiguring layouts, installing smart home technology, furniture and curtains, you are looking at possibly double that figure or more. And that's at today's market rates.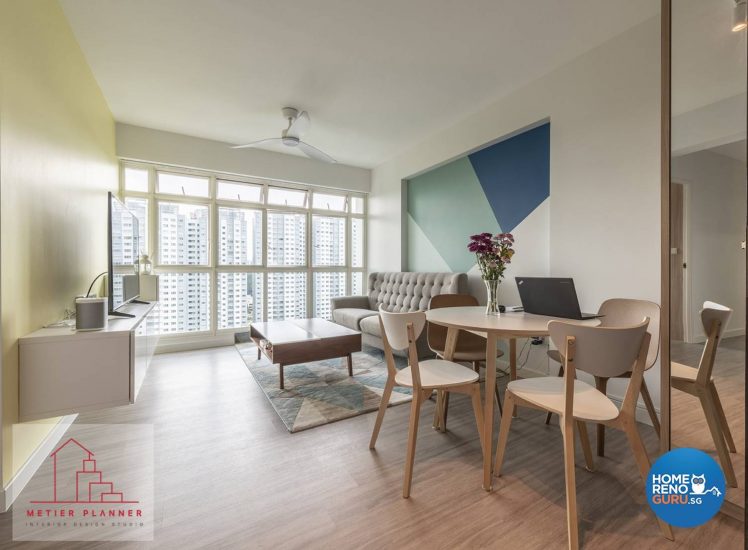 3-room Apartment Telok Blangah Towers | Metier Planner Pte Ltd
Sooner is Cheaper
History tells us that give or take a few short-term recessions and market corrections, prices only go up over the long term.
Wait and save, and you could find yourself chasing a moving target. The longer you wait, the likelier it is that prices will rise. More importantly, you are short-changing yourself and your family by living in an uninspiring and impractical environment.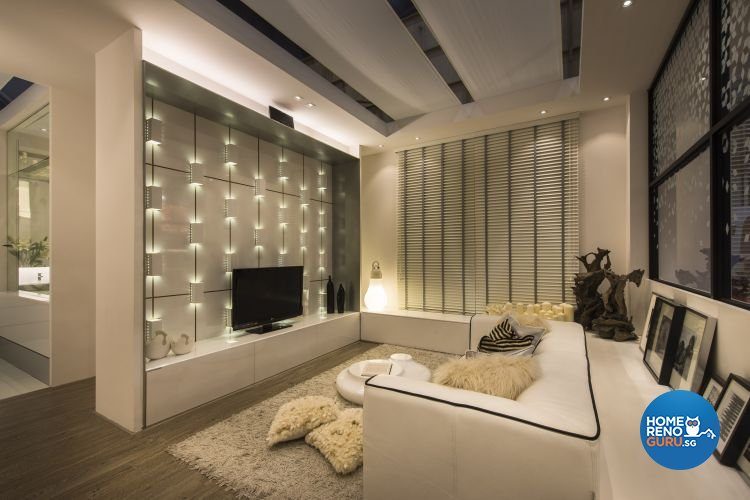 Ciseern Showflat 2013 | Ciseern by Designer Furnishings Pte Ltd
Wisdom of Lending
If you take out a home improvement or home renovation loan from a reputable bank, you can renovate your home months or years earlier than had you saved and paid in cash. That's years of your life, enhanced by a better quality of life for you and your family. If you are a parent of a teenager, your years of togetherness are probably limited. Children grow up, study overseas, marry and move out. The time to make those happy family memories is now.
Renovation loans are purposeful and unsecured in nature – that is to say, with no security or collateral in place. Thus, the credit-worthiness of the borrower, which is determined by his or her debt servicing capabilities and repayment conduct, is a major consideration in the bank's criteria and assessment for lending.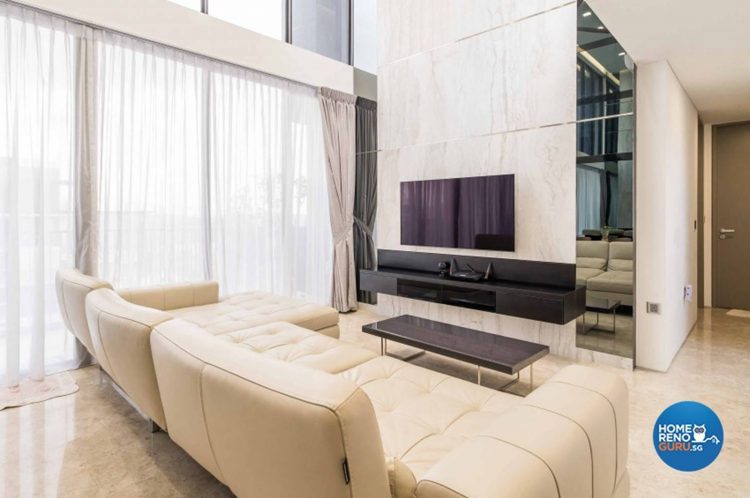 Condominium The Venue Residences | Vegas Interior Design Pte Ltd
Looking for Interior Designers?
Let HomeRenoGuru help!
Shopping Around
Gone are the days when you stuck with one bank your entire life long, often for no reason other than it was the bank your parents banked with, or the bank with whom you opened your first savings account. Today's consumers are far more educated and frankly, less loyal. In an open market, it certainly pays to shop around. And with the Internet making information so readily and easily accessible, it's never been easier.
There are online sites such as MoneySmart that provide comparisons of renovation loan interest rates from leading banks. When choosing a loan, customers shouldconsider the various fees and charges in general. Some of these include processing fees, prepayment and cancellation fees etc. It's also wise to consider the turn-around time required by banks to approve the loan. Some allow you the option of repaying your loan earlier than planned for, representing considerable savings in the long run.
Be sure to weigh up everything, not just interest rates, before deciding on the loan that's the best fit for you.
Applying Online or In Person
One thing to note is banks may offer extra perks for applying online. If you're daunted by the prospect of committing to years of repayments without the reassurance of a friendly and informed voice, fret not. After you make an online enquiry or start the online application process, banks will get a dedicated Renovation Loan specialist to contact you and walk you through the loan application process.
Once your loan is approved, you can focus on shopping around for the best deal, confident in the knowledge that your finances are sorted.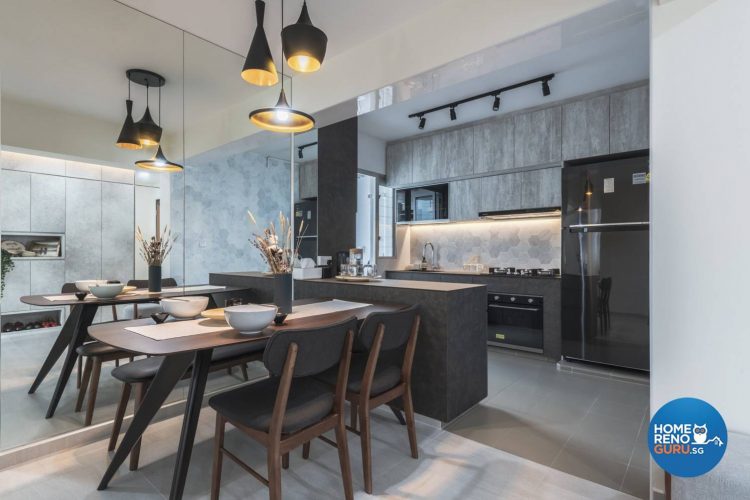 HDB 4 Room 362A Sembawang Crescent | Projectguru Pte Ltd
Happy Housewarming
Once your home renovation has been completed, you can kick back and start enjoying your improved living conditions.
A sweet little surprise that awaits most owners of renovated homes is that today's smart home technology and modern building materials offer a multitude of incremental cost savings that really add up in the long run. You may well find that your utilities bills are lower, with motion sensor activated and LED lighting and hot water heaters with better insulation that keep water hotter for longer, when you opt for eco-friendly green renovation options.
Spending on a home renovation invariably incurs indirect savings you can measure, and direct benefits that are more difficult to quantify. After all, you can't put a price on happiness.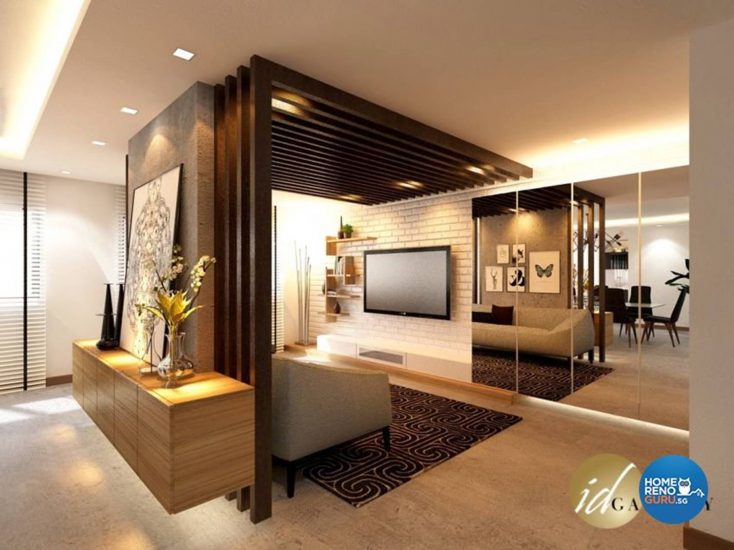 HDB 5 Room Bishan | ID Gallery Pte Ltd
For renovation loans, all banks require a formal quotation from the customer's selected interior designer before processing the application. That means you must select your interior designer before the loan can be processed. Better still, let HomeRenoGuru do the homework and ground work for you. Singapore's leading renovation app can match your budget and requirements to a short list culled from over 500 reputable local interior design companies. In fact, why not request a no-obligation quote right here, right now?
Obtain your home renovation quote from HomeRenoGuru and you stand a chance to win home renovations totalling $30,000!
A Promotion for HomeRenoGuru Customers, from Maybank
For a limited time only, Maybank is offering a $100 Takashimaya Voucher to each successful home renovation loan applicant who applies online via HomeRenoGuru. The offer is valid till 31 October 2019, or while stocks last. Terms and conditions apply.
Interested? Apply for your Maybank Home Renovation Loan here!